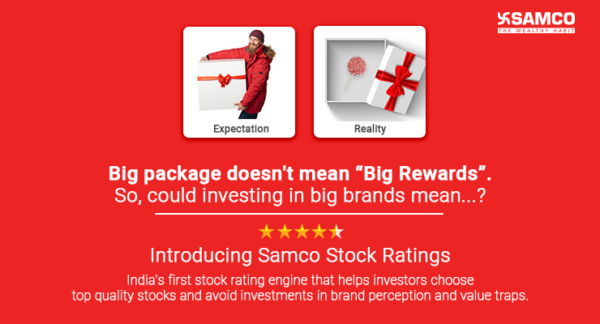 Big brands have lost your money!
Shocked?!
You've probably heard of big brands like Hindustan Unilever, Marico, Pidilite, Airtel, Reliance, etc. and think, "there's no way these companies will ever slow down, and these will continue to make money for me in the long run"
And it's reasonable to think of these well-established players as "big brands" because they have positioned themselves as the market leaders over the years.
But, what if we say otherwise?
Breaking the myth:

Today, we're here to break the myth about big brands. We'll present you with the reality of big brands that most research and investment firms avoid talking about.
While most big brands have created a fortified presence in their industry, there are some with shaky foundations, and very soon you'll find the land being pulled from under them.
With Samco Stock Ratings, today, we'll present you with 3 case studies to show you that sometimes even big brands are not the right investment choice.
Case Study – 1
You probably remember the old Just Dial advertisement featuring Amitabh Bachchan back in 2017, talking about how the Just Dial app is the go-to solution for local searches.
And as you must have guessed, Just Dial was huge indeed.
Just Dial was India's leading brand in the classifieds space once upon a time and among the first internet-based businesses in India.
The company, to date, offers both product and service listings on its website where customers can choose among services they wish to avail.
While it was much favored and talked about in the yesteryears, plenty of internet businesses emerged with a much aggressive growth strategy and technological prowess. And with the company undertaking a more conservative stance in its activities, it has since conceded a lot of market share to competitors and has been outmatched at its tech, thus the business continues to under-deliver.
Due to the ongoing challenges and a muted growth pace, investors haven't been exactly optimistic about its stock's prospects. Ever since 2014, the stock has underperformed and has not generated any gains for shareholders, in fact, it has been in an extended downtrend.
Samco Stock Rating took all these factors into account before assigning it with a rating, as investment made in this stock would destroy more wealth for a shareholder than generate returns.
Samco Stock Rating for Just Dial: 1-star
Case study – 2
Lemon Tree Hotels is an established name in the hotel industry with hotels across India.
The company got listed in 2018 with much fanfare among investors. With its robust network of hotels, it follows a low-cost business model wherein the company provides cheaper rooms that attract both holiday-goers as well as many professionals who are out on business trips.
Lemon Tree Hotels' business model is a sound one. It delivered a strong operating performance with revenues growing at 18% CAGR over the last 5 years.
But despite all the stable growth pace and optimism around its listing, the buzz eventually fizzled out as investors pushed the price downwards since 2019. The COVID-19 situation also severely impacted the hotel as travel came to a standstill and sharply affected revenues and margins. With the pandemic in place, the hotel saw an increase in debt which did not fare well for the stock.
Currently, the stock continues to underperform as it trades even below its IPO issue price.
Samco Stock Ratings identified these factors around fading investor optimism, COVID-19 impact, and eventual deterioration of the financial strength and were swift in assigning the stock a rating.
Samco Stock Rating for Lemon Tree Hotels: 0.5 star
Case study – 3
Bharti Airtel is one of the titans of the telecom sector.
Obviously, no one would even consider putting such a company in the bad bucket since everyone is well aware of the network services offered by Airtel (Even you, probably, are running your internet connection on the Airtel network while reading this)
But, here's a reality check: The stock of Bharti Airtel has shown lackluster performance in recent times.
Post our short recommendation for this stock on 4th June 2020 (Recommendation Price: Rs. 572; Current Market Price: Rs. 536.75 (as on 30th April 2021), it fell a whopping 31%, and in fact, it has retracted back to the same levels over the past 10 months, not delivering any returns for its shareholders.
Why?
Well, with Jio's emergence, Bharti Airtel has been faltering because of the intense competition and has struggled to improve profitability. From a margin of safety perspective too, Bharti Airtel wasn't an ideal investment opportunity. Hence, a short on the stock turned out to be profitable for shareholders.
Samco Stock Rating matrix considered its debt-heavy nature, negative net profit margins, single-digit to negative ROEs & ROCEs since the past 10 years, and several other fundamentals into account before coming up with its rating.
Samco Stock Rating for Bharti Airtel: 0.5 star
Conclusion:
These case studies prove our point that "All that glitters is not gold" – and all big brand stocks are not investment grade instruments. 
But with Samco Stock Ratings, you can rest assured that 4000+ listed stocks are vetted and rated based on several financial parameters, which will allow you to weigh the pros and cons of stock before considering it for investment. 
From today, recognize only the investment-grade stocks with Samco Stock Ratings and "Ab sirf 5-star rated stops mein invest karo aur stock market mein" and #DhokaMatKhao.
Explore Samco Stock Ratings on the Samco app today!
Remember:
Stocks with 3-star and above ratings = good quality stocks
Stocks with 2 Star and below ratings = Poor quality stocks
In case you have forgotten your Samco password, you can learn how to reset it here →
If you wish to share your feedback on this new feature, please feel free to email us at mobileapps@samco.in. 
Was this article helpful?
Share