Steps to download e-CAS through CDSL
Step 1: Visit: https://www.cdslindia.com/cas/logincas.aspx
Step 2: Put in your PAN Card detail, BO ID (Beneficiary owner identification number it is the Demat account number allotted to the beneficiary holder(s) by DP. In CDSL it is 16 digits number. Then put in your DOB. Click on Submit.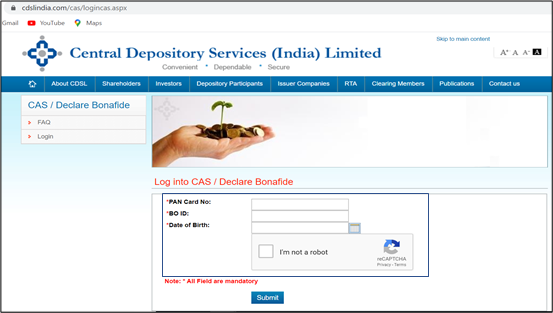 Step 3: By clicking on submit automatically a One Time Password (OTP) is send to your registered mobile number. Put in the OTP and submit.
Step 4: You can select the year and month click on search to download the e-CAS through CDSL statement. The e-CAS statement is password protected and to open the same you need to put in your PAN details in ALL CAPS.
Click here to check more information about Consolidated Account Statement:
Was this article helpful?
Share