To Start Trading in Stock Markets or Share Markets you need a Trading and Demat Account. Opening a Share or Stock market trading account has become much easier these days, Before 2011 if you had to open a Trading account you were required to sign a zillion times and fill your name Email Id on a 60 pager Form. It would seem like a never-ending process, after which it would take more than a week to open the demat and trading account. The Login ID and password came via courier.
Thanks to Technology these days that process of Opening a Share or a stock market trading account has become much easier and faster process.
How should you select a Stock Broker?
Choose a Stock Broker registered with NSE, BSE, NCX, NCDEX, MCX-SX from a List of 1000+ Options. You can select your Stock broker based on the following few important factors. Stock brokers usually fall in 2 broad categories – Online Stock Brokers or Discount Stock Brokers and Traditional Brokers or Full Service Brokers.
Brokerage Charges
Trading platforms
Margins Required
Other Miscellaenous Trading Charges
Brokerage Charges
Brokerage is the most important factor amongst the above evaluation parameters – It is the first step in selecting the stock broker. Brokerage is a Fee that your Stock broker charges for every transaction. Brokerage Fees are traditionally a percentage of the Transaction size for Example 0.05% of the Transaction size for Intraday Trades and 0.50% for Delivery Trades, Rs 50 per Lot for Derivatives (Future and Options). Calculate your brokerage with a traditional percentage broker and one of India's leading discount broker at this Brokerage Calculator.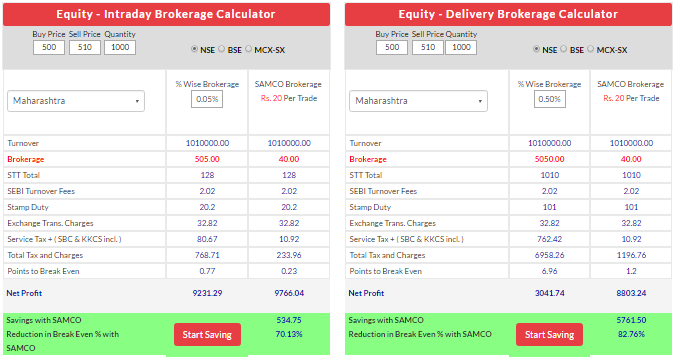 The method of charging the customer on a percentage basis eventually turns out to be very expensive and generally it can eat up to 10% of your invested capital. Warren buffet's principle says you should always keep your transaction costs low.  However technological advancement has ultimately given more discounted options to investors these days, Discount brokers are these new generation brokers who Charge a Flat fee as Brokerage which turns out to be a blessing for Traders and Investors. SAMCO Securities is one of India's leading discount brokers which charges 0.05% or Rs 20 whichever is lower, as brokerage Fees irrespective of the transaction cost. You must select a Stock Broker which has low Brokerage fees. Open a Trading Account with SAMCO Securities.
Trading Platforms are software's which allows you to place an order in Stock exchanges, generally available for WEB, Desktop and Mobile apps. It is imperative that one looks at the trading platforms provided by the respective broker.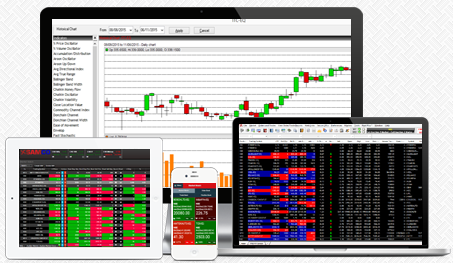 You may use any of these platforms to trade; this trading software are built for reliability. You can transfer money from your bank account, take payouts, buy shares, sell shares and see your shareholdings and your trading RMS limits etc.
Margin and Trading Limits
Trading limits are extended to you by your broker based on the value of cash/stock assets in your trading and demat account linked with your stockbroker. These limits may be extended by brokers for intraday trading purposes or delivery trading purposes. From a client's perspective, it makes sense to select brokers offering maximum value against cash/securities. It is also very important that the broker's policies are flexible and accommodative and not unnecessarily restrictive in nature else they may hamper your trading. You can calculate the margin requirements for different trading instruments with SAMCO's Margin calculator.

Transaction Related Miscellaneous Charges
One should also consider other charges before opening a Trading and Demat account. Other charges may include Account opening charges, Demat AMC Charges, Charges for SMS Updates, etc. Ask your Broker for List of other charges and make sure the same is included in your tariff sheet. You can refer to an illustrative list of charges at SAMCO's charge list for stock and commodity trading.
While there may be other items on a checklist list that clients may use however the above is a bare minimum checklist for a client.


Was this article helpful?
Share