Traders these days have a lot of options from which they can choose their brokers, however after opening an account you may be not be happy with your existing broker and might want to shift to another broker, in this case you would have to transfer your holdings from your existing DEMAT account to your New DEMAT account. In this article we will guide you on how can you transfer your existing holding from one DEMAT account to another DEMAT account.
Before going through the process it is imperative that you should understand the type of transfers within two DEMAT account.In India we have two depositories CDSL (Center Depository Services Ltd) and NSDL (National Securities Depository Ltd)
Your broker might be a participant with either of the depositories, the depository they are attached to will decide the mode of the transfer of the shares
1) Intra depository transfer or Off Market Transfers or – Both your brokers are participants with the same depository
2) Inter Depository Transfers – If your current and new brokers are participants with different depositories
If you do not have a DEMAT and a Trading account Click here to open an DEMAT and a Trading account with SAMCO
Lets assume you want to transfer shares from your Trading Account 'A Securities' to"SAMCO Securities. While opening the account with A Securities you would have received a DIS book that is Delivery Instruction Slip Book. This is booklet contains set of instruction slips which look similar to a cash deposit receipt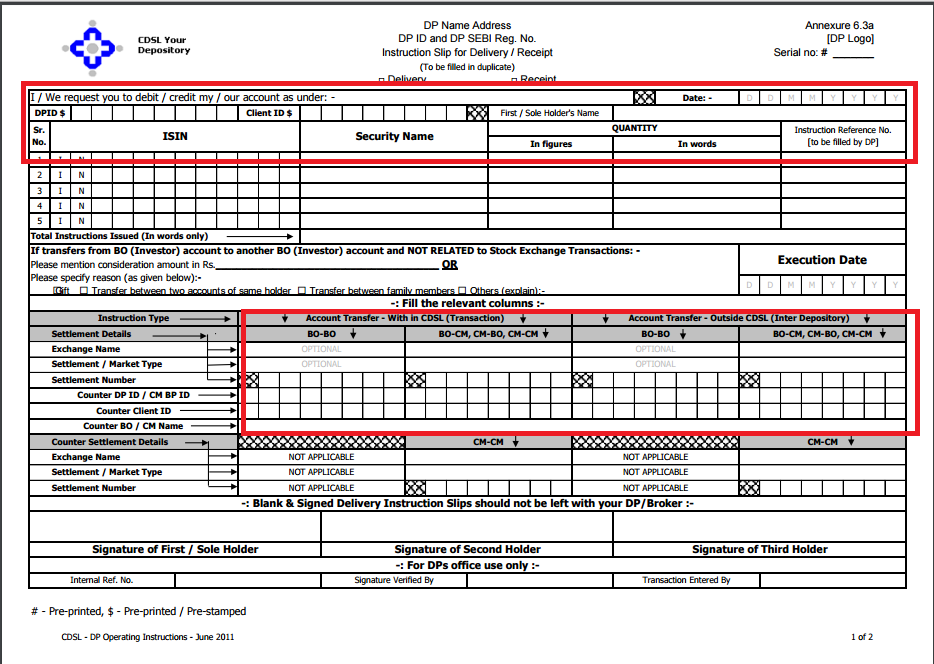 At the top of the slip you need to enter DP id and client of the current broker, At middle of the slip in the highlighted area there are two options for INTRA Depository Transfer and INTER Depository transfer . mention the Client Id and Target Client Id (Client ID of the DEMAT account you want to transfer the shares in)
Fill in details appropriately and submit the DIS to your current broker, make sure you collect an acknowledge of the same.
All in all here is  the process of transferring shares from your DEMAT account
Fill up the DIS slip.
Ensure all the fields are correct, especially the Target client ID.
Submit the duly filled DIS to your Current Broker.
Make sure you receive the acknowledgement from the current Broker
How many days will it take for the shares to transfer?
 The shares will be transferred on the next business day
Is there a cost for transferring the shares ?
Cost depends from broker to  broker, However it is very nominal/
Transfer of shares in case of closure of one DEMAT account
Incase you are shutting one of your DEMAT account and transferring shares from that account to another account, the Transferring of shares is "free of cost" .Your existing broker should not charge you anything for transfer in case of account closure.
What is the process of transferring shares from one person to another ?
In this case the process remains the same.
Important things to keep in mind before transferring shares between DEMAT accounts
Ensure that your existing client ID is Printed or Stamped on the DIS and not hand written
Ensure you have mentioned all the details correctly, Specially the Target Client ID
Once the Entries are made, Strike out the other columns to avoid misuse
If your DIS Booklet is stolen or ost, Inform your broker and ask him to stop those DIS
When you close the DEMAT account , you need to return the DIS