About Samco Referral Program
Samco offers a unique Refer and Earn program to its existing clients wherein they are rewarded when they refer their friends and family to open an account with Samco.
Clients are simply expected to refer a friend or a family to Samco securities who are interested to open a DEMAT and a TRADING account. If you have friends or family who still trade with a traditional broker who charges a percentage brokerage and end up paying high brokerages, let them know of the benefits you have received With Samco's Flat Brokerage plan of RS.20/ executed order irrespective of the transaction size.
What are the rewards for an existing client when their friend opens an account with Samco?
When an existing client refers to his/her friend or family to Samco, they first need to open a Demat and trading account with Samco. Once they open an account they get 20 free trades as a welcome gift and for every free trade, they consume the client who referred them too gets a free trade. The most rewarding benefit of referring a client to Samco is that you get 10%  brokerage on the trades made by your referred friend or family member for a lifetime and an additional Rs. 1000 reward for StockBasket purchases worth Rs. 1,00,000 by your referred friends within 1 year.
So in all, you receive:
20 Free Trades
10% Brokerage commission for life
Rs. 1000 reward on StockBasket purchases.
The following Infographic explains the rewards of the referral program by Samco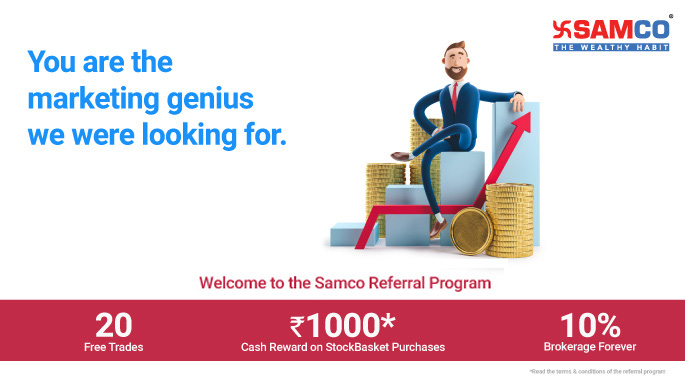 What's in it for your friends?
20 free trades upon account opening.

100% brokerage cashback for the 1st month on all trades done on StockNote.

1-year AMC-free Demat account.
Existing clients can refer via Login into their Samco back office or by visiting the refer and earn page on the website.
Important Links
How to refer your friends from Samco Star Backoffice