As an investor you must have heard about the term "Margin against shares" , but only a few understand its actual meaning, let's discuss this in detail:
What is trading with margin against shares?
As a normal practice, limits for trading in the stock market are given only against bank funds i.e. funds transferred from a client's bank account. Using the money transferred from the bank to his/her trading account, a client can trade in all segments. However, the majority of the funds of a client are invested in stocks. Thus the money gets locked and even though clients have assets in the form of shares, they are not able to make new trades. Thus to unlock this value hidden in the stock portfolio of a client, a client can pledge his shares to avail trading limits against the shares. This concept of availing margin against pledged shares held in one's demat account is known as "Margin Against Shares". The cash margin required for trading is substituted with shares.
All the client needs to do is to pledge his shares with the broker to avail the credit against them. The broker will deduct a portion known as a haircut to adjust for the risk due to price fluctuation of the stock. For example, if a client has 10 shares of Reliance at the current market price of Rs 1000 making the total portfolio value of Rs 10,000 and the haircut is 40%, the client can get limit for only 60% of the total value of the shares i.e. Rs 6000. The client can trade for further Rs 6000 in his account.
If there are any debit or losses in the client's account, such shortfall can be later adjusted by selling the pledged shares. All corporate actions for the shares like bonus' or dividends belong to the client.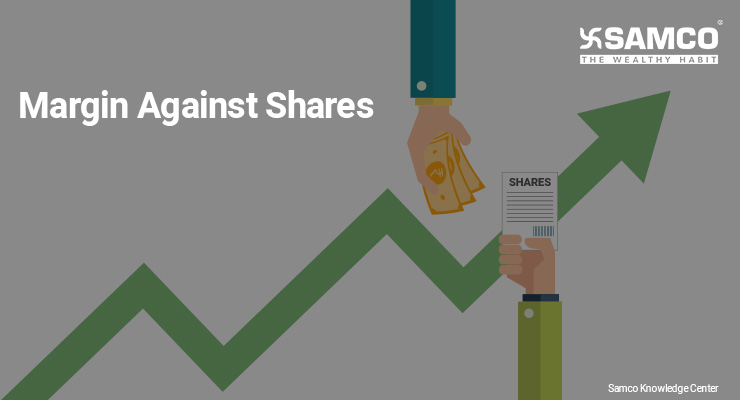 What products can I trade with margin against shares with SAMCO?
A common question and requirements that clients ask for are can I get margin against shares with SAMCO? At SAMCO, we have 2 products being to enable clients to trade with margin against shares.
IntraPlus
StockPlus
What is the difference between StockPlus and IntraPlus?
Particulars

IntraPlus
StockPlus

Suitable for

Intraday Traders
Intraday and Positional Traders

Product types allowed for trading

BSE – CM, NSE – CM, NSE – F&O, NSE – CDS – MIS only

BSE – CM, NSE – CM – BO and CO

NSE – F&O, NSE – CDS – All product types permitted

Sale of Pledged shares

Instant.

Instant subject to live sale request which can be entered from SAMCO STAR Dashboard.

Subscription Fees

Rs. 1000 + taxes

Rs. 1500 + taxes

Interest applicable

On Ledger Debit
On Ledger Debit minus lower of (collateral value or 50% of F&O + CDS Margins)

Positions can be held for

Intraday only. All positions must be compulsorily squared off prior to the market closing

No restriction. Positions can be carried forward as long as sufficient margin exists.

Checking Limits in SAMCO Trading Terminals

"Collateral Value" field in trading terminals

"Adhoc Margin" field in trading terminals

Pledge and Unpledged charges

Rs. 60 per request per ISIN
Rs. 60 per request per ISIN

Instant Sale Requests – Rs. 90 per request per ISIN

Number of Stocks available for Pledge
800+

800+

Restrictions on Unpledged Requests

In case of Ledger debits or Sale of pledged shares

In case of Ledger Debits or Pending Instant sell requests

Holdings view in SAMCO Trading Terminals
Under "Collateral Quantity"

Under "Withheld holdings Quantity"
How can clients subscribe to either of margin against shares products?
Clients can subscribe to SAMCO's Margin against shares trading products from the SAMCO STAR Back office. Click here to subscribe to SAMCO's margin against shares trading products.