As a trading and Demat account holder, whenever you buy shares from Stock Exchanges for Delivery, the shares are transferred to your Demat account with SAMCO. However, at the time of selling a consent is required from the Demat Account holder for the transfer of shares from the Demat Account to the exchanges to complete the transaction. This Consent for outward movement of shares can be in 2 ways;
One-time Power of Attorney (POA) or
Using Online Delivery Instruction Slip (DIS) to give consent every single time before selling the shares.
What is a Power of Attorney?
Power of Attorney (POA) is a Limited Purpose authorization document that is used for the transfer of Shares from a Clients Demat account to the Exchanges at the time of selling of shares for settlement. It's a voluntary document. Without providing the POA also one can continue trading in F&O, Intraday equity and buying equity shares but it is recommended to give POA for easing the process of Selling Equity Shares and give delivery to the exchanges.
Power of Attorney is required to be filled, signed, and submitted as a physical copy to our office – Samco Securities Limited, A-302, 3rd Floor, Naman Midtown-A Wing, Senapati Bapat Marg, Elphinstone Road, Mumbai-400 013.
Online Delivery Instruction Slip (DIS)
Since the accounts are opened online without any documents, many clients have not been able to send the POA to us yet. For them, we have provided an alternate platform. Before placing any sell order, a customer needs to first provide the consent for transferring the shares by performing a validation process with the Depository CDSL through our Back Office – Samco Star. The steps to perform the validation through the Online DIS Process is as follows:
Login to our Back Office – Samco Star using the Client ID & Back Office Password
Now go to Portfolio and select Holdings
Here, you will see the shares that are held in your Demat account. Now, click on 'Place Sell Request'
In the next window, enter the quantity to sell and click on Submit.
Here, you will have to authenticate yourself either through an OTP, 4-digit M-pin, or Year of Birth in YYYY format and click on submit.
Next, click on "Continue to CDSL" button. You can also regenerate the T-Pin from here.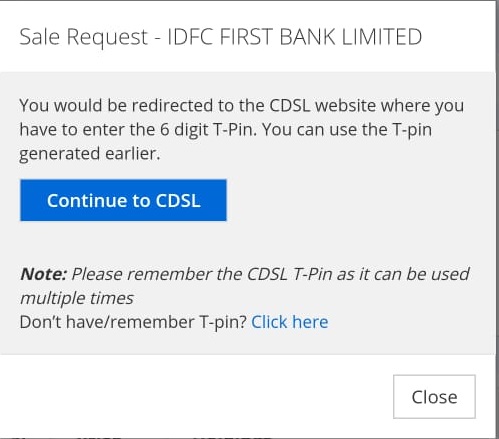 For first time users, click on "No, Generate" and you will receive the CDSL T-pin through an SMS. If you have already generated a T-Pin click on "Yes, Continue".
Now, you would be redirected to the CDSL website. Here you need to enter the 6 digits CDSL T-Pin and click on "Verify".
Now enter the OTP received on your registered email id and mobile number and click on "Verify". Please verify the Share and Quantity. In case you wish to regenerate the OTP you can click on the respective option.
Now you would be redirected back to the Back Office – Samco Star. You can sell your holdings after 30 minutes through Stock Note or Samco Trader.
Please note: The request will have to be placed for each stock separately and would be valid for the same trading day. Share transfers can also be done through physical DIS which needs to be filled at submitted to Samco Office.
In case you have any questions or need any help, email us at support@samco.in or can raise a ticket on https://www.samco.in/support, our executive will resolve your query.