Executive Summary:
Among our many efforts under Project S.O.A.P (Special Onboarding & Activation Program), as promised, we are here to guide you sail clear through the stormy sea of stock markets and generate wealth for yourself.
With the advent of technology, opening a trading account and trading/investing in stocks has become as easy as playing games on mobile phones, but that does not mean everyone is equipped with the skills needed for stock picking or trading. Just as making prescription medicines available free of cost and without any monitoring or oversight or someone driving a multi-axle truck without license or training could destroy their health, trading/investing without proper knowledge or guidance could be extremely dangerous to the financial health of investors.
Report Rationale:
In this special Project S.O.A.P. report, we have recommended stocks that you could invest in for the long term along with 1 mini portfolio that you could invest in. Our research team has recommended these stocks and mini portfolios keeping in mind the need for long-term wealth creation and investing in quality stocks.
5 Long Term Buy Recommendations
1 Mini Portfolio Recommendation
5 Long Term Buy Recommendation:
Recommendation 1: Avanti Feeds Ltd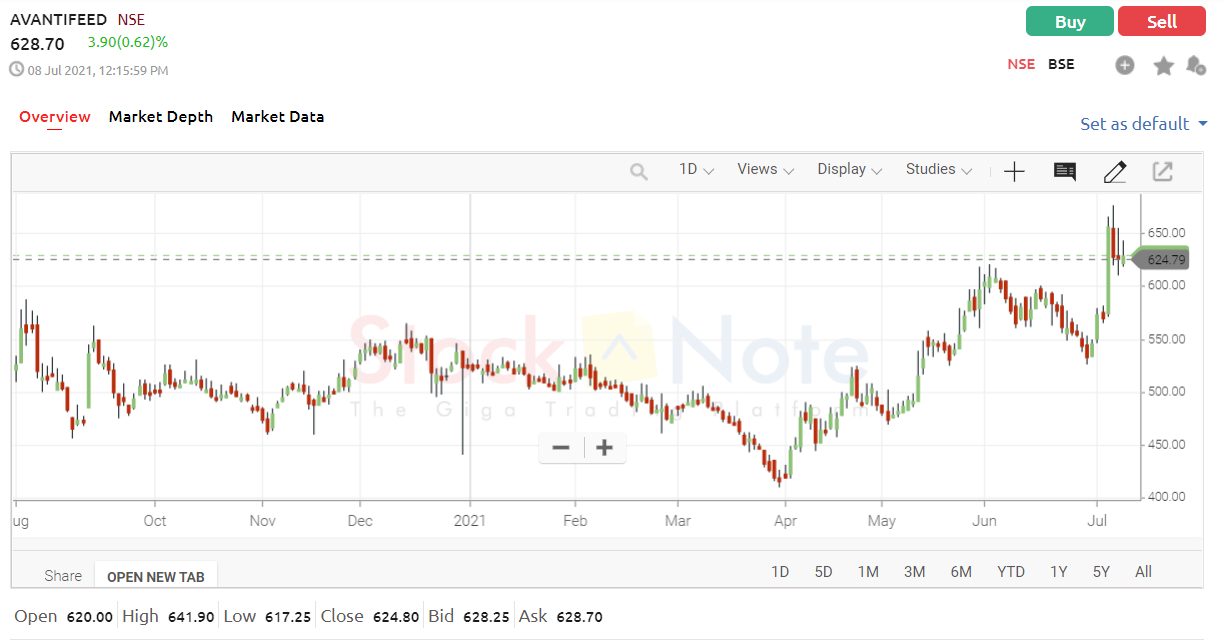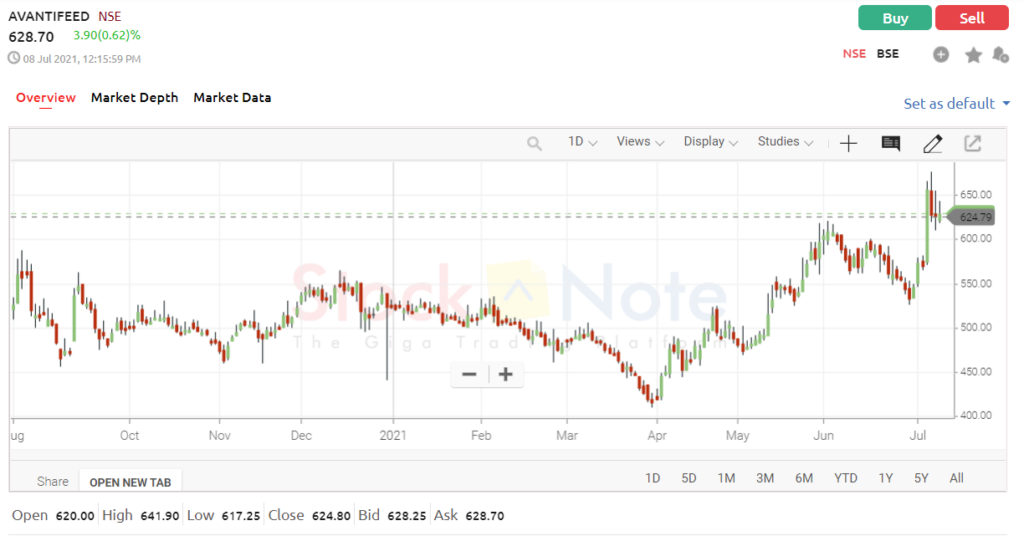 Company: Avanti Feeds Ltd
Current Market Price as of 8/7/2021: Rs. 631
Target Price: Rs. 725.65
Target Return: 15%
Time Horizon: 1 year – 8th July, 2022
Rationale:
Avanti Feeds manufactures and sells shrimp feed and exports processed shrimp. It is the largest shrimp feed producer in India.
Despite the challenges from the pandemic, the company was able to maintain its market share of about 45-48% in the segment. While the volumes suffered on account of lockdowns, the company managed to add new farmers and areas to its sales network throughout FY21.
As the situation normalizes, the demand for shrimp is gradually picking up due to increased demand from the retail sector, and stability is expected to be restored in the upcoming months as restrictions are lifted. Shrimp feed consumption is expected to grow at ~10% – 15% in the coming year which accounts for a significant portion of its revenues (~78% as in FY20).
Moreover, a revival in shrimp prices in its primary market, the USA, results in better profitability for all players in the shrimp value chain. The regulatory tail winds such as the increase in customs duty on shrimp feed to 15% from 5% in the Budget, bodes well for a domestic manufacturer like Avanti Feeds.
All these factors aid in lifting the sentiment for this stock which is a good candidate from a year's horizon.
Recommendation 2: Mahanagar Gas Ltd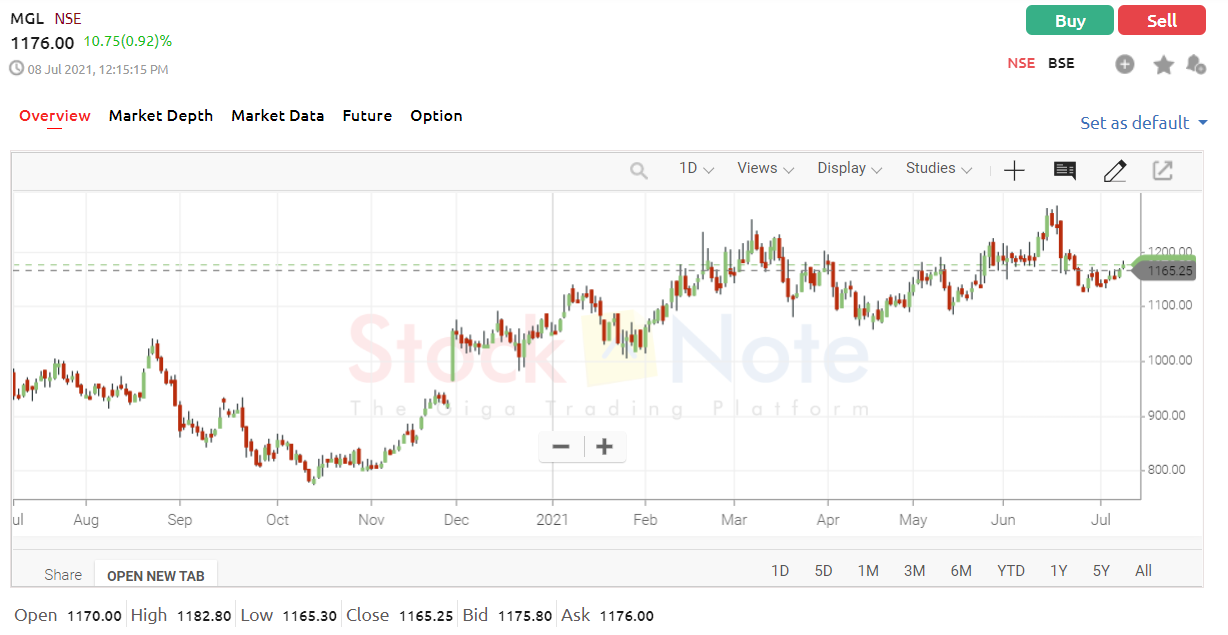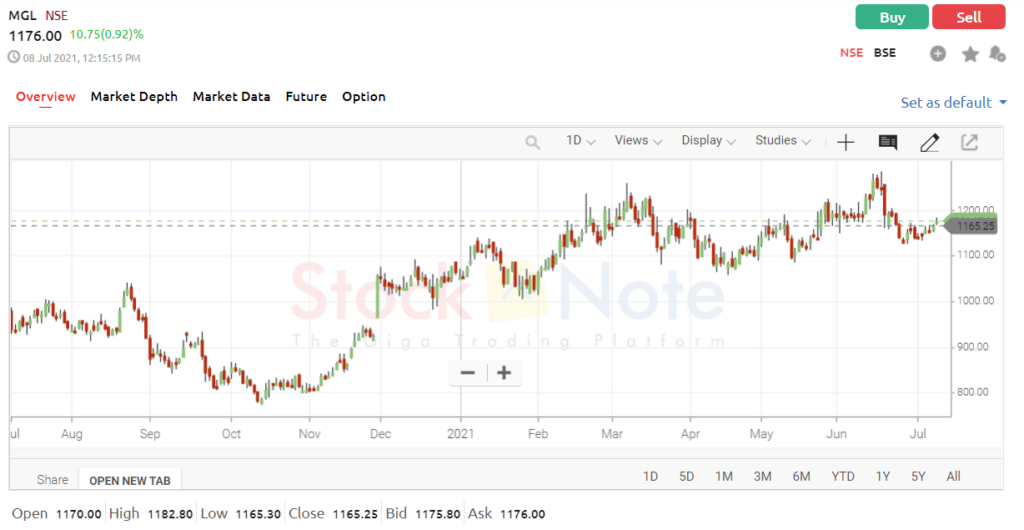 Company: Mahanagar Gas Ltd
Current Market Price as of 8/7/2021: Rs. 1,178
Target Price: Rs. 1,354.7
Target Return: 15%
Time Horizon: 1 year – 8th July, 2022
Rationale:
Mahanagar Gas Ltd is among the leaders in the City Gas Distribution (CGD) space across the State of Maharashtra.
With a number of policies announced by the government over the years to develop CGD networks across India, Natural gas consumption is expected to grow at an annualized rate of 7.4% from FY21 to FY25 in India. The government aims to double gas' share to 15% in the country's energy mix by 2030 that would curb air pollution and promote the use of cleaner fuels.
MGL has been a dominant player in this segment as it continues to post strong volume growth despite some headwinds seen from the pandemic. The volumes are further expected to see recovery as lockdown restrictions ease and vaccination drives will normalize vehicular traffic.
With macro conditions developing in favor of and the rising needs of CGD in India, MGL is a huge beneficiary of this movement and can deliver strong growth in the following quarters.
Recommendation 3: Pidilite Industries Ltd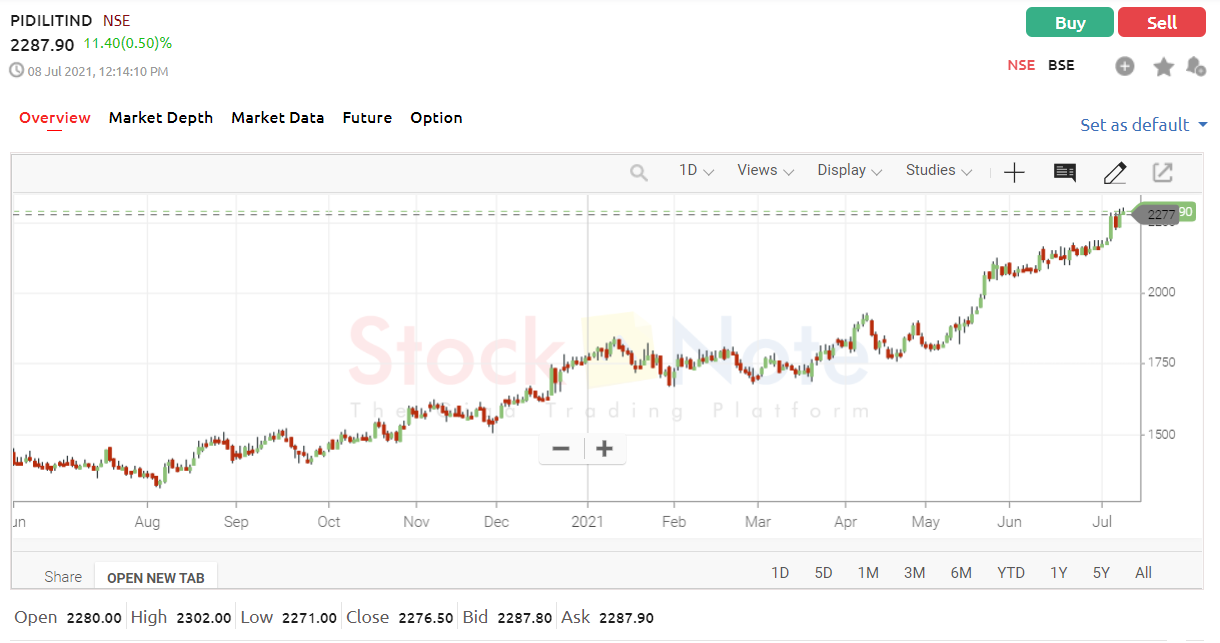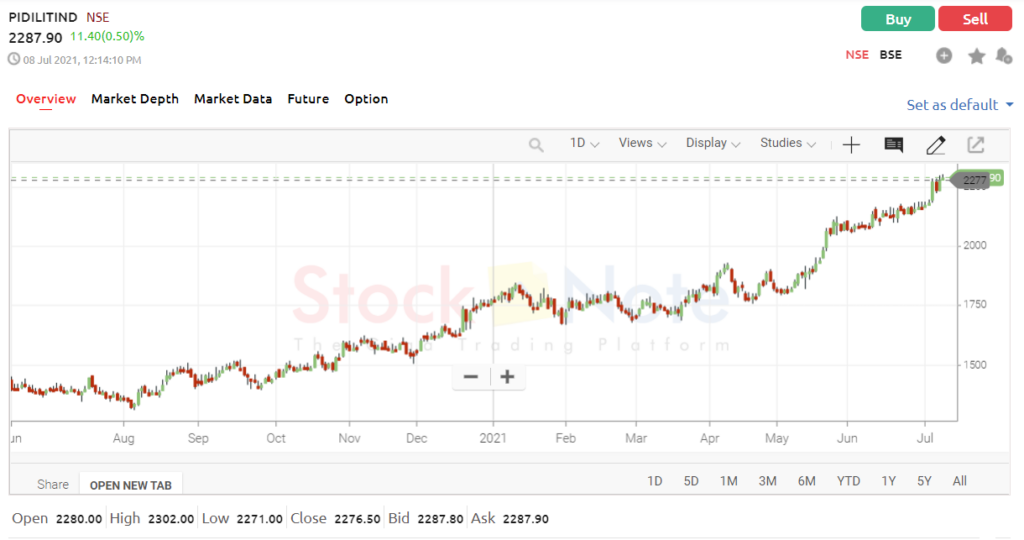 Company: Pidilite Industries Ltd
Current Market Price as of 8/7/2021: Rs. 2,295
Target Price: Rs. 2,754
Target Return: 20%
Time Horizon: 1 year – 8th July, 2022
Rationale:
Pidilite is a leading manufacturer of adhesives and sealants, construction chemicals, craftsmen products, DIY products and polymer emulsions in India.
Post a subdued year owing to COVID-19, the company was able to swiftly deliver improvements over time. In Q4 FY21, the company posted a robust revenue growth of 44.7% YoY, while EBITDA was up by 53.1% YoY. Consumer and Bazaar sales shot up 53.9% YoY led by strong volume growth. All verticals registered robust growth driven by sustained demand momentum in rural areas and urban geographies.
With the overall tide turning in favor of Pidilite, its stock has become a strong contender for investors. The company is also witnessing demand revival, entry in adjacent categories and consolidation in market share from unorganized players which are likely to boost revenues.
These developments augur well and uphold the image of Pidilite as a consistent compounder who can deliver healthy returns going ahead.
Recommendation 4: HCL Technologies Ltd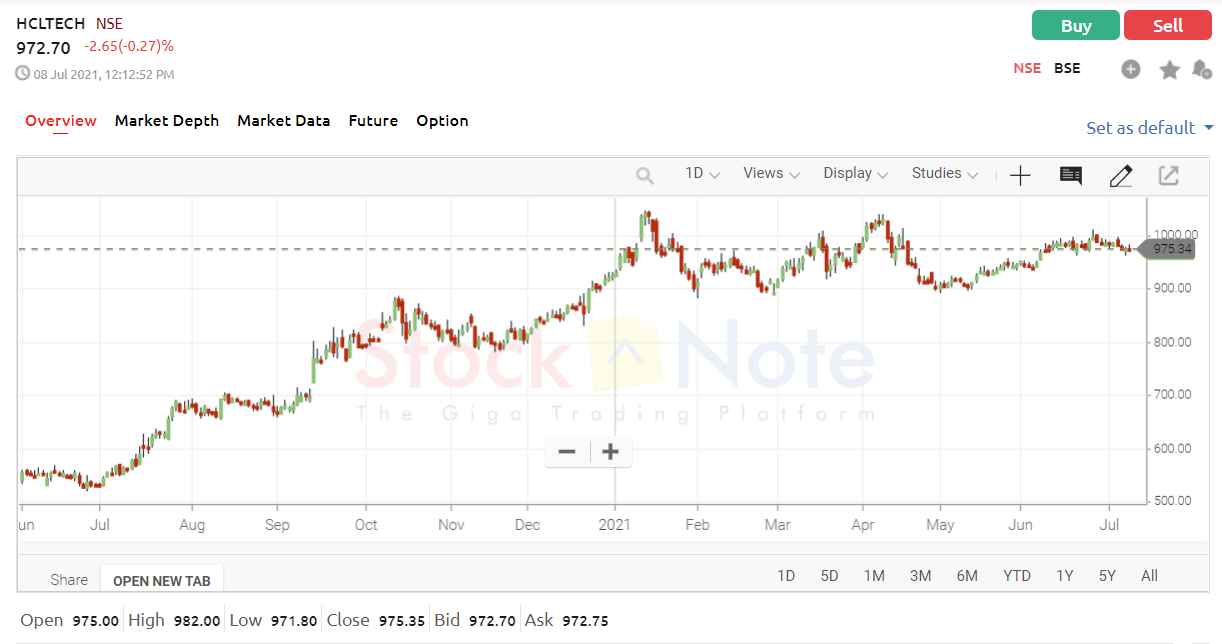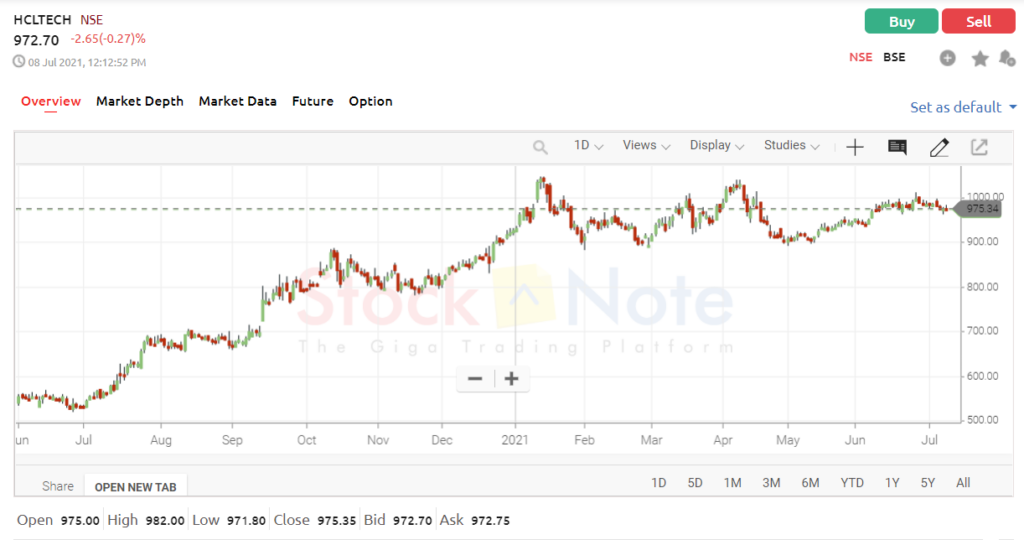 Company: HCL Technologies Ltd
Current Market Price as of 8/7/2021: Rs. 977
Target Price: Rs. 1,172.4
Target Return: 20%
Time Horizon: 1 year – 8th July, 2022
Rationale:
As the pandemic hit globally, the IT theme gained prominence as organisations realized the need to be tech-enabled to conduct business and rushed their tech upgradation plans. Among the key beneficiaries of this dynamic shift has been HCL Tech.
HCL Tech has not only proven execution capabilities in the tech domain but has also been among the leading ER&D players in India. Tailwinds from the overall industry dynamics plus a slew of deal wins and lowered costs have augured well for its business.
HCL continues to see positive announcements such as the strategic partnership with Fiskars Group for Digital Transformation, and partnership with McLaren Health among others, which gives it legs for continuing growth.
Favorable macros, strong execution capabilities and attractive valuation among peers make HCL Tech a strong investment for the long-term.
Recommendation 5: HDFC Bank Ltd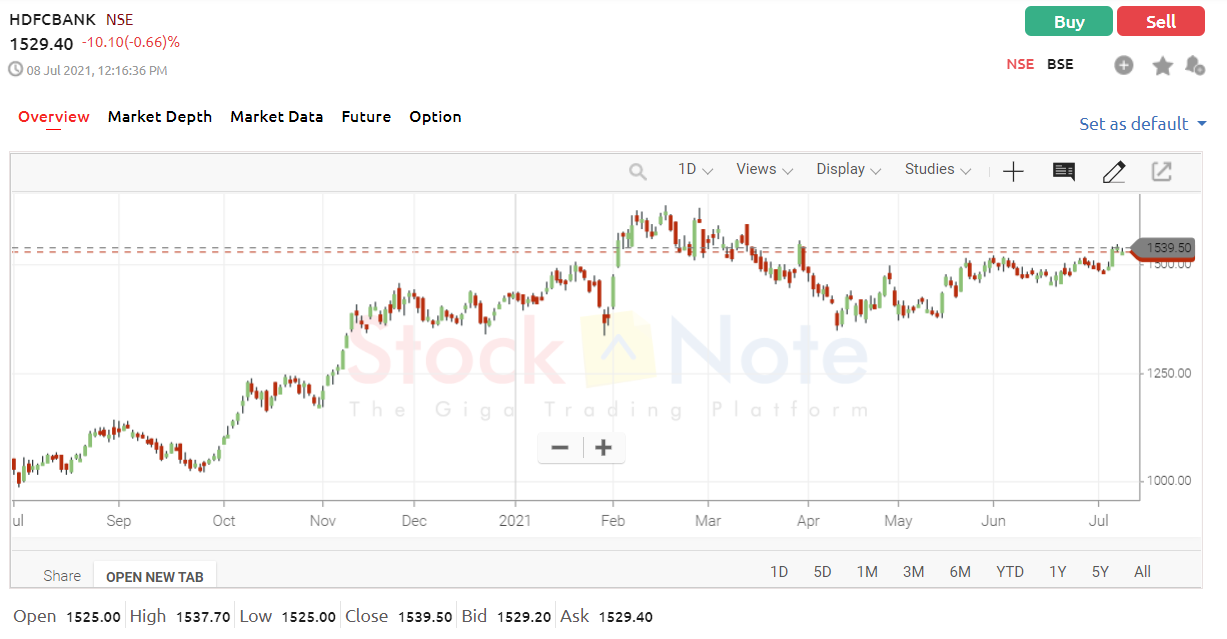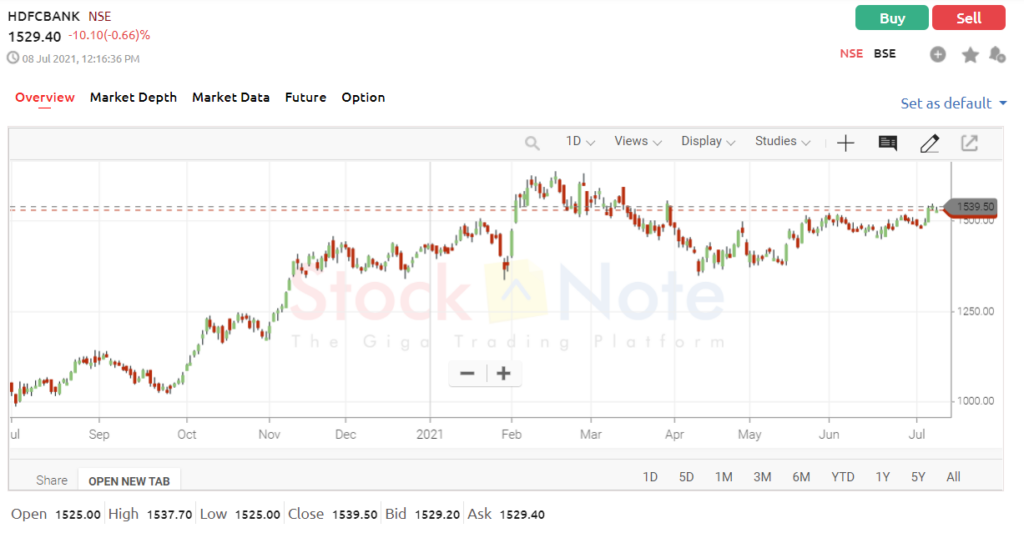 Company: HDFC Bank Ltd
Current Market Price as of 8/7/2021: Rs. 1,531
Target Price: Rs. 1,837.2
Target Return: 20%
Time Horizon: 1 year – 8th July, 2022
Rationale:
HDFC Bank, one of the best performing banks in India, continued to show resilience despite the stress seen on financial players from COVID-19.
As the economic recovery continues on track, HDFC Bank has been witnessing an impressive recovery of its own. The bank recently disclosed a steady growth in performance for Q1 FY22 as advances grew by 14.4% YoY. Retail segment is expected to pick up as lockdown eases.
On the other hand, commercial & rural loans were up 25% YoY while wholesale loans were up 10.5% YoY. Critical indicators such as total deposits as well as its CASA ratio saw improvements this quarter.
HDFC Bank remains one of the most resilient stocks in the banking sector. Sound asset quality and healthy book would guide its growth, making it an ideal player in one's portfolio.
1 Mini Portfolio with StockBasket:
Below is the mini-portfolio of stocks for you to invest in. Be a part of the best corporates of India to help you make the best of equity investments. All stocks in the mini-portfolio have the following attributes and will help you grow your investments consistently
Low or no debt.
Robust businesses with strong balance sheets and consistent earnings Strong corporate governance.
Strong cash flows.
Extremely capable and honest management team.
Recommendation: Dividend Champions StockBasket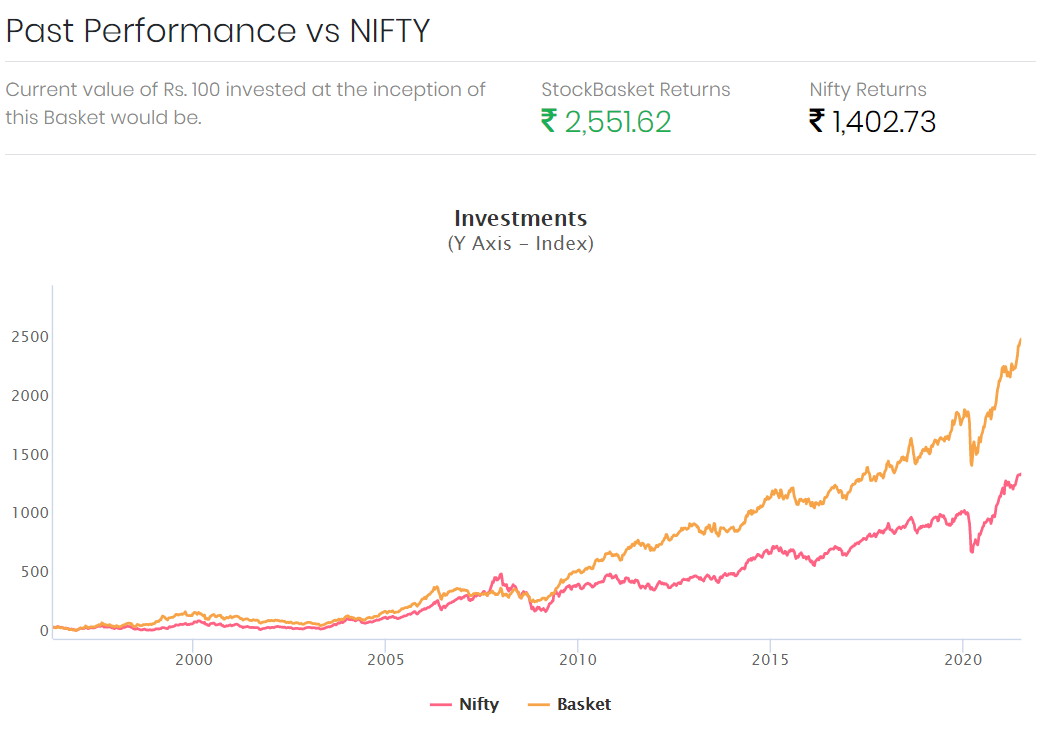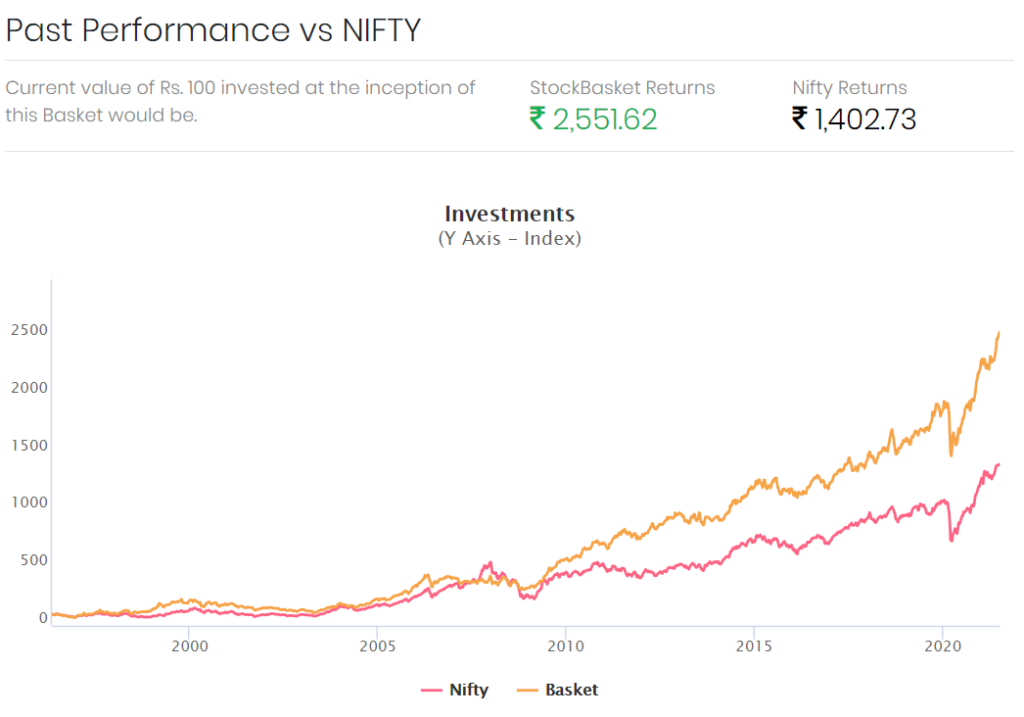 Min. Investment Amount: Rs.  51,709.70
Target Value: Rs. 1,07,112
Target Return: 107%
Target Date: 30th Sept. 2026
Rationale:
Companies in this StockBasket are well established, require limited cashflows to operate and grow, thus they are able to pay out more than 50% of what they earn every year on an average as dividends.
By delivering an average ROE (Return on Equity) in the range of 25% to 75% (meaning they are able to earn high net profits for their shareholders for a relatively lesser capital invested) these players provide value to shareholders. Right from stock price appreciation to regular dividend payments, the companies in this StockBasket provide a two-fold advantage to investors.
To know more, click here: View Dividend Champions Basket
Note: This is an exclusive research report for you under the Project Special Onboarding & Activation Program (S.O.A.P.). DO NOT SHARE THIS REPORT WITH ANYONE ELSE.
Disclaimer:
The report is not for public distribution and has been furnished solely for information and must not be reproduced or redistributed to others. None can use the report as a base for any claim, demand, or cause of action, and, also none is responsible for any loss incurred based upon. The investments discussed or recommended in this report may not be suitable for all investors. The opinion expressed is the current opinion as of the date appearing on the material only. Further, the information in the document has been printed on the basis of publicly available information; internal data, and other sources believed to be true and are for general guidance only but which may have not been verified independently. While every effort is made to ensure the accuracy and completeness of the information contained, the company takes no responsibility and assumes no liability for any error/ omission or accuracy of the information. Recipients of this material should rely on their own judgments and conclusions from relevant sources before making any investment. The investment advice should not be considered to be or taken as an offer to sell or a solicitation to buy/sell any security. The price and value of the investments referred to in this material are subject to volatility. Past performance is not a guide for future performance. Certain transactions -futures, options, and other derivatives as well as non-investment grade securities are subjected to substantial risks and are not suitable for all investors. For full disclosure, visit www.samco.in
Samco Securities is registered as a Research Entity under the SEBI (Research Analysts) Regulations, 2014. SEBI Reg.No.- INH000005847.