There are two process for modification of mobile number registered at Samco
Process 1. Online Process
Step 1: Log in to Samco Star Backoffice and login with your BackOffice login credentials. If you are logging in for the first time your password will be your pan number in caps.



Step 2: Once you logged in go to the Account Settings option by taking your cursor to your name mentioned on the top right.


Step 3: Now in the modification request section click on Modify Now option to proceed. In case you already requested KYC modification you can check the status in the Modification Status Option.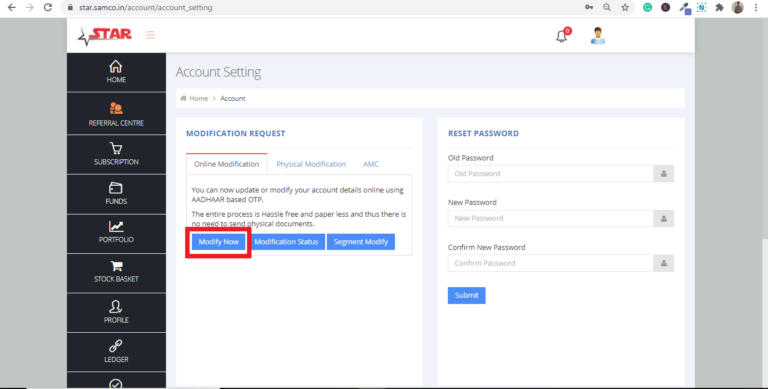 Step 4:
On clicking modify now button the list of modification will appear, over there you need to click on
Mobile modification.

Step 5:
Now enter your Existing number, below that enter the new number which you want to update

Step 6: After filling you details click submit now to verify your number you will receive an OTP on new number enter the OTP and click on verify.

Step 7: Once these steps are completed successfully it will take approx 72 working hours to process. In case of any discrepancy our KYC team will reach out to you via email.
Process 2. Via Physical follow the below process
Step 1:To change mobile number via offline process you need to download modification form https://www.samco.in/Downloads/Modification_For_DP_Trading.pdf
Fill in your SAMCO Client Code, DP Client ID and Name of Respective account holder, In case of multiple account holder / Joint account holders you are required to fill in all names of all the account holders. Tick on the two boxes below the details section to confirm and authorize SAMCO to update the respective details in your DEMAT, Trading and KYC accounts. Below is the image highlighting the above details.
PS: the DP ID is pre filled in the form and you can find your SAMCO Demat Account Client ID from the SAMCO STAR.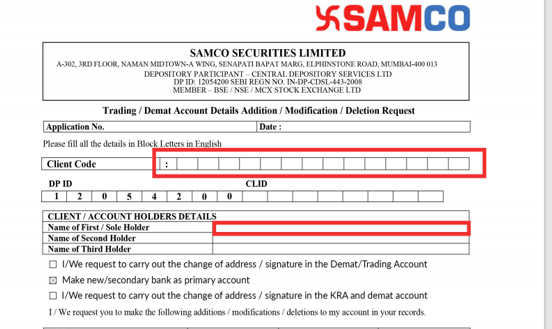 Step 2: Carefully fill in the the New mobile Number you want to add / change. In the fourth column i.e. Change in contact Number, in the "Existing Details" column mention the "Existing Contact Number that are linked to your trading account. then add the New mobile number in the "New Details" Column carefully.
You are almost done, sign in the section highlighted in Red, In case of multiple / joining account holders all the holders will be required to sign in the segment highlighted in red. Post which you need to send the form to SAMCO on the above mentioned address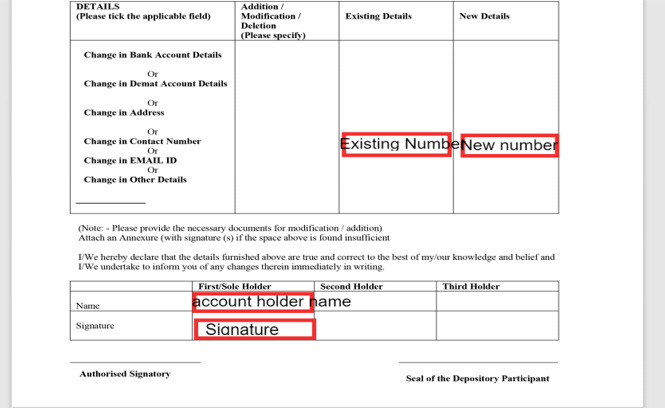 Watch this video – how to link mobile number with Samco
Was this article helpful?
Share