Want a synopsis of this article? Listen to this ♬
Why Do You Need to Open a Demat Account?
You need to compulsorily open a Demat account and a trading account to trade in the Indian stock market.
Prior to dematerialisation, all the investments, especially shares were maintained physically in paper format. This resulted in lengthy paperwork, delays, forgery, theft, stamp duty charges etc and eventually slowed down the pace of share trading.
To keep pace with the modern digitalised world, the process of dematerialisation was introduced in the Indian markets. Dematerialisation is the process of converting physical shares and other financial assets into electronic form. Financial assets held in electronic form helps investors to transfer, maintain and track all their investments without any hassles.
[Suggested Reading: How to Open a Demat Account for Free in India]
Steps to Open a Free Demat Account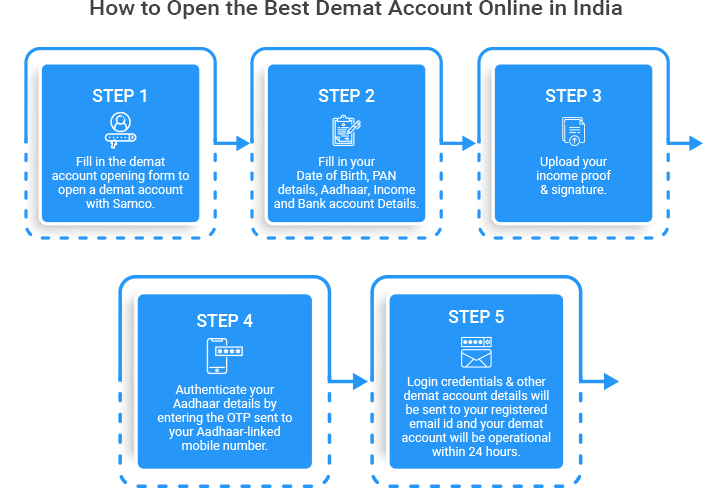 With digital India, opening a Demat account has become extremely simple and quick. You can open a Demat account by following the below steps:
Step #1: Select a depository participant: A depository participant i.e your broker is the pivotal link between you and the depository (NSDL & CDSL). While selecting a depository participant you should ensure that the broker is well-known, honest, technologically advanced and offers low brokerage charges.

Step #2: Complete the enrollment formalities: To open a Demat account, you need to fill in the account opening form and provide self-attested documents. A pancard is mandatory for opening a Demat account in India.

Step #3: IPV Verification: Post completing the enrollment formalities, you will have to undergo a 'in-person-verification' process. You will also be provided with the detailed terms and conditions, brokerage charges for your approval and records.

Step #4: Account is opened and functional: On successful processing of all the documents, your Demat account will be opened and you will be provided with a client id and other details to access your Demat account.
Documents Required to Open a Demat Account
Mandatory document: Pancard
Identity proof: Aadhaar card
Income proof: 3-month salary slip or 6 months bank statements or Income tax return
Bank proof: Cancelled cheque
Verification: Signature
Samco - The Best Equity Broker in India
A Demat account has multiple hidden charges, annual maintenance charges etc which can erode your overall portfolio returns. Hence it is important to select a depository participant which provides the best Demat account with lowest brokerage.
[Suggested Reading: 17 Reasons Why Samco Provides the best Demat account in India]
Let us understand how Samco increases your portfolio returns by offering one of the lowest brokerage charges in India.
| Brokerage & other charges | What Others charge | |
| --- | --- | --- |
| Buy Price | 500 | 500 |
| Sell Price | 510 | 510 |
| Quantity purchased | 1000 | 1000 |
| Profit Earned | 10000 | 10000 |
| Brokerage Paid | 5050 | 40 |
| GST | 914.91 | 13.11 |
| Total GST + Charges | 7110.75 | 1198.95 |
| Net Profit | 2889.25 | 8801.05 |
| Brokerage Saved | NIL | 5010 |
As evident in the above table, due to Samco's low brokerage charges, your net profit rose from Rs 2,889.25 to Rs 8,801.05, a saving of a whopping Rs 5,010.
Open a free Demat account with Samco today and get started on your wealth creation journey now!
Key Features of Opening a Free Demat Account with Samco
Samco is one of India's leading equity brokers and provides the best Demat account in India. The benefits of opening a Demat account with India's best equity broker Samco are:
Free online trading account linked to Demat account
Free annual maintenance charge for 1st year
Rated India's Best Equity Stockbroker by CNBC-Awaaz
Get Margin against shares held in Demat account
Low cost zero % brokerage with trading at flat Rs.20 per order
Investing in mutual funds in Demat form
Equity delivery leverage – 4x equity delivery leverage
Intraday leverage – 33x for equity & equity derivatives, 100x for currency derivatives
Trading and investing ideas with StockNote – India's best mobile trading app
Instant updates for all stock holdings with StockNote
Margin pledging for trading limits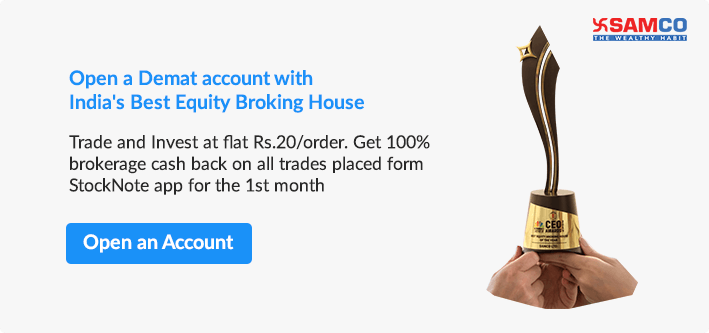 Benefits of Samco Demat Account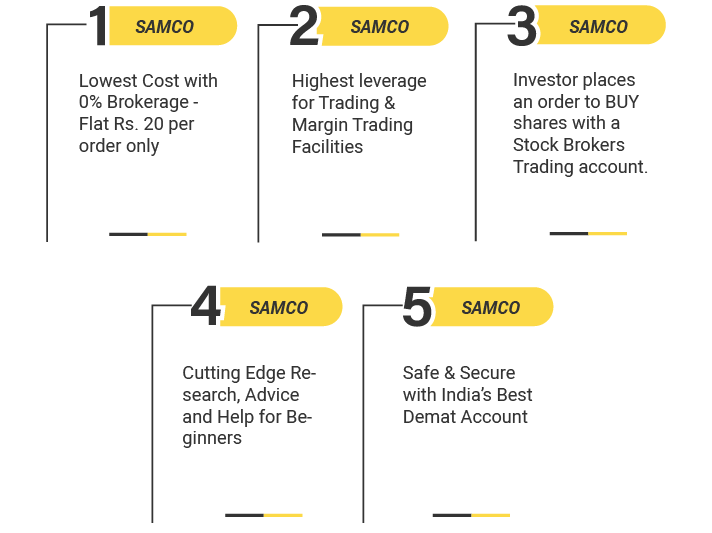 Read Important Articles on
FAQs on How to Open a Demat Account
Q
Is a Demat account really free?
-
A
While often advertised as 'free' a Demat account is hidden with charges such as maintenance fee, custodian fee, transaction charges, high brokerage charges etc. But with Samco you get a truly free Demat account for lifetime. To open a Demat account with Samco,
fill in this form.
Q
Can I convert my physical shares into electronic form?
+
A
Yes, Samco facilitates the conversion of physical shares into electronic form for a nominal fee.
Q
Can I open my Demat account with Samco?
+
A
Yes, Samco is a depository participant with CDSL (Central Depository Services Limited) and provides customized offerings for every financial goal.
Q
Can I open multiple Demat accounts?
+
A
Yes, you can open multiple Demat accounts with the same depository participant or with various depository participants, but your KYC must be completed for all Demat accounts.
Q
Is a Demat account compulsory to subscribe to an IPO?
+
A
While an investor can apply for an IPO via a physical form, since the shares will be traded electronically post allotment, it is advisable to open a Demat account while subscribing to an IPO.
Read more on the latest IPOs in India.
Join over 200000+ happy customers from over 4000+ cities across India.
What do our clients say!
"Easy to access and live updates are very helpful"
Patel Roshankumar B
"Good feature. Easy investment option. Nice interface."
Liyaqat Khan
"User-friendly app and attractive brokerage"
Yogesh Hanardhan Samleti