Samco offers a unique Refer and Earn program, wherein you get rewarded with gift vouchers of Amazon, Flipkart, Myntra, Zomato, etc. for referring your friends to Samco. Check out this month's referral benefits on the Samco web platform.
This blog post will guide you through the process of referring friends through the Samco web platform, helping you make the most of this exciting opportunity.
Referral Program Overview:
Samco's referral program enables users to earn rewards by referring friends who sign up and trade on the platform. It's a win-win situation, as both referrers and their referred friends can benefit from this program. By inviting your friends to join Samco, you not only help them discover a robust trading platform but also get rewarded for your efforts.
Step 1: Log in to Your Samco Account:
To begin, log in to your Samco account on the web platform using your registered credentials. If you don't have an account yet, sign up for one by providing the necessary details. It's quick and easy to create an account on Samco, ensuring you can swiftly proceed with the referral process. Sign up now –>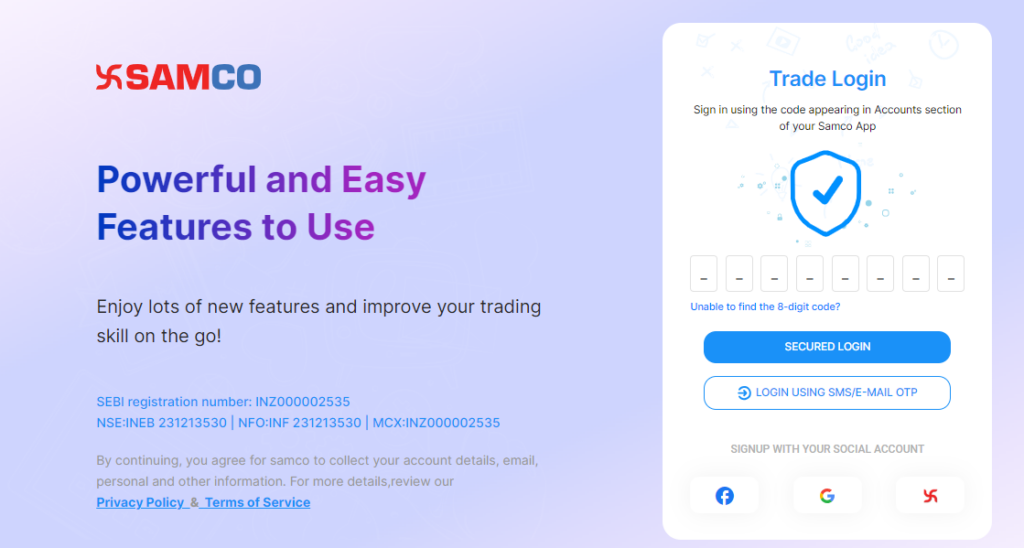 Step 2: Access the Referral Tab:
After logging in, tap on the referral tab available on the home screen. Alternatively, you can navigate to your profile section and tap on the referral tab. Find detailed information about Samco's referral program like terms and conditions, rewards structure, and guidelines for participation.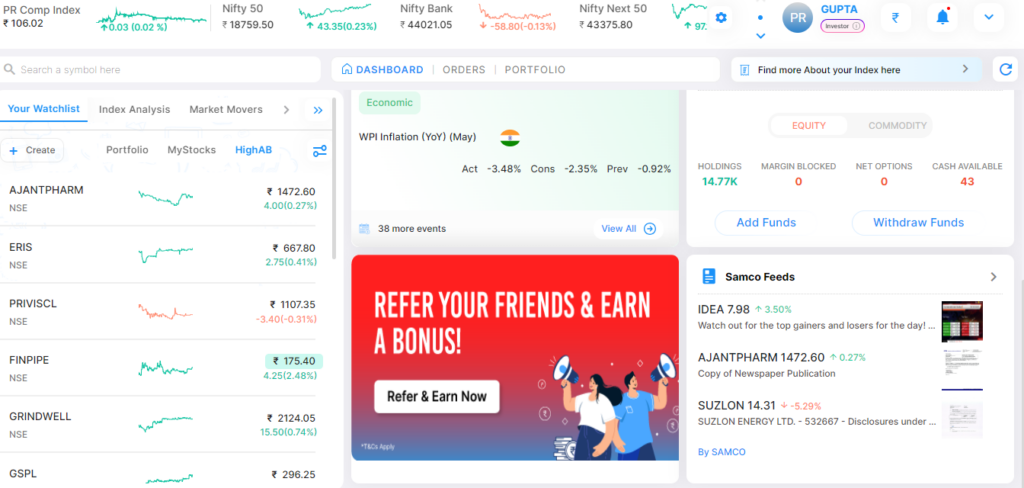 Step 3: Generate Your Unique Referral Link:
On the referral program page, you will find a unique referral link assigned to your account. This link is the key to tracking the friends you refer. Click on the provided option to generate your referral link, which you can share with your friends through various channels, including social media platforms, email, messaging apps, or even by copying and pasting the link directly.

Step 4: Share the Referral Link with Friends:
Once you have your referral link, it's time to spread the word! Share the link with your friends and acquaintances who may be interested in trading on Samco. You can explain the benefits of the platform and how they can sign up using your referral link to get started. Encourage them to explore the platform's features, such as a user-friendly interface, advanced trading tools, and a wide range of investment options.
Step 5: Track Referrals and Earn Rewards:
Samco provides a dashboard where you can track your referrals and monitor their progress. You can view the number of friends who have signed up using your referral link. As your friends actively trade on Samco, you earn rewards, which can include brokerage sharing, and gift vouchers of Amazon, Flipkart, Myntra, Zomato, and many more. The more friends you refer and the more they trade, the greater your potential rewards.
Conclusion:
Referring friends through the Samco web platform is a fantastic opportunity to earn rewards while introducing others to a reliable online trading platform. Start referring today and unlock the benefits!
By following the simple steps outlined in this blog post, you can refer friends to the Samco web platform with ease. Remember to utilize your unique referral link, share it with your network, and keep track of your referrals to maximize your rewards.
Alternatively, you can join Samco's referral program today and enjoy the benefits by submitting your friends' contact details on our referral page. We'll take care of their onboarding on your behalf.
If you have any queries, get in touch with us by giving us a call at 022-2222-7777 or raise a ticket
Important Links
Was this article helpful?
Share