This article explains how one can view positions using Admin positions feature of the SAMCO NEST Trader.
After a trade has been entered, the next big thing that a trader wants to know is what is the status of the trade? Is it in a profit or is he suffering a loss on the trade? Once the order is completed, the order shall reflect in the trade book (shortcut key – F8).  But this will only show the price at which the order has been traded. To check the status of outstanding positions click on Masters – Admin Positions (Shortcut key – F11)

This shall take you to the "Check Admin Position" Window as seen below.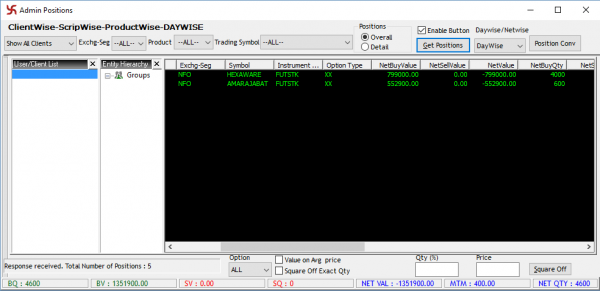 This window shall show all the open positions of the day for both equity & derivatives market. In Net wise positions, all the day wise open positions can be seen and in addition to the day wise positions, it shall also display the carry forward derivative transactions. Please note that the Marked to Market or Profit & loss for the carry forward trades would be calculated using the "previous day's closing price" and not the buying price except in the case of NRML-EQ carry forward positions under the CashPlus product. Buying Price can be checked from our back office "Samco Star" -> Portfolio -> Open Positions. When a trader/investor views his positions using this admin positions window, these positions are updated in real time.
In the check admin position window one can check and do a lot of extra activities like:
Check admin position i.e. the open positions – both day wise and net wise
Check the profit or loss on individual positions and sum of profits/losses on all the positions
Square off open positions
Convert positions using the Position Conversion feature
Additional Reference Links

Was this article helpful?
Share