As a responsible investor, it is really important to review your portfolio periodically. This review should be done periodically to check the quality of funds you have invested in, Remove poor performing funds and replace them with new quality funds.
RankMF SmartSwitch: –
A unique tool that allows investors to evaluate their existing mutual fund portfolio, review recommendations based on current holdings and apply those recommendations to improve portfolio score and get the best out of your mutual fund portfolio. SmartSwitch uses RankMF's proprietary research and rating engine that generates your portfolio score basis your holdings and helps you eliminate the poor quality funds by giving you the choice to switch to quality mutual funds, improving the overall portfolio score.
Here is a step by step guide on how to use SmartSwitch and increase the ROI by reviewing your portfolio.
Visit www.rankmf.com and login to your account
Step 1: Once logged in, click on 'Evaluate Portfolio' from the menu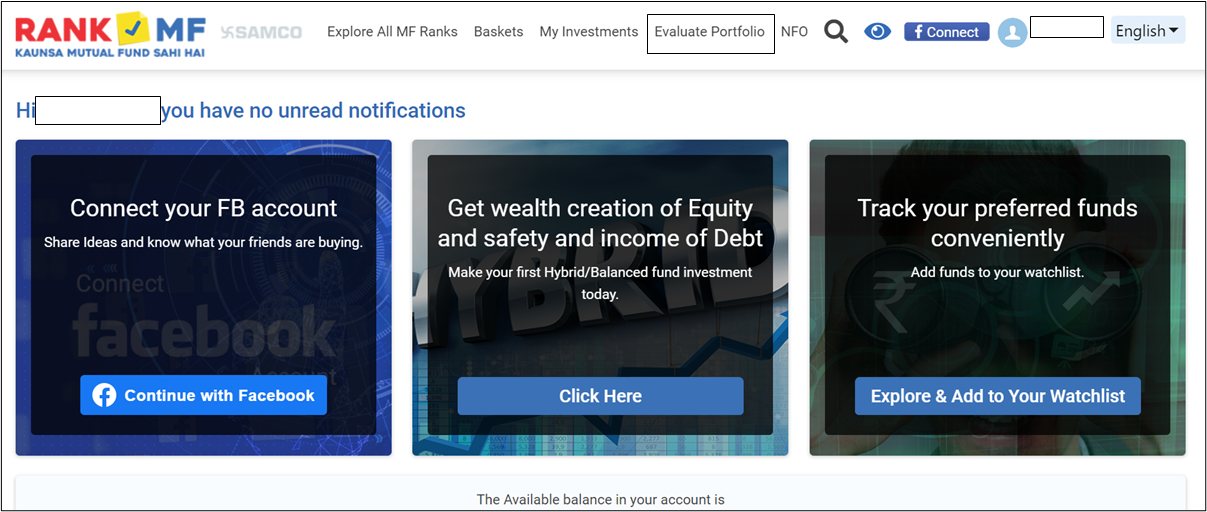 Step 2: To check your existing portfolio score click on 'Evaluate Your Portfolio'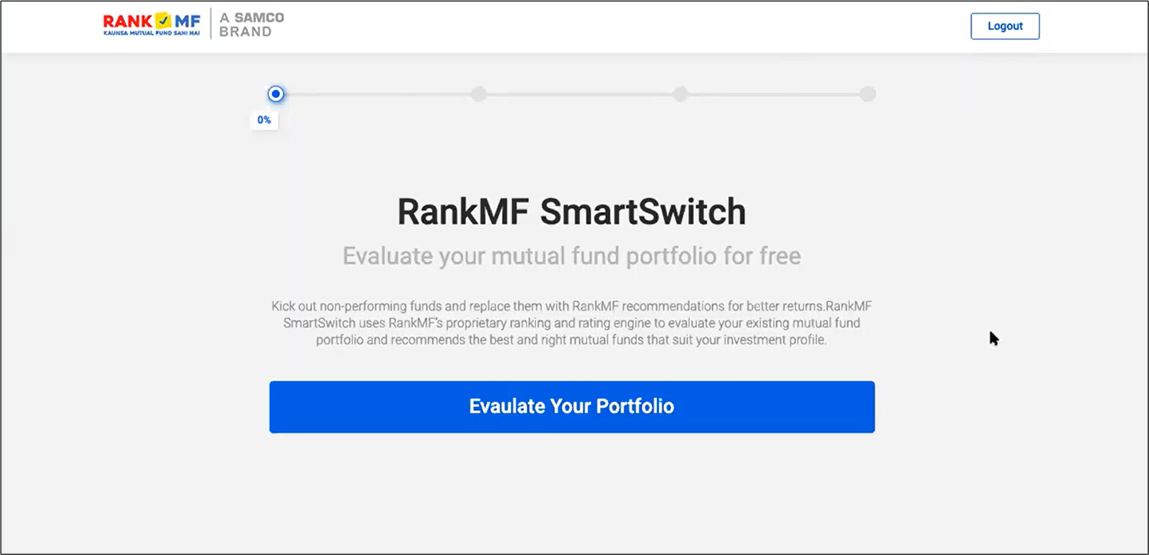 Step 3: Upload your detailed Consolidated Account Statement (CAS), preferably the latest one. The CAS statement should be of the same name as the name on the PAN card.
If you need any help generating your e-CAS here are the steps to download through CAMS Online, NSDL, CDSL, KFintech.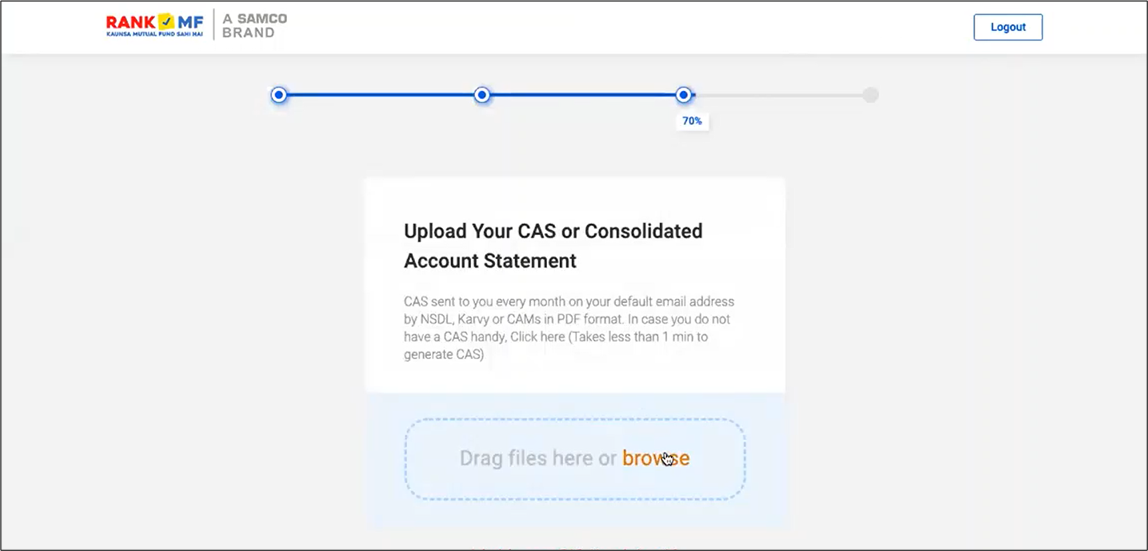 Step 4: As soon as you upload your CAS within seconds you will be shown your current portfolio score (%) based on the existing composition & quality of funds you hold. And shows by how much % can the score be improved. Click on the 'Upgrade My Portfolio' tab to proceed further.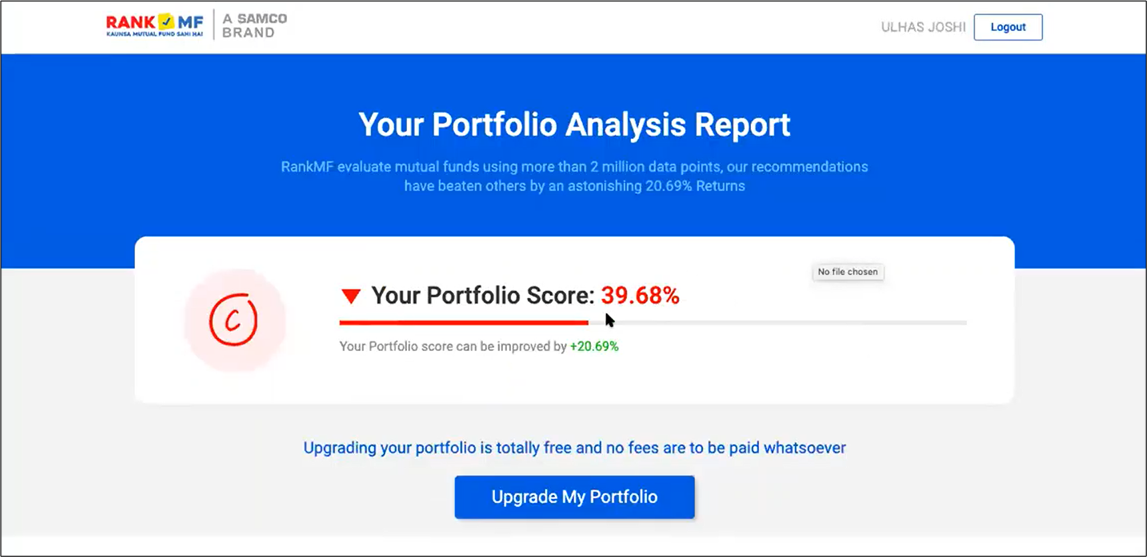 Step 5: In the next step you can view all improvements & funds switch recommendations against each of the existing funds you hold based on four different sub-categories:
Move to better funds in same category (Basic)
Move to better funds in a different category but the same asset class (Advanced)
Good Mutual Fund schemes will not be switched
Following schemes will not be switched – where minimum investment threshold not met and redemption is not allowed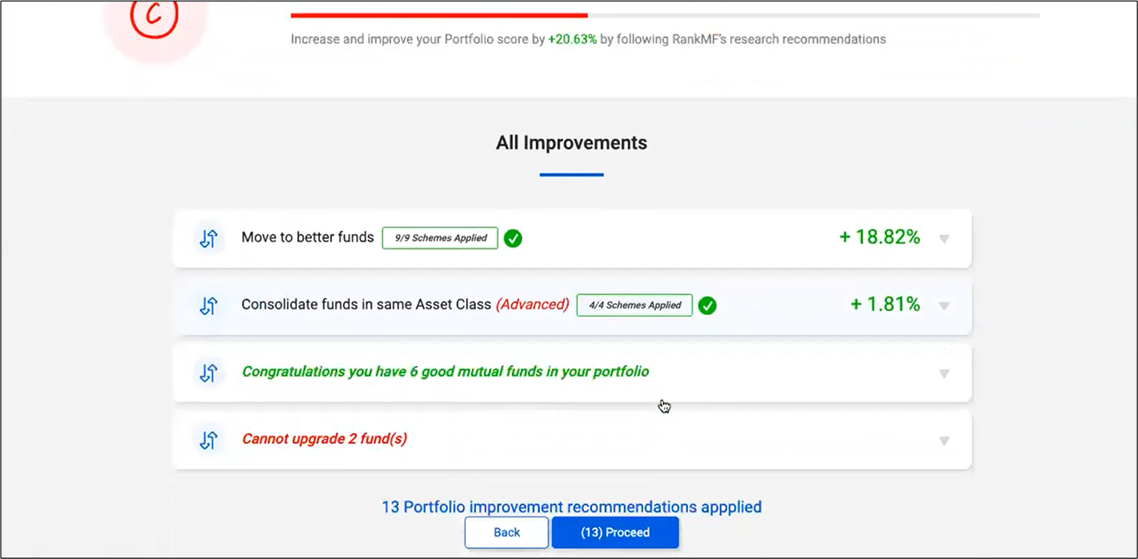 Step 6: By clicking on 'View' against each fund recommended to switch, you can see the disadvantages of holding an existing fund and advantages of switching to recommended funds. You can even unselect the funds you do not wish to switch. But it is highly recommended to switch to quality funds to improve the overall portfolio score.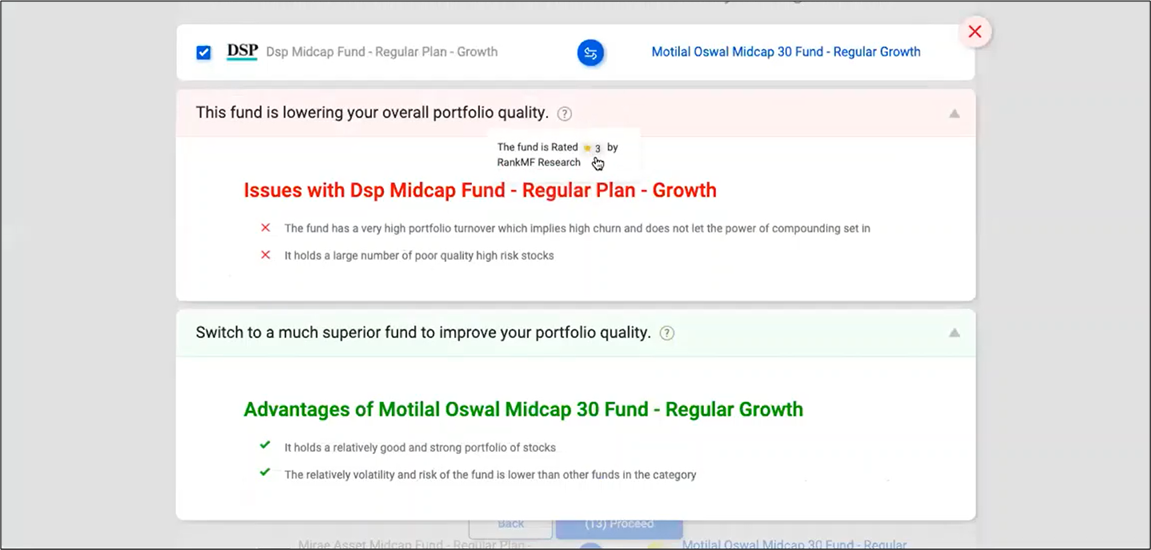 Step 7: Once you click on proceed it shows you 'Your New Portfolio Score' based on the funds you selected and unselected for switching.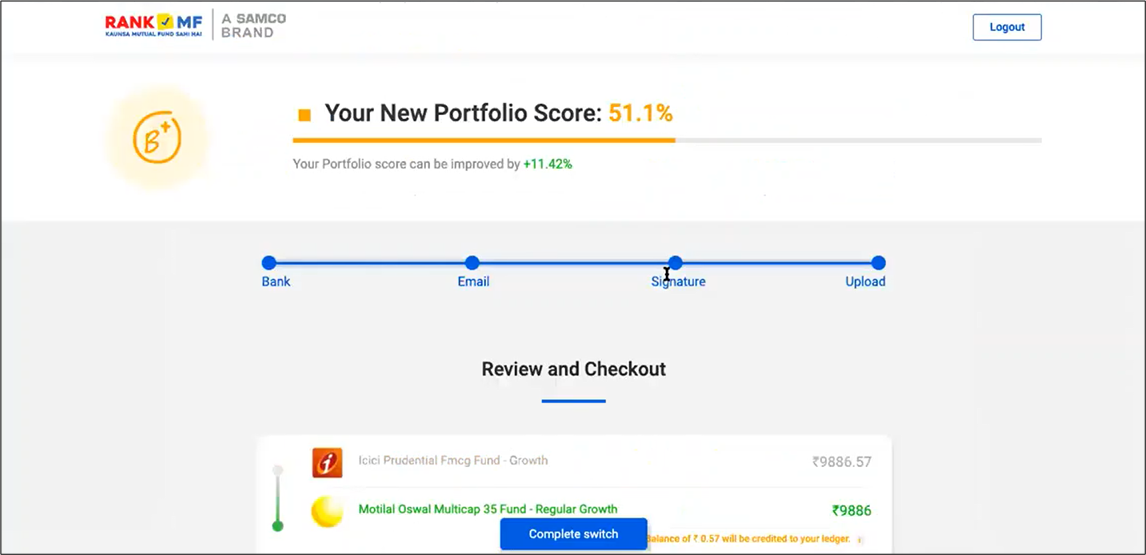 Step 8: Here you can see the details of the redemption amount from poor quality funds and the new amount invested in the quality mutual funds. The new investment amount will be rounded off and the balance would be credited to your ledger automatically.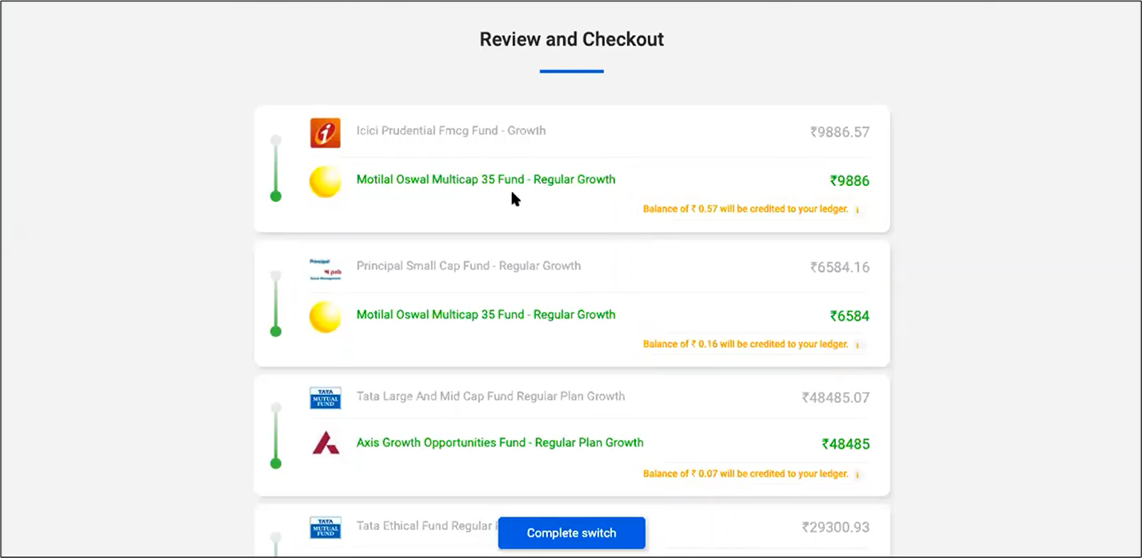 Step 9: As a final step click on the 'Complete Switch' button and you will receive an OTP to your registered mobile number.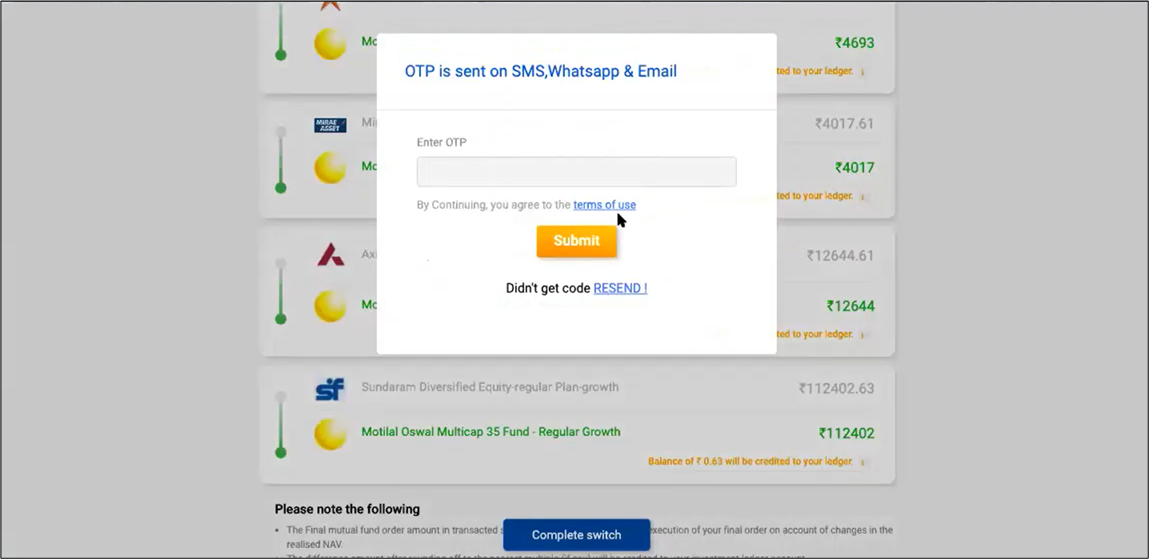 Step 10: Enter the OTP and click on the 'Submit' button. Congratulations you have successfully switched your portfolio to better quality funds and improved the overall ROI.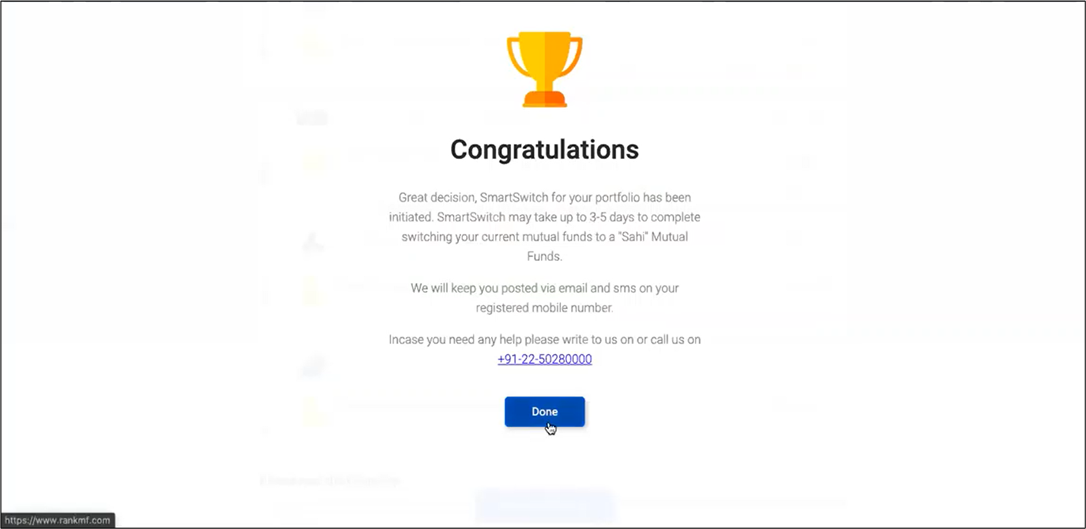 Was this article helpful?
Share