In this article, we will discuss 6 Mistakes Traders make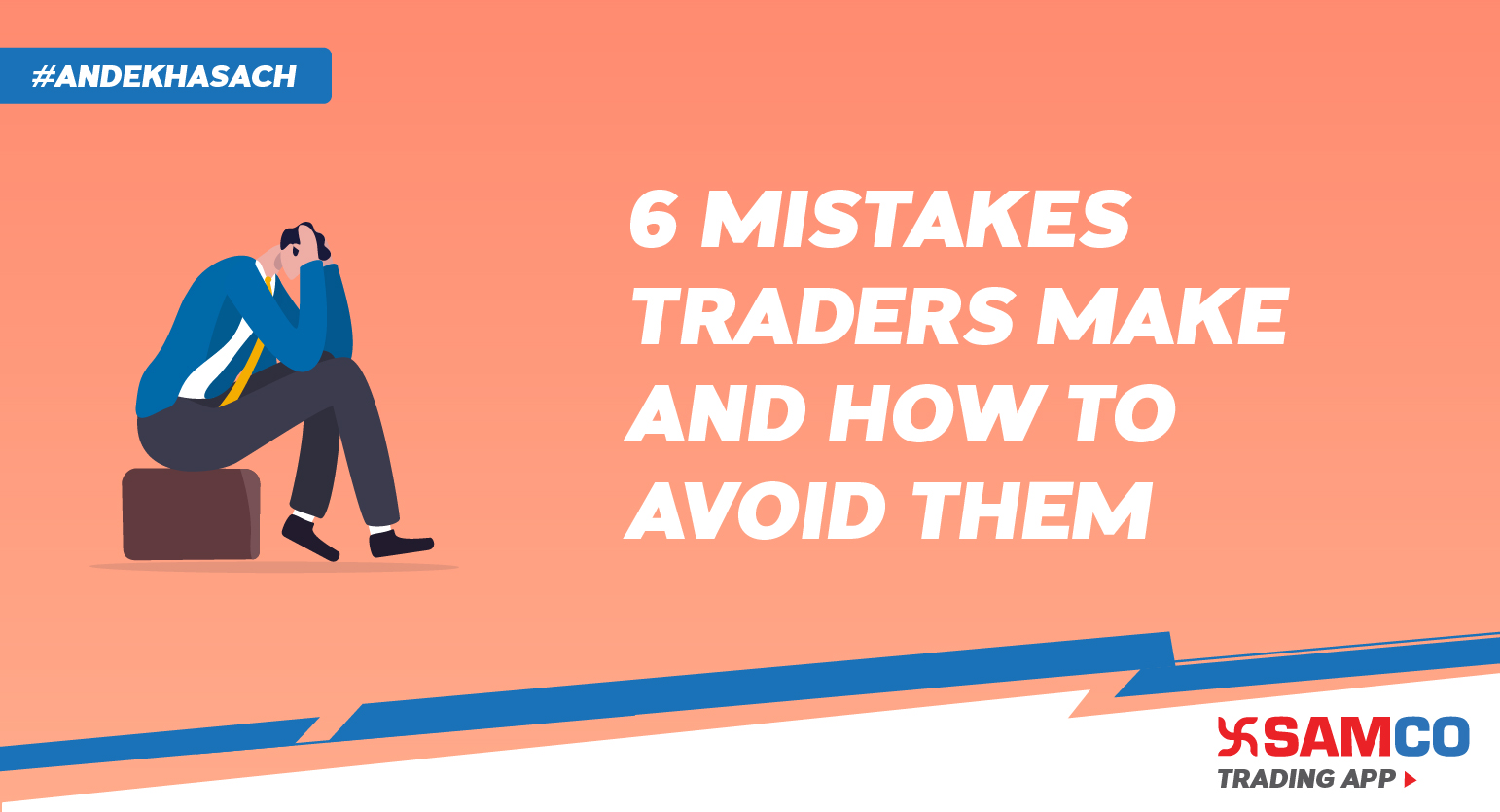 Trading in the stock market can be quite challenging, especially if you are a beginner. However, even seasoned traders with years of experience behind them tend to make some mistakes that can prove costly in the long run. Knowing what these mistakes are can help you avoid them, no matter where you are in your stock market trading journey.
Here is a closer look at 6 such common mistakes most traders make, and what you can do to steer clear of them.
Mistake 1: Lack of a trading plan
Many beginner traders and even seasoned market participants often trade without a comprehensive plan. This makes it difficult to identify the right entry and exit points and results in impulsive trades that could lead to significant losses.
How to avoid it: 
Create a detailed trading plan outlining your entry and exit points, risk tolerance, and targets.
Mistake 2: Inadequate research 
In an attempt to make quick profits, many traders often skip the research and directly begin trading in the markets. However, inadequate research and insufficient knowledge of the markets can lead to poor trading and investment choices.
How to avoid it: 
Conduct thorough research on the assets, market trends, and any other relevant news or developments.
Mistake 3: Failing to use stop loss orders
If the market does not move as expected, you may suffer losses in your open positions. However, stop loss orders help limit the amount of loss you incur on your trades.
Despite this benefit, many traders overlook the importance of stop loss orders.
How to avoid it: 
Always set stop loss orders on each trade to protect yourself from significant losses.
Mistake 4: Ignoring market trends
There is no golden rule requiring you to trade according to or against market trends. However, being aware of the direction in which the market is trending can help you plan your trades more efficiently.
How to avoid it: 
Remain aware of market trends and use technical analysis to identify potential price patterns.
Mistake 5: Making emotional trade decisions 
When placing buy and sell orders in the market, many traders are driven by emotions like fear, greed, or impatience. Such emotional trading decisions often lead to poor outcomes because they rely on impulses rather than concrete historical data.
How to avoid it: 
Keep your emotions in check and use data and research to make your trading decisions.
Mistake 6: Not factoring in risk and rewards
Failing to account for risks and rewards in any trade is another common mistake. This could lead to imbalanced trades with unfavorable risk-to-reward ratios that may lead to more losses than gains in the long run.
How to avoid it: 
Before you place an order, evaluate the potential risks and rewards and maintain a favorable ratio between the two.
Steer clear of these mistakes with the right trading insights 
Samco's Trading App  can help you avoid all of these common mistakes with its many new-age features — each of which is designed to help traders like you make smart decisions in the market. By giving you clarity about the #AndekhaSach or unseen insights, the app helps you set clear entry and exit points, understand market trends, evaluate risks and rewards, and take actionable measures to improve your trading performance.
Disclaimer: INVESTMENT IN SECURITIES MARKET ARE SUBJECT TO MARKET RISKS, READ ALL THE RELATED DOCUMENTS CAREFULLY BEFORE INVESTING. The asset classes and securities quoted in the film are exemplary and are not recommendatory. SAMCO Securities Limited (Formerly known as Samruddhi Stock Brokers Limited): BSE: 935 | NSE: 12135 | MSEI- 31600 | SEBI Reg. No.: INZ000002535 | AMFI Reg. No. 120121 | Depository Participant: CDSL: IN-DP-CDSL-443-2008 CIN No.: U67120MH2004PLC146183 | SAMCO Commodities Limited (Formerly known as Samruddhi Tradecom India Limited) | MCX- 55190 | SEBI Reg. No.: INZ000013932 Registered Address: Samco Securities Limited, 1004 - A, 10th Floor, Naman Midtown - A Wing, Senapati Bapat Marg, Prabhadevi, Mumbai - 400 013, Maharashtra, India. For any complaints Email - grievances@samco.in Research Analysts -SEBI Reg.No.-INHO0O0005847