Position conversion is defined as an act of converting trades from their original product type and intent. For instance, if intraday trades are converted to positional carry forward trades, this shall be an act of position conversion and so on. Refer to this article on what is position conversion in trading?
Existing positions are the open positions which are bought under different product types like
MIS orders – For intraday trades in Equity & Derivatives
CNC orders – For equity delivery trades
NRML orders – For carry forward trades in F&O and CashPlus trades in equity
(Please note that Cover Order and Bracket Orders are strictly intraday orders and cannot be converted to any other order type)
Example: If you had entered an order in MIS (intraday product type). However, later you wish to carry forward the position (using NRML product type), you can convert the position by completing the following steps.
Log in to Web StockNote and select Position & Holding Tab. This shall open a new window which will display all the positions.
Select Net, then select the open position and click on the Convert button.

3. On clicking the Convert button, a pop-up window for position conversion shall open up.

4. In this window, select the product type in which the position needs to be converted and enter the quantity to be converted, then click on the Submit button.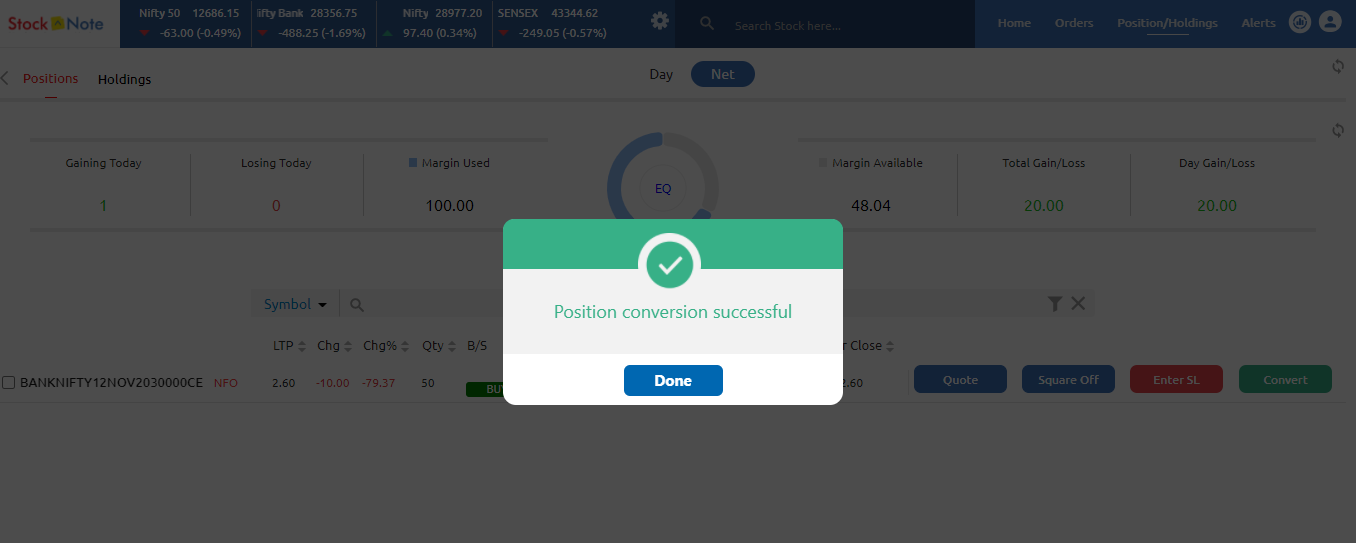 Note: The position conversion from MIS or NRML can be done only when the required margins are available in your trading account. Also, the positions can only be converted before the freeze period gets activated i.e. 5 minutes before the order square-off time.
Additional Reference Links