Web Samco is a very user-friendly website trading platform that promises to make trading and investing a very simple and easy process.
Adding stocks to your own custom Watchlist is an easy task. 
A watchlist is a comprehensive table of your favorite company's stocks. You can view the stock rates, their daily gains, and other key metrics on a single screen.
Click on the Search Icon at the top of the watchlist to open the search screen. You can select any one of the markets like Equity, Currency, or Commodity and select the segments like Cash, Future, or Options.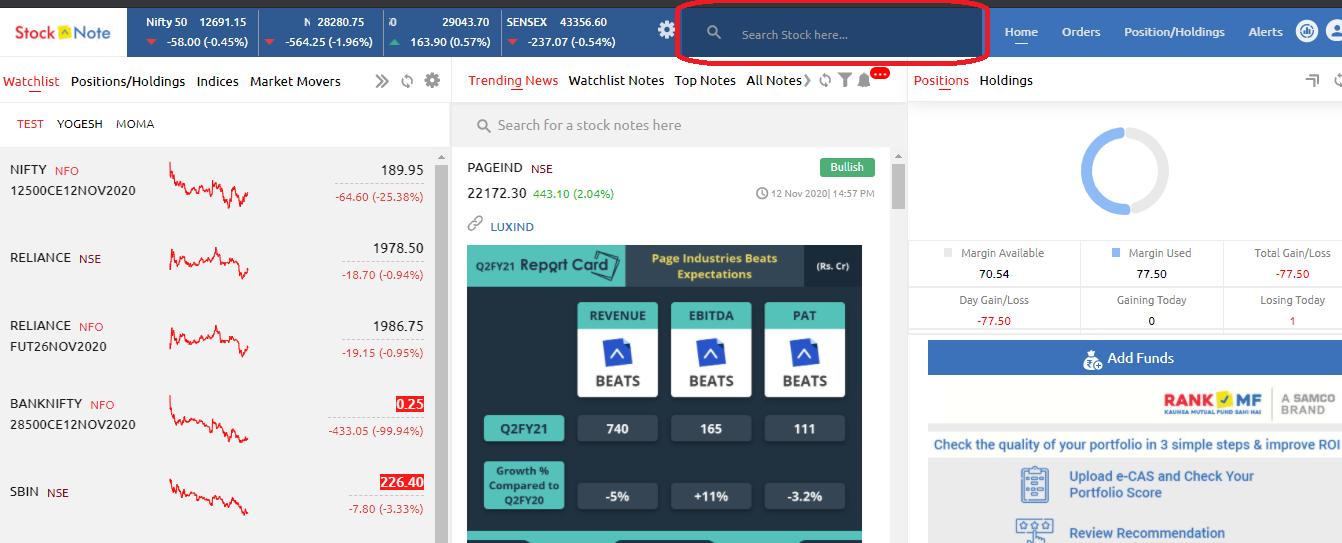 Here, one can search by typing the name, symbol, or script code of the security. For e.g. if you wish to add ITC, you can do so by typing either the Symbol as "SBIN", or by name as "State Bank of India", or BSE Code "500112".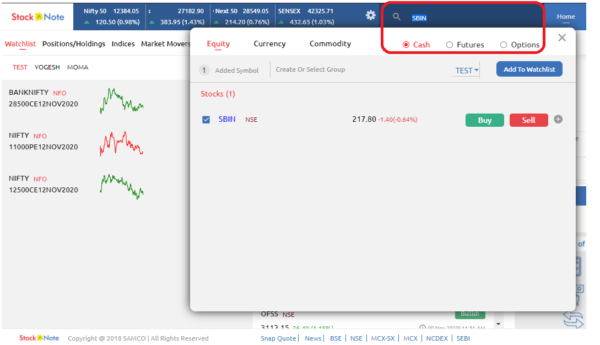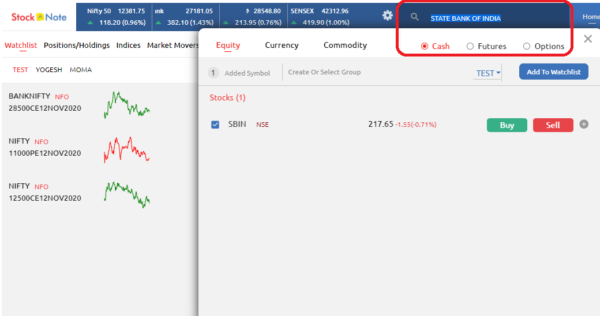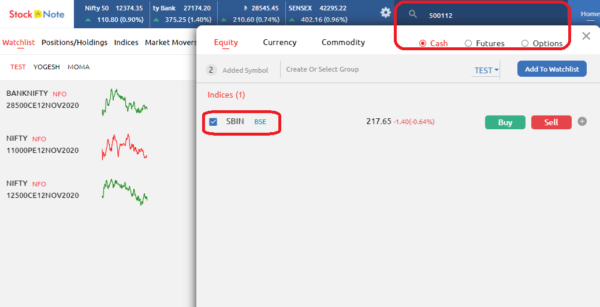 To change the exchange segment in the equity shares, click on the NSE and you able to see to option select BSE or NSE.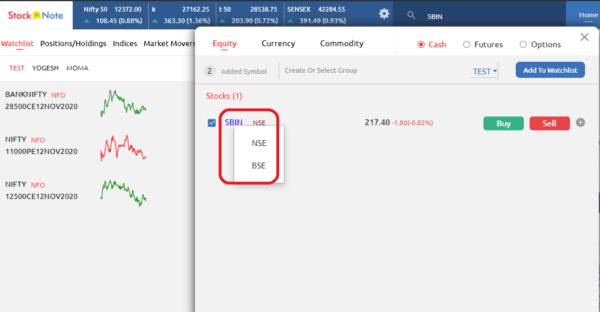 You can add multiple symbols selected from different segments at a time. For e.g. If you wish to add Reliance shares and Reliance future, search Reliance in Cash & select the script. Now, by selecting "Futures" from the options, type RELIANCE, and select the future contract. Likewise, you can search and select as many symbols as you want. Post selection, click on "Added symbol" (beneath the Equity tab) then click on the number displayed beside it. All the selected symbols would be added in one go after clicking on "Add to Watchlist"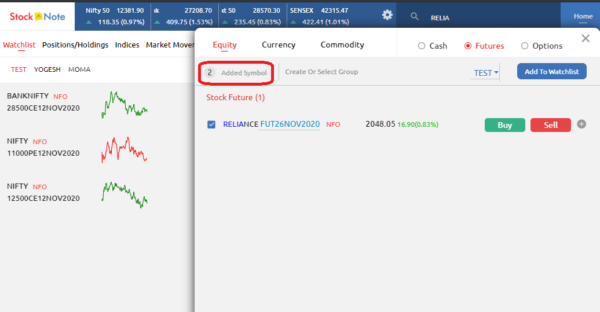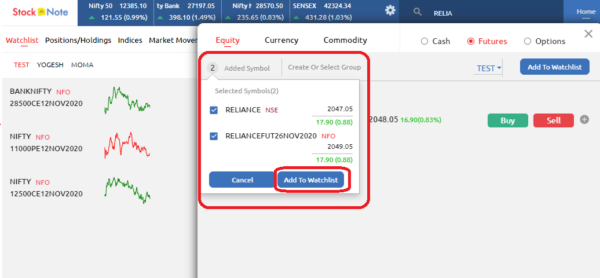 In the next screen, select the watchlist from the drop-down arrow to which you want to add the scrips and click on "Add to Watchlist". You can also create a New watchlist group of the selected symbols directly by clicking on "New Group".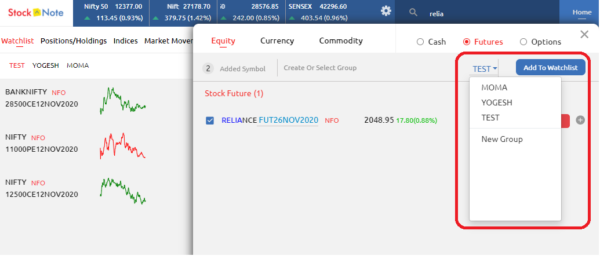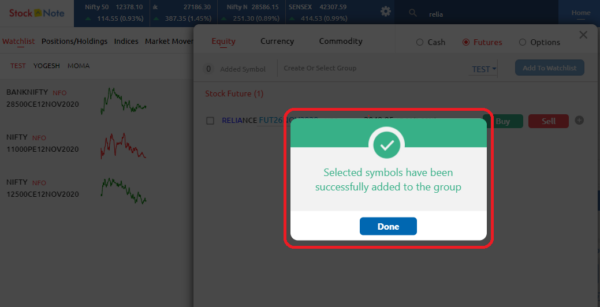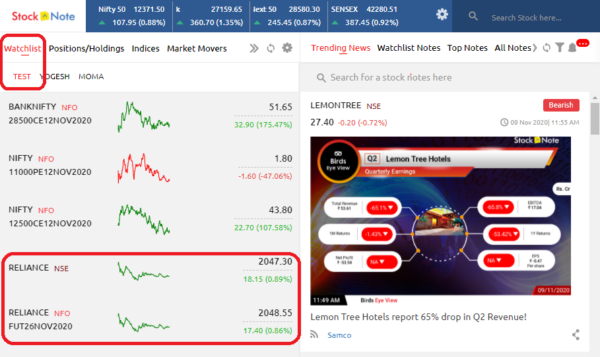 For adding the Options contract symbol to the watchlist, follow these steps:
Eg. If you select options and search "Bank nifty" it will drop-down the expiry, strike price, and action (clicking on the blue links). You may take any of the contracts that you prefer.
Furthermore, it will also show the most popular strike price of the bank nifty contract below thus enabling the user to trade in the most-active contracts.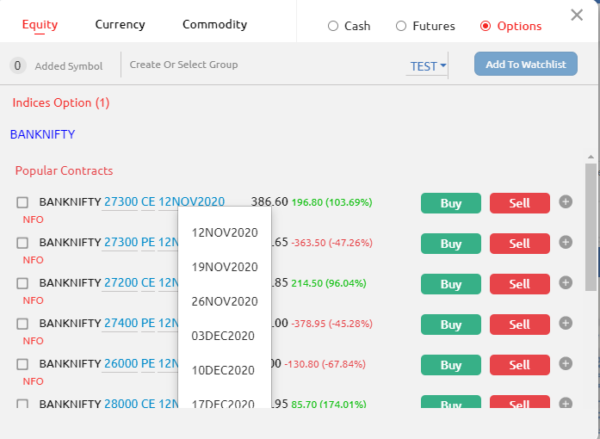 You can also add scrips from the feeds.
Eg. Click on the script name on the note. Next, click on the "+" button on the right-hand side of the price. Now on the corresponding screen, you would be asked to select the Watchlist where you wish to save the script.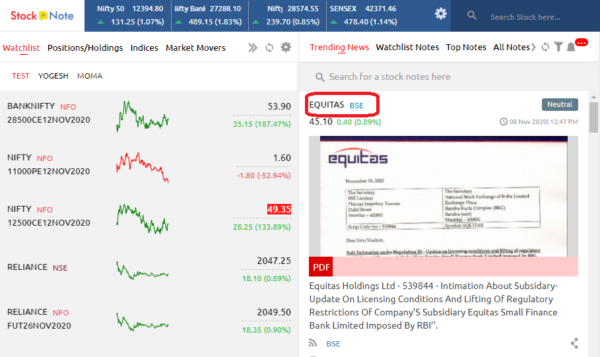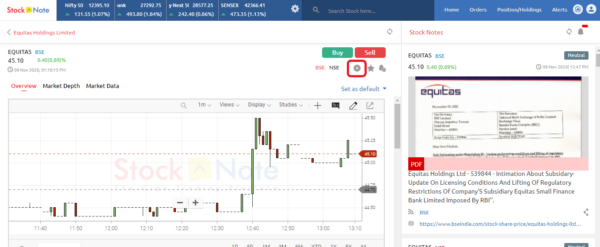 Note: You can add a maximum of 30 stock symbols in one watchlist group, but you can create unlimited watchlist groups with different group names.
To know more about Watchlist settings
—————————————————————————————————————————————————–
Take the first step towards a secure financial future with Samco – India's best equity stock broker by opening a 3-in-1 Demat, trading and mutual fund account today!
Was this article helpful?
Share