What is MCX?
Multi Commodity Exchange (Full Form of MCX) as the name suggests is an exchange like BSE and NSE where commodities are traded. It is a platform for commodity traders that facilitate
online trading
, settlement and clearing of commodity futures transactions, thereby providing a platform for risk management (hedging). It was established in November 2003 under the regulatory framework of FMC. In 2016, the FMC was merged with
SEBI
and MCX as an exchange falls under the regulatory purview of SEBI.
Which commodities are traded on MCX?
Following types of commodities are traded on MCX
Bullion

Gold
Gold Mini
Gold Guinea
Gold Petal
Gold Petal (New Delhi)
Gold Global
Silver
Silver Mini
Silver Micro
Silver 1000

Base Metals

Aluminium
Aluminium Mini
Copper
Copper Mini
Lead
Lead Mini
Nickel
Nickel Mini
Zinc
Zinc Mini

Energy

Crude Oil
Crude Oil Mini
Brent Crude Oil
Natural Gas

Agro Commodities

Cardamom
Cotton
Crude Palm Oil
Kapas
Mentha Oil
As one can see the products chosen are essentially meant to be hedging instruments for the dealers in those commodities.
Market Operations:
Trading and Surveillance: A member of MCX performs trading operation using Trading Work Station, a platform for placing and executing orders Clearing and Settlement: Activities pertaining to delivery, fund settlements, margins is monitored by an in-house clearing house. Delivery: Delivery & Settlement of commodities traded are monitored and performed by Delivery Department. The department is a facilitator for delivery related documentation. Warehousing and Logistics: This division caters to exchange members and their constituents with respect to their needs to store goods and give delivery through exchange platform
How is the spot price of a commodity determined?
[caption id="attachment_555" align="alignnone" width="1007"]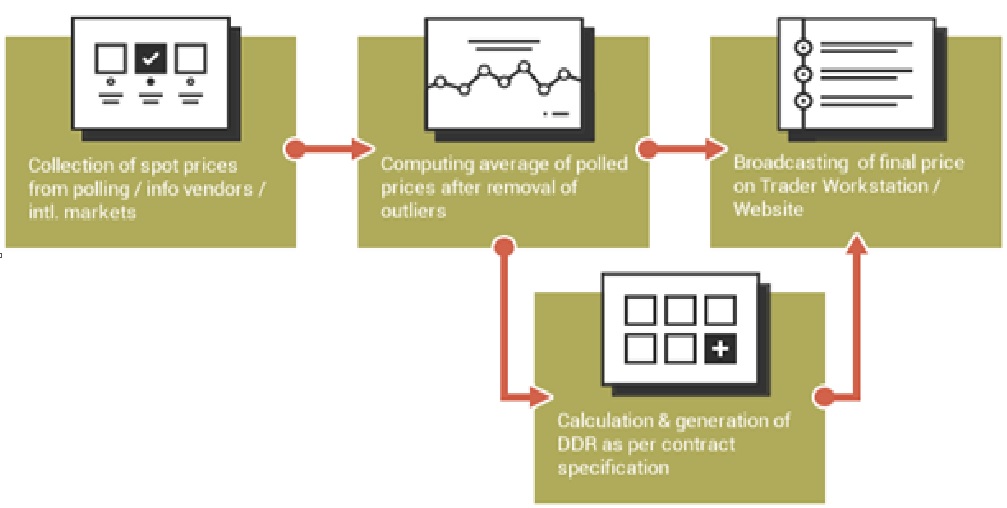 Determination of Spot Prices on MCX[/caption] Prices are captured at identified basis centres by getting price quotes from various participants in the market and the overall value chain representing various levels viz. farmer, grader, miller, auctioneer, importers, traders etc, and then the prices are circulated after eliminating the outliers. This spot price is used for the settlement of derivative contracts on the MCX at the expiry of the contract. To Trade Commodities with India's leading
Commodity discount broker
, open a
free commodity trading account
today!