Samco is a very user friendly app which promises to make trading and investing a simple and hassle free process.
Adding stocks to the watchlist is an easy task. Click on the Search Icon at the top of the watchlist to open the search screen. You can select any one of the markets like Equity, Currency or Commodity and select the segments like Cash, Future or Options.
Here, one can search by typing the name, symbol or script code of the security. For e.g. if you wish to add TCS, you can do so by typing either the Symbol – TCS, Name – Tata Consultancy Services or BSE Code – 532540.
To change the exchange segment in the equity shares, click on the 3 dots on the right and select BSE or NSE.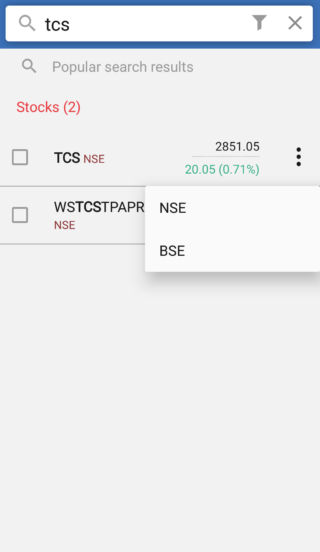 You can add multiple symbols selected from different segments & screens together. For e.g. If you wish to add TCS shares and TCS future, search TCS in Cash & select the security. Now change the tick box to Future, type TCS and select the future contract. Likewise you can search and select as many symbols as you want. Post selection, tap on "Add symbol" button at the bottom. All the selected symbols would be added in one go.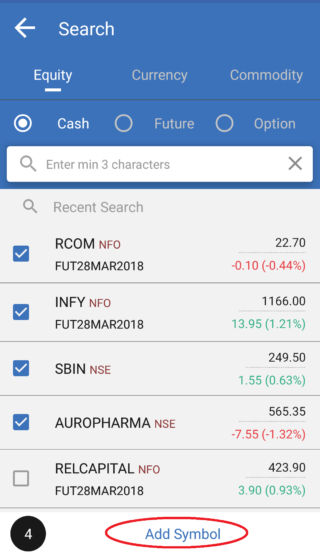 In the next screen, select the watchlist to which you want to add the scrips and click on "Save". You can also create a new watchlist of the selected symbols directly by clicking on "New Group".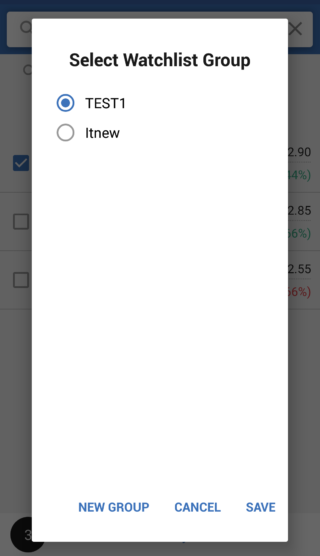 The search algorithm assists a user in discovering the required contracts. For eg. If you select options and search "banknifty" it will display a scroller to select the expiry, strike price and action. It will also show the most popular options in the bank nifty contract below thus enabling the user to trade in the most active contracts.

You can also add scrips from the feeds. Eg. Click on the security name on the note. Next click on the "+" button on right side of the price. Now on the corresponding screen you would be asked to select the watchlist where you wish to save the security.

For more articles on Samco app visit Samco section on Knowledge Center You can also find many useful articles on trading, investing and market knowledge, visit our Knowledge Center section. You can also refer the tutorial video on Search Screen.
Was this article helpful?
Share