Mutual Funds are similar to a wedding buffet. Baraatis are served countless dishes one after the other. And we overeat, well aware that this will lead to indigestion or acidity the next day!
This is exactly what happens in mutual funds as well.
Investors are given so many investment options that they end up stuffing too many schemes in their portfolio.
In this article we cover: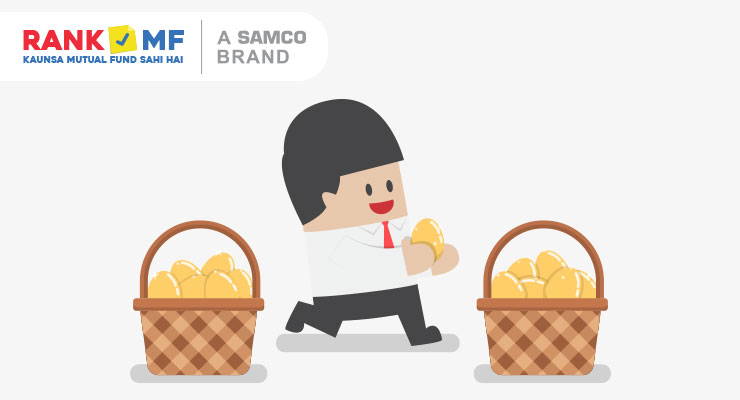 The result?
Small Exposure Syndrome &
Stagnant Portfolio Growth
Similar to an overflowing buffet plate, Indian investors have an overflowing mutual fund portfolio.
We want everything – Equity, Debt, Gold, Large cap, mid cap, small cap, multi cap, balanced funds, and the list goes on!
But when it comes to achieving your financial goals, quality comes before quantity.
Your aim should be to build a goal specific mutual fund portfolio. Every financial goal is distinct. Hence, its portfolio must also be distinct.
In an effort to taste everything, we end up suffering from small exposure syndrome.
Small exposure syndrome is when you hold quality schemes in such a small proportion that even if the fund provides superior returns, your overall portfolio returns hardly change.
By investing in 20-30 schemes, you end up investing in 400+stocks. By doing this, you are over diversifying your portfolio.
When you overstuff your portfolio with poor quality schemes, you will eventually face a stagnant portfolio growth.
The solution to this? Goal-based investing.
When you invest as per your financial goals, you invest in a limited number of funds. For example: For a short-term goal, you will avoid mid or small cap funds.
By investing as per your financial goals, you end up investing in top quality funds which match your investment horizon and risk profile.
The best way to avoid overstuffing your portfolio is by investing in a basket which consists of right funds in the right proportions.
Introducing RankMF's Mutual Fund Baskets
RankMF's unique mutual fund baskets are expertly curated and based on specific financial goals, risk level and investment horizon.
This means there is an expert curated basket of funds for every goal.
And these funds are selected based on RankMF's proprietary research which evaluates 20 million data points on a daily basis. These baskets are monitored on a daily basis and bad funds are automatically replaced.
Watch our video to understand the types of RankMF Baskets
Why Should You Select RankMF's Baskets?
Let me ask you something – What would you prefer?
Eating the entire buffet
Eating best items of the buffet
Majority of you would select eating the best items of the buffet. Similarly, by investing in RankMF's basket you are investing in the best of the best mutual fund schemes.
The 'Retirement in 2030' basket consists of only 4 schemes but it has delivered a 5-year return of 15.11%!
RankMF's baskets are expertly curated to contain the best possible allocation to each fund.
For example, the 'best tax saving – conservative & aggressive' basket has the same funds but in different proportions.
Best Tax Saving Basket – Conservative
Best Tax Saving Basket – Aggressive
As you can see, while the funds remain the same, in conservative basket, Canara Robeco Equity Tax Saver fund has a 20% allocation. But in the aggressive basket, it has a 60% allocation.
This 'smart' allocation is what helps RankMF baskets outperform randomly selected mutual funds.
RankMF Baskets
1. Kaun Banega Crorepati? – RankMF's Target Corpus Funds basket helps you achieve a whopping Rs 1 crore across 5, 10, 15, 20, 25 years! They start with as little as Rs 2,500.
2. Tax Bachao Holiday pe Jao: Saving tax is critical for investors. RankMF's Best Funds for Tax Saving contains the best tax saving funds in India. With RankMF's tax saving basket, all your tax woes are a thing of the past!
3. Time is Money: RankMF's Time Horizon Funds helps investors invest as per their time horizon. Baskets vary from 30 days up to 10 years!
4. Life's Second Innings: RankMF's Retirement Focus Funds helps you plan for peaceful retirement life. This basket contains a mix of equity, debt and hybrid funds as per investor's risk level. The minimum investment amount is Rs 4,000.
5. Little Einstein: RankMF's Child's Education Basket is your one-stop solution for planning for your child's education. You can secure your child's post-graduation with as little as Rs 12,500. There are many more such baskets, which will help you achieve your financial goals without getting a gastric!
Here are the stellar returns generated by RankMF Baskets
| | | | | |
| --- | --- | --- | --- | --- |
| Basket | 1 Year | 3 Years | 5 Years | Schemes in Portfolio |
| Target 1 Crore Corpus in 5 years | 15.30% | 8.79% | 13.11% | 6 |
| Target 1 Crore Corpus in 10 years | 13.63% | 8.37% | 12.88% | 7 |
| Best Tax Saving – Conservative | 14.49% | 8.44% | 13.50% | 3 |
| Best Tax Saving – Aggressive | 14.49% | 8.44% | 13.50% | 3 |
| Retirement in 2030 | 21.97% | 12.08% | 15.11% | 4 |
| Retirement in 2050 | 17.72% | 9.80% | 14.50% | 4 |
| Indian PG in 10 years | 18.54% | 10.23% | 14.23% | 6 |
| International PG in 10 years | 19.20% | 10.95% | 14.92% | 5 |
As a popular saying goes… too many cooks spoil the soup. Similarly, too many mutual funds in your portfolio will not help you generate higher returns.
They will only make your life complicated as you track and monitor 20-30 schemes!
So, save your time, money and efforts by investing in RankMF's expert curated baskets.
Open a FREE RankMF account today, select a basket and start creating tension-free wealth!
RankMF – Simplifying your mutual fund investments! – By- SAMCO
Was this article helpful?
Share