Individual investors who want to invest in the equity markets are often worried about market volatility. Hence, they prefer to invest in mutual funds via Systematic Investment Plans (SIPs).
SIPs are a great way to balance market volatility. SIPs also provide superior rupee cost averaging.
In a regular SIP, a fixed amount is deducted every month on a fixed date. A regular SIP does not time the market. It is simply mechanical investing.
Historically, SIPs have generated higher returns than lumpsum investment. But what if there was a way to generate even superior returns than SIPs?
RankMF is the only platform in India which has built the smartest version of SIP – SmartSIP.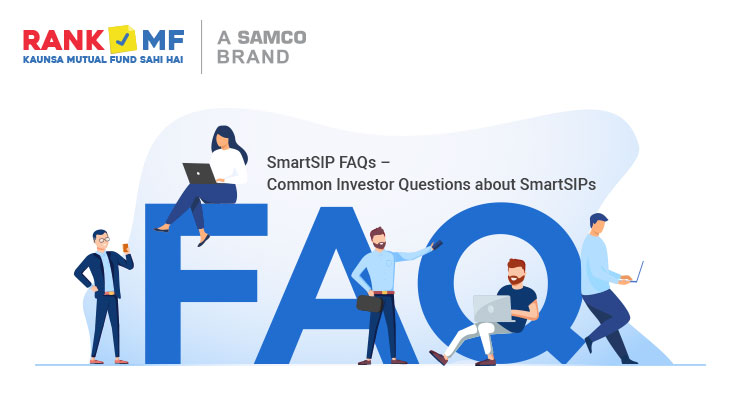 SmartSIP is a fairly new concept for Indian investors. Hence, we have prepared this detailed FAQ segment. Here we will discuss everything about SmartSIP.
SmartSIP FAQ #1. What is SmartSIP?
SmartSIP is an intelligent wealth creating investment order type. SmartSIP works on the principle of 'buy low – sell high'.  
A SmartSIP invests your SIP amount in an equity fund and liquid fund as per market conditions.
SmartSIP FAQ #2. What are the advantages of SmartSIP over SIP?
SmartSIP can provide higher returns as compared to the SIP with no extra cost.
Higher returns every year lead to much higher corpus value at the end of the investment duration.
When markets are expensive and contain high risk, instead of buying the expensive equity units, liquid units are bought which leads to lower risk.
SmartSIP FAQ #3. How does the SmartSIP work?
Like a regular SIP, in SmartSIP also the SIP amount is deducted on a particular date. But unlike a regular SIP, whether the SIP is to be invested in an equity fund or liquid funds is based on RankMF's Margin of Safety Index (MosDEX).
SmartSIP FAQ #4. What is MosDex?
MosDEX stands for Margin of Safety Index. More than 2 crore data points are input in RankMF's proprietary engine and a MosDEX score is generated.
SmartSIP FAQ #5. What Does a High MosDex score reveal?
A high MosDex score means that the markets are undervalued and cheap. It means it is a good time to invest in the equity fund.
SmartSIP FAQ #6. What Does a Low MosDex Score reveal?
A low MosDEX score means the fund is overvalued or expensive. It means that it is not a good time to invest in the equity fund and hence, SmartSIP prefers investing in low risk liquid funds.
SmartSIP FAQ #7. What are the different types of MosDex scores?
The values of the MosDex ranges from 0 – 200.
MosDex between 80 to 90: The Markets are expensive and the SIP amount will be invested in liquid funds.
MosDex below 80: Partial profit booking by redeeming some equity fund units and shifting to liquid funds to avoid buying at a higher NAV.
MosDex between 90-105: SIP amount will continue to be invested in the selected equity fund. Also, the profits parked in the liquid fund will also be re-invested in an equity fund.
MosDex above 105: SmartSIP continues to invest in equity funds whereas SmartSIP Plus invests double the SIP value to buy more units when markets are undervalued.
SmartSIP FAQ #8. What is SmartSIP Plus
SmartSIP Plus is the order type variation where if the margin of safety is high additional top-up amounts are invested. This happens to capitalise on the lower NAV values and investing more when markets are inexpensive. It is similar to like shopping more at a sale to buy more at a lesser price or going to a restaurant at happy hour to get more value for your money.
SmartSIP FAQ #9. Why is auto debit mandatory for SmartSIP?
Like a SIP, for SmartSIP also an auto debit mandate is mandatory. This ensures investment discipline. The SmartSIP instalments will only be triggered once the SmartSIP mandate is approved. The 'first order today' facilities are not available with SmartSIP.
SmartSIP FAQ #10: What is the minimum instalment amount for SmartSIP?
The minimum instalment amount for smart SIP is Rs 5,000.
SmartSIP FAQ #11. If the mandate debit instruction is rejected, will my SmartSIP stop?
SmartSIP will not stop if debit instruction is rejected. In case of a rejection, your instalment amount shall be debited from your SAMCO Ledger.
In case of lack of funds in your ledger account, the transaction for that month shall be skipped and the same shall be attempted in the following month.
SmartSIP FAQ #12. When will the amount be debited from my bank account?
The amount will be debited 2 working days previous to the SmartSIP transaction day. The amount will be similar to the instalment of your SmartSIP.
Note: Kindly keep your account funded 2 working days prior to the SmartSIP instalment date.
SmartSIP FAQ #13. In how many schemes is the SmartSIP order type available?
You can invest in over 300 equity mutual fund schemes for SmartSIP on www.rankmf.com
SmartSIP FAQ #14. What is the difference between SmartSIP and SmartSIP Plus?
SmartSIP and SmartSIP plus is completely similar to one another. Both use the principle of buy low and sell high to generate superior returns for investors than a regular SIP.
The only difference is that if the MosDex crossed 105 SmartSIP continues to invest the same instalment amount, whereas SmartSIP Plus invests double the instalment amount. So if your SmartSIP instalment is amount is Rs. 10,000,
Instead of Rs. 10,000 which would otherwise be drawn, Rs. 20,000 is drawn for that month.
SmartSIP FAQ #15. How to place a SmartSIP order?
To place a SmartSIP order on the RankMF platform, all you need to do is,
Log in to RankMF with your credentials or open a FREE RankMF account.
Click on the 'Explore All MF Ranks' which will redirect you to a new page.
In the below filter panel select 'SmartSIP'.
Find a SmartSIP fund of your choice and click on invest in 'SmartSIP' mode on the right hand side corner and complete your order.
Watch this video to understand what is SmartSIP
Was this article helpful?
Share