Artedz Fabs Limited IPO
Add to Calendar

2019-03-18 12:00 AM

2019-03-20 12:00 AM

Asia/Kolkata

Artedz Fabs Limited IPO

Artedz Fabs Limited

India
---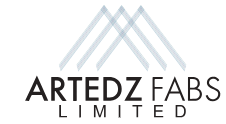 Artedz Fabs Limited is engaged in producing and trading of textile fabrics processed from cotton yarn. It primarily manufactures grey fabrics with motif design with the help of its in-house designing team. The Company has an installed annual capacity of 21 Lakh sq.metre per annum with 43 site looms spread over 15,789 sq.ft in Bhiwandi, Maharashtra.

Date of Incorporation: The company was originally established as "Artedz Fabs Private Limited" on 08th August 2006 at Mumbai, Maharashtra. Eventually, it was reframed to "Artedz Fabs Limited" on 19th February 2019.
Promoters of the Company: Mr Kashyap Gambhir and Mr Satbinder Singh Gill are the promoters of Artedz Fabs Limited.
Products and Service Offerings: It offers a wide range of fabrics some of them includes: cotton, linen, polyester, nylon and blended.
Customer Segments: The Customer segments basically includes traders includes in textile industries that act as a middle man in between the user and the fabric manufacturer. Some of its clients include Olympia Industries Ltd., Advance Synthetics, August Overseas Pvt. Ltd., Aravali Silk Mills Pvt. Ltd., Yash Knit Wear among other clients.
Objects of the Issue: The main objectives of Artedz Fabs Limited are:
- Financing working capital requirements.

- To meet general corporate expenses.
Company Financials:
Particulars

For the year/period ended (in Rs. Lakhs)




30-Sep-18

31-Mar-18

31-Mar-17

31-Mar-16

31-Mar-15

31-Mar-14

Total Assets

7,408.60

6,148.14

4,425.21

3,645.31

3,911.65

2,913.91

Total Revenue

3,663.49

6,433.90

5,310.81

3,877.97

3,097.82

2,652.05

Profit After Tax

254.25

351.85

178.87

-35.55

-77.08

-44.86
Issue Detail
Issue Open:

Mar 18, 2019

Issue Close:

Mar 20, 2019

Issue Type:

Book Built Issue

Face Value:

Rs 10 Per Equity Share

Price Band:

Rs 34 - Rs 36 Per Equity Share

Bid Lot:

3000 Shares

Minimum Order Quantity:

3000 Shares

Listing At:

NSE SME

Issue Size:

Rs 8.32 Cr



Current Bidding Status
Number of Times Subscribed (BSE + NSE)

As on Date & Time
QIB
NII
RII
Employee
Others
Total
Listing Day Trading Information
| - | BSE | NSE |
| --- | --- | --- |
| Issue Price | | |
| Open | | |
| Low | | |
| High | | |
| Last Trade | | |
| Volume | | |
Artedz Fabs Limited Red Herring Prospectus
Artedz Fabs Limited User Rating
Artedz Fabs Limited Life IPO Reviews
Artedz Fabs Limited IPO News & Updates
Frequently Asked Questions
IPO Events Calendar
Sun
Mon
Tues
Wed
Thu
Fri
Sat