Hariom Pipe Industries Limited
Add to Calendar

2022-03-30 12:00 AM

2022-04-05 12:00 AM

Asia/Kolkata

Hariom Pipe Industries Limited

Hariom Pipe Industries Limited

India
---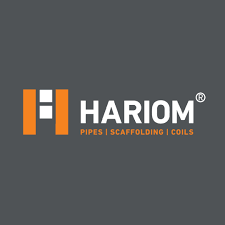 IPOs are back on Dalal Street. Hari Om Pipes is one such IPO that has arrived for listing on the stock markets. The IPO has an issue size of Rs 130.05 crores which comprises entirely of fresh issue.
Issue Details:
· Dates: March 30, 2022 to April 5, 2022
· Price Band: Rs. 144 to Rs. 153 per share
· Minimum Lot: 98 shares
· Minimum Application Amount at the Upper Band: Rs. 14,994
Objects of the Issue
The proceeds of the fresh issue are expected to be utilized towards:
· Funding capital expenditure requirements.
· Funding the working capital requirements of the Company.
· General corporate purposes.
Company Overview
Hariom is a Hyderabad based integrated manufacturer of Mild Steel (MS) Pipes, Scaffolding, HR Strips, MS Billets, and Sponge Iron. They use iron ore to produce Sponge Iron which is then processed across various stages to manufacture its final products viz. MS Pipes and Scaffolding making their manufacturing process cost-effective.
The Company caters to the southern and western Indian markets. Its MS Pipes are marketed and sold in these geographies under the brand name "Hariom Pipes". Substantial portion of the Sponge Iron, MS Billets and HR Strips produced by them are used for captive consumption in manufacturing MS Pipes and Scaffolding.
They manufacture MS Pipes and Scaffoldings of more than one hundred fifty (150) different specifications and cater, directly and indirectly, to customer requirements in various sectors such as housing, infrastructure, agriculture, automotive, power, cement, mining, solar power and engineering. Hariom mainly sells MS Pipes through more than two hundred (200) distributors and dealers. They also sell MS Pipes and Scaffoldings to certain developers and contractors directly as B2B sales.
The company believes that its key differentiator is the range of product specifications in terms of thickness, length, quality, availability and customised products.
Key Strengths
Integrated nature of the operations: All intermediate products required for the manufacturing of their final products are produced in-house viz. Sponge Iron, MS Billets and HR Strips, enabling them to manage costs more effectively.
Strategic location of manufacturing Units: Strategic location enables ease of logistics, power, water supply and raw materials for their operations.
Cost advantage in manufacturing the products: The Company has synchronized its processes in such a manner that one product follows the other without any break leading to costs and time efficiencies. They have installed multiple operations at a single location.
Competitive pricing of the products: The Company is able to face competition from other industry players effectively as its products are a result of backward integration which leads up to the Sponge Iron stage of manufacturing.
Experienced & Qualified Team: The promoters and senior management team is well experienced in this industry both from marketing and distribution of products in this sector.
Environment friendly manufacturing process: They have installed pollution control equipment at their smoke emanating chimneys that collect the dust particles for disposal. They have made the provision for rainwater harvesting with pits in both Unit I & II and have also installed a RO Plant having a capacity of 10,000 liters per hour.
Key Risks
Demand Uncertainties: The Company has not entered into long-term agreements with customers for purchasing products nor for the supply of raw materials with suppliers, which leads to raw material sourcing risk as well as provides lesser revenue visibility.
Highly Cyclical Business: The demand and pricing in the steel and steel products industry is volatile and is sensitive to the cyclical nature of the industries it serves. A decrease in steel prices may have a material adverse effect on its business, results of operations, prospects and financial condition.
Competition Risk: The Company faces substantial competition from Indian steel and steel products producers, which may affect their prospects. Some of its domestic competitors may possess better advantages over the company due to various reasons, such as captive raw material sources, greater economies of scale, integrated manufacturing plants, etc.
Negative Cash flows: Company had negative operating cash flows in 6M of FY22. Sustained negative cash flow could adversely impact its business, financial condition and results of operations.
Peer Comparison & Conclusion
| | | | | | | | | |
| --- | --- | --- | --- | --- | --- | --- | --- | --- |
| Name of the Company | Total Income (? in lakhs) | Face Value per equity share (?) | P/E Ratio | EPS | RoNW | NAV/Share | EBITDA Margin | ROE |
| Hariom Pipe Industries | 25,482.31 | 10 | 14.37 | 10.64 | 21.38% | 49.79 | 13.72% | 15.37% |
| APL Apollo Tubes Ltd. | 6,05,200.07 | 2 | 78.33 | 12.34 | 10.61% | 116 | 7.74% | 23.60% |
| Hi-Tech Pipes Ltd | 1,02,728.43 | 10 | 41.36 | 13.75 | 8.66% | 155 | 5.37% | 12.20% |
| Rama Steel Tubes Ltd. | 32,883.47 | 5 | 103.16 | 3.24 | 6.08% | 52.68 | 7% | 13.20% |
| JTL Infra Ltd | 44,036.86 | 2 | 11.43 | 18.91 | 20.70% | 91.36 | 7.50% | 28.15% |
The company has impressive sales growth over the last 3 years and has managed to maintain margins relatively higher than peers. Further, the company is not extremely highly leveraged. The company can also experience higher demand in the short to mid term from industries such as construction, infrastructure, housing, etc. In terms of valuations as well, the issue seems to be reasonably priced.
Having said this, the negative operating cashflows of the company despite very high growth in sales, raises concerns. Moreover, considering the high volatility in the raw material prices as well as the cyclical nature of the business, the risk factors are elevated. While currently, the company is not commanding premium in the secondary markets, considering to the small issue size, the IPO is highly likely to get oversubscribed.
Thus in light of the above factors, investors with a high risk appetite may SUBSCRIBE WITH CAUTION.
Issue Detail
Issue Open:

Mar 30, 2022

Issue Close:

Apr 05, 2022

Issue Type:

Book Built Issue IPO

Face Value:

Rs 10 per equity share

Price Band:

Rs 144 to Rs 153 per equity share

Bid Lot:

98 Shares

Minimum Order Quantity:

98 Shares

Listing At:

2022-04-13

Issue Size:

Rs 130.05 crore



Current Bidding Status
Number of Times Subscribed (BSE + NSE)

As on Date & Time
QIB
NII
RII
Employee
Others
Total
Listing Day Trading Information
| - | BSE | NSE |
| --- | --- | --- |
| Issue Price | | |
| Open | | |
| Low | | |
| High | | |
| Last Trade | | |
| Volume | | |
Hariom Pipe Industries Limited Red Herring Prospectus
Hariom Pipe Industries Limited User Rating
Hariom Pipe Industries Limited Life IPO Reviews
Hariom Pipe Industries Limited IPO News & Updates
Frequently Asked Questions
IPO Events Calendar
Sun
Mon
Tues
Wed
Thu
Fri
Sat