Ranjeet Mechatronics Limited IPO
Add to Calendar

2018-09-12 12:00 AM

2018-09-17 12:00 AM

Asia/Kolkata

Ranjeet Mechatronics Limited IPO

Ranjeet Mechatronics Limited

India
---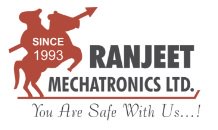 Ranjeet Mechatronics Limited is considered as India's Fastest Growing Integrator and Turnkey enterprise contractor for Fire Protection & Detection Systems, Electronic Security & Automation Solution Provider Company possessing presence across the Nation. It has also obtained dealership from Kirloskar for supplying Agricultural engines, Industrial engines and Marine engines. In the year 2006-07, it has achieved 2nd largest sales turnover in the Ahmedabad Region which was recognised by Kirloskar Brother Limited.

Date of Establishment: The company was initially incorporated as 'Ranjeet Electric Private Limited' in the city of Ahmedabad on 10th of June 1993. Subsequently, the company was reformed to public limited company and name was revised to 'Ranjeet Mechatronics Limited' on 28th March 2018.
Promoters of Ranjeet Mechatronics Limited: Mr Rakesh Vallabhbhai Swadia and Mr Devarshi Rakesh Swadia are the promoters of Ranjeet Mechatronics Limited.  
Products and Services Offering: The Company has a diversified product range across Fire and Safety Equipments manufacturing sector that consists of:
- Fire Hydrant System

- Fire Sprinkler System

- Fire Detection System

- Gas Suppression System

- Fire Extinguishers System

- High-Velocity Water Spray System

- CCTV Systems
Customer Segments: The Company has a strong customer base spread across the Nation. Some of its clientele includes International Cricket Stadium Uttar Pradesh, IIM Chhattisgarh and Samajwadi Yogana Lucknow among others.
Objects of Ranjeet Mechatronics Limited IPO: The Core Objectives of Ranjeet Mechatronics Limited IPO are:
- Net Incremental Working Capital Requirement.

- General Corporate Purpose.
Company Financials:
Summary of Financial Information (Restated)

Particulars

For the year/period ended (in Rs. Lakhs)




3 -Mar-18

3 -Mar-17

3 -Mar-16

3 -Mar-15

3 -Mar-14

Total Assets

2 241.69

2 084.00

1 805.68

1 396.98

7 4.98

Total Revenue

1 803.69

1 763.73

2 528.67

2 400.03

1 090.28

Profit After Tax

9 .31

5 .95

1 .08

4 9

3.09
Issue Detail
Issue Open:

Sep 12, 2018

Issue Close:

Sep 17, 2018

Issue Type:

Fixed Price Issue IPO

Face Value:

Rs 10 Per Equity Share

Price Band:

Rs 25 Per Equity Share

Bid Lot:

6000 Shares

Minimum Order Quantity:

6000 Shares

Listing At:

BSE SME

Issue Size:

Rs 4.50 Cr



Current Bidding Status
Number of Times Subscribed (BSE + NSE)

As on Date & Time
QIB
NII
RII
Employee
Others
Total
Listing Day Trading Information
| - | BSE | NSE |
| --- | --- | --- |
| Issue Price | | |
| Open | | |
| Low | | |
| High | | |
| Last Trade | | |
| Volume | | |
Ranjeet Mechatronics Limited Red Herring Prospectus
Ranjeet Mechatronics Limited User Rating
Ranjeet Mechatronics Limited Life IPO Reviews
Ranjeet Mechatronics Limited IPO News & Updates
Frequently Asked Questions
IPO Events Calendar
Sun
Mon
Tues
Wed
Thu
Fri
Sat