S.M. Gold Limited IPO
Add to Calendar

2018-10-03 12:00 AM

2018-10-10 12:00 AM

Asia/Kolkata

S.M. Gold Limited IPO

S.M. Gold Limited

India
---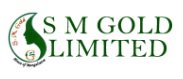 S M. Gold Limited is engaged in the production and distribution of mangalsutra jewellery. The company primarily deals in traditional jewellery designs besides this it also has in-house that designs the mangalsutra and other jewellery in several styles including modern and indo-westerm style The Mangalsutra Jewellery contributes around 90% of companies overall earning.

Date of Establishment: The company was initially incorporated as 'S.M. Gold Private Limited' on 26th July 2017 in Gujarat, Dadra and Nagar Haveli. Subsequently, the company was reformed to public limited company renamed to ' S.M. Gold Limited' on 03rd August 2018.
Promoters of S.M. Gold Limited: Mr Priyank S. Shah and Mr PulkitKumar S. Shah are the promoters of S.M. Gold Limited.
Products and Services Offering: The company offers several products constituting of Rings, Chain, Earrings, Ear Chain, Nose-rings, Waist belts and Mangalsutra among other jewellery products.
Customer Segments: The company mainly serves the domestic customers requirement in gems and jewellery section. Besides this, it also takes initiatives of participation in domestic trade fairs and jewellery exhibitions.
Objects of S.M. Gold Limited IPO: The Fresh Issue will consist of 25,00,000 Equity Share issued at Rs 30 Per Share. The core objectives of this IPO are:
- To finance the working capital requirements.

- To meet Issue Expenses.
Company Financials:
Summary of Financial Information (Restated)

Particulars

For the year/period ended (in Rs. Lakhs)




30-Jun-18

31-Mar-18

31-Mar-17

31-Mar-16

31-Mar-15

Total Assets

598.99

598.33

655.84

499.40

481.32

Total Revenue

489.57

1,354.08

2,278.89

2,382.44

1,954.89

Profit After Tax

21.55

17.96

17.92

17.00

20.71
Issue Detail
Issue Open:

Oct 03, 2018

Issue Close:

Oct 10, 2018

Issue Type:

Fixed Price Issue IPO

Face Value:

Rs 10 Per Equity Share

Price Band:

Rs 30 Per Equity Share

Bid Lot:

4000 Shares

Minimum Order Quantity:

4000 Shares

Listing At:

BSE SME

Issue Size:

Rs 7.50 Cr



Current Bidding Status
Number of Times Subscribed (BSE + NSE)

As on Date & Time
QIB
NII
RII
Employee
Others
Total
Listing Day Trading Information
| - | BSE | NSE |
| --- | --- | --- |
| Issue Price | | |
| Open | | |
| Low | | |
| High | | |
| Last Trade | | |
| Volume | | |
S.M. Gold Limited Red Herring Prospectus
S.M. Gold Limited User Rating
S.M. Gold Limited Life IPO Reviews
S.M. Gold Limited IPO News & Updates
Frequently Asked Questions
IPO Events Calendar
Sun
Mon
Tues
Wed
Thu
Fri
Sat