Shubham Polyspin Limited IPO
Add to Calendar

2018-09-28 12:00 AM

2018-10-04 12:00 AM

Asia/Kolkata

Shubham Polyspin Limited IPO

Shubham Polyspin Limited

India
---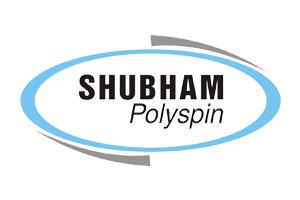 Subham Polyspin Limited is engaged in the business of producing the fine quality of Polypropylene Multifilament yarn. The Overall production of the company is 250/MT.

Date of Incorporation: The company was incorporated as 'Shubham Polyspin Private Limited' on 12th March 2012 at Ahmedabad. It was subsequently converted to the public limited company 'Shubham Polyspin Limited' on 24th July 2018.
Promoters of Subham Polyspin Limited: Mr Anil Somani, Mr Ankit Somani, and Mr Akshay Somani are the promoters of Subham Polyspin Limited.
Products and Services Offering: The company produces a variety of Multifilament yarns under its brand name 'Shublon' that consists of:
- Polypropylene Multifilament Yarn (Twisted and air intermingled yarn)
- Shubhlon Bag Closing Threads
- PP Webbings & Narrow Woven Fabrics
Customer Segments: The company has its Domestic Clientele spread across the states of Gujarat, Rajasthan, Madhya Pradesh, and Maharashtra. While its Internation Clientele is spread across the countries including Belgium, Uganda, Zimbabwe, Africa, Turkey, Nigeria, Tanzania, and Madagascar.
Objectives of Subham Polyspin Limited IPO: The core objectives of Subham Polyspin Limited IPO are:
- Modernization of Plant and Machineries, Building and Electrification.
- Working Capital Needs
- General Corporate Expenses
- Public Issue Expenses
- Expanding New Products
Company Financials:
Summary of Financial Information (Restated)

Particulars

For the year/period ended (in Rs. Lakhs)




31-Mar-18

31-Mar-17

31-Mar-16

31-Mar-15

31-Mar-14

Total Assets

1,783.70

2,029.45

1,447.05

789.88

758.51

Total Revenue

2,827.00

1,771.19

1,540.45

1,345.57

626.13

Profit After Tax

148.15

21.58

24.81

20.47

2.18
Issue Detail
Issue Open:

Sep 28, 2018

Issue Close:

Oct 04, 2018

Issue Type:

Fixed Price Issue IPO

Face Value:

Rs 10 Per Equity Share

Price Band:

Rs 40 Per Equity Share

Bid Lot:

3000 Shares

Minimum Order Quantity:

3000 Shares

Listing At:

BSE SME

Issue Size:

Rs 6.00 Cr



Current Bidding Status
Number of Times Subscribed (BSE + NSE)

As on Date & Time
QIB
NII
RII
Employee
Others
Total
Listing Day Trading Information
| - | BSE | NSE |
| --- | --- | --- |
| Issue Price | | |
| Open | | |
| Low | | |
| High | | |
| Last Trade | | |
| Volume | | |
Shubham Polyspin Limited Red Herring Prospectus
Shubham Polyspin Limited User Rating
Shubham Polyspin Limited Life IPO Reviews
Shubham Polyspin Limited IPO News & Updates
Frequently Asked Questions
IPO Events Calendar
Sun
Mon
Tues
Wed
Thu
Fri
Sat