In this article, we will discuss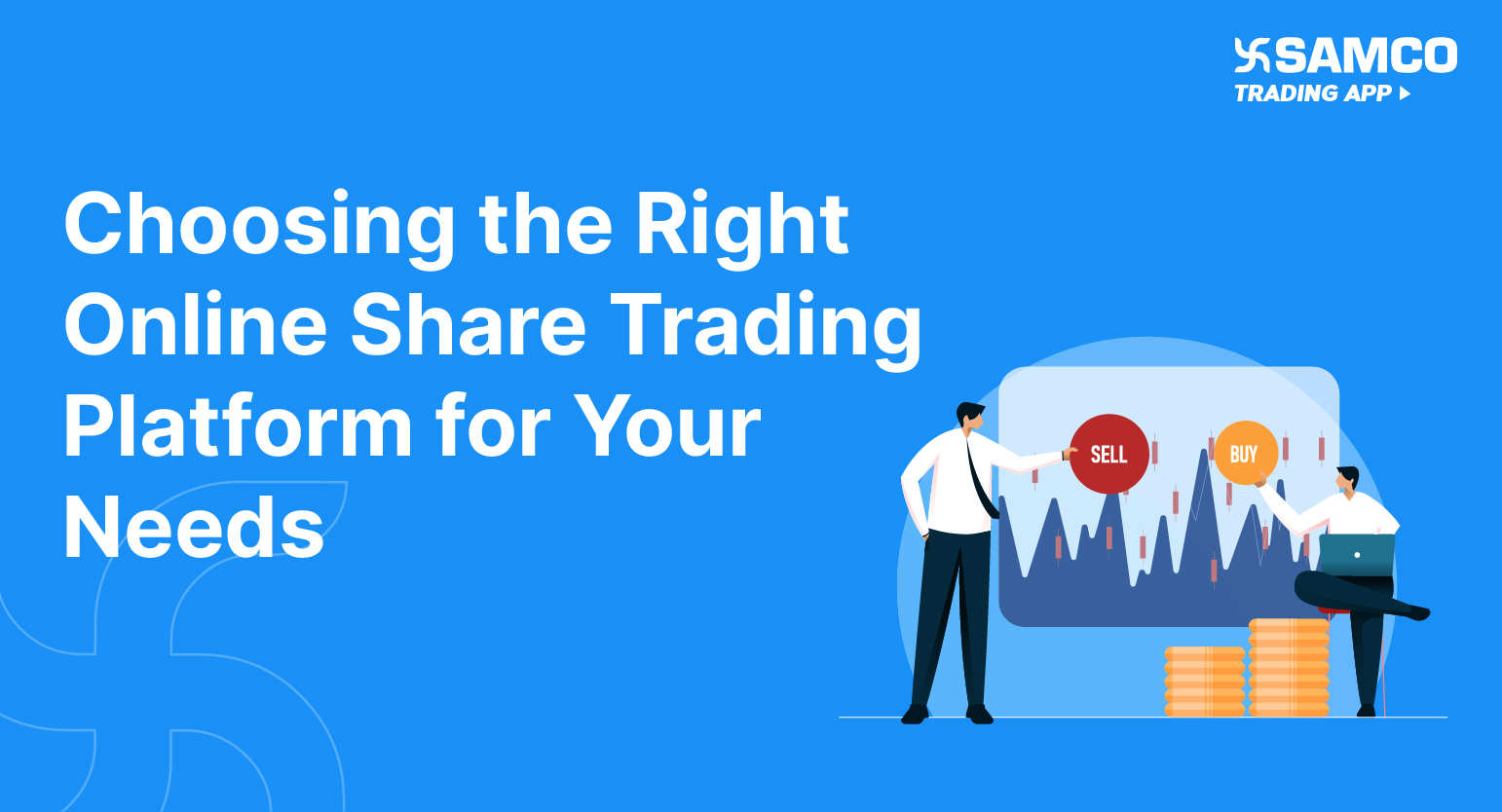 Are you tired of the same old boring investment options? Are you ready to plunge into the world of
online share trading?
With so many trading platforms available, choosing the right one for your needs can be overwhelming. But fear not because, in this article, we will break down the most important factors to consider when selecting an online platform for share trading. Whether you're an experienced investor or just starting, this guide will help you make an informed decision and set you on the path to financial success. So let's dive in and find the perfect platform for online stock trading!
Factors to Consider When Choosing an Online Share Trading Platform
Online share trading
is the process of buying and selling securities through a software system that connects investors and traders to a financial intermediary, such as an online broker.
Online share trading has many advantages over traditional methods, such as cost-effectiveness, speed, access, and offers. However, trading also requires choosing the right platform that suits your trading needs and goals. Here are some of the top 13 factors to consider when choosing the best online share trading platform:
1. Fees and Commissions
The first thing to look for is the platform's fee structure. Different platforms charge different fees, significantly impacting your overall investment returns. Some of the fees to consider include the following:
Trading commissions: The cost of buying and selling shares.
Account maintenance fees: Fees charged for keeping your account open.
Inactivity fees: Fees are charged if your account remains dormant for an extended period.
Miscellaneous fees: Fees associated with services like wire transfers, paper statements, or research tools.
2. Ease of Use
A user-friendly platform is crucial for both beginners and experienced traders. A platform's ease of use can make or break your trading experience. Look for platforms with intuitive interfaces, clear navigation, and easy-to-understand features that make trading simple and efficient. You should be able to place orders, monitor your portfolio, access market data, and use various tools without hassle or delay.
3. Range of Investment Options
The platform you choose should offer a wide range of investment options, including stocks, bonds, mutual funds,
ETFs
, and more. This will allow you to diversify your portfolio and access various investment opportunities. Additionally, some platforms may offer international market access, benefiting investors looking to expand their reach globally.
4. Research Tools and Resources
A good trading platform should offer comprehensive research tools and resources to help you make informed investment decisions.
These may include:
Real-time market data and news updates
Technical and fundamental analysis tools
Customizable charts and indicators
Stock screeners and watchlists
Educational resources and webinars
5. Customer Support
Reliable customer support is essential, especially for new investors who may require guidance or assistance with the platform. Check if the platform offers multiple customer support channels like phone, email, or live chat. Additionally, consider the hours of operation and the average response time.
6. Connection to Global Markets
You should look for a platform that not only gives you access to Indian Stock Exchanges like NSE or BSE but also opens the door to global stock exchanges, such as the New York Stock Exchange, NASDAQ, London Stock Exchange, etc. This way, you can diversify your portfolio, take advantage of different opportunities, and hedge your risks.
7. Security and Regulation
The security of your personal and financial information should be a top priority. Ensure your chosen platform employs robust security measures, such as two-factor authentication, SSL encryption, and regular audits. Additionally, a reputable financial authority, such as the SEBI, should regulate the platform.
8. Mobile App and Platform Compatibility
In today's fast-paced world, having access to your investments on the go is crucial. Choose a platform that offers a mobile app with full functionality and compatibility with your device. The app should provide a seamless trading experience with all the essential features available on the desktop version.
9. Customization and Personalization
A customizable platform allows you to tailor your trading experience based on your preferences and strategies. Look for platforms that offer customizable layouts, watchlists, and alerts. Additionally, some platforms may provide personalized recommendations and insights based on your investment objectives and risk tolerance.
10. Social Trading and Community Features
Social trading features, such as copy trading or following expert investors, can be beneficial for new or busy investors. These features allow you to learn from more experienced traders or automatically replicate their trades. Additionally, community features like forums and chat rooms can be valuable sources of information and provide you with support from fellow investors.
11. Demo Accounts and Trial Periods
Before committing to a platform, testing its features and usability is essential. Many platforms offer demo accounts or trial periods, allowing you to explore the platform and its tools without risking real money. This is an excellent opportunity to determine if the platform meets your trading needs and preferences.
12. Order Types and Execution
You should look for a platform offering various order types to suit your online stock trading style and objectives. For example, you may want to use market orders, limit orders, stop orders, trailing stop orders, etc. The platform should also offer fast and timely execution of your trades, with minimal slippage or rejections.
13. Reviews and Feedback
You should look for a platform with positive reviews and feedback from other online share traders who have used it. You should also look for platforms with awards and accolades from reputable organizations or publications. You should read the reviews and feedback carefully and critically to get an idea of the strengths and weaknesses of the platform.
Overview of Samco Trading Platform 
Platform
Charges
Minimum Brokerage
Features
Samco
Rs 20 per executed order + Exchange Fees
Rs 20 per executed order
Full-service broker, research reports
Intraday: 0.1% or Rs 20 (whichever is lower)
Margin funding
F&O: 0.1%
Desktop & mobile trading platforms
Currency: 0.1%
Advanced charting tools with 100+ indicators
Universal search tool
Integration with KyaTrade for trading ideas
Bracket orders with trigger entry
Why is Samco a Better Option for Online Share Trading? 
Samco is a popular online share trading platform that offers a range of features and benefits for investors. Here are some of the reasons why Samco is thought to be the best online platform for trading shares in India:
Lowest brokerage: Samco charges Rs 20 per executed order, which is one of the lowest in the industry. They don't charge any hidden fees or annual maintenance charges. This can significantly reduce your trading costs over the long run.
Ace the Index  Feature: Samco is the first platform that introduces Ace the Index Feature. It helps you in share trading. It enables you to create, track and improve your own personal index performance against the market index. It also provides you with AI-driven market insights and recommendations to help you beat the market index
Robust trading platforms: Samco provides user-friendly web, desktop (Windows and Mac), and mobile trading platforms with advanced charting, technical analysis tools, and more.
Excellent customer support: Samco is known for its 24-hour, multichannel customer support. They provide support through phone, email, chat, and social media.
Wide range of services: Samco not only allows you to trade in stocks and F&O but also provides services like margin funding, brokerage, Demat account opening, IPO investments, etc.
Research & Advisory: Samco provides free equity research reports and recommendations to help investors make informed trading decisions. They also offer paid advisory services and stock tip packages.
Margin funding: Samco offers margin funding of Rs. 50,000 to Rs. 1 crore to enable investors to trade with more capital than is available in their trading accounts. They charge competitive interest rates on the margin amount used.
Safety: Samco is a reliable brokerage regulated by top regulators like SEBI, BSE, NSE, and NCDEX. They use 128-bit SSL encryption for secure online transactions and trading. They also have insurance coverage for the client's funds and securities.
In short, Samco scores very well on essential parameters like low cost, technology, service, and safety, making it a better choice than most other
online share trading
platforms in India.
Conclusion
In conclusion, choosing the right
online share trading platform
is essential to achieving financial success in the stock market. With so many options available, it can be overwhelming to make a decision. However, considering cost, investment options, research tools, customer support, and security features, you can find a platform that meets your needs and goals.Remember, the right platform can give you access to various investment options, research and analysis tools, and educational resources to help you make informed decisions. It can also offer a user-friendly interface and reliable customer support to ensure a smooth trading experience.If you're looking for a platform that offers low fees, advanced tools, and reliable support, Samco might be a great option. With access to various investment options and advanced research and analysis tools, Samco can help you make informed trade decisions. Additionally, their user-friendly platform and reliable customer support can ensure a smooth trading experience.So why wait?
Start investing in the stock market
today with
Samco
and take control of your financial future. With their low fees and advanced tools, you can maximize your returns and achieve your investment goals.
Sign up now and start your journey
toward financial success!