Do you remember this drone which looked like a
Garud
in the movie
URI - The Surgical Strike
? If yes, then you would agree that the drone played a very critical role in executing the surgical strike. 
Honestly, back then I couldn't believe the fact that such drones can exist in the real world. But today we are going to burst this myth and explore everything about drones and
drone stocks
listed on the
Indian stock exchanges
. 
Towards the end, as a bonus, we will also explore if these AI machines or drones could be the new emerging trend.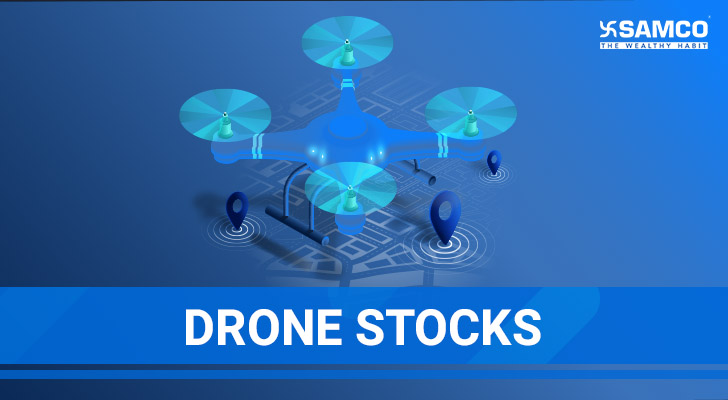 In this article: 
Let's get started.
What is a Drone?
A drone is an unmanned vehicle which looks like a mini aircraft. They are also known as unmanned ariel vehicles (UAVs). It is a small robot-like structure which is controlled by a remote. It is designed to carry tasks which makes our lives simpler. So, a drone can do simple tasks like dropping groceries to your doorstep or ultra-dangerous tasks like scanning danger zones near an active volcano. 
Because drones have such unique abilities, companies like
Zomato
, Swiggy and Amazon are looking to increase efficiency by delivering products with the help of drones. Let's look at a few common uses of drones. 
Uses of Drones
The British and U.S. militaries have been using drones for a very long time. It is used for surveillance and spying. Yes, previously drones weren't that advanced as today. But, with better technology, drones can penetrate constricted spaces and are used for bomb detection too. Just as we saw in the movie
URI - The surgical strike
, drones have been efficiently working towards spying and attacking militants from other countries. 
In the world of media, drones have been widely used to take beautiful shots from above. Also, drones could fly and reach places where humans cannot reach. So, it is a lot more useful for journalists to cover footage of an incident for a news report.
Even though shipping and delivery using drones is still a work in progress, companies like Amazon have already tested and started using drones to deliver products in western countries. In India, delivery companies like swiggy, zomato and dunzo have also been looking forward to delivering products such as
food
,
medicines
and other essentials with the help of drones. 
There are regions on the planet which are not accessible to humans. These regions can be coastlines or on the top of a huge mountain. In such cases, drones are sent to scan and study the area. The footage captured is then used to prepare a 3D map of the region. 
All the
oil and gas
companies have to carry out regular inspections of their storage tanks and other inventories from time to time for safety purposes. These inspections are done with the help of drones. 
Rotor drones are used to spray fertilizers on crops and are also used to monitor the health of the crops. 
Now, because there are multiple uses of drones and they are cost-efficient in the long term, there are a few companies which are looking to expand their business with the help of drones. These stocks are called drone stocks. 
Recommended watch: Drone stocks listed on the Indian stock exchanges.

List of drone stocks listed on the Indian Stock Exchanges
Paras Defence and Space Technologies Ltd
recently got listed
on the
Indian stock exchanges
. The company is primarily engaged in the designing, developing, manufacturing and testing of a variety of defence and space engineering products. The company works in three major segments.
Defence & Space Optics

Defence Electronics

Heavy Engineering and Electromagnetic Pulse Protection Solutions.
The company has a subsidy named Paras Aerospace. It focuses on manufacturing defence products such as military UAV and industrial UAVs. Now because the company's business is focused on manufacturing UAV's they have tied up with companies from Israel, Latvia and Italy. 
On November 18th 2021, the company launched its first unmanned aircraft system with an Israel based company High Lander. This company is a leading drone technology provider in the aviation field. 
It also has a tie-up with a Latvia based company Fixer, which designs unique angular rotor drones. Another tie-up is with Nurjana Technologies from Italy. It provides system engineering for real-time applications in Aerospace.
Quick Overview of Paras Defence and Space Technologies Ltd
Data as on 13th April 2022
Hindustan Aeronautics Limited (HAL) was incorporated on 23rd December 1940 in Bangalore by Shri Walchand Hirachand. The company is engaged in the business of manufacturing aircraft and helicopters and repair and maintenance of Aircraft and Helicopters.
Recently, the company has announced that they will soon be launching
India's first indigenously built unmanned combat aerial vehicle (UCAV). It has a has an operational range of 1000 km, with a payload capacity of 350 kg.
Quick Overview of Hindustan Aeronautics Ltd
Data as on 13th April 2022
Solar Industries is one of the worlds leading manufacturers of bulk explosives, packaged explosives and initiating systems. The company has also focused on manufacturing Unmanned aircraft systems (UAS) and drones. 
Solar Industries has manufactured various types of drones. A few of them are…
Hexacopter with a single payload

Fragmentation warhead

Hexacopter with 4 explosive payloads
Quick Overview of Solar Industries India Ltd.
Data as on 13th April 2022
Zomato is indeed one of the biggest and most popular food delivery chains in India. The company is further looking to make changes in its food delivery model. So, sooner or later the food delivery agents or valets will be replaced by drones.  
The company has already made its first move towards this goal. In 2018 they have acquired a Lucknow-based drone start up TechEagle. It manufactures long range, high-speed drones which can deliver products from one place to another with great speed. 
Quick Overview of Zomato Ltd
Data as on 13th April 2022
Zen technologies limited was incorporated in 1996. The company is headquartered in Hyderabad and has offices in the U.S. too. It is a drone tech company. It focuses on developing simulators for weapons and defence equipment. The company also provides training solutions for defence and security forces. 
Quick Overview of Zen Technologies Ltd
Data as on 13th April 2022
The company is engaged in setting up thermal power projects in India. Recently in September 2021, the company announced the launch of its drone business with its wholly-owned subsidiary NeoSky India Ltd. The subsidiary company will develop a cutting edge drone system platform focusing on industry applications in India.
Quick Overview of RattanIndia Enterprises Ltd
Data as on 13th April 2022
Info Edge is India's most famous platform-based business which owns popular brands that we use in our daily life. 
The company owns: 
Naukri.com which offers online recruitment services. 

99acres.com which lists real estate on their platform. 

Jeevansathi.com is an online matrimonial website. 

Shiksha.com provides information regarding online education.  

It holds 15.23% stake in Zomato as well.
The company has also been investing in start-ups for a very long time. One such start up company is Skylark Drones in which the company has invested $3 million.
Skylark drones is a technology company that builds the core infrastructure for the global drone ecosystem. 
Quick Overview of Info Edge (India) Ltd
Data as on 13th April 2022
The company is a diversified manufacturing company which produces sugar, alcohol, fine chemicals, industrial fibre and engineering products. In August 2021, the company announced an agreement with a Turkish UAV company Zyrone Dynamics. The company has made a foreign investment into Zyrone dynamics of $1 million and acquired a 30% stake in the company.
 Quick Overview of DCM Shriram Ltd
Market Cap (Cr):

Rs

.

15,502

Face Value:

Rs.

2

EPS:

Rs. 51.39

Book Value:

Rs. 314

Roce (%):

16.3

Debt to Equity:

0.29

Stock PE:

19.3

ROE (%):

15.3

Dividend Yield (%):

0.94

Revenue (Cr):

Rs.

8,071

Earnings (Cr):

Rs. 1,019

Cash (Cr):

Rs. 2,111

Total Debt (Cr):

Rs.

1,401

Promoter's Holdings (%):

66.53
Data as on 13th April 2022
Startups involved in drone technology
ideaForge is a drone company which provides drones for surveillance purposes. The product manufactured by this company is called
Netra V series
. It is a pro version of the Netra series. The Netra V series weighs just 3 kgs and has a longer standby time. 
The drones manufactured by ideaForge is used by police departments for surveillance and safety purposes. 
TartanSense was incorporated in 2015. It manufactures drones for agricultural usage. This drone has a strong camera which captures pictures of plants which can then be scanned using computer vision technology to identify weeds. 
The drone also has the ability to spray chemicals on already detected weeds. Hence, this is a very useful tool for farmers who produce crops on a large scale.  
General Aeronautics is a company which makes drones for surveillance and delivery purposes. The company has a speciality in manufacturing drones which can perform vertical take-off and landing. 
How Revised Drone Rules in India can take Drone Stocks to a New Height?
On 27th August 2021, new drone rules were introduced post which we saw a huge hike in the stock prices of companies like
Zen Technologies
. The stock price was trading at Rs. 83.10 on 26th August 2021. Post the issue of new drone rules, we could see a bullish rally till 14th September. The stock touched a record high of Rs. 226.10. This was a bullish rally of straight 232%. So, what news made the stock price hike so much. Let's explore. 
Every individual or company has to register themselves on the

digital sky platform

before using drones. 

When you register on the digital sky platform, the map will display three zones.
The three zones are mapped to inform the drone operator where they can and cannot fly their drone. 
Furthermore, the government has liberalised rules for these zones too. Previously, the yellow zone, which was earlier a 45 km zone from the airport perimeter, has now been reduced to a 12 km zone.  So, outside a 12 km radius of an airport, it is a green zone. Here the operators do not need to seek permission to fly drones. 

Previously drones had restricted use. But the updated rules state that drones could now be used for various purposes including non-commercial use. So, you don't need any security clearance to operate drones. 

Earlier, submitting a security clearance was mandatory which is now removed. 

Previously foreign ownership was not allowed. This rule has also been revised.
Are drone companies or drone stocks the new emerging trend? 
Recently, many companies have announced that they will be using drones in their business. One such example is the
Indian Oil Corporation
. It plans to use drones to monitor its pipelines for safe operations. Similarly, many other companies are planning to deploy drones. So, drone stocks are expected to gain momentum in the near future. 
Moreover, drones are cost-efficient and easy to use. So, in the long term, companies might profit from the efficiency of drones. Now, the question is… which drone stock is worth investing? 
Well, the answer is quite simple. All you need to do is visit
Samco's star ratings page
and check the ratings of the drone stock. This rating is revised daily and is calculated using twenty million data points. It also mentions the pros and cons of investing in the company. 
So, next time you need to research a drone stock…all you need to do is visit
Samco's Star rating page
. To start investing in the best drone stock,
 open a Demat account with Samco
and get access to a world-class
trading platform
at your fingertips. 
Happy investing