Listen to Why Samco has the Best Demat Account in India? ♬
Introduction to Best Demat Account
Selecting the best Demat account is one of the cornerstones for a successful investment journey. What constitutes the best Demat account? Well, the best Demat account should be cost-effective, convenient, provide high leverage, and value added products and services. Seems like a fairly simple activity doesn't it? But wait, there is more to it than what meets the eye. A majority of us have opened a Demat account with a random broker just because it was FREE. But is the cheapest Demat account also necessarily the best Demat account? The answer is No!
Best Demat accounts are supposed to come with low brokerages but that's not the only criteria. Best Demat accounts are also supposed to add value to your trading and investing experience. They are supposed to make you a better trader and investor by giving you strategies and research-driven advice.
So, it's time for you as an investor, to demand the world and more from your Demat account. And if there is one broker who knows what quality broking looks like, it is Samco Securities Ltd. A veteran in the stock market, a Samco Demat account is the perfect combination of low cost trading with unique, out-of-the-box value-added products and services.
Samco Securities Ltd. is one of the most respected, trusted and best discount stockbrokers in India. A Samco Demat account will propel your financial wealth to the next level. Here are 18 reasons why Samco Demat account is the best Demat account in India –
18 Reasons Why Samco has the Best Demat Account in India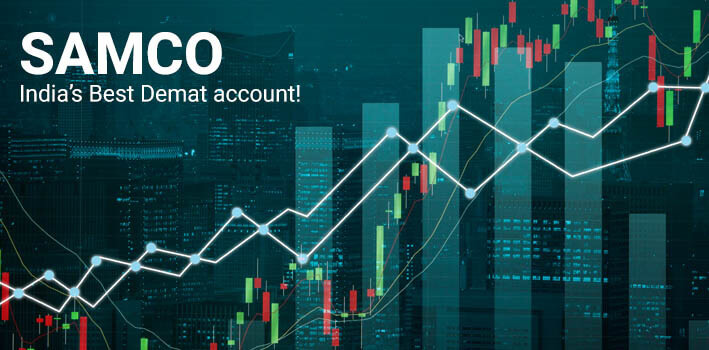 Lowest Brokerage: With a Samco Demat account, you pay the lowest brokerage in the country - 0.50% or Rs 20, whichever is lower. This is much cheaper than the brokerage charged by full service brokers, which usually ranges between 0.50% and 1% of the transaction value. Why does this matter? Are we counting pennies? Not really. Say you bought 100 shares of Infosys Ltd at Rs 1,553 per share. Your total transaction value will be Rs 1,55,300. So, a full service broker maywill charge you a brokerage of Rs 776. But with Samco, you pay a brokerage of maximum Rs 20 per trade. With a Samco Demat account, you can save as much as 98% in brokerage costs.

Check your brokerage savings with our Brokerage Calculator now.

Samco Stock Ratings: Samco Securities Ltd. has built an in-house rating mechanism that provides ratings for more than 4,000 stocks listed in the stock market. And did we mention that this feature is absolutely free for investors and traders? The reason is simple… we want every investor, whether a Samco customer or not, to take better informed decisions and make money in the stock markets. And this is why they are giving away detailed analysis of each of the 4,000 actively traded stocks in the market so that investors can make informed buying and selling decisions. Samco Securities provides this stock rating service absolutely FREE to you.

Check out if you are invested in the right stocks now…absolutely FREE

Structured Value-Added Products: There are more than 4,000 stocks listed on the Indian stock exchanges. And this number is enough to overwhelm even the pros. So, it is quite natural for retail investors to feel out-of-depth. This is the motivation behind Samco Securities' innovative products like StockBasket, RankMF and KyaTrade. StockBasket is a long-term investment platform where you can invest in expert-curated quality stocks. So, you can say goodbye to chasing individual stocks and racking your brains on the perfect portfolio combination. At StockBasket, you get a readymade portfolio of top-quality stocks, perfectly diversified.

Want to invest in ready-made portfolios? Check out StockBasket now.

Now a lot of investors complain about the futility of the mutual fund industry. I mean, mutual funds were introduced to simplify the life of an investor. But with more than 3,000 mutual fund schemes, the industry is nothing short of a labyrinth. This is why Samco Securities introduced RankMF, which analyses every mutual fund scheme on more than 20 million data points and recommends the absolute best or Sahi mutual funds.

Do you invest in mutual funds? Then you must check if they are Sahi or not. Click to find out.

And that's not all. Identifying the popularity but hesitance surrounding the intraday trading segment, Samco Securities launched KyaTrade. This is a platform that provides real-time, readymade trading and investment ideas with a simple swipe.

Wow, that's quite a list of value-adds, won't you agree? But do you know that all these services are not available to common public. Only Samco Demat account holder can get access to StockBasket, RankMF, and KyaTrade.

Unique Orders & Leverage Products: When you open a Samco Demat account, you get access to high-end leverage products like CashPlus, StockPlus.

Free APIs: Samco is one of the only brokers in the country to provide free Application Programming Interface (APIs) to its customers. With Samco API, you can develop your own trading platform and implement unique trading strategies. These APIs are compatible with Java and Python code frames, giving you open access to live market feeds, orders, live positions and even historical adjusted data.

Stable and well-capitalised: Like a bank, a Demat account broker acts as a custodian of an investors' hard earned money kept in the form of financial assets. Therefore your broker must be extremely well capitalised to ensure the safety and security of your assets. With a networth of over Rs 200 crores, Samco is extremely well capitalised and equipped to provide the best Demat account in India.

Safe and Secure: Besides being well capitalised, it is very important that your Demat broker is compliant with all SEBI regulations. At Samco, we take the safety and security of your assets very seriously and ensure that all compliances pertaining to account maintenance, data security, and anti-theft regulations are strongly complied with. This ensures complete safety of the financial assets in your Demat account.

Trusted by more than 2 Lakh Indians across India: Samco is a safe haven for more than 2 Lakh investors from nearly 4,000 cities to hold their financial assets worth more than one and half billion dollars (10,000 Crores+). Join this growing community of India's smartest investors today by opening a free Demat account with Samco.

Best governance practice - No proprietary trading: One of the most important governance practices that should be followed by your broker is complete transparency and zero conflict of interest. At Samco, we take governance very seriously and ensure that we are never on the other side of a client's trade. As an entity, Samco Securities doesn't indulge in proprietary trading and ensures the highest standards of governance for its customers.

Straight through processing of stock purchases with Direct Pay-out of securities: To ensure the highest level of transparency for our customers and investors, we are one of the few brokers which enables direct pay-out of securities. What does this mean? As a standard practice, when stocks are purchased by clients, most brokers first take custody of securities in their pool/settlement account and then from that settlement/pool account, they transfer the stocks to the client's individual Demat account.

At Samco, we have enabled straight through processing of stocks with Direct Pay-out so that securities are directly transferred to the investors account by the exchange without transferring them to the brokers account. This is much more advantageous to investors since shares are directly credited from the exchange and the credits happen much faster.

Awarded India's Best Equity Broking House: Samco was awarded the "Best Equity Broking House" by India's leading business channel CNBC in 2017. The parameters for the award were growth, profitability, social consciousness and sustainability. We continue to strive hard to provide our customers with the best services. Join a community of 2.5 Lakh smart investors by opening the best Demat account in India with Samco today!

Holding Mutual funds in Demat mode: At Samco, investors can select their preferred mode of transacting and hold Mutual fund units in either Demat form or in a physical statement of account held by the RTAs.

Instant updates for all your Demat stocks and holdings: One of most important things for an investor is to completely stay on top of his investments. Samco emerges as the best Demat account in India because of its superior App Samco that keeps investors up to date with everything that's happening with their stocks. If a company has announced a dividend, corporate action or financial results, you'll be the first to know!

Paperless FREE Demat account opening: Most platforms in India charge Demat and trading account opening fees between Rs 200-700. But with Samco, you can open the best Demat and trading account in India for free.

Zero Annual maintenance Charges for 1st year: Samco doesn't charge any annual maintenance fee for the first year. So, by opening the best Demat account in India with Samco, investors get an immediate savings of Rs 400 in the first year itself.

Lowest costs for trading and Demat account: Samco's transaction charges and brokerages are the lowest in the industry. Check our detailed Demat account charges.

State of the Art Infrastructure: At Samco, we've invested in the best infrastructure to ensure that our services are available with 99.9% uptime and negligible downtime. This means that you can access your accounts at all times from the comfort of your homes.

World-class support: The best Demat account in India should offer the best customer support. At Samco, we have one of the country's best support teams with a 24 hour TAT for 100% query resolution. You can reach out to our customer support by calling our helpline numbers +91 91222 27777 or raising a support ticket on www.samco.in/support
These 18 reasons validate our claim that Samco is truly the best Demat account in India. You can open a Samco Demat and trading account in under 5 minutes and reap the benefits of the best Demat account in India.