Want a synopsis of this article? Listen to this ♬
Selecting the best Demat account is one of the cornerstones of a successful investment journey. The best Demat account should be cost-effective, convenient, trustworthy, fast and efficient.
While there are a plethora of Demat accounts available, only a handful of Demat accounts are worthy of being called the best Demat account in India.
With more than two decades of expertise in the stock market and being awarded as the best equity stockbroker in India by CNBC-Awaaz, Samco truly is the best Demat account in India. Let us now explore the 17 reasons why Samco is the best Demat account in India.
Things to Check Before Selecting the best Demat account
17 Reasons Why Samco is the Best Demat Account in India
Stable and very well capitalised: Like a bank, a Demat account broker acts as a custodian of an investors hard earned money kept in the form of financial assets. Therefore your broker must be extremely well capitalised to ensure the safety and security of your assets. With a networth of over Rs 200 crores, Samco is extremely well capitalised and equipped to provide the best Demat account in India.

Safe and Secure: Besides being well capitalised, it is very important that your Demat broker is compliant with all SEBI regulations. At Samco, we take the safety and security of your assets very seriously and ensure that all compliances pertaining to account maintenance, data security, and anti-theft regulations are strongly complied with. This ensures complete safety of the financial assets in your Demat account.

Trusted by over 200000+ Indians across India: Samco is a safe haven for over 200000+ investors from 4000+ cities to hold their financial assets worth more than one and half billion dollars (10.000 Crores+). Join this growing community of India's smartest investors today by opening a free Demat account with Samco.

Best governance practice - No proprietary trading: One of the most important governance practices that should be followed by your broker is complete transparency and zero conflict of interest.At Samco, we take governance very seriously and ensure that we are never on the other side of a client's trade. As an entity, Samco Securities doesn't do any proprietary trading and ensures the highest standards of governance for its customers.

Straight through processing of stock purchases with Direct Pay-out of securities: To ensure the highest level of transparency for our customers and investors, we are one of the few brokers which enables direct pay-out of securities. What does this mean? As a standard practice, when stocks are purchased by clients, most brokers first take custody of securities in their pool/settlement account and then from that settlement/pool account, they transfer the stocks to the clients individual Demat account.

At Samco, we have enabled straight through processing of stocks with Direct Pay-out so that securities are directly transferred to the investors account by the exchange without transferring them to the brokers account. This is much more advantageous to investors since shares are directly credited from the exchange and the credits happen much faster.

Awarded India's Best Equity Broking House: Samco was recently awarded the "Best Equity Broking House" by India's leading business channel CNBC. The parameters for the award were growth, profitability, social consciousness and sustainability. We continue to strive hard to provide our customers with the best services. Join 200000+ smart investors by opening the best Demat account in India with Samco today!

Holding Mutual funds in Demat mode: At Samco, investors can select their preferred mode of transacting and hold Mutual fund units in either Demat form or in a physical statement of account held by the RTAs.

Stock Pledging for Trading Limits: One of the most important facilities for qualifying as the best Demat account in India, is if customers can pledge their securities and avail trading limits against those shares. With Samco's StockPlus facility, customers can seamlessly pledge their stocks and avail trading limits against shares.

Instant updates for all your Demat stocks and holdings: One of most important things for an investor is to completely stay on top of his investments. Samco emerges as the best Demat account in India because of its superior App StockNote that keeps investors up to date with everything that's happening with their stocks. If a company has announced a dividend, corporate action or financial results, you'll be the first to know!

Best Demat account in India for beginners with ready-made Stock Baskets for investments: Are you new to the stock markets and need help with Investing? Are you confused with all the free stock tips? Well don't worry. When you subscribe to the best Demat account in India with Samco, you get free unrestricted access to StockBasket – a platform that helps you invest in the best shares for the long term.

Free paperless online Demat account opening: Most platforms in India charge Demat and trading account opening fees between Rs 200-700. But with Samco, you can open the best Demat and trading account in India for free.

Zero Annual maintenance Charges for 1st year: Samco doesn't charge any annual maintenance fee for the first year. So, by opening the best Demat account in India with Samco, investors get an immediate savings of Rs 400 in the first year itself.

Lowest costs for trading and Demat account: Samco's transaction charges and brokerages are the lowest in the industry. Check our detailed Demat account charges. Demat account charges
Demat account charges are charged by your broker for providing a trading platform. The 3 main Demat charges are - account opening charge, annual maintenance charge & transaction charge. Samco has the lowest demat charges in India.
Read More

Zero percentage brokerage: One of the reasons why Samco is the best Demat account in India is that Samco charges zero percentage brokerage for trading and instead charges flat Rs. 20 per executed order irrespective of the size of the order. This results in savings of up to 98% in brokerage as compared to other platforms. Check out our brokerage calculator.

Interest Savings with Buy today and pay in two days: Samco is the only stockbroker in India that allows investors to buy stocks today by paying a fraction of the margin and pay the balance for purchase in 2 days, that too – completely free of cost. This unique facility is known as 'BTPT' i.e. Buy Today Pay in Two Days. This results in huge savings in interest for the investors making Samco truly the best Demat account in India. Check out our interest and brokerage savings calculator.

State of the Art Infrastructure: At Samco, we've invested in the best infrastructure to ensure that our services are available with 99.9% uptime and negligible downtime. This means that you can access your accounts at all times from the comfort of your homes.

World class support: The best Demat account in India should offer the best customer support. At Samco, we have one of the country's best support teams with a 24 hour TAT for 100% query resolution. You can reach out to our customer support by calling our helpline numbers 022-2222-7777 or raising a support ticket on www.samco.in/support
These 17 reasons validate our claim that Samco is truly the best Demat account in India. You can open a Samco Demat and trading account in under 5 minutes and reap the benefits of the best Demat account in India.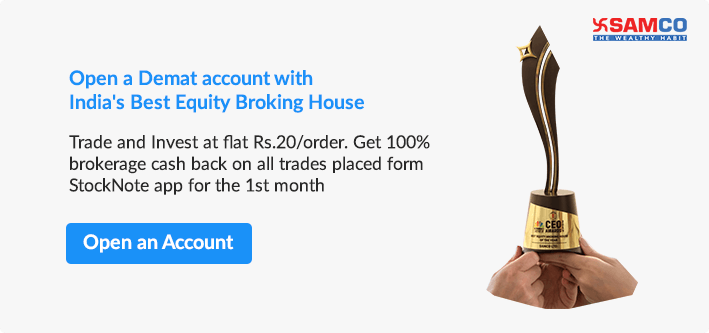 Join over 200000+ happy customers from over 4000+ cities across India.
What do our clients say!
"Easy to access and live updates are very helpful"
Patel Roshankumar B
"Good feature. Easy investment option. Nice interface."
Liyaqat Khan
"User-friendly app and attractive brokerage"
Yogesh Janardhan Samleti