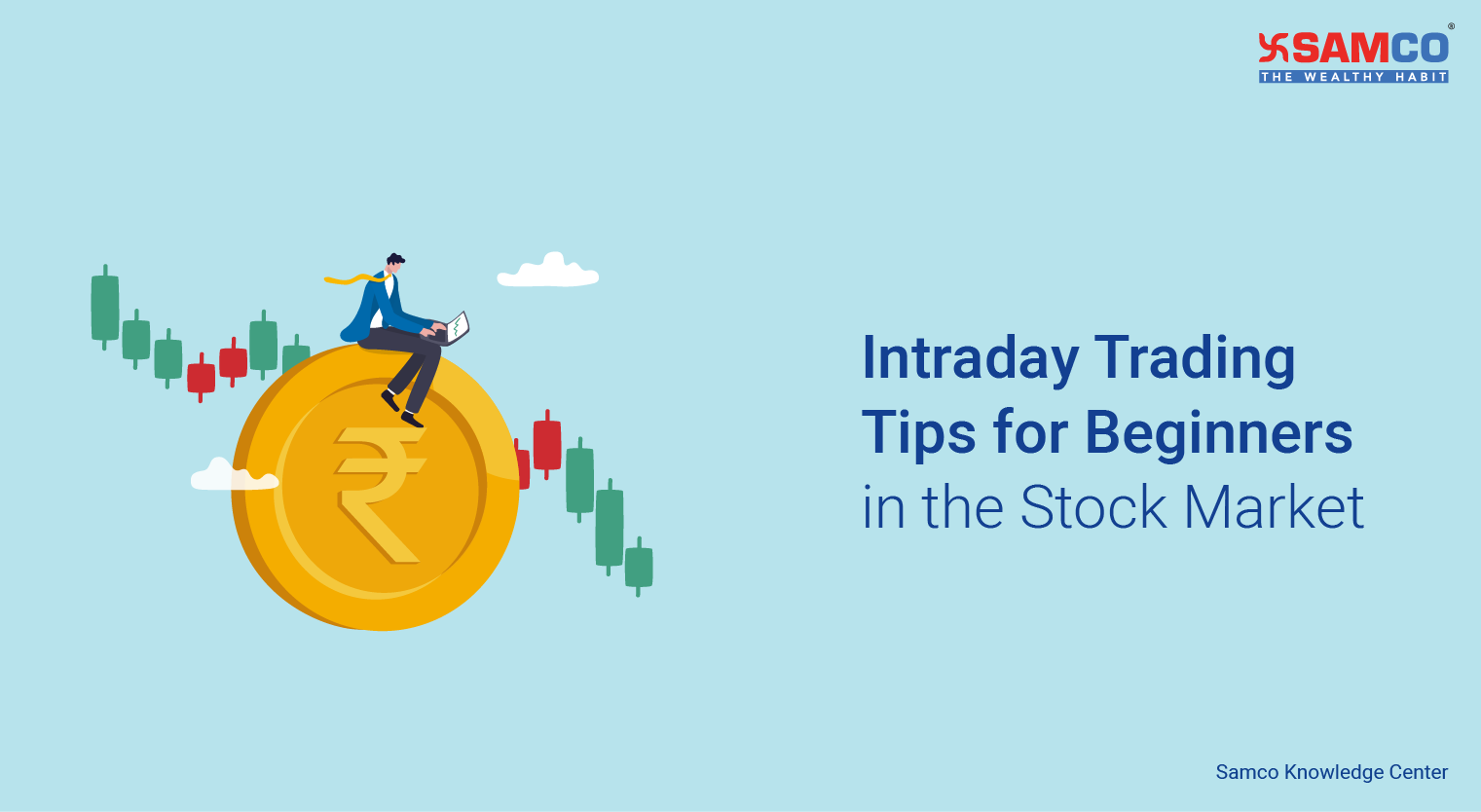 Intraday trading, also known as day trading is the ideal choice for beginners in the stock market.Ever wondered:
Why only few traders are successful in creating wealth through intraday trading?
The reason is that very few traders know the right strategy of selecting stocks for intraday and managing risks at the same time.Today in this article let us explore,
What is intraday trading?
What are the things to consider while trading in intraday?
Intraday trading tips for beginners in the stock market.
So, let's begin!
What is Intraday Trading? 
Intraday trading is about buying and selling shares on the same day to book profits. In this market order, you don't plan to take delivery of shares.In other words, if you place an intraday order to buy or sell shares, you take advantage of the price movements and cover the position before the end of the trading day so that there are no outstanding shares for the next day.
What are the things to consider while trading in intraday?
While trading in intraday as a beginner you must consider these things:
The share you trade in must have high liquidity
The share must not be too volatile
The share must be compatible with the current market trends
The share must have momentum in the price
Let us understand this with a simple example!
Let's say you want to trade in strawberries. While buying and selling, you will succeed only if there are demand and supply for strawberries in the market. Because of this constant demand and supply, the price of strawberries may fluctuate. Along with this, you must also ensure that the overall fruit market is doing good and the fruit sector is booming. Further, there must be sufficient interest in trading strawberries.
If all of these factors are in place, you can be in a good position to earn profits from strawberries.The same approach applies to choosing stocks while trading in intraday. The stock you choose should have all the above mentioned qualities to earn good profits.Now let us explore some tips to pick stock for intraday trading.
Intraday Trading Tips for Picking the Right Stocks for Beginners in the Stock Market. 
Trade in Liquid Shares Only
Liquidity is the most important criteria while choosing stocks to trade on intraday basis.The stocks which have high liquidity have huge trading volume during the day which gives the traders advantage of buying and selling larger quantities at ease.Also, stocks which have good liquidity will have low tick spread. Tick spread is the difference between bid and ask prices.
Volatility of Stocks
Intraday traders earn profits when the share price moves as per their expectations.If the share price is stagnant then you won't be able to make money from the stock. If the stock is highly volatile, then it could lead to losses if the movement is too steep.While there is no hard and fast rule but, most intraday traders prefer stocks which have volatility between 3-5% on either side.
Follow the Market Trend
Another important intraday trading tip for beginners is to remember that moving with the trend is always beneficial.In a bull run, traders must identify stocks that can potentially rise in price and vice versa.
Pick After Thorough Research
Undertaking quality research is one of the most vital intraday trading tips that traders must remember.Unfortunately, most day traders avoid doing their research and simply start trading.
Here are a few steps you must follow before you start intraday trading.
Identifying the index and then find sectors that are of your interest.
The next step is to create a list of several stocks from your preferred sector.
You don't necessarily need to include top players of the sector, but rather focus on identifying stocks that are liquid.
Technical analysis and determining the support and resistance levels along with studying the fundamentals of these stocks are essential. This will help traders find the right stocks to earn profit through intraday/day trading.
Here are a few common questions you need to ask when you select a stock for intraday trading.
1. Does the chart show clear chart patterns?
As an intraday trader, you need to rely heavily on technical charts to find support and resistance levels. Also, you need to ensure that the stock depicts clear patterns.
2. Is the share price sensitive to the news?
An intraday trader relies on two factors to trade - chart patterns and sensitivity to the news.You must always find stocks which are news-sensitive and have volatility at such times.Buy on Rumour, Exit on News can actually work while you trade in intraday.
3. Is the stock widely owned?
While choosing a stock you must check out the ownership pattern of the stock which is available on the NSE and
BSE
(stock exchange) websites.A stock which is not widely owned is generally less volatile since the free float is less.As an intraday trader, always prefer stocks that are liquid and not widely owned as it will reduce your risk substantially.[
Suggested Reading
:
Best Stocks for Intraday Trading in 2020 in India
]https://youtu.be/GEZ1EAXrWQA
Final Thoughts
If you want to be a successful trader, choosing the right stocks is very important in order to make profits in intraday trading. Also, you must do your homework well before you execute a trade.These intraday trading tips would help you in your trading journey. But always remember to ensure that you stay objective and data-driven and avoid emotion-based decisions while trading in intraday.Start making profits in intraday trading by opening a
Demat account with Samco
, and get Free brokerage trading for 1st month on all trades placed from the
Samco App
for the first month!
Happy trading