In this article, we will discuss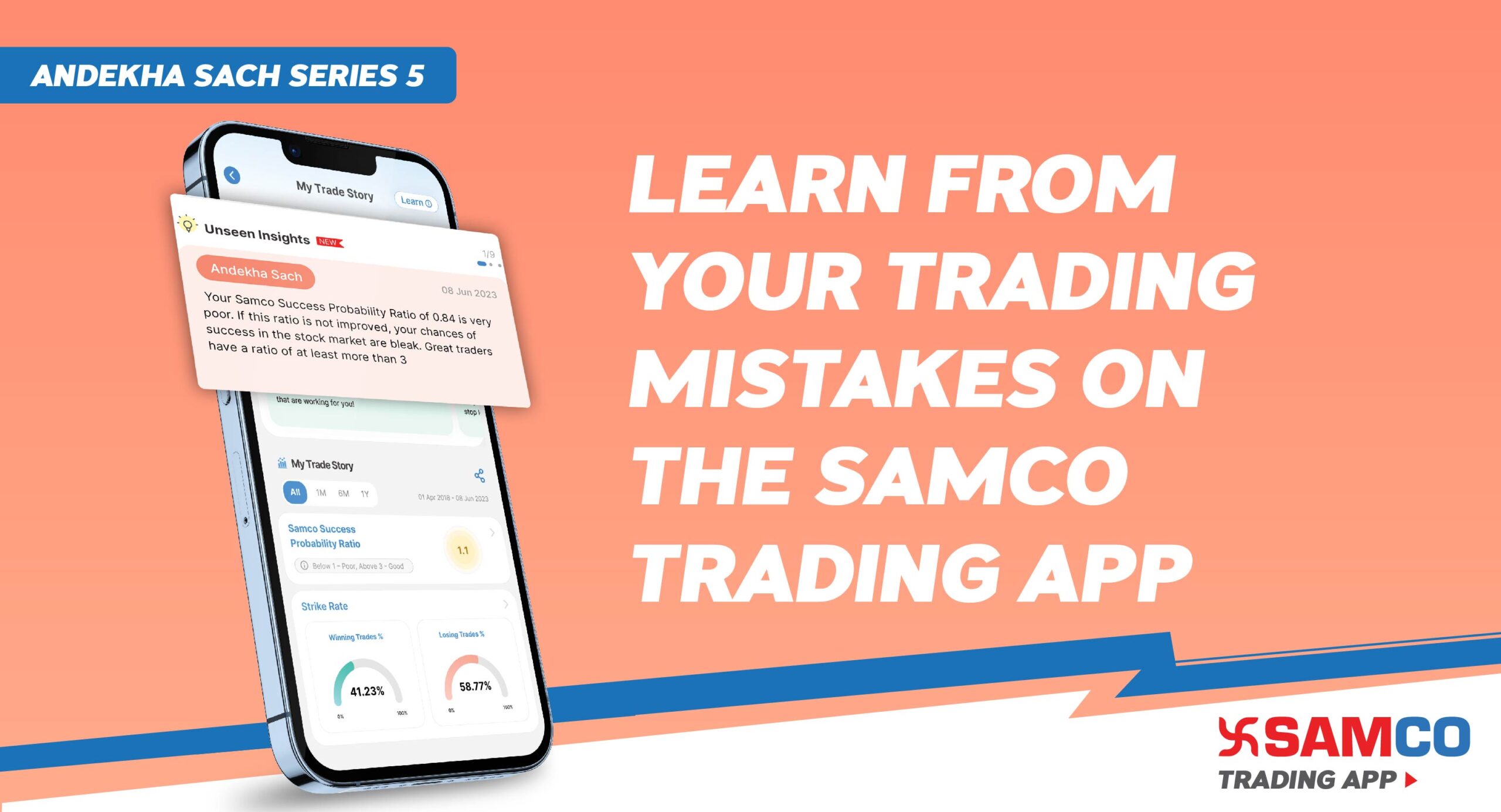 Whether you are a beginner to trading or a seasoned trader, you may be prone to making some trading mistakes. However, there's one thing that successful traders do that sets them apart from many unsuccessful market participants — they learn from their past trading mistakes.
You too can accelerate your learning curve by taking stock of what didn't work for you in the past, so you can avoid making those mistakes in future trades. Samco's trading app can help you along this journey.
4 ways to learn from past trading mistakes with the Samco trading app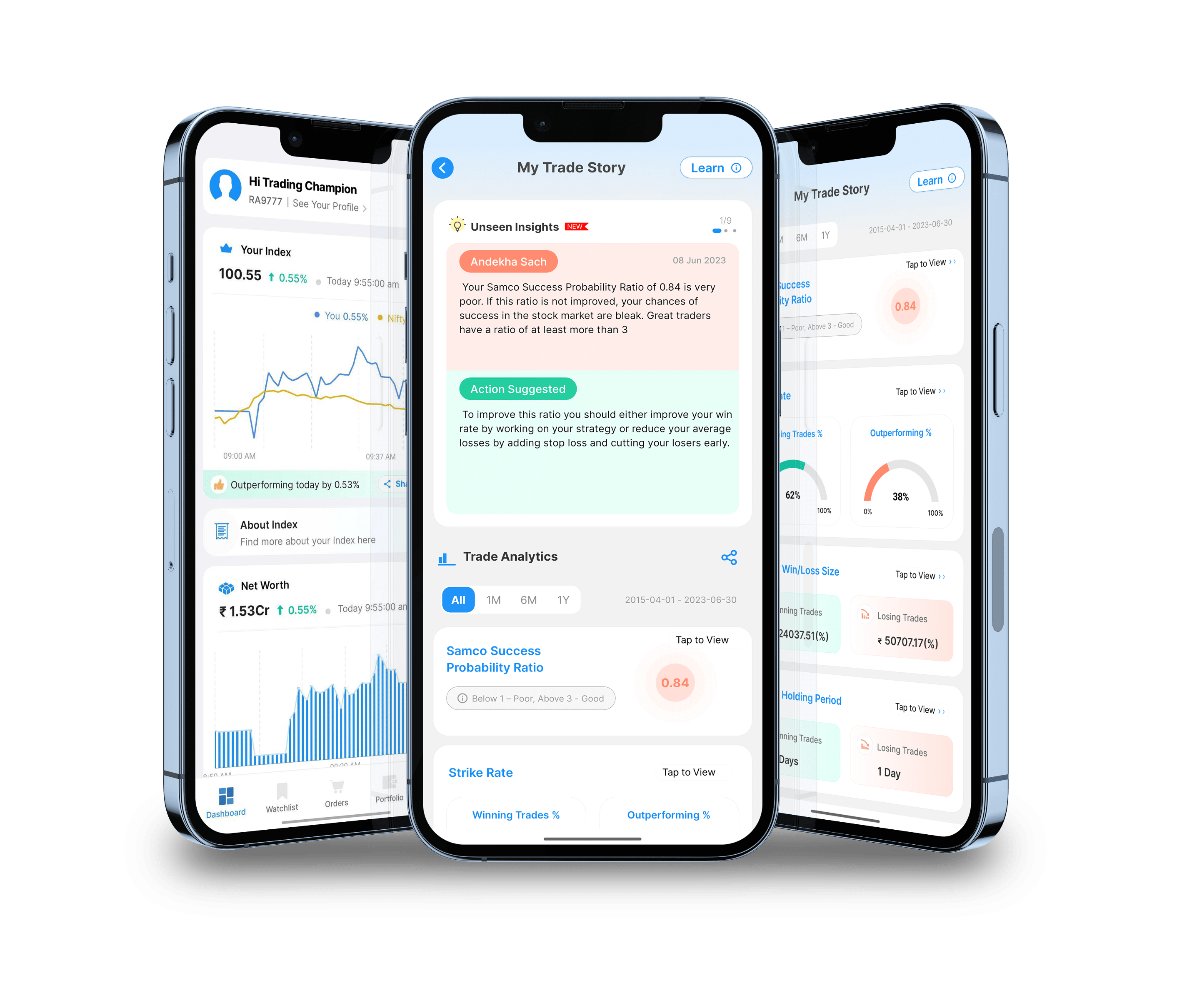 The average trader does not have access to many key insights that may help improve their trading strategies. However, with the new My Trade Story feature on the Samco trading app under #AndekhaSach, you can bridge this knowledge gap and get crucial insights about your past trading habits and more.
These insights can help you avoid various mistakes and become a better trader.

Here's how. 
Accounting for the risk-to-reward ratio
When you ignore the risk-to-reward ratio of a position, you may take on too much risk for a trade that offers you little to no reward. Consistently implementing such trades can lead to cascading losses that may be impossible to recover.
However, with the Samco trading app, you can understand the risks and rewards associated with each trade. You can use the 'My Trade Strory' feature to evaluate the risk-reward ratios for your trades and make informed decisions that minimize risk and maximize rewards.
Optimizing position sizing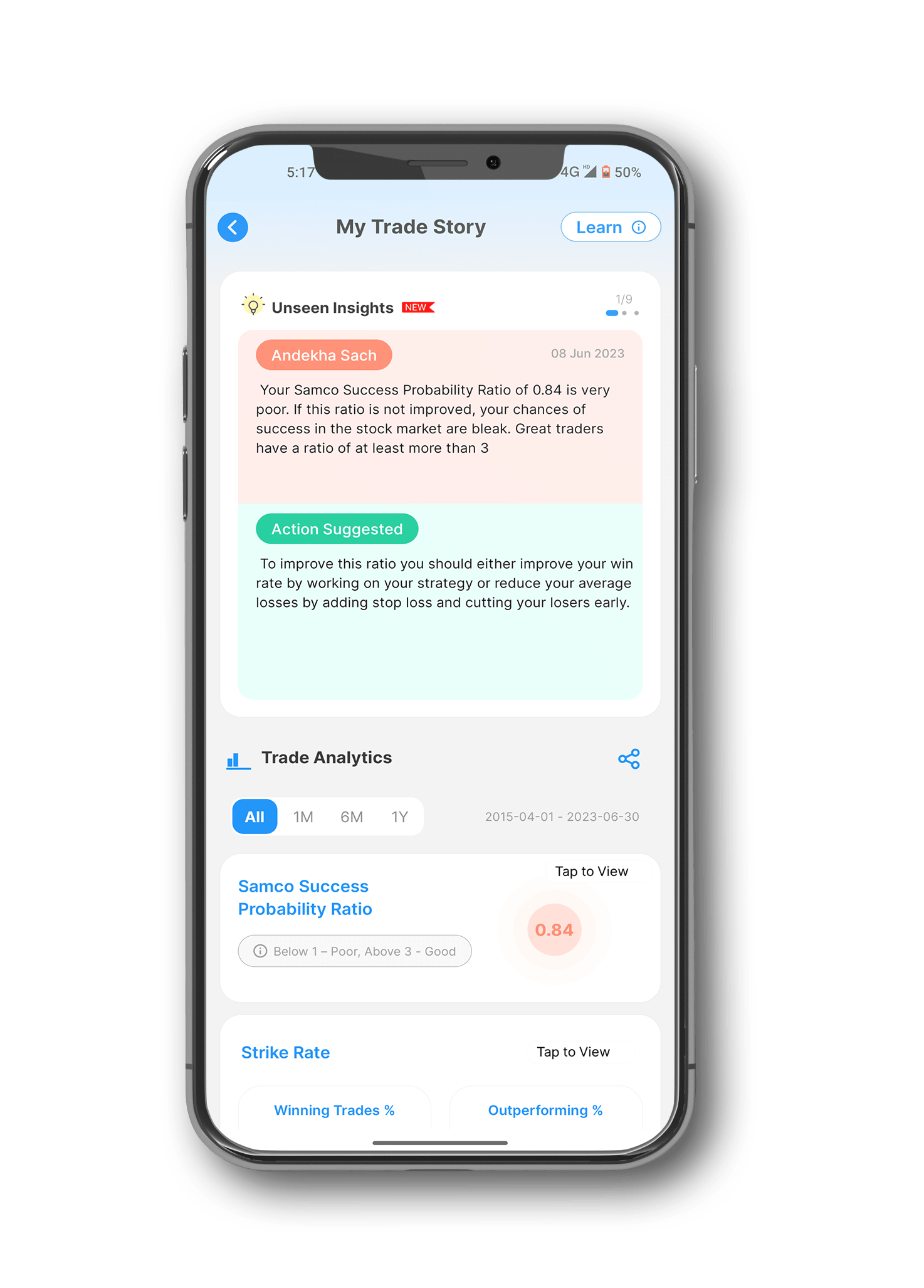 Position sizing is a trading technique that helps you determine the size of your trade. It can be calculated in terms of:
Value (i.e. the total amount of capital involved in the trade)
Quantity (i.e. the number of shares or assets traded)
In the past, you may have executed trades without knowing your optimal position sizing. However, with the unseen hidden insights that Samco's trading app provides under the My Trade Story feature, you can understand & add to profitable positions and limit exposure to loss-making trades.
Factoring in market trends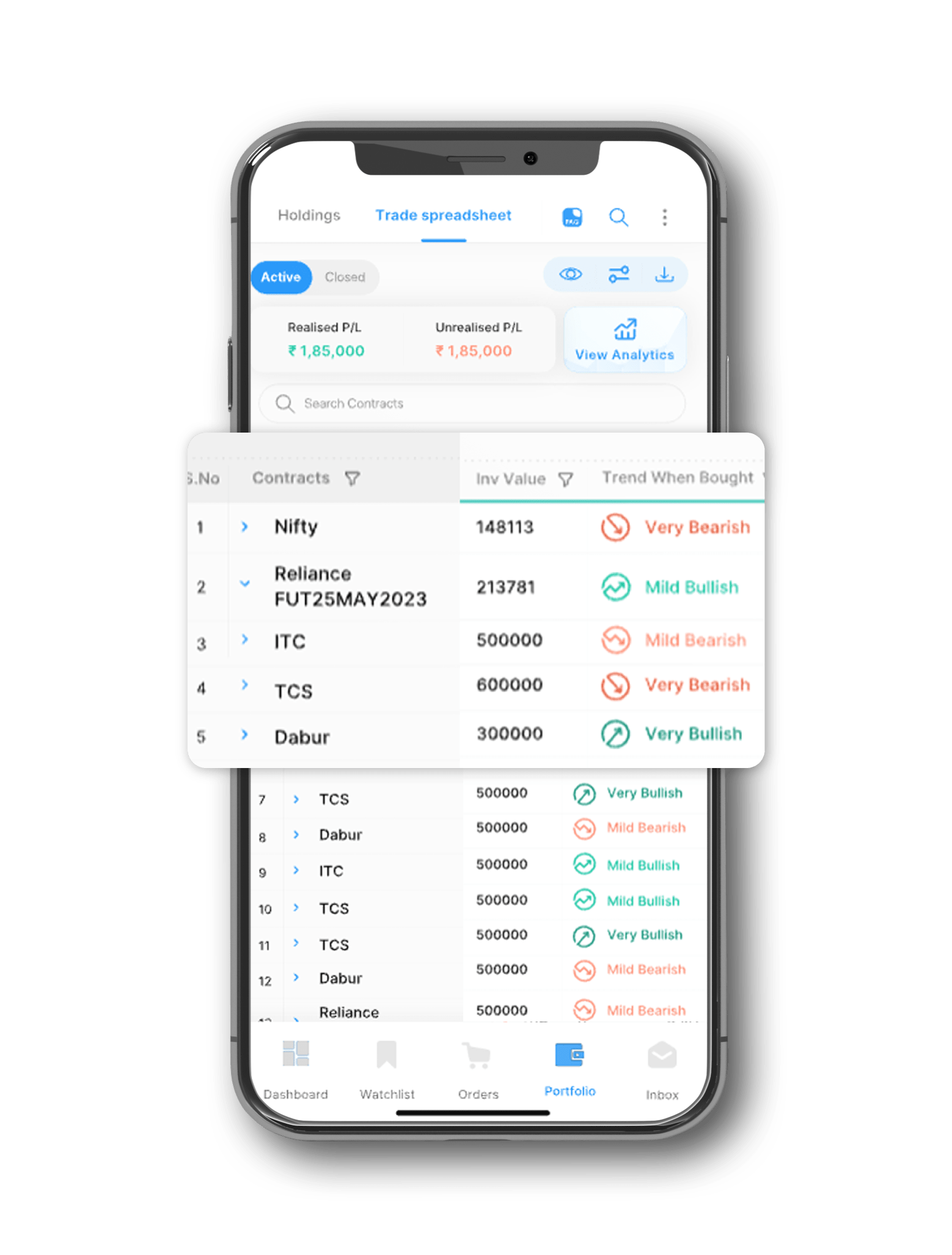 Samco's trading app also gives you access to various market trend insights, so you can understand that whatever trades you are taking are aligned or against the trend. Both strategies may give positive outcomes, depending on the direction in which the market continues to move.
However, to make the most of price movements in the market, you need to understand which trades align with the current market trend and which trades go against it. The My Trade Stroy insight from the Samco trading app can give you clarity about this #AndekhaSach.
Understanding your past trading patterns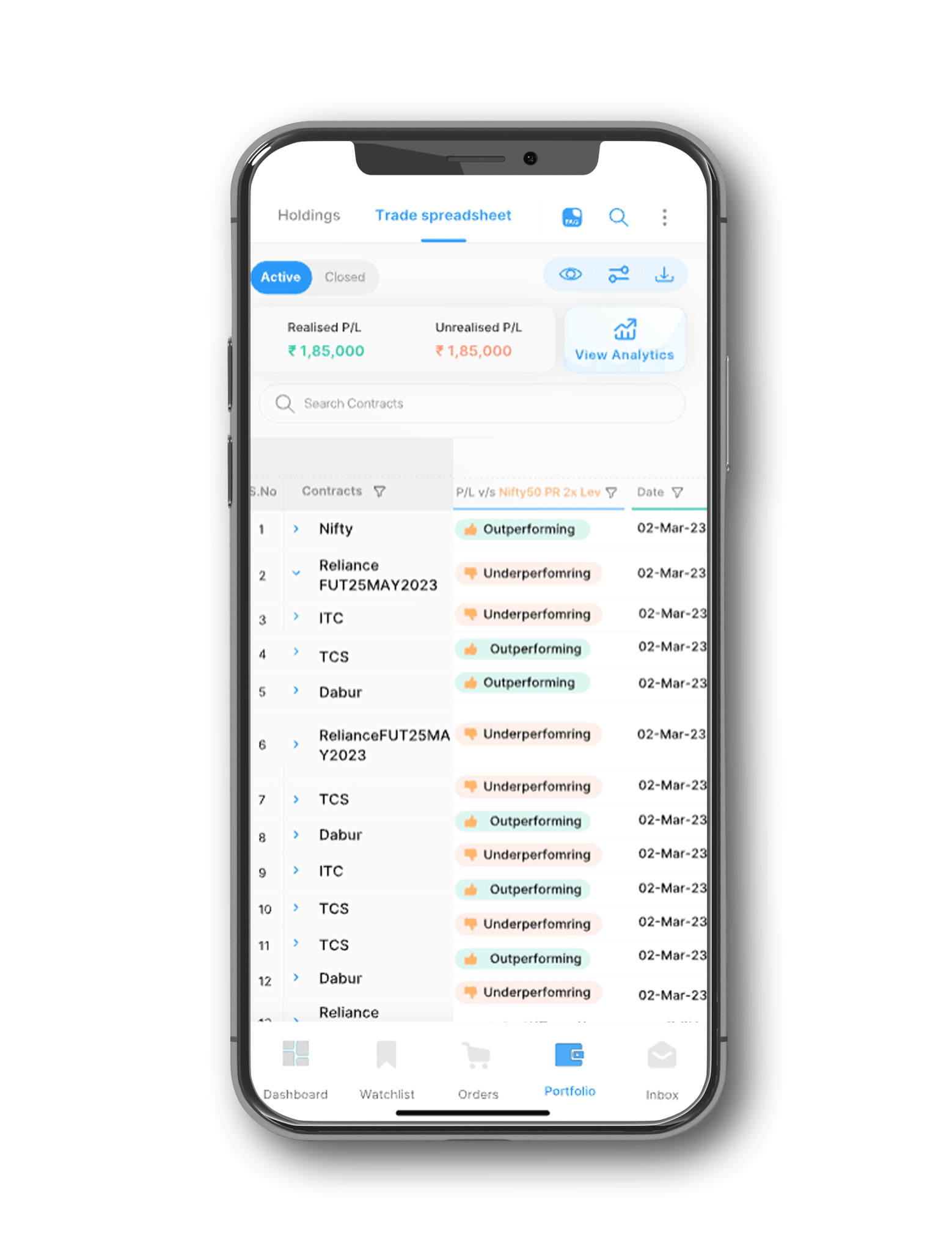 To truly avoid any trading mistakes you may have previously made, you will have to understand your past trading patterns and their outcomes. With Samco's trading app, you can obtain insights about various aspects of your trading practices, such as:
Your trading strategies for cash and F&O segments
Your sectoral investments in cash and F&O segments
Your investments across different market caps in the above segments
Conclusion
This encapsulates the many ways in which you can use the new features in the Samco trading app to obtain previously unseen insights. You can then use these highly personalized actionable insights to identify vulnerabilities in your current trading practices and take the measures needed to improve your trading performance.
Disclaimer: INVESTMENT IN SECURITIES MARKET ARE SUBJECT TO MARKET RISKS, READ ALL THE RELATED DOCUMENTS CAREFULLY BEFORE INVESTING. The asset classes and securities quoted in the film are exemplary and are not recommendatory. SAMCO Securities Limited (Formerly known as Samruddhi Stock Brokers Limited): BSE: 935 | NSE: 12135 | MSEI- 31600 | SEBI Reg. No.: INZ000002535 | AMFI Reg. No. 120121 | Depository Participant: CDSL: IN-DP-CDSL-443-2008 CIN No.: U67120MH2004PLC146183 | SAMCO Commodities Limited (Formerly known as Samruddhi Tradecom India Limited) | MCX- 55190 | SEBI Reg. No.: INZ000013932 Registered Address: Samco Securities Limited, 1004 - A, 10th Floor, Naman Midtown - A Wing, Senapati Bapat Marg, Prabhadevi, Mumbai - 400 013, Maharashtra, India. For any complaints Email - grievances@samco.in Research Analysts -SEBI Reg.No.-INHO0O0005847