In this article, we will discuss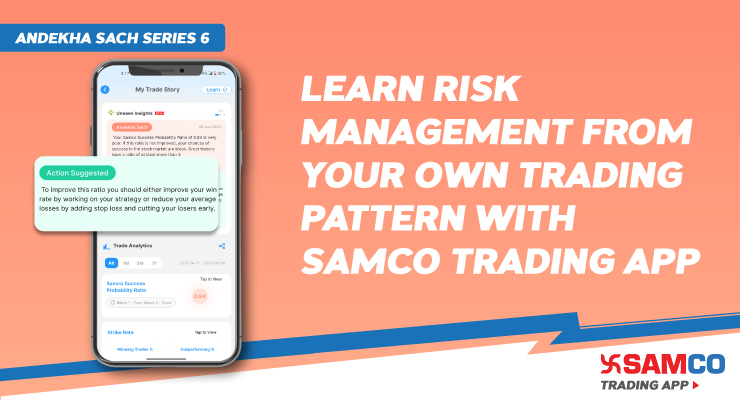 Risk management is an important aspect of trading. It involves identifying, assessing, and mitigating potential risks associated with the trading of various financial assets. Managing the risk associated with financial assets can help minimize the losses due to adverse market movements and ensures that your capital remains protected.
Furthermore, proper risk management practices can help you withstand market volatility and downturns, increasing your chances of achieving long-term profitability.
Manage your risk effectively with the Samco trading app
With the trading app from Samco, you can learn how to manage risk using insights from your own historical trading patterns. The app offers the following two unique insights on the My Trade Story widget which is designed to help you evaluate your trading performance and accurately assess risks associated with your trades:
Here's a closer look at each of these two insights into the #AndekhaSach about risk management.
Maximum potential losses 
The app analyses all your past trades and gives you a clear idea of the maximum possible losses that you could have experienced. This metric indicates just how far your trade went into the negative territory before rebounding. It also highlights the worst-case scenario for each trade.
You can use this information about the maximum potential losses to assess the risk associated with your past trades, identify potentially better exit points, and improve the timing of future trades.
Maximum potential profits 
The other side of risk is reward. For each trade, it is important to factor in the risk and the reward so the two aspects remain well-balanced and you achieve optimal risk-reward ratios on all your trades.
The My Trade Story feature on the Samco trading app can help you here, by giving you clarity about the maximum potential profits of your trades. In simple terms, this insight indicates the maximum profit that you could have potentially earned — if you had squared off your positions at the right time. This feature highlights the best-case scenario for each trade.
Conclusion 
The potential rewards should always be commensurate with the potential risks. This is why it is advisable to always consider the risk-reward ratio of a particular trade before executing it. By doing so, you can ensure that the trade aligns with your risk profile and trading strategy.
The unique thing about the maximum potential profit and loss insights in the Samco trading app is that they help you learn risk management from your own trading pattern. With these insights, you can plan your trades and strategies in a better manner.
Disclaimer: INVESTMENT IN SECURITIES MARKET ARE SUBJECT TO MARKET RISKS, READ ALL THE RELATED DOCUMENTS CAREFULLY BEFORE INVESTING. The asset classes and securities quoted in the film are exemplary and are not recommendatory. SAMCO Securities Limited (Formerly known as Samruddhi Stock Brokers Limited): BSE: 935 | NSE: 12135 | MSEI- 31600 | SEBI Reg. No.: INZ000002535 | AMFI Reg. No. 120121 | Depository Participant: CDSL: IN-DP-CDSL-443-2008 CIN No.: U67120MH2004PLC146183 | SAMCO Commodities Limited (Formerly known as Samruddhi Tradecom India Limited) | MCX- 55190 | SEBI Reg. No.: INZ000013932 Registered Address: Samco Securities Limited, 1004 - A, 10th Floor, Naman Midtown - A Wing, Senapati Bapat Marg, Prabhadevi, Mumbai - 400 013, Maharashtra, India. For any complaints Email - grievances@samco.in Research Analysts -SEBI Reg.No.-INHO0O0005847