Let's start from the basics: Derivative is an instrument which derives the value from underlying asset's performance. Futures is derivative product and buyers and sellers of this product are bound by a contract which obliges them to buy or sell a single or bundle of variables called bases i.e. underlying 
asset.
Nifty futures are commonly traded futures in India, underlying asset being Nifty – benchmark index of 
NSE
.  NSE Nifty futures is based on the market price of the securities those build NSE – 50 and in exact same weightage. Nifty futures since based solely on NIFTY valuations will move in tandem only with NSE – 50 and hence is considered purest form of derivative with underlying pricing model that is elegant yet simple. However though Future is the purest form of derivative, you can trade in a future contract by only giving 8% of the total Value as 
SPAN Margin
 and Exposure Margins. The 
NSE SPAN margin
 while trading the NIFTY is usually 5% and the exposure margin is usually 3%.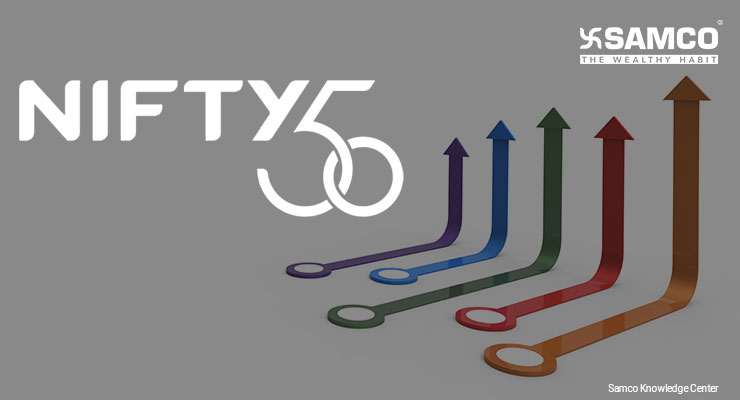 Quick Facts
Trading Symbol – NIFTY (Equity Derivative) Instrument Type – Index Futures Lot Size (Units) – 75 Units NIFTY NSE SPAN Margin – 5% NIFTY NSE Exposure Margin – 3% Lot Size (Value) – Rs. 5,00,000 (Approx) Underlying – NIFTY 50 Index The NIFTY futures can be traded intraday too usually with lower margin requirements than the overnight margin requirements. For instance, with SAMCO's 
bracket order
 product, you can trade one lot of NIFTY futures with an intraday margin requirement of approx Rs. 8000. To check the 
intraday trading margin
 requirements, click here. Before 2000, 
NSE
 and 
BSE
 were electronically operated equity spot exchanges. Derivative trading began in June 2000 with only one scrip viz. NIFTY. Name of this particular scrip has evolved from "S&P CNX Nifty" to "Nifty 50". "Nifty 50" is the most traded future contract with turnover over 10000+ crores per day. The list of highest traded derivatives in India can be found on the 
NSE website
. Now a days like Nifty, some of sectorial indices future contracts viz. Bank Nifty, NIFTYIT etc. are also available for trading purposes. Nifty variant tradable on Singapore Exchange (SGX) is also commonly known as SGX NIFTY. Whatever has started has to end. Maximum tenure for a NIFTY futures contract is 3 months. That means you can buy a contract in January that Expires in March. A Future contract expires on the last Thursday on the month.  E.g January future contract will expire on last Thursday of January, and this contract expiring in January can be bought in earliest in November. Another important thing to remember is lot size. For instance, the quantity of Nifty50 futures is 75 in 1 lot. It implies, one has to buy or sell minimum quantity of 1 lot containing 75 units and in multiple of the same. To trade in the NIFTY futures in India, one needs to have a derivative trading account with a 
SEBI
 Registered Stock Broker in India. To trade the NIFTY futures with one of India's leading discount brokers, click here.