Stock markets are volatile and are subject to market risks. As a result, cautious investors are quite conservative about investing their money in equity markets. A mutual fund systematic investment plan is one of the most reliable investment methods in the eyes of such investors as it has proven its effectiveness to them. It is because it is safe, convenient, and disciplined and gives full control to the investors on how much to invest and when to invest. Many investors are well versed with mutual fund SIPs but are probably unaware of
stock SIPs
. This interesting concept is gaining popularity amongst investors and is offering them a viable option to put their money in the right stocks and avail safe & decent returns. Let's see how it is a must-have for DIY investors.
What is a Stock SIP?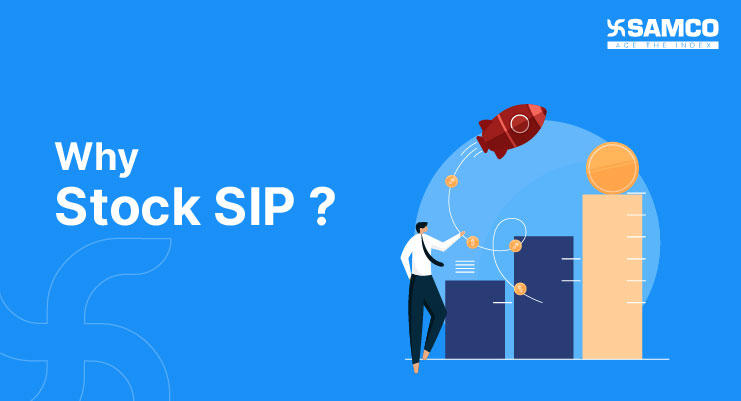 Just like Mutual Fund SIP, It is another systematic way of either investing money in a fixed quantity or buying a fixed number of equity shares periodically. For instance, buy 50 shares of an 'X' company/month or invest Rs.500/month to purchase the equity shares of any company. The periodic intervals could be every week, every month or every fortnight, etc. In
stock SIP
, investors have ample choices. He can pick up a single stock or create a portfolio of stocks. Brokers offer aid by creating a bunch of selected equities for them.
The current scenario.....
Stock SIPs are creating a niche for themselves in the investment market. Investors are jumping to stock SIPs as and when they are getting a wind of them and how it is benefiting them. The statistics in the last few years indicate a significant hike in the percentage of stock SIP investments. Over the last few years, the trends highlight over 30% of yearly increase in the number of people choosing to invest in
Stock SIPs
.
How is it different from Mutual fund SIP?
There is very little yet significant difference between Stock SIP and Mutual Fund SIP. They are listed below:
1. Management and control:
Under Mutual Fund SIPs, AMCs or experienced professionals manage the investment of the investors whereas, under Stock SIPs, you are the manager as well as the decision maker. You only have to evaluate the stock, when to invest, when to book profit/loss and analyze the financials of the company & its investment prospects.
2. Tax Implication:
There is no tax implication in the case of Mutual Fund SIPs whereas, in stock SIPs, every single transaction may attract tax implication.
3. Involvement:
Stock SIPs need your active involvement and fair attention whereas Mutual Fund SIPs do not need any involvement of an investor.
4. Freedom and leverage:
Since Stock SIPs are run, managed, and handled by investors only hence it gives them more access to create their diverse portfolios. On the other hand, Mutual Fund SIPs may skip any valuable stock in the portfolio which you may be right about investing in it. Also, Mutual Fund SIPs do not always invest in large-cap, mid-cap, or micro-cap stock.
5. Concentration risk:
The risk of concentration is low in the case of Stock SIPs as compared to Mutual Fund SIPs.
Why do DIY investors must-have Stock SIPS?
Being a DIY investor is both fun as well as challenging. Stock SIPs are an ideal investment for such investors. Since they are guarded about their stock market investments, they can identify the stocks they intend to buy after researching that company's business prospects, deeply analyzing the company's growth plans, and conducting thorough due diligence. Brokerage houses also provide investment tips and consultations on stocks which help investors in choosing the stocks for SIPs. Stock SIPs are good investments for DIY investors because:-
It saves management fees and thus, is economical in comparison to other SIPs.
If you have picked a good stock, then compounding results in long-term returns.
It enables you to pick your stock as per your risk appetite. Consequently, you can take time in assessing the stock and making the right decision.
There is no need to have a fund manager buy a stock SIP.
You have the leverage, option, and comfort to stop/pause the stock SIP for any particular period. It offers investors the flexibility to evaluate their investments.
Investors can modify the SIP with respect to stock, fund amount, etc.
A DIY investor must-have SIPs in their investment bucket as they are flexible, cost-effective, return-oriented, and convenient to pick, modify or buy.
What hacks can help you in selecting the right Stock SIP for you?
When you are buying a
stock SIP
, you have to hold and wait for the right price to book your profit. Here, you should not buy the stock and forget about it. The key is to pick stocks from different segments that showcase the potential for growth and returns. Some of the following tricks could help in selection:
Companies showing sustainable economic growth can be a good bet for investment.
High-debt companies or highly capital-intensive companies are quite risky, so it is better to avoid them.
Companies or start-ups having complex or redundant business plans fail to effectively express future business prospects, so it is advisable to leave them.
Consult experts and heed their advice while picking SIP stocks for investment.
Periodically review and revise your portfolio for stock SIPs to gain promising returns.
Conclusion
Today, the market offers diverse investment options to investors. A careful study and a thorough analysis according to your risk appetite, financial aspirations, and investment capacity would be the right way to invest in a stock SIP. If you are a DIY investor, you are already aware of the risks and how to manage them.
Stock SIP
is another way of generating long-term wealth accumulation. Customize a SIP portfolio by choosing good stocks across market capitalization and sectors. Without any hassle of giving the management fee, you can independently plan your investment route and avail good returns. Moreover, you can visit
Samco Securities
and
open a Demat account
without paying a single penny. Grab this opportunity to cherish a profitable future.