For individuals involved in stock market investing, the Demat account is an indispensable tool for holding and managing securities in electronic format. Within this realm, the DP Bill/Transaction Statement emerges as a crucial document that provides a detailed record of all activities related to your Demat account.
A DP Bill/Transaction Statement is a document that is issued by your Depository Participant (DP) to track your transactions in your Demat account. It includes information such as the date of the transaction, the security traded, the quantity traded, the price per share, the total value of the transaction, and any fees or charges that were applied.
DP Bills/Transaction Statements are usually sent out monthly or quarterly, but you can also request a statement at any time from your DP. It is important to keep track of your DP Bills/Transaction Statements so that you can monitor your investment activity and ensure that all of your transactions are being processed correctly.
Here are some of the benefits of tracking your DP Bills/Transaction Statements:
You can track your investment performance. By tracking your DP Bills/Transaction Statements, you can see how your investments have performed over time. This information can help you to make informed decisions about your investment strategy.
You can identify any unauthorized transactions. If you see any unauthorized transactions on your DP Bill/Transaction Statement, you can contact your DP immediately to investigate.
You can claim any refunds or rebates. If you are entitled to a refund or rebate, your DP will usually list it on your DP Bill/Transaction Statement.
How to read it?
DP Bill/Transaction contain 2 different report:
Statement of Transaction for the period of one year
Total holding till date
Let's first understand how to read and what to read in the Statement of Transaction report.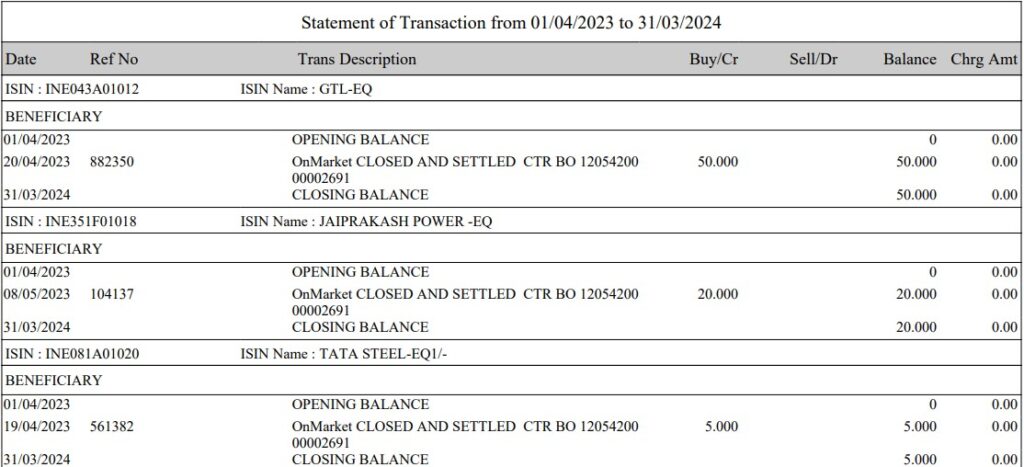 Date: In the first column you will see the date mentioned in the DD/MM/YY format. The date represents the various activities which have been taken on particular days.
Ref No: Ref no. is an abbreviation for "reference number." It is a unique alphanumeric code or identifier assigned to a particular transaction, or entity for the purpose of identification and tracking.
Trans Description: Trans Description refers to a brief explanation or summary of a transaction or activity which has taken place. It's typically used for identification or reference purposes.
Buy/Cr: In the buy/cr column you can see all the buy/Credit qty.
Sell/Dr: In the sell/cdr column you can see all the sell/Debit Qty.
Balance: refers to the net qty of asset in your demat account.
Charge Amount: Inthis column you will see the amount to the specific sum or value that is being charged or debited from an account or entity as a result of a transaction or service.
That's all you need to know about the statement of the transaction report.
Now let's understand how to read the Holding report.

In the ISIN Code: Is an International Securities Identification Number, is a unique alphanumeric identifier used to uniquely identify securities such as stocks, bonds, and other financial instruments. So each stock will have a unique ISIN code.
Company Name: Against each ISIN Code you will find the company name in which you hold stocks in.
Free Bal: Is the quantity of share you have in your holding till the date of the report.
Rate: Is the Current market price of the stock you have in your holdings till the date of the report.
Value: In the value column you will understand the total value of your holding in which you have your investment.
Conclusion: DP Bills/Transaction Statements are an important tool for investors. By tracking your DP Bills/Transaction Statements, you can track your investment activities.
Was this article helpful?
Share