Intraday Trading is a trading style that involves initiating & squaring off of all positions before the end of the trading day. Day Traders as they are commonly called, end the day with no positions. For information on delivery brokerage, refer the SAMCO knowledge center.
Watch this video to understand Intraday Trading Strategies

The brokerage or fee charged for such transactions squared off intraday is known as Intraday Brokerage.
Why is it important to control Intraday Brokerage expenses?
Day trading is the most common method of trading in the markets, especially for beginners. Day traders can get huge amounts of leverage.
Day traders typically take positions in 4 to 5 stocks or contracts & generate huge volumes. Brokerage is an important cost for day traders. While the value their transactions are generally huge, a day trader could end up paying thousands in Brokerage every day if he is charged brokerage as a percentage of volume generated. If one doesn't keep control on the intraday brokerage expenses, huge amounts of gross profits could be eaten away by brokerage.
What is the difference between delivery brokerage vs intraday brokerage?
Intraday brokerage is usually cheaper than delivery brokerage. This article explains the difference between intraday brokerage vs delivery brokerage.
Intraday Brokerage Calculator
In order to keep a check on intraday brokerage charges, one must evaluate the transaction fees and pre-calculate the brokerage prior initiating a transaction. This can be done on the intraday brokerage calculator.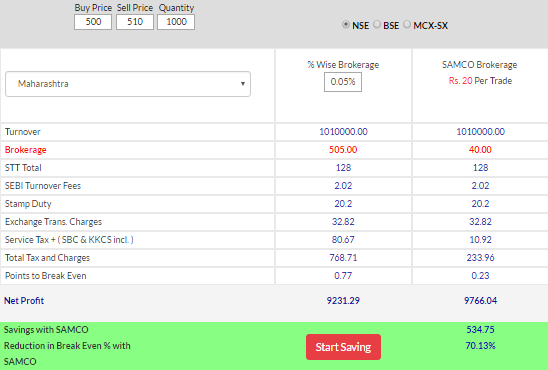 SAMCO offers a unique value proposition to Intra Day Traders. At a flat fee brokerage of Rs.20 per Order or 0.05%, whichever is lower, regardless of order size or segment. Day traders can take any position & be assured that their brokerage will not exceed Rs.20 per transaction. This results in huge savings in Brokerage.
Apart from Brokerage Savings, SAMCO also has the lowest intraday margins (up to 33x) & also provides margins against shares with its unique IntraPlus Offering.
IntraPlus provides Traders margins against shares held by them to take Intraday Trades, in the Equity Cash & Equity & Currency Derivative Segments.
You can calculate your savings on the SAMCO Brokerage Savings Calculator & Intraday margins on the SAMCO SPAN Calculator.
To begin Intraday Trading with India's leading Discount Brokerage, open an account today!

Was this article helpful?
Share