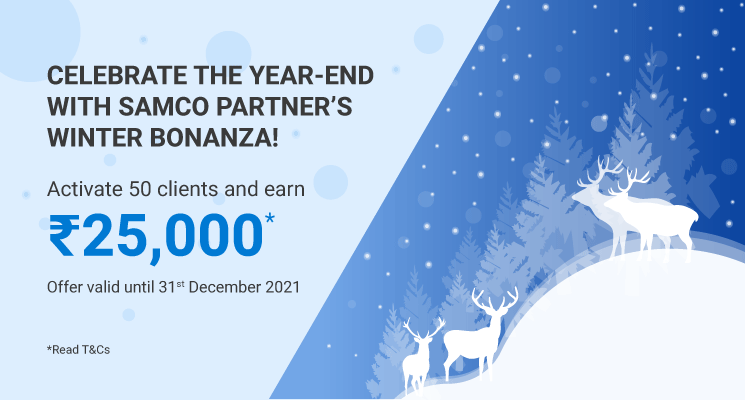 At Samco, we constantly strive to bring you the most lucrative ways for you to make the best out of your clients.
Throughout the year, we've given a variety of incentive offers so that you make the most of your onboarded clients and keep earning huge incentives. This month, we have something similar for you, except this time, we are going bigger!
Presenting the best and most ambitious incentive offer we've ever put out.
Introducing The Samco Partner's Winter Bonanza
From 5th – 31st Dec. 2021, we are rewarding you with incentives that you cannot overlook.
Earn incentives up to
₹500*
on each activated 3-in-1 account!
Benefits for you:
Refer and activate your clients and earn incentives on each account. Here's a detailed table showing the different slabs of benefits you'll earn by the number of clients you refer:
| | | |
| --- | --- | --- |
| Slab No. | Account count | Incentives per activated account |
| 1 | 0 to 10 active accounts | Rs. 100/account |
| 2 | 10 to 25 active accounts | Rs. 200/account |
| 3 | 25 to 50 Active accounts | Rs. 350/Account |
| 4 | 50 and above | Rs. 500/Account |
Benefits for your clients:
Your onboarded clients get to enjoy the following benefits at Samco –
Free trading account
AMC free demat account for the 1st year
100% brokerage cashback for 1st month on StockNote
KyaTrade subscription at Re. 1 for 1st month
And lots more…
How does it work:
Refer and activate up to 10 clients and you'll earn Rs. 100 on each account, i.e. you'll be eligible for the incentives as per slab 1. Likewise, on referring and activating more than 50 accounts, you'll be eligible for incentives as per slab 4, on each account.
Meaning, you can potentially earn up to Rs 25,000 once you refer and activate 50 clients within the offer period.
The incentive you earn will be based on the number of clients you activate within the offer period. Refer the above table for the slab-wise incentive structure.
It's a great time to be a Samco Partner!
So, start onboarding your clients today and start earning your incentives!
And if you haven't completed your registration to be a partner with us, there is no better time than now to do so. Grab this offer by signing up to be a Samco Partner now. Become a Samco Partner Now →
Terms and Conditions
Leads must be referred between 5th Dec to 20th Dec'2021 to be eligible for this offer.
Referred accounts must be activated with atleast 1 trade per account until 31st Dec'2021 for the incentives.
Incentives payout shall be processed by 15th Jan'2021.