Updated – March 2021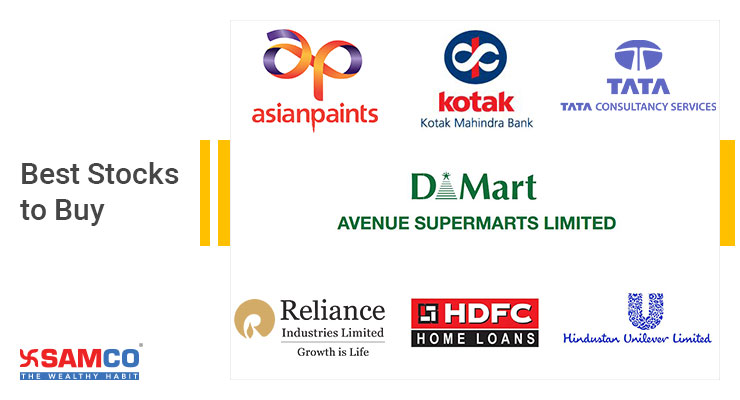 Best Blue chip stocks to Buy now in India
In this article, we will cover
– What are best Blue chip stocks?
– Characteristics of Blue chip Stocks
– List of Best Blue chip Stocks to Buy now in India
– How to evaluate and build the portfolio of best blue chip stocks
– Detailed overview of the Best Blue Chip stocks to buy now in India
What are Blue chip stocks?
The blue-chip stocks to buy are stocks issued by financially sound and fundamentally strong blue-chip companies with humongous market capitalisation and enviable market reputation. Blue Chip companies refer to equity shares of companies with larger market capitalisation. These companies have entrenched market operations running for many years. The best blue-chip shares to buy now usually are stocks of the bellwethers and trailblazers, currently occupying the highest ranks of any industry.
Given the large size, a Blue Chip company is easily recognisable and financially stable with a large distribution network. These companies typically sell quality products and services that are widely accepted across the country. Because of these qualities, such companies are more resilient to economic downturns. They may continue to grow or operate profitably, even in adverse market conditions. And this is one of the reasons these companies are relatively less sensitive to wide market fluctuations when compared to Mid Cap and Small Cap companies. 
Blue Chip companies are stalwarts in their own industry and belong to the mature lot on exchanges. The term 'Blue Chip' originates from the round of poker where the blue colored chips are relatively more valuable. Similar to the game, these stocks which are more valuable in the market and hence are termed Blue Chip stocks.
Characteristics of Blue chip Stocks:
Blue Chip companies are large and pretty well-established, having a history of consistent performance. The best blue-chip stocks to buy have an enticing history of providing consistent returns to the shareholders in the form of considerable dividend payouts at regular intervals of time. Hence the best blue-chip stocks to buy have a glorious history of attractive returns and reasonable growth in the value of the share even in times of economic doom. Hence, we have dissected the history of the blue-chip companies and undertaken extensive analysis of past performance, in conjunction with the economic environment and duly prepared a list of best blue-chip shares to buy now.
These companies are financially resilient with negligible to zero debt levels and are capable of surviving turbulent economic situations. Most of the best blue-chip stocks to buy are market leaders in their respective industries.. Further, it is often seen that a Blue Chip business is less affected by unfavorable financial conditions during recessionary periods.
Investing in Blue Chip stocks is recommended for investors with a conservative risk profile to meet their long term goals of at least 5-7 years. But investing in these companies is ideal for all investors to grow their wealth over a long period without exposing themselves to a lot of risk and volatility. Some portion of an investor's portfolio can always be exposed to blue chip stocks for stable less risky returns.
Portfolio Diversification
The blue-chip stocks to buy are stocks of well-diversified companies having multiple sources of revenue. Hence, the losses suffered by one channel are mitigated by the profits earned in another medium. Therefore, it allows the investors to diversify the associated risks in investing in blue-chip stocks as the companies have spread their tentacles in different sectors and industries. This not only serves as a cushion against losses suffered by one sector but also provides resilience in times of operational setbacks.
Apart from the characteristics discussed above, an investor must keep a few key financial characteristics of blue chip companies in mind before investing. Most Blue Chip companies in India have market capitalization greater than Rs. 50,000 Crs. These companies have a track record of consistently increasing their topline and operating margins on an upward trajectory. They are generally debt free companies, however, a low and stable debt to equity ratio may also be considered as a significant characteristic. Blue Chip companies are known for rewarding their loyal shareholders with consistent and increasing dividends. Also, these companies should have a high return ratio (both return on equity and return on capital employed), high interest coverage ratio, ability to consistently generate cash flows, etc.
List of Best Blue chip Stocks to Buy now in India
| Sr. No. | Company Name | BSE Scrip Code | NSE Symbol | CMP (as on February 20, 2021) | Rating | Industry |
| --- | --- | --- | --- | --- | --- | --- |
| 1 | Reliance Industries Ltd. | 500325 | RELIANCE | 2080.0 | 1.0 | Crude Oil |
| 2 | Tata Consultancy Services Ltd. | 532540 | TCS | 3072.0 | 5.0 | Information Technology |
| 3 | Hindustan Unilever Ltd. | 500696 | HINDUNILVR | 2181.0 | 5.0 | FMCG |
| 4 | Infosys Ltd. | 500209 | INFY | 1291.0 | 4.0 | Information Technology |
| 5 | Housing Development Finance Corporation Ltd. | 500010 | HDFC | 2741.0 | 5.0 | Finance – Housing |
| 6 | Bharti Airtel Ltd. | 532454 | BHARTIARTL | 581.0 | 0.5 | Telecom |
| 7 | ITC Ltd. | 500875 | ITC | 216.0 | 4.0 | FMCG |
| 8 | Asian Paints Ltd. | 500820 | ASIANPAINT | 2416.0 | 4.0 | Chemical – Paints |
| 9 | Nestle India Ltd. | 500790 | NESTLEIND | 16376.0 | 5.0 | FMCG |
| 10 | HCL Technologies Ltd. | 532281 | HCLTECH | 950.0 | 4.0 | Information Technology |
| 11 | Maruti Suzuki India Ltd. | 532500 | MARUTI | 7323.0 | 1.0 | Automobiles & Ancillaries |
| 12 | Larsen & Toubro Ltd. | 500510 | LT | 1509.0 | 0.5 | Infrastructure |
| 13 | Titan Company Ltd. | 500114 | TITAN | 1426.0 | 0.5 | Diamond & Jewellery |
| 14 | Britannia Industries Ltd. | 500825 | BRITANNIA | 3331.0 | 3.0 | FMCG |
| 15 | Bajaj Auto Ltd. | 532977 | BAJAJ-AUTO | 4001.0 | 4.5 | Automobiles & Ancillaries |
| 16 | Eicher Motors Ltd. | 505200 | EICHERMOT | 2585.0 | 2.0 | Automobiles & Ancillaries |
| 17 | Dr. Reddys Laboratories Ltd. | 500124 | DRREDDY | 4681.0 | 1.0 | Pharmaceuticals & Drugs |
| 18 | Avenue Supermarts Ltd. | 540376 | DMART | 3102.0 | 4.0 | Retailing |
| 19 | Pidilite Industries Ltd. | 500331 | PIDILITIND | 1781.0 | 4.0 | Chemical |
| 20 | HDFC Bank Ltd. | 500180 | HDFCBANK | 1539 | 4.5 | Bank – Private |
| 21 | Kotak Mahindra Bank Ltd. | 500247 | KOTAKBANK | 1939 | 4.0 | Bank – Private |
| 22 | ICICI Bank Ltd. | 532174 | ICICIBANK | 624 | 3.0 | Bank – Private |
| 23 | Axis Bank Ltd. | 532215 | AXISBANK | 750 | 2.0 | Bank – Private |
Reliance Industries Ltd.
Reliance Industries is India's largest company. The company is primarily engaged in the business of oil exploration, refining of petroleum and marketing & distribution of the same along with operations in petrochemicals. Reliance has diversified further by foraying into the retail, telecom and technology space with Reliance Retail and Reliance Jio, respectively. With all the businesses combined, the company pulled in revenues of over Rs. 6 trillion in FY20. The company derives majority of its cash flows from the oil businesses but has been proactive towards diversifying into businesses which can help the company achieve high growth and leverage its scale in the right order while allaying the risks associated with the oil business on the company. The company has plans to achieve carbon neutrality by 2035 thereby focusing on diversifying across energy and other industries while continuing to invest in the oil business.
The company delivered a ROE at 10.6% for FY20 despite the pressure on oil companies globally affecting their margins. It has also successfully become net debt free which is positive as peers are usually more debt laden at the given scale. Reliance is among the most efficient among peers with the highest gross refining margins at USD 8.9/bbl (barrel) while the refining throughput stood at 70.9 MMT. The company has proven oil reserves of 13.24 MMT in India and abroad along with proven gas reserves of 92,771 MMSCM in India and abroad as of FY20. The company currently has an EV/EBITDA of 16.6x and a PE ratio of 31.2 times which values the company fairly given the efficiency in oil business vs. peers. The stock is expected to offer diverse growth opportunities over the long term.
Along with this, the company has Reliance Jio and Reliance Retail among other digital investments which have been effectively contributing to the margins and growth of the company. Reliance has also successfully raised about Rs. 2 trillion by Jio stake sale, BP stake sale and a rights issue, which helped in making the company net debt free. The company also sold stake in Reliance Retail, raising an additional sum of Rs. 47,265 Crs and has purchased Future Retail businesses. This has made the company the largest retailer in India which further adds value to the company's leadership.
Tata Consultancy Services Ltd.
Tata Consultancy Services Ltd is the largest IT company in India by Market cap and the world's largest IT Services provider. The company is involved in providing a wide spectrum of services such as IT Services, Consultancy, business solutions, digital transformation, and IT products and platforms. The company is also foraying into newfound and developing technologies such as cloud-based computing, machine learning, AI and Blockchain-based technology. Its majority revenue segment is BFSI which forms about 31% of the total revenue pie for the company followed by Retail and CPG, Communications, Media and Tech, Manufacturing, Life Sciences and Healthcare and Energy and Utilities among Public and Others. TCS' major revenue generation is from North America contributing to about 51%, UK and Europe ex-UK are around 15% while India is the least at 5.7%.
The company has a proven track record which is reflected in the company's financials as it has been delivering industry leading results such as 5-year average RoE of 38.12%; an operating profit margin of 26.8% and high cash flow generating business with FCF at about Rs 18,752 Crs. TCS has also seen consistent growth with revenue growing at a CAGR of 10.6% over the last 5 years while the net profits saw a 9.5% CAGR for the same period.
Though the company has delivered strong financial performance, the stock carries premium valuations vs. its peers a PE ratio at 35.2 times vs. industry average PE ratio of 32.9 times. While the PE ratio is higher, the premium is justified as TCS has also delivered industry leading growth and returns for shareholders.
A key risk for the company lies in the fact that the company may not be able to deliver growth at a similar pace as in the past, thereby taking away the premium valuations the stock commands and impacting the share price negatively.            
Hindustan Unilever Ltd.
Hindustan Unilever Ltd. (HUL) is one of the largest Fast Moving Consumer Goods Companies in India with a heritage of over 80 years. Five of its brands generate annual turnover of over Rs. 2,000 Crs each and 7 brands generate annual turnover of over Rs. 1,000 Crs each. HUL caters to a variety of product range which include foods, beverages, cleaning agents, personal care products, and water purifiers. A few famous brands have high visibility and sustained market leadership which is backed by an extensive distribution network and a strong advertising and marketing campaign.
HUL has been leveraging its distribution strengths to adapt its channel strategy for its products and market segments. On a consolidated basis, the financial risk profile is supported by strong net cash accrual and no outstanding debt as on March 31, 2020. The company has ample liquidity which is indicated by cash and bank balance of Rs. 3,974 Crs as on September 30, 2020.
HUL is known for its aggressive dividend payout policy which is in the range of 75-83%. The Indian FMCG industry is corroborated by both organised and unorganised players across segments and products and HUL continues to face stiff competition with the entry of new players including multinationals in all its major segments such as soaps and detergents, personal care products and packaged foods. However, HUL's strong financial risk profile and its leading position in the domestic FMCG industry would help to maintain its leadership position and tide through any economic slowdown/ crisis.
Housing Development Finance Corporation Ltd.
Housing Development Finance Corporation Ltd. (HDFC) is the market leader in the housing finance industry in India with a strong distribution network comprising 585 outlets. HDFC is known for long-standing track record of operations, adequate capitalisation levels, strong resource raising ability, strict underwriting standards, risk management procedures and healthy asset quality amidst some moderation in FY20. HDFC has proved its vast marketing as well as distribution network and its ability to raise resources at competitive rates.
The Company has a strong business franchise of subsidiaries/ associates in Banking, Asset Management, Life Insurance, General Insurance, Educational loans and Real Estate funding. As on December 31, 2020, the company also maintained adequate liquidity of over Rs. 42,540 Crs, in the form of bank balances, liquid mutual funds, deposits with banks, and investments in Government securities. The liquidity profile also derives comfort from the ability of HDFC to raise funds through capital markets, deposits, banks and refinance facilities during the period of lockdown. HDFC's outstanding loan portfolio (net of provisions and loans sold) stood at Rs. 483,919 Crs as on December 31, 2020 and the average size of individual loans stood at Rs. 28.50 lakh during the year. During the financial year 2020, 82% of individual loans approved in value terms were from the salaried category, whereas the remaining 18% were from the self-employed category.
This NBFC continues to maintain healthy capitalization levels supported by its strong capital raising ability with Capital Adequacy Ratio (CAR) of 17.6% with Tier-I CAR being 16.5% as on March 31, 2020. HDFC continues to have one of the most stable asset quality parameters in the housing finance industry with Gross NPA ratio of 1.99%, though there was some moderation in asset quality in FY2020. Key risks include weakening of the credit profile of the group as a whole, material deterioration in asset quality, increase in debt to equity ratio beyond 7 times among the few. 
Asian Paints Ltd.
Asian Paints enjoys a dominant share of over 50% in the organized domestic paints market. In the decorative paints segment, which comprises about 70-75% of the Indian paints industry; Asian Paints has a share of about 60%. It has also been able to garner a healthy position in the automotive industrial coatings segment with a market share of about 20%. Driven by its leadership position, the company has registered revenue at CAGR of 9% over the five fiscals through 2020. Strong brand equity, extensive distribution network, and wide product portfolio has enabled it to maintain a strong market position.
Due to the company's leadership position, it enjoys a healthy operating margin of over 22.20% which is higher than peers. Debt to equity has always been meager 0.1 over the past 5 years. Asian Paints' financial risk profile continues to remain strong, marked by a net debt free balance sheet and comfortable liquid surplus of around Rs. 1600 Crs as of March 31, 2020. Company's performance is expected to be affected in the near term with decline in demand and temporary shutdown of plants in March-April, 2020 due to nationwide lockdown post COVID-19 outbreak.
The slowdown in the construction activity coupled with subdued discretionary spending in the near term makes a case for low double digit decline in revenues in the near term. Risk of intense competition or steep increase in any input prices may affect the profitability which may result in pressure on operating margins. 
Avenue Supermarts Ltd.
Avenue Supermarts Ltd. is a Mumbai-based company, which owns and operates D-Mart stores. D-Mart is a national supermarket chain that offers customers a range of home and personal products under one roof. As of September 30, 2020 the Company had 220 stores with Retail Business Area of 8.2million sq. ft. across Maharashtra, Gujarat, Daman, Andhra Pradesh, Karnataka, Telangana, Tamil Nadu, Madhya Pradesh, Rajasthan, NCR, Chhattisgarh and Punjab.
Company reported high same-store sales growth of about 10.9% during FY2020. Strong procurement abilities, lower priced products along with healthy cost control measures all result in higher growth in footfalls. This leads to high inventory turnover and revenue per sq. ft. and translates into industry leading retail store productivity. The operating profitability of the company has seen improvement over the years with operating profit at 6.73% and a healthy operating profit of 8-9% is expected to be maintained over the medium term. Liquidity is aided by cash and equivalents of Rs. 78 Crs as on September 2020.
Avenue Supermarts is an apt benefactor of substantial improvement in geographical diversity and sales channel mix which would result in higher scale of operations with increased operating profitability over a period of time. Risks would include significant weakening of operating margin due to large gestation losses from new stores, larger than expected debt-funded capex increasing the now comfortable debt to equity ratio. 
Kotak Mahindra Bank Ltd.
Uday Kotak led, Kotak Mahindra Bank is one of India's leading financial services conglomerates, providing a wide span of various financial and banking solutions with a reach of 1600 branches and 2,519 ATMs across India. Kotak Mahindra Bank, too, emerged as a player who adopted a prudent and cautious approach, targeting only high-rated customers and sectors. This aided the bank's low levels of bad loan formation over the years (Net NPA at 0.50%).
This banking behemoth has managed to achieve NIM and profit CAGR of 23% and 24% respectively in 5 years and has managed to grow advances at 29% CAGR in 5 years. Bank's deposit franchise continues to be granular and robust with deposit accretion staying healthy with an industry leading CASA ratio of 58.90%. Kotak Bank has maintained its cautious stance towards unsecured retail, credit cards and small business lending. Bank's 70% advances are given to corporate and business, home loans & LAP and agriculture segment, with corporate and business division having the highest exposure of nearly 40%. Uday Kotak in his recent comments has highlighted management's intent to be more aggressive and concentrate on the asset side with higher customer acquisition deepening relationships and cross selling. The bank has proven its stable leadership, strong liability franchise, best-in-class margins and cautious underwriting measures.                     
Hampered economic scenario and uncertainty which lies ahead of investors, prevalent risk-aversion among market participants have all brought back the interest of many market participants to Blue Chip stocks. Given that these quality companies are more resilient to economic downturns, they may continue to grow or operate profitably even during adverse market conditions. Therefore, an investor's portion should always be allocated to blue chips in order to cushion their portfolio during difficult times.
Model Portfolio
In order to get an exposure to Best Bluechip Stocks, you would need a total of Rs. 31,718 for the below curated portfolio as of February 20, 2021.
Company Name 
Weightage
CMP (as on February 20, 2021)
Quantity
Total (Rs.)

Reliance Industries Ltd.

13%

2080

2

4,160.0 

Tata Consultancy Services Ltd.

19%

3072

2

6,144.0 

Hindustan Unilever Ltd.

7%

2181

1

2,181.0 

Housing Development Finance Corporation Ltd.

17%

2741

2

5,482.0 

Asian Paints Ltd.

15%

2416

2

4,832.0 

Kotak Mahindra Bank Ltd.

18%

1939

3

5,817.0 

Avenue Supermarts Ltd.

10%

3102

1

3,102.0 

 
100%
Total 
31,718.0 
You could invest in the above model portfolio or if you'd like to invest in a ready-made basket of stocks without having to worry about researching the same, you could invest and create wealth with StockBasket.
How to evaluate and build the portfolio of the best blue-chip stocks?
Check out our video on how to evaluate and build a solid portfolio of the best blue chip stocks in India.
Detailed overview of the Best Blue Chip stocks to buy now in India
The table below covers some of the most important factors while evaluating Blue Chip stocks such as the return ratios – RoE, operating margins, sales and earning growth, market cap, etc.
Blue Chip Stocks (Excluding Banking Companies)
| Sr. No. | Company Name | BSE Scrip Code | NSE Symbol | CMP (as on February 20, 2021) | Rating | Industry | Market Cap (in Crs) | Compounded Sales Growth (5 years) | Compounded Profit Growth (5 years) | Operating Profit Margin (%) Q3FY21 | Price to Earnings (times) | Price to Book (times) | EV/EBITDA | Debt to equity (times) | Dividend Yield (%) Q3FY21 | Return on Equity (%) Q3FY21 | Return on Capital Employed (%) Q3FY21 |
| --- | --- | --- | --- | --- | --- | --- | --- | --- | --- | --- | --- | --- | --- | --- | --- | --- | --- |
| 1 | Reliance Industries Ltd. | 500325 | RELIANCE | 2080.0 | 1.0 | Crude Oil |   1,368,955.0 | 10.00% | 14.00% | 17.50% | 31.20 | 2.15 | 16.60 | 0.42 | 0.31% | 10.30% | 10.70% |
| 2 | Tata Consultancy Services Ltd. | 532540 | TCS | 3072.0 | 5.0 | Information Technology |   1,136,293.0 | 11.00% | 11.00% | 27.90% | 35.20 | 11.90 | 23.80 | 0.08 | 1.07% | 37.30% | 47.80% |
| 3 | Hindustan Unilever Ltd. | 500696 | HINDUNILVR | 2181.0 | 5.0 | FMCG |   512,462.0 | 4.00% | 13.00% | 24.40% | 67.80 | 10.90 | 45.20 | 0 | 1.15% | 85.70% | 117.00% |
| 4 | Infosys Ltd. | 500209 | INFY | 1291.0 | 4.0 | Information Technology |   550,079.0 | 11.00% | 6.00% | 27.00% | 29.40 | 7.68 | 18.70 | 0.07 | 1.36% | 25.30% | 32.60% |
| 5 | Housing Development Finance Corporation Ltd. | 500010 | HDFC | 2741.0 | 5.0 | Finance – Housing |   493,964.0 | 16.00% | 20.00% | 38.70% | 25.80 | 3.43 | 17.30 | 2.97 | 0.77% | 19.20% | 11.10% |
| 6 | Bharti Airtel Ltd. | 532454 | BHARTIARTL | 581.0 | 0.5 | Telecom |   317,159.0 | -2.00% | 8.00% | 43.50% | 0.00 | 5.34 | 8.36 | 2.69 | 0.34% | 9.83% | 5.45% |
| 7 | ITC Ltd. | 500875 | ITC | 216.0 | 4.0 | FMCG |   265,734.0 | 5.00% | 10.00% | 34.50% | 19.70 | 4.50 | 13.60 | 0 | 4.70% | 25.30% | 32.60% |
| 8 | Asian Paints Ltd. | 500820 | ASIANPAINT | 2416.0 | 4.0 | Chemical – Paints |   231,785.0 | 8.00% | 14.00% | 22.20% | 82.30 | 21.00 | 49.30 | 0.1 | 0.50% | 28.20% | 33.80% |
| 9 | Nestle India Ltd. | 500790 | NESTLEIND | 16376.0 | 5.0 | FMCG |   157,894.0 | 10.00% | 19.00% | 24.00% | 75.80 | 78.20 | 46.70 | 0.07 | 1.22% | 105.00% | 143.00% |
| 10 | HCL Technologies Ltd. | 532281 | HCLTECH | 950.0 | 4.0 | Information Technology |   257,839.0 | 17.00% | 11.00% | 27.40% | 19.50 | 4.55 | 12.20 | 0.1 | 1.05% | 23.70% | 27.40% |
| 11 | Maruti Suzuki India Ltd. | 532500 | MARUTI | 7323.0 | 1.0 | Automobiles & Ancillaries |   221,213.0 | 8.00% | 0.00% | 7.48% | 49.50 | 4.52 | 25.20 | 0 | 0.82% | 6.76% | 8.65% |
| 12 | Larsen & Toubro Ltd. | 500510 | LT | 1509.0 | 0.5 | Infrastructure |   211,901.0 | 10.00% | 20.00% | 16.80% | 13.60 | 2.93 | 10.30 | 2.06 | 1.19% | 16.60% | 12.60% |
| 13 | Titan Company Ltd. | 500114 | TITAN | 1426.0 | 0.5 | Diamond & Jewellery |   126,558.0 | 12.00% | 13.00% | 8.03% | 169.00 | 19.90 | 76.80 | 0.55 | 0.28% | 23.40% | 24.30% |
| 14 | Britannia Industries Ltd. | 500825 | BRITANNIA | 3331.0 | 3.0 | FMCG |   80,238.0 | 8.00% | 20.00% | 19.10% | 43.10 | 30.00 | 29.60 | 0.92 | 2.49% | 32.50% | 37.40% |
| 15 | Bajaj Auto Ltd. | 532977 | BAJAJ-AUTO | 4001.0 | 4.5 | Automobiles & Ancillaries |   115,779.0 | 7.00% | 11.00% | 17.40% | 24.80 | 4.88 | 18.20 | 0.01 | 3.00% | 23.20% | 29.60% |
| 16 | Eicher Motors Ltd. | 505200 | EICHERMOT | 2585.0 | 2.0 | Automobiles & Ancillaries |   70,650.0 | 1.00% | 22.00% | 18.70% | 62.80 | 6.85 | 32.50 | 0.02 | 0.48% | 19.40% | 24.60% |
| 17 | Dr. Reddys Laboratories Ltd. | 500124 | DRREDDY | 4681.0 | 1.0 | Pharmaceuticals & Drugs |   77,852.0 | 3.00% | -2.00% | 20.10% | 35.80 | 4.67 | 19.60 | 0.16 | 0.53% | 13.60% | 11.10% |
| 18 | Avenue Supermarts Ltd. | 540376 | DMART | 3102.0 | 4.0 | Retailing | 200,917.0 | 31.00% | 44.00% | 6.73 % | 210.00 | 17.8 | 116.00 | 0.03 | 0.00 % | 15.5 % | 20.4 % |
| 19 | Pidilite Industries Ltd. | 500331 | PIDILITIND | 1781.0 | 4.0 | Chemical | 90,519.0 | 9.00% | 18.00% | 23.00% | 90.90 | 18.70 | 56.60 | 0.05 | 0.39% | 27.00% | 34.60% |
Blue Chip Banking Companies
| Sr. No. | Company Name | BSE Scrip Code | NSE Symbol | CMP (as on February 13, 2021) | Rating | Industry | Market Cap | Price to Book (times) | Return on Equity (%) | Return on Assets (%) | Net Interest Margin (%) | GNPA% | NNPA% | CASA Ratio (%) | NII Growth YoY | PAT Growth YoY | CRAR | Deposits Growth YoY (%) | Advances Growth YoY (%) | Provision Coverage Ratio (%) | Cost to income ratio (%) |
| --- | --- | --- | --- | --- | --- | --- | --- | --- | --- | --- | --- | --- | --- | --- | --- | --- | --- | --- | --- | --- | --- |
| 1 | HDFC Bank Ltd. | 500180 | HDFCBANK | 1539 | 4.5 | Bank – Private |   871,527.0 | 4.94 | 16.50% | 1.99% | 4.20% | 0.81% | 0.09% | 43.00% | 15% | 14% | 18.90% | 19.07% | 14.88% | 84.50% | 36.10% |
| 2 | Kotak Mahindra Bank Ltd. | 500247 | KOTAKBANK | 1939 | 4.0 | Bank – Private |   386,501.0 | 5.76 | 13.70% | 2.14% | 4.58% | 2.26% | 0.50% | 58.90% | 16% | 11% | 24.90% | 10.84% | -1.23% | 78.40% | 47.00% |
| 3 | ICICI Bank Ltd. | 532174 | ICICIBANK | 624 | 3.0 | Bank – Private |   447,393.0 | 3.64 | 9.46% | 0.91% | 3.67% | 4.38% | 0.63% | 41.80% | 14% | 18% | 18.04% | 21.10% | 8.18% | 77.60% | 40.52% |
| 4 | Axis Bank Ltd. | 532215 | AXISBANK | 750 | 2.0 | Bank – Private |   229,797.0 | 2.66 | 2.44% | 0.23% | 3.59% | 3.44% | 0.74% | 42.00% | 14% | -30% | 19.31% | 10.04% | 5.46% | 79.00% | 42.95% |
Other links you may find useful:
You can check the live prices and trade India's best large cap stocks at the lowest brokerage with SAMCO, India's leading discount brokerage. Open a Free Demat and Trading Account today!555