Small Cap Stocks are those stocks whose market capitalization is less than 5000 Rs.
Investing in Small cap stocks can be fruitful as these stocks possess a lot of growth potential
but Investing in such stocks possess some investment risks, therefore while investing in such stocks investors should be a bit vigilant.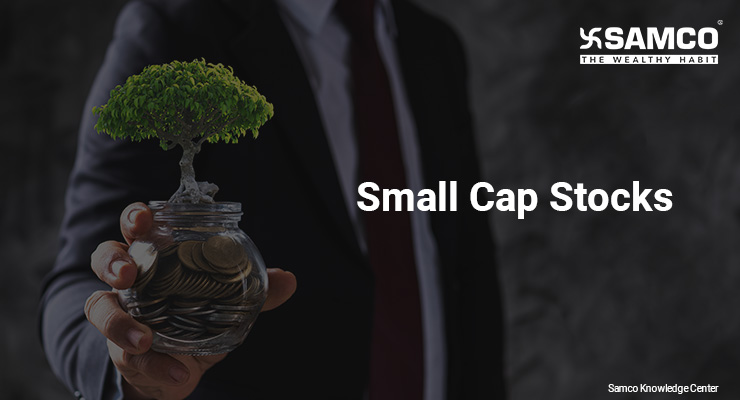 The list below only HIGHLIGHTS the list of 1655
BSE
Small cap stocks, meaning these are the stocks which are actively traded on BSE. The list presents the last recorded share price of the stocks, Market capitalization, PE Ratio and EPS of stocks.
List of Small Cap Stocks Traded on BSE India
| | | | | | | | | |
| --- | --- | --- | --- | --- | --- | --- | --- | --- |
| Security Name | Security Code | Status | Group | Face Value | Last Recorded Share Price | Market Cap | PE Ratio | EPS |
| GANGOTRI TEXTILES LTD. | 521176 | Active | Z | 5 | 1.15 | 3256380 | 2.82 | 0.41 |
| TRIOCHEM PRODUCTS LTD. | 512101 | Active | XT | 10 | 17.4 | 4267124 | 0.4 | 43.76 |
| I-POWER SOLUTIONS INDIA LTD. | 512405 | Active | XT | 10 | 1.65 | 7329401 | 132.42 | 0.01 |
| REMI SALES & ENGINEERING LTD. | 504360 | Active | XT | 10 | 14.7 | 9174696 | 0.95 | 15.54 |
| SAWACA BUSINESS MACHINES LTD. | 531893 | Active | X | 10 | 0.97 | 10175934 | 3.31 | 0.29 |
| WOMEN NETWORKS LTD. | 531396 | Active | X | 10 | 2.37 | 10292649 | 151.05 | 0.02 |
| SAMTEL INDIA LTD.-$ | 500371 | Active | XT | 10 | 1.56 | 11039948 | 0.56 | 2.76 |
| Proaim Enterprises Ltd | 512105 | Active | X | 10 | 0.96 | 12127449 | 42.33 | 0.02 |
| Ramchandra Leasing & Finance Ltd | 538540 | Active | XT | 1 | 0.32 | 16346310 | 160 | 0 |
| SARASWATI COMMERCIAL (INDIA) LTD. | 512020 | Active | X | 10 | 17 | 16989256 | 0.08 | 216.13 |
| GUPTA SYNTHETICS LTD. | 514116 | Active | Z | 10 | 2.47 | 18132851 | 0.25 | 9.89 |
| Anand Projects Ltd | 501630 | Active | P | 10 | 18.3 | 18425135 | 0.47 | 38.66 |
| AVIVA INDUSTRIES LTD. | 512109 | Active | X | 10 | 12.93 | 19351853 | 20.5 | 0.63 |
| Omansh Enterprises Ltd | 538537 | Active | X | 2 | 1.11 | 19671780 | 114.43 | 0.01 |
| HATHWAY BHAWANI CABLETEL & DATACOM LTD. | 509073 | Active | XT | 10 | 2.47 | 19975809 | 2.02 | 1.22 |
| SARTHAK GLOBAL LTD. | 530993 | Active | XT | 10 | 7 | 20967261 | 36.8 | 0.19 |
| NETLINK SOLUTIONS (INDIA) LTD. | 509040 | Active | XT | 10 | 8.3 | 23437582 | 1.61 | 5.16 |
| LEAD FINANCIAL SERVICES LTD. | 531288 | Active | XT | 10 | 7.2 | 23722948 | 4.05 | 1.78 |
| PRAKASH STEELAGE LTD. | 533239 | Active | T | 1 | 0.3 | 25363675 | 0.25 | 1.22 |
| Panafic Industrials Ltd | 538860 | Active | XT | 1 | 0.32 | 25392608 | 6.01 | 0.05 |
| MACK TRADING CO.LTD. | 501471 | Active | XT | 10 | 74.65 | 25565013 | 0.33 | 228.6 |
| Patidar Buildcon Limited | 524031 | Active | X | 10 | 4.93 | 25812370 | 16.5 | 0.3 |
| COMPUTER POINT LTD. | 507833 | Active | X | 10 | 0.86 | 26905817 | 11.25 | 0.08 |
| INDIA INFRASPACE LTD. | 531343 | Active | X | 10 | 10.1 | 28235915 | 32 | 0.32 |
| Oyeeee Media Ltd | 539310 | Active | M | 1 | 1.95 | 28842262 | 79.08 | 0.02 |
| Rajath Finance Limited | 507962 | Active | X | 10 | 7.23 | 28874907 | 118.99 | 0.06 |
| Ganon Products Ltd | 512443 | Active | XT | 10 | 3.15 | 29725852 | 17.3 | 0.18 |
| UNIVERSAL OFFICE AUTOMATION LTD. | 523519 | Active | XT | 10 | 2.11 | 31483266 | 0.58 | 3.62 |
| GALADA POWER & TELECOMMUNICATION LTD. | 504697 | Active | X | 10 | 4.49 | 33577130 | 24.97 | 0.18 |
| ANJANI FINANCE LTD. | 531878 | Active | X | 10 | 3.34 | 33825799 | 21.1 | 0.16 |
| ALKA SECURITIES LTD. | 532166 | Active | XT | 1 | 0.39 | 36375145 | 9.61 | 0.04 |
| JUMBO BAG LTD. | 516078 | Active | Z | 10 | 13.8 | 38401909 | 14.63 | 0.94 |
| Vardhman Concrete Limited | 531444 | Active | X | 10 | 5.67 | 40514662 | 1.75 | 3.23 |
| QUINTEGRA SOLUTIONS LTD. | 532866 | Active | T | 10 | 0.8 | 40519817 | 0.74 | 1.09 |
| Symbiox Investment & Trading Company Ltd | 539278 | Active | XT | 10 | 1.28 | 40600496 | 19.52 | 0.07 |
| BRIDGE SECURITIES LTD. | 530249 | Active | X | 10 | 12.1 | 40608327 | 5.01 | 2.42 |
| STANDARD BATTERIES LTD. | 504180 | Active | X | 1 | 7.95 | 41046350 | 18.67 | 0.43 |
| THOMAS SCOTT (INDIA) LIMITED | 533941 | Active | T | 10 | 14.21 | 42308925 | 76.35 | 0.19 |
| PAE LTD. | 517230 | Active | B | 10 | 6.84 | 42653748 | 1.49 | 4.59 |
| SSPN Finance Ltd | 539026 | Active | M | 10 | 23 | 43475704 | 71.81 | 0.32 |
| JD ORGOCHEM LTD. | 524592 | Active | X | 1 | 3.48 | 43958073 | 0.28 | 12.32 |
| AMANI TRADING & EXPORTS LTD. | 512008 | Active | XT | 10 | 63.2 | 44152089 | 45.87 | 1.38 |
| JAIHIND PROJECTS LTD. | 531339 | Active | B | 10 | 4.7 | 44962637 | 0.15 | 30.73 |
| Luharuka Media & Infra Ltd | 512048 | Active | X | 1 | 0.5 | 45851200 | 18.14 | 0.03 |
| RAJDARSHAN INDUSTRIES LTD. | 526662 | Active | B | 10 | 15 | 46551810 | 8.27 | 1.81 |
| EDYNAMICS SOLUTIONS LTD. | 535694 | Active | X | 10 | 1.9 | 48477850 | 136.89 | 0.01 |
| PRATIKSHA CHEMICALS LTD. | 531257 | Active | XT | 10 | 8.99 | 49999277 | 75.32 | 0.12 |
| DCM FINANCIAL SERVICES LTD. | 511611 | Active | T | 10 | 2.6 | 52596571 | 3.37 | 0.77 |
| PRABHAV INDUSTRIES LTD. | 531855 | Active | XT | 10 | 1.17 | 53840174 | 117.12 | 0.01 |
| SHRICON INDUSTRIES LTD. | 508961 | Active | XT | 10 | 44.1 | 54598753 | 15.12 | 2.92 |
| ESAAR (INDIA) LTD. | 531502 | Active | X | 10 | 2.65 | 55089803 | 9.58 | 0.28 |
| SANGUINE MEDIA LTD. | 531898 | Active | XT | 10 | 0.49 | 55821831 | 16.9 | 0.03 |
| AUSTRAL COKE & PROJECTS LTD. | 533016 | Active | B | 1 | 0.31 | 56157169 | 0.46 | 0.67 |
| JAGSON AIRLINES LTD. | 520139 | Active | XT | 10 | 2.65 | 56173125 | 67.95 | 0.04 |
| STERLING GREEN WOODS LTD. | 526500 | Active | X | 10 | 13.3 | 56299925 | 22.54 | 0.59 |
| AMRADEEP INDUSTRIES LTD. | 531681 | Active | XT | 1 | 0.86 | 56730751 | 4.29 | 0.2 |
| Mindvision Capital Ltd | 530955 | Active | Z | 10 | 11.05 | 58473695 | 4867.84 | 0 |
| MULLER & PHIPPS (INDIA) LTD. | 501477 | Active | XT | 10 | 94 | 58658444 | 190.34 | 0.49 |
| SRU Steels Ltd | 540914 | Active | XT | 10 | 16.35 | 59034440 | 25.75 | 0.63 |
| SUPERTEX INDUSTRIES LTD. | 526133 | Active | X | 10 | 5.23 | 59222622 | 8.45 | 0.62 |
| EURO MULTIVISION LTD. | 533109 | Active | B | 10 | 2.9 | 59407352 | 0.27 | 10.92 |
| GLITTEK GRANITES LTD. | 513528 | Active | X | 5 | 2.46 | 60794953 | 38.66 | 0.06 |
| GUJARAT METALLIC COAL & COKE LTD.-$ | 531881 | Active | X | 100 | 29.75 | 61417626 | 31.82 | 0.94 |
| MULTIPLUS HOLDINGS LTD. | 505594 | Active | XT | 10 | 32.8 | 61894583 | 46.41 | 0.71 |
| COLINZ LABORATORIES LTD. | 531210 | Active | XT | 10 | 13.6 | 62068688 | 40.35 | 0.34 |
| KAUSHALYA INFRASTRUCTURE DEVELOPMENT CORPORATION LTD. | 532925 | Active | B | 10 | 2.11 | 69153267 | 1.19 | 1.78 |
| ECS Biztech Ltd | 540063 | Active | X | 10 | 3.33 | 69551174 | 14.43 | 0.23 |
| PFL INFOTECH LTD. | 531769 | Active | X | 10 | 8.9 | 70143060 | 17.27 | 0.52 |
| FINE-LINE CIRCUITS LTD. | 517264 | Active | XT | 10 | 15.1 | 70265466 | 76.6 | 0.2 |
| Bindal Exports Ltd | 540148 | Active | M | 10 | 15.3 | 70276374 | 15.85 | 0.97 |
| SHANTANU SHEOREY AQUAKULT LTD. | 531925 | Active | XT | 10 | 2.12 | 70540834 | 0.89 | 2.39 |
| Shree Bhavya Fabrics Ltd | 521131 | Active | X | 10 | 7.5 | 71138910 | 9.74 | 0.77 |
| ACROW INDIA LTD. | 513149 | Active | XT | 10 | 113.2 | 72335024 | 3204.98 | 0.04 |
| Kalpa Commercial Ltd | 539014 | Active | XT | 10 | 7.12 | 74271346 | 27.91 | 0.26 |
| M.K. Exim (India) Ltd | 538890 | Active | X | 10 | 10.39 | 74489081 | 20.65 | 0.5 |
| RAINBOW FOUNDATIONS LTD. | 531694 | Active | X | 10 | 13.6 | 74861256 | 3.03 | 4.48 |
| OMNITEX INDUSTRIES (INDIA) LTD. | 514324 | Active | XT | 10 | 18 | 75555810 | 272.27 | 0.07 |
| RAP MEDIA LTD. | 531583 | Active | X | 10 | 13.99 | 78264494 | 4.13 | 3.39 |
| INFO-DRIVE SOFTWARE LTD. | 530703 | Active | X | 1 | 0.13 | 78502397 | 7.37 | 0.02 |
| Pincon Lifestyle Ltd | 539007 | Active | XT | 10 | 2.65 | 78529377 | 0.73 | 3.61 |
| COMFORT COMMOTRADE LTD. | 534691 | Active | B | 10 | 8.18 | 79066574 | 9.87 | 0.83 |
| VARDHMAN INDUSTRIES LTD.-$ | 513534 | Active | X | 10 | 11.15 | 81745241 | 1.41 | 7.93 |
| BNR UDYOG LTD. | 530809 | Active | X | 10 | 27.8 | 82982331 | 36.33 | 0.77 |
| ADINATH EXIM RESOURCES LTD. | 532056 | Active | XT | 10 | 19.95 | 83179753 | 21.28 | 0.94 |
| PARAGON FINANCE LTD. | 531255 | Active | X | 10 | 19.65 | 84018800 | 3.2 | 6.13 |
| GLOBAL CAPITAL MARKETS LTD. | 530263 | Active | XT | 10 | 3.55 | 84069697 | 116.2 | 0.03 |
| ESKAY K'N'IT (INDIA) LTD. | 514118 | Active | XT | 1 | 0.3 | 84118203 | 0.13 | 2.29 |
| HANUNG TOYS & TEXTILES LTD. | 532770 | Active | T | 10 | 2.42 | 84630474 | 0.05 | 50.22 |
| MONNET PROJECT DEVELOPERS LTD. | 532723 | Active | X | 10 | 11.63 | 86073235 | 6.8 | 1.71 |
| ROYAL CUSHION VINYL PRODUCTS LTD.-$ | 526193 | Active | XT | 10 | 7.23 | 87109911 | 1.69 | 4.27 |
| CINDRELLA HOTELS LTD.-$ | 526373 | Active | XT | 10 | 24.35 | 87523325 | 50.25 | 0.48 |
| Veerhealth Care Limited | 511523 | Active | X | 10 | 13.02 | 88017976 | 13.65 | 0.95 |
| UNITED CREDIT LTD. | 531091 | Active | X | 10 | 16.65 | 88569939 | 9.96 | 1.67 |
| GEMSTONE INVESTMENTS LTD. | 531137 | Active | XT | 1 | 1.2 | 89560153 | 60.94 | 0.02 |
| SURYACHAKRA POWER CORPORATION LTD. | 532874 | Active | XT | 10 | 0.61 | 89709833 | 2.69 | 0.23 |
| Achal Investments Ltd | 538570 | Active | XT | 1 | 1.47 | 90089302 | 445.45 | 0 |
| Tavernier Resources Limi | 531190 | Active | X | 10 | 15.18 | 90619714 | 10.68 | 1.42 |
| SURANA INDUSTRIES LTD. | 513597 | Active | T | 10 | 2.28 | 90652831 | 0.14 | 16.04 |
| ALLIED COMPUTERS INTERNATIONAL (ASIA) LTD. | 532919 | Active | XT | 10 | 0.49 | 92834962 | 86.73 | 0.01 |
| KONARK SYNTHETIC LTD. | 514128 | Active | X | 10 | 15.4 | 93989432 | 6.32 | 2.44 |
| UNIVERSAL CREDIT & SECURITIES LTD. | 531963 | Active | XT | 1 | 1.89 | 95915500 | 48.36 | 0.04 |
| DHAMPURE SPECIALITY SUGARS LTD. | 531923 | Active | X | 10 | 13.3 | 97611800 | 25.1 | 0.53 |
| SUJANA UNIVERSAL INDUSTRIES LTD.-$ | 517224 | Active | B | 10 | 0.57 | 97717997 | 0.14 | 4.07 |
| BALURGHAT TECHNOLOGIES LTD. | 520127 | Active | XT | 10 | 5.6 | 97803718 | 16.37 | 0.34 |
| Crescent Leasing Ltd | 539131 | Active | X | 10 | 24.5 | 99485410 | 9.54 | 2.57 |
| AISHWARYA TELECOM LTD. | 532975 | Active | X | 5 | 4.66 | 102649908 | 1.59 | 2.92 |
| ACTION FINANCIAL SERVICES (INDIA) LTD. | 511706 | Active | X | 10 | 8.35 | 102751606 | 2.37 | 3.52 |
| MAYUR LEATHER PRODUCTS LTD. | 531680 | Active | XT | 10 | 21.5 | 103786133 | 38.4 | 0.56 |
| TITAN SECURITIES LTD. | 530045 | Active | XT | 10 | 4.2 | 104904227 | 3.49 | 1.2 |
| NCL RESEARCH & FINANCIAL SERVICES LTD. | 530557 | Active | X | 2 | 0.7 | 105815738 | 6.02 | 0.12 |
| RITESH PROPERTIES & INDUSTRIES LTD. | 526407 | Active | X | 10 | 10.07 | 109016840 | 5.64 | 1.79 |
| ALCHEMIST LTD. | 526707 | Active | T | 10 | 7.95 | 109434792 | 0.76 | 10.44 |
| Nova Publications India Ltd | 530733 | Active | XT | 10 | 35 | 110151510 | 92.68 | 0.38 |
| TAI INDUSTRIES LTD.-$ | 519483 | Active | XT | 10 | 19.35 | 112045055 | 44.5 | 0.43 |
| ADDI INDUSTRIES LTD.-$ | 507852 | Active | XT | 5 | 10.4 | 112109292 | 95.06 | 0.11 |
| Sysco Industries Ltd | 539842 | Active | M | 10 | 13.45 | 112369395 | 1.8 | 7.48 |
| GOLKUNDA DIAMONDS & JEWELLERY LTD. | 523676 | Active | XT | 10 | 16.3 | 113337546 | 20.69 | 0.79 |
| CHROMATIC INDIA LTD. | 530191 | Active | T | 10 | 1.57 | 114743311 | 1.35 | 1.16 |
| Athena Constructions Ltd | 539099 | Active | M | 10 | 15.4 | 115319894 | 27.83 | 0.55 |
| CONART ENGINEERS LTD.-$ | 522231 | Active | X | 10 | 39 | 116233455 | 14.35 | 2.72 |
| RADAAN MEDIAWORKS (I) LTD. | 590070 | Active | B | 2 | 2.3 | 119194910 | 15.38 | 0.15 |
| Mega Nirman and Industries Ltd | 539767 | Active | XT | 10 | 36 | 120322116 | 54.35 | 0.66 |
| ASIAN TEA & EXPORTS LTD.-$ | 519532 | Active | XT | 10 | 11.6 | 120644934 | 7.11 | 1.63 |
| APPLE FINANCE LTD. | 500014 | Active | XT | 10 | 2.08 | 121507528 | 14.33 | 0.15 |
| ZYLOG SYSTEMS LTD. | 532883 | Active | T | 5 | 2.1 | 126568361 | 7.62 | 0.28 |
| NATRAJ PROTEINS LTD. | 530119 | Active | XT | 10 | 33.5 | 128882908 | 29.26 | 1.14 |
| TRANSWARRANTY FINANCE LTD. | 532812 | Active | B | 10 | 5.48 | 129476339 | 16.4 | 0.33 |
| KGN ENTERPRISES LTD. | 533790 | Active | XT | 10 | 6.36 | 129986274 | 415.96 | 0.02 |
| Meenakshi Enterprises Ltd | 538834 | Active | X | 10 | 10.55 | 130494683 | 5.17 | 2.04 |
| RITESH INTERNATIONAL LTD. | 519097 | Active | XT | 10 | 16.45 | 133840759 | 42 | 0.39 |
| Rajsanket Realty Limited | 512409 | Active | XT | 10 | 56 | 133910896 | 3.89 | 14.41 |
| India Green Reality Ltd | 540152 | Active | M | 10 | 10.62 | 134769763 | 41.1 | 0.26 |
| GOENKA DIAMOND & JEWELS LTD. | 533189 | Active | Z | 1 | 0.47 | 136614228 | 4.93 | 0.1 |
| D&H India Ltd-$ | 517514 | Active | XT | 10 | 18.5 | 136686510 | 47.09 | 0.39 |
| BAMPSL SECURITIES LTD. | 531591 | Active | X | 10 | 1.9 | 140360798 | 18.09 | 0.11 |
| VALLABH STEELS LTD.-$ | 513397 | Active | X | 10 | 28.95 | 143079097 | 16.43 | 1.76 |
| SHYAM TELECOM LTD. | 517411 | Active | B | 10 | 11.53 | 143560868 | 10.65 | 1.08 |
| GEEFCEE FINANCE LTD. | 530389 | Active | XT | 10 | 13.47 | 147189171 | 13470 | 0 |
| TRANSGENE BIOTEK LTD. | 526139 | Active | XT | 10 | 2.04 | 147346521 | 1.16 | 1.76 |
| CALCOM VISION LTD. | 517236 | Active | X | 10 | 13.45 | 147378400 | 7.71 | 1.74 |
| RELIABLE VENTURES INDIA LTD. | 532124 | Active | X | 10 | 12.75 | 147546634 | 15.94 | 0.8 |
| POLYCHEM LTD. | 506605 | Active | X | 10 | 370 | 148215340 | 44.02 | 8.4 |
| Shree Nidhi Trading Co. Ltd | 540253 | Active | XT | 10 | 19.4 | 150961989 | 593.64 | 0.03 |
| VIMAL OIL & FOODS LTD.-$ | 519373 | Active | T | 10 | 7.5 | 151014548 | 0.51 | 14.62 |
| H.S.INDIA LTD. | 532145 | Active | X | 10 | 9.5 | 154510698 | 9.12 | 1.04 |
| SREE SAKTHI PAPER MILLS LTD. | 532701 | Active | X | 10 | 9.01 | 155641483 | 2.11 | 4.27 |
| Polymac Thermoformers Ltd | 537573 | Active | M | 10 | 32.8 | 156591887 | 17354.5 | 0 |
| MEGA CORPORATION LTD. | 531417 | Active | XT | 1 | 1.65 | 157444042 | 42.12 | 0.04 |
| Chemcrux Enterprises Ltd | 540395 | Active | M | 10 | 30.5 | 157714707 | 7.14 | 4.27 |
| HINDUSTAN HARDY SPICER LTD. | 505893 | Active | XT | 10 | 110.7 | 157770521 | 18.09 | 6.12 |
| PICTUREHOUSE MEDIA LTD. | 532355 | Active | X | 10 | 2.9 | 158853210 | 5.26 | 0.55 |
| Super Fine Knitters Ltd | 540269 | Active | M | 10 | 13 | 160858698 | 13.04 | 1 |
| ASHIRWAD STEELS & INDUSTRIES LTD. | 526847 | Active | XT | 10 | 12.99 | 162121796 | 45.79 | 0.28 |
| RR FINANCIAL CONSULTANTS LTD. | 511626 | Active | XT | 10 | 14.95 | 165099695 | 70.31 | 0.21 |
| AVANCE TECHNOLOGIES LTD. | 512149 | Active | X | 10 | 0.84 | 168177087 | 233.33 | 0 |
| GUJARAT RAFFIA INDUSTRIES LTD. | 523836 | Active | T | 10 | 31 | 169771686 | 18.56 | 1.67 |
| CHENNAI MEENAKSHI MULTISPECIALITY HOSPITAL LTD.-$ | 523489 | Active | X | 10 | 23.3 | 170208498 | 11.05 | 2.11 |
| VERTEX SECURITIES LTD. | 531950 | Active | X | 2 | 2.4 | 170941982 | 22.93 | 0.1 |
| NEHA INTERNATIONAL LTD. | 519560 | Active | X | 10 | 5.99 | 171660437 | 10.04 | 0.6 |
| SHRI BAJRANG ALLOYS LTD. | 526981 | Active | X | 10 | 19.4 | 174327815 | 14.26 | 1.36 |
| Neueon Towers Ltd | 532887 | Active | T | 10 | 2.8 | 174350643 | 4.21 | 0.66 |
| ORIENT BEVERAGES LTD. | 507690 | Active | XT | 10 | 81.1 | 175024259 | 79.94 | 1.01 |
| Syncom Healthcare Ltd | 533157 | Active | B | 10 | 4.4 | 175725611 | 5.26 | 0.84 |
| PACIFIC INDUSTRIES LTD. | 523483 | Active | X | 10 | 137.7 | 176963223 | 48.6 | 2.83 |
| SURAJ PRODUCTS LTD. | 518075 | Active | XT | 10 | 15.55 | 176993601 | 11.45 | 1.36 |
| A.K. Spintex Ltd | 539300 | Active | X | 10 | 35.9 | 180358233 | 9.21 | 3.9 |
| LINK PHARMA CHEM LTD. | 524748 | Active | X | 10 | 43 | 181710131 | 18.15 | 2.37 |
| RCL RETAIL LTD. | 534708 | Active | M | 10 | 14.8 | 181903902 | 183.35 | 0.08 |
| ANAR INDUSTRIES LTD. | 531127 | Active | X | 10 | 18.25 | 182847681 | 50.23 | 0.36 |
| PRISM MEDICO AND PHARMACY LTD. | 512217 | Active | XT | 10 | 28.9 | 183880525 | 14.27 | 2.03 |
| NPR FINANCE LTD. | 530127 | Active | X | 10 | 28.6 | 184514590 | 5.88 | 4.86 |
| BABA ARTS LTD.-$ | 532380 | Active | XT | 1 | 3 | 185766600 | 22.59 | 0.13 |
| HINDUSTAN DORR-OLIVER LTD. | 509627 | Active | B | 2 | 2.49 | 186175508 | 0.7 | 3.54 |
| Span Divergent Ltd-$ | 524727 | Active | X | 10 | 34.4 | 187591189 | 5.68 | 6.06 |
| SRS LTD. | 533569 | Active | B | 10 | 0.64 | 189687602 | 0.45 | 1.42 |
| TRIVENI GLASS LTD.-$ | 502281 | Active | XT | 10 | 14.75 | 189772777 | 3.45 | 4.28 |
| MPL Plastics Limited | 526143 | Active | XT | 10 | 14.7 | 190236417 | 43.22 | 0.34 |
| Aplaya Creations Ltd | 511064 | Active | X | 1 | 1.33 | 193784750 | 194.44 | 0.01 |
| Swasti Vinayaka Art And Heritage Corporation Ltd | 512257 | Active | X | 1 | 5.04 | 195490475 | 6.16 | 0.82 |
| Hawa Engineers Ltd | 539176 | Active | XT | 10 | 55.65 | 195938202 | 12.99 | 4.28 |
| STONE INDIA LTD.-$ | 522085 | Active | Z | 10 | 20.5 | 196421488 | 50.27 | 0.41 |
| PMC Fincorp Limited | 534060 | Active | X | 1 | 0.38 | 198361641 | 13.32 | 0.03 |
| LAFFANS PETROCHEMICALS LTD.-$ | 524522 | Active | X | 10 | 25.5 | 199253660 | 8.15 | 3.13 |
| MOHIT PAPER MILLS LTD. | 530169 | Active | X | 10 | 13.71 | 199328703 | 18.67 | 0.73 |
| Maximus International Ltd | 540401 | Active | M | 10 | 39 | 202717398 | 16.61 | 2.35 |
| INTEGRATED FINANCIAL SERVICES LTD. | 500212 | Active | XT | 10 | 34 | 203681896 | 4.54 | 7.49 |
| SKY INDUSTRIES LTD.-$ | 526479 | Active | X | 10 | 46 | 203751480 | 11.65 | 3.95 |
| RUNGTA IRRIGATION LTD. | 530449 | Active | XT | 10 | 24.25 | 204256901 | 12.21 | 1.99 |
| Chemtech Industrial Valves Ltd | 537326 | Active | T | 10 | 17.15 | 205876090 | 71.37 | 0.24 |
| Square Four Projects India Limited | 526532 | Active | XT | 10 | 22.4 | 208664128 | 1264.11 | 0.02 |
| VEER ENERGY & INFRASTRUCTURE LTD. | 503657 | Active | X | 10 | 19.45 | 208975865 | 3.75 | 5.18 |
| VMS INDUSTRIES LTD. | 533427 | Active | X | 10 | 12.79 | 210366197 | 21.48 | 0.6 |
| Capital Trade Links Ltd | 538476 | Active | X | 1 | 4.11 | 211662298 | 20.44 | 0.2 |
| AD-MANUM FINANCE LTD. | 511359 | Active | X | 10 | 30 | 212254770 | 19.02 | 1.58 |
| COUNTRY CONDO'S LTD. | 531624 | Active | B | 1 | 2.69 | 212497768 | 31.41 | 0.09 |
| PASUPATI SPG.& WVG.MILLS LTD. | 503092 | Active | X | 10 | 22.85 | 213019403 | 75.48 | 0.3 |
| Wagend Infra Venture Limited | 503675 | Active | XT | 2 | 4.55 | 214084407 | 306.6 | 0.01 |
| SAMTEX FASHIONS LTD.-$ | 521206 | Active | X | 2 | 2.75 | 214197962 | 2.49 | 1.11 |
| ROYALE MANOR HOTELS & INDUSTRIES LTD. | 526640 | Active | XT | 10 | 12.1 | 215003673 | 9.62 | 1.26 |
| Kretto Syscon Ltd | 531328 | Active | X | 10 | 14.45 | 215802005 | 196.71 | 0.07 |
| KHAITAN (INDIA) LTD. | 590068 | Active | T | 10 | 43 | 216584206 | 5 | 8.6 |
| SANGAM ADVISORS LTD. | 534618 | Active | X | 10 | 23.35 | 218155995 | 71.14 | 0.33 |
| PENTAMEDIA GRAPHICS LTD. | 500329 | Active | X | 1 | 0.54 | 219198131 | 144.77 | 0 |
| ARTEFACT PROJECTS LTD. | 531297 | Active | X | 10 | 39.95 | 220379585 | 22.6 | 1.77 |
| SIR SHADI LAL ENTERPRISES LTD. | 532879 | Active | X | 10 | 39 | 220570077 | 4.53 | 8.61 |
| GODAVARI DRUGS LTD. | 530317 | Active | X | 10 | 30 | 224069010 | 20.85 | 1.44 |
| VISAGAR POLYTEX LTD. | 506146 | Active | B | 1 | 0.93 | 226097310 | 21.06 | 0.04 |
| USHER AGRO LTD. | 532765 | Active | B | 10 | 2.8 | 226188664 | 0.23 | 12.3 |
| Tirupati Foam Ltd | 540904 | Active | X | 10 | 115 | 227856860 | 27.09 | 4.24 |
| SURYAAMBA SPINNING MILLS LTD. | 533101 | Active | X | 10 | 78.5 | 228454939 | 24.19 | 3.24 |
| SAM INDUSTRIES LTD. | 532005 | Active | X | 10 | 19.8 | 230198771 | 14.23 | 1.39 |
| Refex Industries Limited | 532884 | Active | B | 10 | 14.8 | 230215453 | 50.41 | 0.29 |
| Bharati Defence and Infrastructure Ltd | 532609 | Active | Z | 10 | 4.57 | 231898471 | 0.2 | 22.86 |
| NATIONAL PLASTIC TECHNOLOGIES LTD. | 531287 | Active | X | 10 | 36.35 | 232167767 | 22.29 | 1.63 |
| DYNACONS SYSTEMS & SOLUTIONS LTD. | 532365 | Active | B | 10 | 35.75 | 235290198 | 12.1 | 2.95 |
| Sadhna Broadcast Ltd | 540821 | Active | XT | 10 | 23.7 | 237258551 | 24.3 | 0.98 |
| VCU Data Management Ltd | 536672 | Active | T | 10 | 15.45 | 237716833 | 94.94 | 0.16 |
| SWASTI VINAYAKA SYNTHETICS LTD. | 510245 | Active | X | 1 | 3.4 | 239689297 | 16.09 | 0.21 |
| Splendid Metal Products Ltd | 513414 | Active | B | 5 | 0.82 | 243578423 | 0.18 | 4.53 |
| Prithvi Exchange (India) Ltd | 531688 | Active | X | 10 | 42.55 | 244270738 | 12.36 | 3.44 |
| Womens Next Loungeries Ltd | 538128 | Active | M | 10 | 64.25 | 246092727 | 15.44 | 4.16 |
| KUNSTSTOFFE INDUSTRIES LTD. | 523594 | Active | X | 10 | 36 | 248341212 | 37.73 | 0.95 |
| METAL COATINGS (INDIA) LTD. | 531810 | Active | XT | 10 | 34 | 248722750 | 14.64 | 2.32 |
| JAYKAY ENTERPRISES LTD. | 500306 | Active | X | 1 | 6.5 | 249501102 | 14.21 | 0.46 |
| G G Engineering Ltd | 540614 | Active | M | 10 | 59 | 250978271 | 46.84 | 1.26 |
| ODYSSEY TECHNOLOGIES LTD.-$ | 530175 | Active | X | 10 | 27.9 | 252643090 | 11.63 | 2.4 |
| ZODIAC-JRD-MKJ LTD. | 512587 | Active | B | 10 | 47 | 254289129 | 10.66 | 4.41 |
| PHYTO CHEM (INDIA) LTD. | 524808 | Active | X | 10 | 57.9 | 254699154 | 16.97 | 3.41 |
| N.G.INDUSTRIES LTD.-$ | 530897 | Active | X | 10 | 75.05 | 255913606 | 20.01 | 3.75 |
| PHOENIX INTERNATIONAL LTD. | 526481 | Active | XT | 10 | 16 | 256479808 | 41.88 | 0.38 |
| IKF TECHNOLOGIES LTD. | 532414 | Active | X | 1 | 0.6 | 257946010 | 3.78 | 0.16 |
| LOHIA SECURITIES LTD. | 590082 | Active | XT | 10 | 52.3 | 260204578 | 2.05 | 25.49 |
| ASHIANA ISPAT LTD. | 513401 | Active | X | 10 | 30.9 | 260594776 | 4.82 | 6.41 |
| INTELLIVATE CAPITAL VENTURES LTD. | 506134 | Active | XT | 1 | 9.01 | 261782205 | 1093.45 | 0.01 |
| SABOO SODIUM CHLORO LTD. | 530461 | Active | X | 10 | 11.2 | 262199466 | 48.91 | 0.23 |
| Amba Enterprises Ltd | 539196 | Active | X | 5 | 21.45 | 263612058 | 21.33 | 1.01 |
| TARA JEWELS LTD. | 534756 | Active | B | 10 | 10.01 | 265254165 | 1.38 | 7.27 |
| JAIPAN INDUSTRIES LTD. | 505840 | Active | XT | 10 | 45.1 | 266280268 | 8.35 | 5.4 |
| Ortin Laboratories Ltd | 539287 | Active | B | 10 | 15.5 | 266354774 | 88.87 | 0.17 |
| Tanvi Foods (India) Ltd | 540332 | Active | M | 10 | 65 | 267174830 | 22.62 | 2.87 |
| ELNET TECHNOLOGIES LTD.-$ | 517477 | Active | X | 10 | 149 | 267526669 | 11.06 | 13.47 |
| INANI MARBLES & INDUSTRIES LTD. | 531129 | Active | X | 2 | 16.45 | 267851299 | 46.28 | 0.36 |
| KULKARNI POWER & TOOLS LTD. | 505299 | Active | X | 5 | 75.55 | 269967888 | 7.63 | 9.9 |
| EASTERN SILK INDUSTRIES LTD. | 590022 | Active | B | 2 | 3.42 | 271169015 | 0.59 | 5.82 |
| GARNET CONSTRUCTION LTD. | 526727 | Active | X | 10 | 19.9 | 272681118 | 12.93 | 1.54 |
| ISL CONSULTING LTD. | 511609 | Active | X | 10 | 22.8 | 273173380 | 17.72 | 1.29 |
| Vidli Restaurants Ltd | 539659 | Active | M | 10 | 60.5 | 274171117 | 48.25 | 1.25 |
| PRERNA INFRABUILD LTD. | 531802 | Active | X | 10 | 21.9 | 275022823 | 6.65 | 3.29 |
| RISHABH DIGHA STEEL & ALLIED PRODUCTS LTD.-$ | 531539 | Active | X | 10 | 49.9 | 276235680 | 22.7 | 2.2 |
| HARDCASTLE & WAUD MFG.CO.LTD. | 509597 | Active | X | 10 | 402.5 | 277152242 | 22.8 | 17.65 |
| ESCORTS FINANCE LTD. | 511716 | Active | XT | 10 | 7.03 | 277193618 | 268.63 | 0.03 |
| INDIAN SUCROSE LTD. | 500319 | Active | XT | 10 | 17.4 | 278156968 | 2.8 | 6.22 |
| RISHI LASER LTD. | 526861 | Active | X | 10 | 29 | 278309288 | 33.5 | 0.87 |
| Safal Herbs Limited | 532034 | Active | XT | 1 | 2.8 | 279563394 | 3043.48 | 0 |
| VALSON INDUSTRIES LTD.-$ | 530459 | Active | X | 10 | 36.85 | 279605407 | 10.91 | 3.38 |
| Tejnaksh Healthcare Ltd | 539428 | Active | M | 10 | 117 | 281381724 | 15.44 | 7.58 |
| ALFA TRANSFORMERS LTD. | 517546 | Active | XT | 10 | 39.7 | 281398846 | 6.08 | 6.53 |
| MARUTI INFRASTRUCTURE LTD. | 531540 | Active | X | 10 | 24 | 281983896 | 102.56 | 0.23 |
| SAMPRE NUTRITIONS LTD. | 530617 | Active | XT | 10 | 58.7 | 282253142 | 155.26 | 0.38 |
| DRA Consultants Ltd | 540144 | Active | M | 10 | 25.95 | 284227660 | 10.28 | 2.52 |
| ACKNIT INDUSTRIES LTD. | 530043 | Active | X | 10 | 95.15 | 287601727 | 9.39 | 10.13 |
| CUBEX TUBINGS LTD. | 526027 | Active | T | 10 | 21.45 | 288792300 | 69.14 | 0.31 |
| DIANA TEA CO.LTD. | 530959 | Active | X | 5 | 18.75 | 290450400 | 9.81 | 1.91 |
| SHREE KARTHIK PAPERS LTD. | 516106 | Active | X | 5 | 16.3 | 291215982 | 9.73 | 1.67 |
| RAMINFO LIMITED | 530951 | Active | X | 10 | 46.7 | 295036361 | 25.55 | 1.83 |
| Blue Blends (India) Ltd | 502761 | Active | B | 10 | 13.95 | 295650465 | 4.94 | 2.82 |
| VIPPY SPINPRO LTD. | 514302 | Active | X | 10 | 48.4 | 296892918 | 8.52 | 5.68 |
| DB (INTERNATIONAL) STOCK BROKERS LTD. | 530393 | Active | B | 2 | 8.4 | 297036183 | 20.95 | 0.4 |
| TERAI TEA CO.LTD. | 530533 | Active | X | 10 | 42.2 | 297065808 | 22.33 | 1.89 |
| Riddhi Steel and Tube Ltd | 540082 | Active | M | 10 | 36 | 297983808 | 11.89 | 3.03 |
| WINSOME BREWERIES LTD. | 526471 | Active | XT | 10 | 10.44 | 298951090 | 7.51 | 1.39 |
| JYOTI RESINS & ADHESIVES LTD. | 514448 | Active | XT | 10 | 75 | 299532225 | 93.37 | 0.8 |
| COASTAL CORPORATION LTD. | 501831 | Active | X | 10 | 124.1 | 300071438 | 1.79 | 69.4 |
| Aryaman Capital Markets Ltd | 538716 | Active | M | 10 | 25.1 | 300157100 | 14.54 | 1.73 |
| VKJ Infradevelopers Ltd | 536128 | Active | XT | 1 | 1.25 | 301747122 | 675.68 | 0 |
| CAMEX LTD. | 524440 | Active | X | 10 | 30.7 | 303614166 | 11.89 | 2.58 |
| Octaware Technologies Ltd | 540416 | Active | M | 10 | 81 | 303826383 | 16.05 | 5.05 |
| CCL INTERNATIONAL LTD. | 531900 | Active | X | 10 | 16.32 | 306675642 | 10.74 | 1.52 |
| MUDIT FINLEASE LTD. | 531919 | Active | X | 10 | 61.1 | 310568970 | 28.39 | 2.15 |
| SKP SECURITIES LTD. | 531169 | Active | X | 10 | 71 | 311870340 | 6.48 | 10.95 |
| DYNAMIC INDUSTRIES LTD.-$ | 524818 | Active | X | 10 | 99.6 | 311990422 | 7.55 | 13.18 |
| Celestial Biolabs Limited | 532871 | Active | B | 10 | 14.25 | 313978330 | 9.6 | 1.48 |
| MAGNUM VENTURES LTD. | 532896 | Active | B | 10 | 8.41 | 315034751 | 0.22 | 38.06 |
| Vishal Bearings Ltd | 539398 | Active | M | 10 | 52.7 | 315443918 | 14.79 | 3.56 |
| Zenlabs Ethica Ltd | 530697 | Active | X | 10 | 51 | 315707748 | 28.45 | 1.79 |
| JMD Ventures Ltd | 511092 | Active | X | 10 | 22.05 | 317667790 | 326.28 | 0.07 |
| FACOR ALLOYS LTD. | 532656 | Active | X | 1 | 1.73 | 322840464 | 5.87 | 0.29 |
| RAVI KUMAR DISTILLERIES LTD. | 533294 | Active | B | 10 | 13.5 | 323494857 | 15.79 | 0.86 |
| Kovilpatti Lakshmi Roller Flour Mills Ltd | 507598 | Active | X | 10 | 65.1 | 324360352 | 23.65 | 2.75 |
| ROHIT FERRO-TECH LTD. | 532731 | Active | B | 10 | 3.12 | 326899654 | 0.49 | 6.34 |
| BHAGWATI AUTOCAST LTD. | 504646 | Active | X | 10 | 116.75 | 327120774 | 34.77 | 3.36 |
| Blue Cloud Softech Solutions Ltd | 539607 | Active | XT | 5 | 13.79 | 329078202 | 921.79 | 0.01 |
| OLYMPIC OIL INDUSTRIES LTD. | 507609 | Active | XT | 10 | 121.8 | 330547791 | 10.85 | 11.23 |
| WALL STREET FINANCE LTD. | 511147 | Active | X | 10 | 30 | 331207710 | 1.26 | 23.83 |
| SHREE TULSI ONLINE.COM LTD. | 590128 | Active | X | 10 | 14.3 | 333563706 | 307.92 | 0.05 |
| Kanco Tea & Industries Ltd | 541005 | Active | X | 10 | 78.5 | 333659148 | 22.31 | 3.52 |
| Bhanderi Infracon Ltd | 538576 | Active | MT | 10 | 128.7 | 333661434 | 46.3 | 2.78 |
| JETKING INFOTRAIN LTD. | 517063 | Active | X | 10 | 58 | 335119186 | 14.77 | 3.93 |
| VICTORIA MILLS LTD. | 503349 | Active | X | 100 | 3360 | 335956320 | 9.53 | 352.6 |
| Camson Bio Technologies Ltd | 538858 | Active | X | 10 | 11.75 | 336907950 | 39.25 | 0.3 |
| RSD Finance Ltd | 539875 | Active | X | 10 | 54.65 | 336955897 | 5.78 | 9.46 |
| KANISHK STEEL INDUSTRIES LTD. | 513456 | Active | XT | 10 | 11.95 | 339281300 | 7.18 | 1.66 |
| FRONTLINE SECURITIES LTD. | 533213 | Active | X | 10 | 60 | 339710460 | 5.46 | 10.98 |
| Suncare Traders Ltd | 539526 | Active | M | 10 | 61 | 341737311 | 711.04 | 0.09 |
| Swarnsarita Gems Ltd | 526365 | Active | X | 10 | 16.55 | 343954679 | 6.39 | 2.59 |
| TANTIA CONSTRUCTIONS LTD. | 532738 | Active | T | 10 | 12.39 | 344511716 | 0.8 | 15.43 |
| Econo Trade (India) Ltd | 538708 | Active | X | 10 | 17.9 | 344786499 | 26.74 | 0.67 |
| VIRTUAL GLOBAL EDUCATION LTD. | 534741 | Active | X | 1 | 0.84 | 346549248 | 12 | 0.07 |
| Jeevan Scientific Technology Ltd | 538837 | Active | X | 10 | 38.85 | 348064246 | 64.03 | 0.61 |
| SAINIK FINANCE & INDUSTRIES LTD. | 530265 | Active | XT | 10 | 32.15 | 349246624 | 13.72 | 2.34 |
| ALPINE HOUSING DEVELOPMENT CORPORATION LTD. | 526519 | Active | X | 10 | 26.85 | 353676878 | 10.86 | 2.47 |
| ARIHANT FOUNDATIONS & HOUSING LTD.-$ | 531381 | Active | T | 10 | 42.3 | 354196886 | 1.16 | 36.37 |
| SHREE KRISHNA PAPER MILLS & INDUSTRIES LTD. | 500388 | Active | XT | 10 | 26.5 | 354223672 | 3.77 | 7.03 |
| DHOOT INDUSTRIAL FINANCE LTD. | 526971 | Active | X | 10 | 65.2 | 355201629 | 6.63 | 9.83 |
| NIVEDITA MERCANTILE & FINANCING LTD. | 512381 | Active | XT | 10 | 35.95 | 355720908 | 29.94 | 1.2 |
| KESAR ENTERPRISES LTD.-$ | 507180 | Active | B | 10 | 34.2 | 355942664 | 12.59 | 2.72 |
| Patdiam Jewellery Ltd | 539401 | Active | M | 10 | 82.7 | 356459233 | 29.21 | 2.83 |
| UNITY INFRAPROJECTS LTD. | 532746 | Active | B | 2 | 2.88 | 356789958 | 0.27 | 10.52 |
| PSL LTD. | 526801 | Active | B | 10 | 2.85 | 356805530 | 0.29 | 9.91 |
| SPENTA INTERNATIONAL LTD. | 526161 | Active | X | 10 | 130.05 | 358940089 | 17.84 | 7.29 |
| T & I GLOBAL LTD. | 522294 | Active | X | 10 | 70.9 | 359007475 | 8.16 | 8.69 |
| AREX INDUSTRIES LTD. | 526851 | Active | XT | 10 | 91.1 | 360075386 | 10.81 | 8.43 |
| RATHI BARS LTD. | 532918 | Active | X | 10 | 21.85 | 360134372 | 19.06 | 1.15 |
| RUTTONSHA INTERNATIONAL RECTIFIER LTD. | 517035 | Active | X | 10 | 49.75 | 360185124 | 39 | 1.28 |
| GUJARAT INTRUX LTD.-$ | 517372 | Active | X | 10 | 101 | 362029046 | 12.16 | 8.31 |
| VIJAY SHANTHI BUILDERS LTD. | 523724 | Active | B | 10 | 16.4 | 365342939 | 9.99 | 1.64 |
| BANARAS BEADS LTD. | 526849 | Active | B | 10 | 55.6 | 365540355 | 23.53 | 2.36 |
| FENOPLAST LTD.-$ | 526689 | Active | XT | 10 | 79.9 | 366966884 | 63.69 | 1.25 |
| BOMBAY CYCLE & MOTOR AGENCY LTD. | 501430 | Active | X | 10 | 1838.2 | 367066472 | 24.31 | 75.61 |
| Pyxis Finvest Ltd | 534109 | Active | M | 10 | 32 | 367508800 | 17.07 | 1.87 |
| RELIANCE CHEMOTEX INDUSTRIES LTD.-$ | 503162 | Active | X | 10 | 90 | 367972650 | 11.6 | 7.76 |
| RAPICUT CARBIDES LTD. | 500360 | Active | X | 10 | 67.25 | 368727312 | 11.9 | 5.65 |
| Neil Industries Ltd | 539016 | Active | X | 10 | 19 | 370931585 | 59.09 | 0.32 |
| TREE HOUSE EDUCATION & ACCESSORIES LTD. | 533540 | Active | B | 10 | 8.74 | 372340561 | 5.48 | 1.6 |
| KEYNOTE CORPORATE SERVICES LTD. | 512597 | Active | B | 10 | 56.4 | 373908040 | 9.21 | 6.13 |
| VASWANI INDUSTRIES LTD. | 533576 | Active | B | 10 | 12.25 | 375080937 | 12.28 | 1 |
| OCL IRON AND STEEL LTD. | 533008 | Active | B | 1 | 2.85 | 375350023 | 3.15 | 0.91 |
| VISESH INFOTECNICS LTD. | 532411 | Active | T | 1 | 0.23 | 376855207 | 18.05 | 0.01 |
| SWAGRUHA INFRASTRUCTURE LTD. | 531909 | Active | XT | 1 | 5.78 | 376923044 | 22230.77 | 0 |
| POONA DAL & OIL INDUSTRIES LTD. | 519359 | Active | X | 10 | 63.5 | 379531372 | 3.59 | 17.7 |
| COMFORT INTECH LTD.-$ | 531216 | Active | X | 1 | 1.14 | 382521822 | 8.75 | 0.13 |
| Viji Finance Ltd | 537820 | Active | B | 1 | 4.65 | 383810152 | 33.87 | 0.14 |
| BHANDARI HOSIERY EXPORTS LTD. | 512608 | Active | B | 1 | 2.56 | 384306523 | 9.93 | 0.26 |
| TIMES GUARANTY LTD. | 511559 | Active | B | 10 | 43.9 | 385186076 | 82.06 | 0.53 |
| SOLID STONE COMPANY LTD. | 513699 | Active | X | 10 | 71.85 | 385950314 | 50.43 | 1.42 |
| MOHIT INDUSTRIES LTD.-$ | 531453 | Active | B | 10 | 26.9 | 386617824 | 64.52 | 0.42 |
| PEE CEE COSMA SOPE LTD. | 524136 | Active | X | 10 | 144.05 | 387621992 | 10.97 | 13.13 |
| Star Delta Transformers Ltd | 539255 | Active | X | 10 | 127 | 389192262 | 14.91 | 8.52 |
| ACI INFOCOM LTD. | 517356 | Active | XT | 1 | 3.53 | 389424743 | 159.95 | 0.02 |
| PANCHSHEEL ORGANICS LTD. | 531726 | Active | X | 10 | 80 | 391783520 | 13.53 | 5.91 |
| RMC Switchgears Ltd | 540358 | Active | M | 10 | 74.55 | 393035966 | 21.94 | 3.4 |
| HIMACHAL FIBRES LTD. | 514010 | Active | X | 1 | 4.51 | 393297235 | 41.52 | 0.11 |
| Sujala Trading & Holdings Ltd | 539117 | Active | X | 10 | 69.3 | 395898998 | 552.76 | 0.13 |
| Likhami Consulting Ltd | 539927 | Active | XT | 10 | 40 | 397379520 | 1140.9 | 0.04 |
| BDH INDUSTRIES LTD. | 524828 | Active | XT | 10 | 69.7 | 398918593 | 12.51 | 5.57 |
| MAXIMAA SYSTEMS LTD. | 526538 | Active | X | 2 | 7.89 | 399001333 | 2280.35 | 0 |
| SAHARA HOUSINGFINA CORPORATION LTD. | 511533 | Active | X | 10 | 56.85 | 399072208 | 16.01 | 3.55 |
| WALCHAND PEOPLEFIRST LTD. | 501370 | Active | X | 10 | 139 | 399393426 | 19.09 | 7.28 |
| ADHUNIK METALIKS LTD. | 532727 | Active | B | 10 | 3.22 | 401996138 | 0.99 | 3.24 |
| ANG Lifesciences India Ltd | 540694 | Active | M | 10 | 78 | 403668174 | 17.07 | 4.57 |
| KOTHARI WORLD FINANCE LTD. | 511138 | Active | XT | 10 | 54.5 | 404711822 | 24 | 2.27 |
| Oceanic Foods Ltd | 540405 | Active | M | 10 | 113 | 405512930 | 12.21 | 9.25 |
| ZENITH FIBRES LTD.-$ | 514266 | Active | XT | 10 | 91.25 | 405695949 | 11.62 | 7.85 |
| Goldcrest Corporation Limited | 505576 | Active | X | 10 | 51.25 | 406088754 | 9.47 | 5.41 |
| VIVID GLOBAL INDUSTRIES LTD. | 524576 | Active | X | 5 | 45.4 | 407201194 | 17.03 | 2.67 |
| Vitan Agro Industries Ltd | 538548 | Active | XT | 1 | 4.9 | 408686507 | 259.12 | 0.02 |
| STL GLOBAL LTD. | 532730 | Active | B | 10 | 14.9 | 409759466 | 1.85 | 8.04 |
| MAKERS LABORATORIES LTD.-$ | 506919 | Active | X | 10 | 81 | 410450814 | 15.81 | 5.12 |
| KGN INDUSTRIES LTD. | 531612 | Active | X | 1 | 1.85 | 410983205 | 978.84 | 0 |
| SHARDA ISPAT LTD. | 513548 | Active | XT | 10 | 81.2 | 411593447 | 9.48 | 8.57 |
| HILTON METAL FORGING LTD. | 532847 | Active | T | 10 | 31.95 | 411701448 | 22.42 | 1.42 |
| RTS POWER CORPORATION LTD. | 531215 | Active | X | 10 | 48.55 | 416047374 | 10.01 | 4.85 |
| CHORDIA FOOD PRODUCTS LTD. | 519475 | Active | X | 10 | 140 | 416563560 | 104.19 | 1.34 |
| IND BANK HOUSING LTD. | 523465 | Active | X | 10 | 40.35 | 417157087 | 22.67 | 1.78 |
| NTC INDUSTRIES LTD. | 526723 | Active | X | 10 | 39.45 | 418133517 | 12.82 | 3.08 |
| SAMRAT PHARMACHEM LTD.-$ | 530125 | Active | X | 10 | 135.2 | 422629106 | 15.11 | 8.95 |
| RAJKUMAR FORGE LTD. | 513369 | Active | XT | 10 | 37.5 | 422694712 | 913.08 | 0.04 |
| OMKAR SPECIALITY CHEMICALS LTD. | 533317 | Active | B | 10 | 21.6 | 423297108 | 3.1 | 6.97 |
| SULABH ENGINEERS & SERVICES LTD. | 508969 | Active | X | 1 | 4.07 | 423343416 | 72.51 | 0.06 |
| Darshan Orna Ltd | 539884 | Active | M | 10 | 89.5 | 425061634 | 299.33 | 0.3 |
| LADDERUP FINANCE LTD. | 530577 | Active | X | 10 | 31.6 | 426851478 | 5.96 | 5.3 |
| Amrapali Capital and Finance Services Ltd | 536737 | Active | M | 10 | 43.75 | 427146694 | 51.12 | 0.86 |
| NIRAJ CEMENT STRUCTURALS LTD. | 532986 | Active | X | 10 | 29.25 | 427364818 | 161.05 | 0.18 |
| Negotium International Trade Ltd | 537838 | Active | XT | 1 | 10.93 | 428033513 | 3437.11 | 0 |
| Amrapali Fincap Ltd | 539265 | Active | M | 10 | 32 | 429409504 | 4.5 | 7.11 |
| GUJARAT AUTOMOTIVE GEARS LTD. | 505712 | Active | X | 2 | 247 | 430306851 | 7.94 | 31.1 |
| ANJANI SYNTHETICS LTD.-$ | 531223 | Active | X | 10 | 30 | 430390080 | 10.19 | 2.94 |
| UNISYS SOFTWARES & HOLDING INDUSTRIES LTD. | 531831 | Active | X | 10 | 18.6 | 435025830 | 234.38 | 0.08 |
| NATIONAL STANDARD (INDIA) LTD. | 504882 | Active | X | 10 | 21.9 | 437317085 | 5.36 | 4.08 |
| PIONEER INVESTCORP LTD. | 507864 | Active | X | 10 | 36.35 | 437601565 | 0.85 | 42.89 |
| INTELLIVATE CAPITAL ADVISORS LTD. | 534732 | Active | XT | 1 | 14.85 | 438983519 | 181.92 | 0.08 |
| SHETRON LTD. | 526137 | Active | X | 10 | 47 | 439795826 | 17.22 | 2.73 |
| Raghuvansh Agrofarms Ltd | 538921 | Active | M | 10 | 37 | 440261816 | 93.28 | 0.4 |
| BAJAJ STEEL INDUSTRIES LTD. | 507944 | Active | X | 10 | 187.25 | 444006264 | 6.15 | 30.43 |
| Nitin Castings Ltd | 508875 | Active | XT | 10 | 179.9 | 446213331 | 38.46 | 4.68 |
| VARDHMAN POLYTEX LTD. | 514175 | Active | B | 10 | 20.05 | 446236853 | 1.65 | 12.18 |
| Satkar Finlease Ltd | 536592 | Active | X | 1 | 2.03 | 446795493 | 808.76 | 0 |
| GITANJALI GEMS LTD. | 532715 | Active | T | 10 | 4.03 | 447447357 | 0.24 | 16.78 |
| POCL Enterprises Ltd | 539195 | Active | X | 10 | 80 | 450017600 | 26.99 | 2.96 |
| DAIKAFFIL CHEMICALS INDIA LTD. | 530825 | Active | X | 10 | 75.35 | 453965355 | 42.58 | 1.77 |
| ATV PROJECTS INDIA LTD. | 500028 | Active | XT | 10 | 9.02 | 458208988 | 0.33 | 27.74 |
| ASHOK ALCO-CHEM LTD. | 524594 | Active | X | 10 | 103.45 | 461907340 | 18.61 | 5.56 |
| SOURCE NATURAL FOODS & HERBAL SUPPL LTD. | 531398 | Active | X | 10 | 68.45 | 462817536 | 55.18 | 1.24 |
| Smruthi Organics Ltd | 540686 | Active | X | 10 | 112 | 463681120 | 12.44 | 9 |
| SPEL SEMICONDUCTOR LTD. | 517166 | Active | X | 10 | 10.5 | 465488342 | 149.74 | 0.07 |
| Divinus Fabrics Ltd | 538432 | Active | X | 10 | 105 | 467255775 | 46255.5 | 0 |
| TITAN BIOTECH LTD. | 524717 | Active | XT | 10 | 58.05 | 467593731 | 16.85 | 3.45 |
| PRECISION ELECTRONICS LTD. | 517258 | Active | XT | 10 | 32.25 | 468395324 | 382.88 | 0.08 |
| Relstruct Buildcon Ltd | 540426 | Active | M | 10 | 32 | 468740000 | 54.52 | 0.59 |
| LANDMARK PROPERTY DEVELOPMENT COMPANY LTD. | 533012 | Active | B | 1 | 3.6 | 468768987 | 58.38 | 0.06 |
| CENTURY EXTRUSIONS LTD. | 500083 | Active | B | 1 | 5.8 | 469644651 | 12.93 | 0.45 |
| Matra Kaushal Enterprise Limited | 526671 | Active | XT | 1 | 2.36 | 475311878 | 811 | 0 |
| MADHAV MARBLES & GRANITES LTD. | 515093 | Active | B | 10 | 52.6 | 476143497 | 30.2 | 1.74 |
| Adroit Infotech Ltd | 532172 | Active | B | 10 | 28.55 | 476976501 | 4.23 | 6.75 |
| GUJARAT HOTELS LTD. | 507960 | Active | X | 10 | 126.4 | 477050164 | 14.22 | 8.89 |
| GRANDMA TRADING & AGENCIES LTD. | 504369 | Active | XT | 1 | 3.68 | 479858661 | 5935.48 | 0 |
| ABHINAV CAPITAL SERVICES LTD. | 532057 | Active | XT | 10 | 69.5 | 480509308 | 11.44 | 6.07 |
| PRIME PROPERTY DEVELOPMENT CORPORATION LTD.-$ | 530695 | Active | X | 5 | 27.9 | 481846302 | 15.04 | 1.86 |
| Riddhi Corporate Services Ltd | 540590 | Active | M | 10 | 148.5 | 481872550 | 18.39 | 8.07 |
| Pure Giftcarat Ltd | 540492 | Active | M | 10 | 22.35 | 482342019 | 469.54 | 0.05 |
| PRIME URBAN DEVELOPMENT INDIA LTD. | 521149 | Active | X | 2 | 18.45 | 484157522 | 4.72 | 3.91 |
| Jackson Investments Ltd | 538422 | Active | XT | 1 | 1.64 | 484569028 | 126.64 | 0.01 |
| Raunaq EPC International Ltd | 537840 | Active | X | 10 | 143.7 | 484607691 | 22.59 | 6.36 |
| Mercury Laboratories Ltd | 538964 | Active | XT | 10 | 389.5 | 486021216 | 21.31 | 18.28 |
| PATSPIN INDIA LTD. | 514326 | Active | B | 10 | 15.5 | 489248650 | 8.25 | 1.88 |
| RISHI TECHTEX LTD. | 523021 | Active | X | 10 | 62.5 | 489907188 | 22.06 | 2.83 |
| BAFNA PHARMACEUTICALS LTD. | 532989 | Active | T | 10 | 25.5 | 491759289 | 25.46 | 1 |
| JINDAL HOTELS LTD. | 507981 | Active | X | 10 | 77 | 492992731 | 261.31 | 0.29 |
| ABC INDIA LTD.-$ | 520123 | Active | XT | 10 | 89.6 | 493925995 | 115.46 | 0.78 |
| SHIVA GLOBAL AGRO INDUSTRIES LTD. | 530433 | Active | X | 10 | 49.5 | 494854420 | 16.74 | 2.96 |
| Sagar Productions Limited | 532092 | Active | XT | 1 | 12.4 | 496986281 | 97.13 | 0.13 |
| Kwality Pharmaceuticals Ltd | 539997 | Active | MT | 10 | 48 | 497280960 | 10.24 | 4.69 |
| SALONA COTSPIN LTD. | 590056 | Active | B | 10 | 96 | 499216128 | 25.94 | 3.7 |
| NATIONAL PLASTIC INDUSTRIES LTD. | 526616 | Active | X | 10 | 51.75 | 499738624 | 26.21 | 1.97 |
| BENGAL TEA & FABRICS LTD. | 532230 | Active | X | 10 | 55.35 | 500062827 | 28.87 | 1.92 |
| GENNEX LABORATORIES LTD. | 531739 | Active | X | 1 | 3.88 | 501346723 | 47.98 | 0.08 |
| Asya Infosoft Limited | 511144 | Active | X | 10 | 41.7 | 505397170 | 194.41 | 0.21 |
| BANG OVERSEAS LTD. | 532946 | Active | B | 10 | 35.55 | 506130245 | 456.82 | 0.08 |
| REMSONS INDUSTRIES LTD. | 530919 | Active | B | 10 | 90.7 | 506555039 | 162.83 | 0.56 |
| ISHAN DYES & CHEMICALS LTD. | 531109 | Active | X | 10 | 48.1 | 506825595 | 24.85 | 1.94 |
| ARYAMAN FINANCIAL SERVICES LTD. | 530245 | Active | X | 10 | 45.5 | 507374686 | 104.86 | 0.43 |
| LAWRESHWAR POLYMERS LTD. | 532829 | Active | X | 10 | 37.45 | 512114829 | 37.28 | 1 |
| Polyspin Exports Ltd | 539354 | Active | X | 10 | 128.1 | 513332080 | 10.67 | 12 |
| NAGREEKA CAPITAL & INFRASTRUCTURE LTD. | 532895 | Active | B | 5 | 41.05 | 514001942 | 4.87 | 8.43 |
| Naturite Agro Products Ltd | 538926 | Active | XT | 10 | 97.5 | 515554942 | 61.03 | 1.6 |
| HINDUSTAN ADHESIVES LTD. | 514428 | Active | X | 10 | 102 | 515940582 | 29.7 | 3.43 |
| WELCAST STEELS LTD. | 504988 | Active | X | 10 | 782 | 517427504 | 25.39 | 30.81 |
| TEXMO PIPES & PRODUCTS LTD. | 533164 | Active | B | 10 | 20.4 | 519273096 | 38.49 | 0.53 |
| LOTUS CHOCOLATE CO.LTD. | 523475 | Active | X | 10 | 39.9 | 523678263 | 28.57 | 1.4 |
| PARNAX LAB LTD. | 506128 | Active | X | 10 | 59.85 | 524920696 | 14.18 | 4.22 |
| Raghav Productivity Enhancers Ltd | 539837 | Active | M | 10 | 103.57 | 530301287 | 26.49 | 3.91 |
| KG PETROCHEM LTD. | 531609 | Active | XT | 10 | 96.7 | 530557975 | 6.87 | 14.07 |
| Commercial Syn Bags Ltd | 539986 | Active | M | 10 | 44 | 530953896 | 9.87 | 4.46 |
| SAMBANDAM SPINNING MILLS LTD.-$ | 521240 | Active | X | 10 | 127 | 540759777 | 165.02 | 0.77 |
| SRI KPR INDUSTRIES LTD. | 514442 | Active | XT | 10 | 26.95 | 541076270 | 6.91 | 3.9 |
| Thirani Projects Ltd | 538464 | Active | XT | 10 | 27 | 544896693 | 427.62 | 0.06 |
| Sagarsoft (India) Ltd | 540143 | Active | X | 10 | 105 | 547796550 | 23.22 | 4.52 |
| Mitsu Chem Plast Ltd | 540078 | Active | M | 10 | 156 | 549042624 | 18.61 | 8.38 |
| TARMAT LTD. | 532869 | Active | B | 10 | 48.1 | 550566580 | 74.23 | 0.65 |
| CEEJAY FINANCE LTD. | 530789 | Active | X | 10 | 160 | 551139360 | 9.35 | 17.12 |
| Narayani Steels Ltd | 540080 | Active | M | 10 | 51 | 555491592 | 19.35 | 2.64 |
| AURO LABORATORIES LTD. | 530233 | Active | X | 10 | 88.1 | 556589889 | 17.41 | 5.06 |
| TERA SOFTWARE LTD. | 533982 | Active | T | 10 | 44.85 | 557315096 | 210.39 | 0.21 |
| ANSAL BUILDWELL LTD.-$ | 523007 | Active | X | 10 | 76.1 | 558081546 | 5.69 | 13.37 |
| SOMI CONVEYOR BELTINGS LTD. | 533001 | Active | B | 10 | 45 | 559239210 | 66.58 | 0.68 |
| BRIGHT BROTHERS LTD.-$ | 526731 | Active | X | 10 | 102 | 561587826 | 49.11 | 2.08 |
| GUJARAT THEMIS BIOSYN LTD. | 506879 | Active | X | 5 | 38.3 | 562517795 | 13.61 | 2.81 |
| VIKRAM THERMO (INDIA) LTD. | 530477 | Active | X | 10 | 101.05 | 565159632 | 16.45 | 6.14 |
| MUNOTH CAPITAL MARKET LTD. | 511200 | Active | XT | 5 | 63.2 | 567345332 | 723.11 | 0.09 |
| MAHALAXMI RUBTECH LTD. | 514450 | Active | X | 10 | 47.25 | 573260152 | 21.24 | 2.22 |
| VIVO BIO TECH LTD. | 511509 | Active | X | 10 | 63 | 575232399 | 64.86 | 0.97 |
| HARIYANA SHIP BREAKERS LTD.-$ | 526931 | Active | X | 10 | 92.5 | 575525472 | 3.37 | 27.43 |
| VIJAY TEXTILES LTD. | 530151 | Active | X | 10 | 46.05 | 575569869 | 9.04 | 5.09 |
| Authum Investment & Infrastructure Ltd | 539177 | Active | X | 10 | 49 | 577550456 | 3.25 | 15.07 |
| Universal Autofoundry Ltd | 539314 | Active | M | 10 | 70.5 | 578980052 | 18.53 | 3.8 |
| FAIR DEAL FILAMENTS LTD.-$ | 514474 | Active | X | 10 | 95 | 579618370 | 30.37 | 3.13 |
| SHREE OM TRADES LTD. | 506180 | Active | XT | 10 | 127.4 | 581183009 | 1052.63 | 0.12 |
| STANROSE MAFATLAL INVESTMENTS AND FINANCE LTD. | 506105 | Active | X | 10 | 145.05 | 584092429 | 11.89 | 12.2 |
| Surana Solar Limited | 533298 | Active | B | 5 | 11.55 | 584508746 | 56.75 | 0.2 |
| RACL Geartech Ltd | 520073 | Active | X | 10 | 58.85 | 585492514 | 10.89 | 5.4 |
| Akar Auto Industries Ltd | 530621 | Active | X | 5 | 53.7 | 586169447 | 14.65 | 3.67 |
| MOSER BAER INDIA LTD. | 517140 | Active | T | 10 | 2.56 | 587829652 | 9.38 | 0.27 |
| Surana Telecom And Power Limited | 517530 | Active | B | 1 | 4.32 | 588071100 | 39.35 | 0.11 |
| SURYALATA SPINNING MILLS LTD.-$ | 514138 | Active | X | 10 | 138 | 588596634 | 7.48 | 18.46 |
| Scandent Imaging Limited | 516110 | Active | X | 10 | 18.1 | 589312175 | 36.85 | 0.49 |
| Ambition Mica Ltd | 539223 | Active | M | 10 | 42.05 | 589387465 | 27.97 | 1.5 |
| Devhari Exports (India) Ltd | 539197 | Active | XT | 1 | 7.95 | 589632088 | 26500 | 0 |
| BASANT AGRO TECH (INDIA) LTD.-$ | 524687 | Active | X | 1 | 6.5 | 589942561 | 10.19 | 0.64 |
| INDOWIND ENERGY LTD. | 532894 | Active | B | 10 | 6.55 | 590337572 | 27.48 | 0.24 |
| EMPEE DISTILLERIES LTD. | 532920 | Active | B | 10 | 29.4 | 591287001 | 3.04 | 9.67 |
| USHDEV INTERNATIONAL LTD. | 511736 | Active | X | 1 | 1.79 | 591808230 | 1.16 | 1.54 |
| DEEPAK SPINNERS LTD.-$ | 514030 | Active | X | 10 | 81.6 | 591842912 | 8.38 | 9.74 |
| LAHOTI OVERSEAS LTD.-$ | 531842 | Active | X | 2 | 20 | 597456720 | 4.4 | 4.55 |
| ARROW TEXTILES LTD. | 533068 | Active | B | 10 | 31.3 | 597771517 | 26.82 | 1.17 |
| RAMA PULP & PAPERS LTD. | 502587 | Active | X | 10 | 56.2 | 611248855 | 19.84 | 2.83 |
| Radhika Jeweltech Ltd | 540125 | Active | M | 10 | 25 | 611465100 | 4.45 | 5.62 |
| SATRA PROPERTIES (INDIA) LTD. | 508996 | Active | X | 2 | 3.28 | 613490886 | 1.22 | 2.68 |
| Sri Krishna Constructions (India) Ltd | 539363 | Active | M | 10 | 61.4 | 616039785 | 15.97 | 3.84 |
| REXNORD ELECTRONICS & CONTROLS LTD. | 531888 | Active | X | 10 | 56 | 618643312 | 19.04 | 2.94 |
| ASM TECHNOLOGIES LTD. | 526433 | Active | X | 10 | 136.3 | 619651708 | 56.79 | 2.4 |
| COSYN Ltd | 538922 | Active | X | 10 | 83 | 620406159 | 9.46 | 8.77 |
| SUNDARAM MULTI PAP LTD. | 533166 | Active | B | 1 | 2.28 | 620937921 | 7.25 | 0.31 |
| Chandni Textiles Engineering Ind. Ltd | 522292 | Active | X | 10 | 36.45 | 623175858 | 48.25 | 0.76 |
| Radix Industries (India) Limited | 531412 | Active | X | 10 | 62.5 | 624323812 | 38.39 | 1.63 |
| Tulive Developers Limited | 505285 | Active | XT | 10 | 180 | 626209740 | 27.97 | 6.44 |
| Vegetable Products Ltd | 539132 | Active | X | 1 | 5.61 | 629450480 | 552.17 | 0.01 |
| LAMBODHARA TEXTILES LTD.-$ | 590075 | Active | B | 5 | 69.2 | 629851798 | 8.63 | 8.02 |
| OLYMPIA INDUSTRIES LTD. | 521105 | Active | XT | 10 | 105 | 631488690 | 47.08 | 2.23 |
| Kings Infra Ventures Limited | 530215 | Active | X | 10 | 27 | 635041431 | 173.78 | 0.16 |
| EMCO LTD.-$ | 504008 | Active | T | 2 | 9.01 | 635686213 | 0.82 | 11.02 |
| INDO THAI SECURITIES LTD. | 533676 | Active | B | 10 | 66.6 | 638238441 | 4.83 | 13.79 |
| Lotus Eye Hospital And Institute Ltd | 532998 | Active | B | 10 | 29.3 | 638490084 | 70.08 | 0.42 |
| Lypsa Gems & Jewellery Ltd | 534532 | Active | B | 10 | 21.2 | 640088507 | 3.23 | 6.56 |
| Padmanabh Industries Limited | 526905 | Active | X | 10 | 108 | 641717748 | 41064.64 | 0 |
| Prime Customer Services Ltd | 540404 | Active | M | 10 | 187.5 | 643804312 | 203.08 | 0.92 |
| AJANTA SOYA LTD. | 519216 | Active | X | 10 | 39.7 | 648240946 | 15.59 | 2.55 |
| Sai Baba Investment And Commercial Enterprises Ltd | 538557 | Active | X | 1 | 5.66 | 648741140 | 189.87 | 0.03 |
| BSL LTD. | 514045 | Active | B | 10 | 62.5 | 651062688 | 23.33 | 2.68 |
| Manaksia Aluminium Company Ltd | 539045 | Active | B | 1 | 9.4 | 659685346 | 24.31 | 0.39 |
| PBM POLYTEX LTD.-$ | 514087 | Active | X | 10 | 83.45 | 662373669 | 33.66 | 2.48 |
| FRONTIER SPRINGS LTD. | 522195 | Active | X | 10 | 168.15 | 667281391 | 15.02 | 11.19 |
| NATURAL CAPSULES LTD. | 524654 | Active | X | 10 | 107 | 667761534 | 186.79 | 0.57 |
| STARLITE COMPONENTS LTD. | 517548 | Active | X | 10 | 39.25 | 670128556 | 18.36 | 2.14 |
| LANDMARC LEISURE CORPORATION LTD. | 532275 | Active | XT | 1 | 0.85 | 671224638 | 14166.67 | 0 |
| ELEGANT MARBLES & GRANI INDUSTRIES LTD. | 526705 | Active | X | 10 | 190 | 671528020 | 16.19 | 11.73 |
| HIND ALUMINIUM INDUSTRIES LTD.-$ | 531979 | Active | X | 10 | 109.4 | 673420899 | 8.74 | 12.52 |
| Camson Seeds Ltd | 540071 | Active | XT | 10 | 22.8 | 673943969 | 12.56 | 1.82 |
| DUTRON POLYMERS LTD.-$ | 517437 | Active | XT | 10 | 117.75 | 676077992 | 38.86 | 3.03 |
| INTEC CAPITAL LTD. | 526871 | Active | X | 10 | 36.9 | 676658021 | 195.66 | 0.19 |
| RANA SUGARS LTD. | 507490 | Active | B | 10 | 4.34 | 678579010 | 4.27 | 1.02 |
| R&B Denims Ltd | 538119 | Active | M | 10 | 49 | 684670532 | 7.7 | 6.36 |
| Prakash Woollen & Synthetic Mills Ltd | 531437 | Active | X | 10 | 66.9 | 685307225 | 22.9 | 2.92 |
| Sarthak Metals Ltd | 540393 | Active | M | 10 | 53 | 691194995 | 17.03 | 3.11 |
| SIKA INTERPLANT SYSTEMS LTD. | 523606 | Active | X | 10 | 159.05 | 691601741 | 34.36 | 4.63 |
| Uday Jewellery Industries Ltd | 539518 | Active | X | 10 | 61.75 | 692723541 | 35.98 | 1.72 |
| Umiya Tubes Ltd | 539798 | Active | M | 10 | 90.9 | 693747448 | 36.26 | 2.51 |
| PRAJAY ENGINEERS SYNDICATE LTD. | 531746 | Active | B | 10 | 9.96 | 702259583 | 0.37 | 26.72 |
| Ashari Agencies Ltd | 540024 | Active | X | 10 | 82.9 | 702647978 | 41.1 | 2.02 |
| Avonmore Capital & Management Services Limited | 511589 | Active | X | 10 | 28.3 | 704713988 | 2.65 | 10.67 |
| Ganges Securities Ltd | 540647 | Active | B | 10 | 75.9 | 707070297 | 12.63 | 6.01 |
| GEE LTD. | 504028 | Active | X | 2 | 31.5 | 707894523 | 84.04 | 0.37 |
| JUPITER INFOMEDIA LTD. | 534623 | Active | X | 10 | 70.1 | 711047277 | 71.27 | 0.98 |
| INDIA GELATINE & CHEMICALS LTD.-$ | 531253 | Active | X | 10 | 101.5 | 711216387 | 20.95 | 4.84 |
| Agri- Tech (India) Ltd | 537292 | Active | B | 10 | 122.85 | 712758492 | 2.17 | 56.7 |
| SHAH ALLOYS LTD. | 513436 | Active | B | 10 | 35.65 | 713252361 | 1.42 | 25.14 |
| KANANI INDUSTRIES LTD. | 506184 | Active | B | 1 | 7.7 | 713941241 | 45.82 | 0.17 |
| FERVENT SYNERGIES LTD. | 533896 | Active | X | 10 | 24.5 | 715882111 | 68.73 | 0.36 |
| MALU PAPER MILLS LTD. | 532728 | Active | T | 10 | 42.2 | 716220017 | 52.07 | 0.81 |
| BINNY MILLS LTD. | 535620 | Active | X | 10 | 221.4 | 719511457 | 56.32 | 3.93 |
| RUCHI INFRASTRUCTURE LTD. | 509020 | Active | T | 1 | 3.49 | 721016695 | 12.37 | 0.28 |
| SHALIBHADRA FINANCE LTD. | 511754 | Active | X | 10 | 146 | 721534336 | 14.82 | 9.85 |
| SRS REAL INFRASTRUCTURE LTD. | 533305 | Active | X | 1 | 1.77 | 722328634 | 7.2 | 0.25 |
| VEDAVAAG SYSTEMS LTD. | 533056 | Active | X | 10 | 45.2 | 724581143 | 4.54 | 9.95 |
| BHARAT AGRI FERT & REALTY LTD. | 531862 | Active | X | 10 | 138.95 | 724896437 | 548.88 | 0.25 |
| TOKYO PLAST INTERNATIONAL LTD. | 500418 | Active | B | 10 | 77 | 731374490 | 16.89 | 4.56 |
| KAMADGIRI FASHION LTD.-$ | 514322 | Active | X | 10 | 125.5 | 735457610 | 12.94 | 9.7 |
| AMARJOTHI SPINNING MILLS LTD. | 521097 | Active | X | 10 | 109.4 | 736664712 | 3.36 | 32.57 |
| Loyal Equipments Ltd | 539227 | Active | M | 10 | 72.5 | 738347032 | 29.74 | 2.44 |
| PORWAL AUTO COMPONENTS LTD. | 532933 | Active | X | 10 | 50 | 747669200 | 20.71 | 2.41 |
| INDIA FINSEC LTD. | 535667 | Active | XT | 10 | 30.05 | 748329992 | 124.47 | 0.24 |
| Alps Motor Finance Ltd | 538423 | Active | X | 1 | 7.25 | 750104720 | 1202.32 | 0.01 |
| PREMIER POLYFILM LTD. | 514354 | Active | B | 5 | 38 | 751920250 | 16.92 | 2.25 |
| MAGNA ELECTRO CASTINGS LTD.-$ | 517449 | Active | X | 10 | 166.45 | 752166064 | 13.11 | 12.7 |
| MYSORE PETRO CHEMICALS LTD.-$ | 506734 | Active | X | 10 | 114 | 755956230 | 1.43 | 79.85 |
| VIRAT INDUSTRIES LTD. | 530521 | Active | X | 10 | 157.05 | 756129333 | 21.78 | 7.21 |
| ALMONDZ GLOBAL SECURITIES LTD. | 531400 | Active | T | 6 | 31.2 | 767954167 | 24.14 | 1.29 |
| ALUFLUORIDE LTD. | 524634 | Active | X | 10 | 106.85 | 770164852 | 14.02 | 7.62 |
| West Leisure Resorts Ltd | 538382 | Active | XT | 10 | 65.4 | 770398088 | 44.91 | 1.46 |
| HIGH ENERGY BATTERIES (INDIA) LTD. | 504176 | Active | X | 10 | 426 | 771193338 | 15.58 | 27.34 |
| AUTOLITE (INDIA) LTD. | 500029 | Active | B | 10 | 68.5 | 772467650 | 121.09 | 0.57 |
| ALPA LABORATORIES LTD. | 532878 | Active | B | 10 | 34.8 | 775535244 | 10.7 | 3.25 |
| ALKALI METALS LTD. | 533029 | Active | B | 10 | 80.15 | 779124780 | 1379.76 | 0.06 |
| SHALIMAR WIRES INDUSTRIES LTD. | 532455 | Active | X | 2 | 20.35 | 779784705 | 1.14 | 17.81 |
| INDBANK MERCHANT BANKING SERVICES LTD. | 511473 | Active | B | 10 | 17.2 | 787065172 | 35.83 | 0.48 |
| Shree Ganesh Biotech (India) Ltd | 539470 | Active | X | 10 | 429 | 789503286 | 20.09 | 21.35 |
| GINI SILK MILLS LTD.-$ | 531744 | Active | X | 10 | 144.4 | 790658412 | 46.64 | 3.1 |
| GKB OPHTHALMICS LTD. | 533212 | Active | XT | 10 | 189.65 | 791662038 | 25.57 | 7.42 |
| RAGHUVIR SYNTHETICS LTD. | 514316 | Active | XT | 10 | 210 | 793061010 | 81.51 | 2.58 |
| RDB REALTY & INFRASTRUCTURE LTD. | 533285 | Active | X | 10 | 46.95 | 794539135 | 12.94 | 3.63 |
| SHILP GRAVURES LTD.-$ | 513709 | Active | X | 10 | 128.5 | 799687882 | 11.27 | 11.4 |
| Sunil Healthcare Ltd | 537253 | Active | X | 10 | 73.15 | 805257089 | 12.29 | 5.95 |
| VENUS REMEDIES LTD. | 526953 | Active | B | 10 | 64.65 | 810390808 | 2.14 | 30.19 |
| NILACHAL REFRACTORIES LTD. | 502294 | Active | XT | 10 | 40.05 | 814204670 | 33.32 | 1.2 |
| MASTER TRUST LTD. | 511768 | Active | XT | 10 | 75.25 | 817187985 | 8.99 | 8.37 |
| PATELS AIRTEMP (INDIA) LTD. | 517417 | Active | X | 10 | 161.25 | 818328915 | 10.15 | 15.89 |
| KOTHARI FERMENTATION & BIOCHEM LTD. | 507474 | Active | X | 10 | 53.8 | 819528233 | 21.59 | 2.49 |
| ITL INDUSTRIES LTD.-$ | 522183 | Active | X | 10 | 263 | 822563008 | 22.57 | 11.65 |
| SAB Industries Ltd | 539112 | Active | X | 10 | 54.9 | 832541559 | 43.52 | 1.26 |
| SIMPLEX CASTINGS LTD. | 513472 | Active | X | 10 | 149 | 832896888 | 28.16 | 5.29 |
| PERMANENT MAGNETS LTD.-$ | 504132 | Active | X | 10 | 95 | 835739890 | 27.29 | 3.48 |
| JASCH INDUSTRIES LTD. | 500220 | Active | X | 10 | 72.9 | 836323470 | 22.4 | 3.26 |
| NEELAMALAI AGRO INDUSTRIES LTD. | 508670 | Active | P | 10 | 1350 | 845602200 | 7.14 | 189.19 |
| IMP POWERS LTD. | 517571 | Active | B | 10 | 95.15 | 851535899 | 33.58 | 2.83 |
| FLUIDOMAT LTD. | 522017 | Active | X | 10 | 174.9 | 861848229 | 37.35 | 4.68 |
| RIBA TEXTILES LTD. | 531952 | Active | X | 10 | 87.5 | 862103025 | 16.42 | 5.33 |
| WINSOME TEXTILE INDUSTRIES LTD.-$ | 514470 | Active | B | 10 | 44 | 862202396 | 17.86 | 2.46 |
| REIL ELECTRICALS INDIA LTD. | 505817 | Active | P | 10 | 230 | 866896220 | 37.56 | 6.12 |
| NORTH EASTERN CARRYING CORPORATION LTD. | 534615 | Active | B | 10 | 17.4 | 873433610 | 21.22 | 0.82 |
| GANGA PAPERS INDIA LTD. | 531813 | Active | XT | 10 | 84.45 | 880283967 | 45.19 | 1.87 |
| NARMADA GELATINES LTD. | 526739 | Active | X | 10 | 144.1 | 883799777 | 10.76 | 13.39 |
| LUDLOW JUTE & SPECIALITIES LTD. | 526179 | Active | X | 10 | 80.8 | 892530085 | 32 | 2.53 |
| AuSom Enterprise Limited | 509009 | Active | B | 10 | 66.45 | 898781328 | 7.89 | 8.42 |
| Manaksia Coated Metals & Industries Ltd | 539046 | Active | B | 1 | 13.7 | 905471361 | 108.89 | 0.13 |
| SACHETA METALS LTD. | 531869 | Active | X | 10 | 50.95 | 906642628 | 64.3 | 0.79 |
| DIVYASHAKTI GRANITES LTD. | 526315 | Active | XT | 10 | 85 | 917140140 | 38.42 | 2.21 |
| Srestha Finvest Ltd | 539217 | Active | X | 2 | 12.25 | 918089076 | 121.96 | 0.1 |
| SAVERA INDUSTRIES LTD. | 512634 | Active | X | 10 | 75 | 919059525 | 21.4 | 3.5 |
| EVEREST ORGANICS LTD. | 524790 | Active | X | 10 | 114.5 | 922466846 | 40.18 | 2.85 |
| ALLIED DIGITAL SERVICES LTD. | 532875 | Active | B | 5 | 18.05 | 924413058 | 22.14 | 0.82 |
| Atishay Ltd | 538713 | Active | B | 10 | 84.15 | 924864308 | 32.33 | 2.6 |
| B.A.G.FILMS & MEDIA LTD. | 532507 | Active | B | 2 | 4.84 | 927253424 | 345.22 | 0.01 |
| AARVEE DENIMS & EXPORTS LTD. | 514274 | Active | B | 10 | 40.15 | 927530279 | 26.97 | 1.49 |
| GRM OVERSEAS LTD. | 531449 | Active | X | 10 | 247.5 | 931125938 | 9.8 | 25.25 |
| ADC India Communications Limited-$ | 523411 | Active | X | 10 | 202.8 | 935725095 | 28.59 | 7.09 |
| HINDUSTAN TIN WORKS LTD.-$ | 530315 | Active | X | 10 | 89.3 | 937884266 | 9.3 | 9.6 |
| BOMBAY OXYGEN CORPORATION LTD. | 509470 | Active | P | 100 | 6262.7 | 937939557 | 15.06 | 415.94 |
| MAAN ALUMINIUM LTD. | 532906 | Active | B | 10 | 138.6 | 939263967 | 13.77 | 10.07 |
| MAXHEIGHTS INFRASTRUCTURE LTD. | 534338 | Active | X | 10 | 60.95 | 949898935 | 117.65 | 0.52 |
| NIKHIL ADHESIVES LTD.-$ | 526159 | Active | X | 10 | 239.5 | 958176990 | 29.74 | 8.05 |
| CIL NOVA PETROCHEMICALS LTD. | 533407 | Active | B | 10 | 34 | 958352390 | 58.53 | 0.58 |
| KILBURN ENGINEERING LTD. | 522101 | Active | X | 10 | 72.25 | 960012699 | 13.77 | 5.25 |
| Meera Industries Ltd | 540519 | Active | M | 10 | 235 | 960304235 | 61.47 | 3.82 |
| Synergy Bizcon Ltd | 539143 | Active | X | 10 | 78.1 | 961081634 | 290.45 | 0.27 |
| ANIK INDUSTRIES LTD. | 519383 | Active | T | 10 | 35.95 | 962344492 | 4.06 | 8.85 |
| SYNCOM FORMULATIONS (INDIA) LTD.-$ | 524470 | Active | X | 1 | 1.18 | 964598153 | 9.74 | 0.12 |
| INDIA STEEL WORKS LTD. | 513361 | Active | X | 1 | 2.33 | 965414328 | 12.45 | 0.19 |
| Castex Technologies Ltd-$ | 532282 | Active | T | 2 | 2.53 | 965891450 | 0.9 | 2.81 |
| SURAJ LTD.-$ | 531638 | Active | X | 10 | 50.25 | 966511816 | 230.35 | 0.22 |
| SAKTHI FINANCE LTD. | 511066 | Active | X | 10 | 31.45 | 969585974 | 10.39 | 3.03 |
| BNK CAPITAL MARKETS LTD. | 500069 | Active | X | 10 | 97.2 | 970484427 | 25.98 | 3.74 |
| COMPUCOM SOFTWARE LTD.-$ | 532339 | Active | B | 2 | 12.35 | 975672569 | 37.36 | 0.33 |
| ENERGY DEVELOPMENT COMPANY LTD. | 532219 | Active | B | 10 | 19.5 | 977294780 | 7.12 | 2.74 |
| SWISS GLASCOAT EQUIPMENTS LTD. | 522215 | Active | X | 10 | 158.85 | 983527914 | 28.6 | 5.55 |
| VADILAL ENTERPRISES LTD. | 519152 | Active | XT | 10 | 1086 | 984103878 | 504.5 | 2.15 |
| ARO GRANITE INDUSTRIES LTD.-$ | 513729 | Active | B | 10 | 63.15 | 985426283 | 78.76 | 0.8 |
| Gujarat Natural Resources Limited | 513536 | Active | X | 10 | 25 | 993323075 | 58.3 | 0.43 |
| TAMBOLI CAPITAL LTD. | 533170 | Active | X | 10 | 99.05 | 995526125 | 20.4 | 4.86 |
| KEERTHI INDUSTRIES LTD. | 518011 | Active | XT | 10 | 127 | 1004510818 | 13.35 | 9.51 |
| CORDS CABLE INDUSTRIES LTD. | 532941 | Active | B | 10 | 77.15 | 1008148078 | 17.87 | 4.32 |
| ISMT LTD. | 532479 | Active | B | 5 | 6.7 | 1009056828 | 0.96 | 6.94 |
| SUDITI INDUSTRIES LTD. | 521113 | Active | X | 10 | 59.75 | 1010509148 | 76.78 | 0.78 |
| DIAMINES & CHEMICALS LTD.-$ | 500120 | Active | X | 10 | 98.6 | 1011770771 | 13.61 | 7.25 |
| Lloyds Steels Industries Ltd | 539992 | Active | T | 1 | 1.18 | 1014693755 | 51.15 | 0.02 |
| PATEL INTEGRATED LOGISTICS LTD.-$ | 526381 | Active | B | 10 | 61.75 | 1015274481 | 13.99 | 4.41 |
| SURYALAKSHMI COTTON MILLS LTD. | 521200 | Active | B | 10 | 60 | 1016613060 | 18.25 | 3.29 |
| SURAT TEXTILE MILLS LTD. | 530185 | Active | X | 1 | 4.16 | 1023162604 | 14.19 | 0.29 |
| WALLFORT FINANCIAL SERVICES LTD. | 532053 | Active | X | 10 | 108.15 | 1034139399 | 4.76 | 22.72 |
| TYCHE INDUSTRIES LTD. | 532384 | Active | X | 10 | 100.15 | 1035050065 | 18.09 | 5.54 |
| JOST'S ENGINEERING CO.LTD. | 505750 | Active | X | 10 | 1184 | 1038093312 | 63.45 | 18.66 |
| Shree Ajit Pulp And Paper Ltd | 538795 | Active | X | 10 | 195 | 1042928055 | 22.77 | 8.57 |
| Pressman Advertising Limited | 509077 | Active | B | 2 | 43.6 | 1043813001 | 14.44 | 3.02 |
| Lancer Container Lines Ltd | 539841 | Active | B | 10 | 103.9 | 1045219262 | 36.49 | 2.85 |
| VIRAT CRANE INDUSTRIES LTD. | 519457 | Active | X | 10 | 51 | 1049528541 | 23.99 | 2.13 |
| LAKSHMI ELECTRICAL CONTROL SYSTEMS LTD. | 504258 | Active | X | 10 | 624.9 | 1052429750 | 19.18 | 32.58 |
| White Organic Agro Ltd | 513713 | Active | X | 10 | 85 | 1054816170 | 14.01 | 6.07 |
| VAMA INDUSTRIES LTD. | 512175 | Active | X | 2 | 21.5 | 1075145684 | 22.71 | 0.95 |
| VISTA PHARMACEUTICALS LTD. | 524711 | Active | X | 2 | 36.6 | 1075892970 | 56.92 | 0.64 |
| JAI BALAJI INDUSTRIES LTD. | 532976 | Active | B | 10 | 10.88 | 1090052349 | 2 | 5.45 |
| PICCADILY AGRO INDUSTRIES LTD. | 530305 | Active | X | 10 | 11.6 | 1095220683 | 12.26 | 0.95 |
| VTM LTD. | 532893 | Active | X | 1 | 28 | 1098740804 | 14.36 | 1.95 |
| Mangalam Seeds Ltd | 539275 | Active | M | 10 | 100.35 | 1100141047 | 34.01 | 2.95 |
| ZENITH EXPORTS LTD. | 512553 | Active | T | 10 | 175.9 | 1107934431 | 1317.31 | 0.13 |
| KAIRA CAN CO.LTD. | 504840 | Active | XT | 10 | 1170 | 1107947880 | 22.17 | 52.78 |
| Fortis Malar Hospitals Limited | 523696 | Active | X | 10 | 60.2 | 1109298431 | 31.93 | 1.89 |
| KILPEST INDIA LTD. | 532067 | Active | X | 10 | 165 | 1111232925 | 35.93 | 4.59 |
| ROLLATAINERS LTD. | 502448 | Active | B | 1 | 4.28 | 1111343053 | 245.69 | 0.02 |
| SUPREME INFRASTRUCTURE INDIA LTD. | 532904 | Active | B | 10 | 44 | 1115167284 | 1.56 | 28.25 |
| CAPRIHANS INDIA LTD.-$ | 509486 | Active | X | 10 | 86.75 | 1123376065 | 23.35 | 3.71 |
| Starcom Information Technology Ltd | 531616 | Active | XT | 10 | 225 | 1123380900 | 1108.87 | 0.2 |
| KIFS FINANCIAL SERVICES LTD. | 535566 | Active | X | 10 | 104.5 | 1128717980 | 34.34 | 3.04 |
| Rishiroop Ltd | 526492 | Active | X | 10 | 118.45 | 1130526096 | 25.31 | 4.68 |
| TANFAC INDUSTRIES LTD.-$ | 506854 | Active | X | 10 | 112.5 | 1131788925 | 14.87 | 7.56 |
| PREMCO GLOBAL LTD.-$ | 530331 | Active | X | 10 | 348.95 | 1138049867 | 16.68 | 20.93 |
| C & C CONSTRUCTIONS LTD. | 532813 | Active | B | 10 | 43.1 | 1144415856 | 1.4 | 30.79 |
| PG FOILS LTD. | 526747 | Active | X | 10 | 141.5 | 1144945269 | 7.67 | 18.44 |
| TAINWALA CHEMICALS & PLASTICS (INDIA) LTD. | 507785 | Active | T | 10 | 124.6 | 1145751935 | 11.9 | 10.47 |
| Scan Steels Limited | 511672 | Active | X | 10 | 22 | 1149955004 | 43.74 | 0.5 |
| PRIME SECURITIES LTD. | 500337 | Active | B | 5 | 43 | 1150037193 | 5.14 | 8.36 |
| GOPALA POLYPLAST LTD. | 526717 | Active | X | 10 | 129 | 1151644533 | 24.27 | 5.31 |
| RASANDIK ENGINEERING INDUSTRIES INDIA LTD.-$ | 522207 | Active | X | 10 | 242 | 1153133146 | 38.12 | 6.35 |
| BAL PHARMA LTD. | 524824 | Active | B | 10 | 81.2 | 1161691004 | 32.08 | 2.53 |
| KALYANI FORGE LTD. | 513509 | Active | T | 10 | 311.7 | 1163085218 | 43.97 | 7.09 |
| Akme Star Housing Finance Ltd | 539017 | Active | B | 10 | 100 | 1169836000 | 50.06 | 2 |
| APM INDUSTRIES LTD.-$ | 523537 | Active | X | 2 | 52.9 | 1171079550 | 7.12 | 7.43 |
| SCANPOINT GEOMATICS LTD. | 526544 | Active | X | 2 | 25.75 | 1178682612 | 53.84 | 0.48 |
| CAMBRIDGE TECHNOLOGY ENTERPRISES LTD. | 532801 | Active | B | 10 | 62.75 | 1180968240 | 9.6 | 6.54 |
| PONNI SUGARS (ERODE) LTD. | 532460 | Active | B | 10 | 141.95 | 1183884693 | 24.32 | 5.84 |
| SMS Lifesciences India Ltd | 540679 | Active | B | 10 | 391 | 1184597451 | 16.42 | 23.81 |
| Pincon Spirit Ltd | 538771 | Active | B | 10 | 23.6 | 1189708375 | 2.11 | 11.16 |
| MOLD-TEK TECHNOLOGIES LTD. | 526263 | Active | B | 2 | 44.4 | 1197518702 | 15.66 | 2.84 |
| Aditya Vision Ltd | 540205 | Active | M | 10 | 85 | 1197521990 | 40.49 | 2.1 |
| GYSCOAL ALLOYS LTD. | 533275 | Active | B | 1 | 7.64 | 1207339438 | 1234.25 | 0.01 |
| Kanchi Karpooram Ltd | 538896 | Active | XT | 10 | 279 | 1214581581 | 10.63 | 26.24 |
| Ultracab (India) Ltd | 538706 | Active | B | 10 | 89.05 | 1215906819 | 137.62 | 0.65 |
| AAREY DRUGS & PHARMACEUTICALS LTD. | 524412 | Active | X | 10 | 52.6 | 1216692301 | 15.97 | 3.29 |
| ATHARV ENTERPRISES LTD. | 530187 | Active | X | 10 | 7.1 | 1216999986 | 34.6 | 0.21 |
| SUMEET INDUSTRIES LTD.-$ | 514211 | Active | B | 10 | 15.4 | 1218756940 | 2.41 | 6.39 |
| COSCO (INDIA) LTD.-$ | 530545 | Active | X | 10 | 304.8 | 1221217117 | 20.21 | 15.08 |
| VIJAY SOLVEX LTD. | 531069 | Active | XT | 10 | 384 | 1227368448 | 15 | 25.59 |
| Global Infratech & Finance limited | 531463 | Active | X | 10 | 46.1 | 1232229402 | 339.82 | 0.14 |
| Mangalam Industrial Finance Ltd | 537800 | Active | X | 1 | 1.25 | 1242291666 | 82.78 | 0.02 |
| South India Projects Ltd | 538891 | Active | X | 10 | 249.45 | 1243127824 | 36.09 | 6.91 |
| MANUGRAPH INDIA LTD.-$ | 505324 | Active | B | 2 | 41.8 | 1247073383 | 2.21 | 18.88 |
| SUPER CROP SAFE LTD. | 530883 | Active | X | 2 | 32.85 | 1252785708 | 28.18 | 1.17 |
| LOKESH MACHINES LTD. | 532740 | Active | B | 10 | 67.75 | 1262634528 | 30.62 | 2.21 |
| KHAITAN CHEMICALS & FERTILIZERS LTD. | 507794 | Active | X | 1 | 13.66 | 1263160553 | 70.24 | 0.19 |
| NAHAR POLYFILMS LTD. | 523391 | Active | B | 5 | 51.25 | 1267774376 | 8.41 | 6.1 |
| Arnold Holdings Ltd | 537069 | Active | X | 2 | 8.5 | 1274692997 | 10.36 | 0.82 |
| DHANLEELA INVESTMENTS & TRADING COMPANY LTD. | 503637 | Active | X | 2 | 27.1 | 1280508026 | 3111.37 | 0.01 |
| Kallam Textiles Ltd-$ | 530201 | Active | X | 2 | 28.85 | 1284984037 | 8.51 | 3.39 |
| DAMODAR INDUSTRIES LTD.-$ | 521220 | Active | B | 10 | 113 | 1294894798 | 11.16 | 10.12 |
| ONWARD TECHNOLOGIES LTD. | 517536 | Active | B | 10 | 85.35 | 1295733747 | 24.95 | 3.42 |
| IZMO Limited-$ | 532341 | Active | B | 10 | 100.3 | 1297781338 | 14.66 | 6.84 |
| MARAL OVERSEAS LTD. | 521018 | Active | B | 10 | 32.05 | 1300335838 | 133.49 | 0.24 |
| INDIA HOME LOAN LTD. | 530979 | Active | X | 10 | 91 | 1301783483 | 47.86 | 1.9 |
| KESAR TERMINALS & INFRASTRUCTURE LTD. | 533289 | Active | B | 5 | 115.15 | 1303265875 | 8.1 | 14.22 |
| OK PLAY INDIA LTD. | 526415 | Active | X | 10 | 66.8 | 1305508064 | 26.06 | 2.56 |
| FLEXITUFF INTERNATIONAL LTD. | 533638 | Active | B | 10 | 54 | 1311030468 | 35.5 | 1.52 |
| Vipul Organics Ltd | 530627 | Active | X | 10 | 172 | 1311585828 | 185.47 | 0.93 |
| NATIONAL STEEL & AGRO INDUSTRIES LTD. | 513179 | Active | B | 10 | 29.6 | 1328188721 | 6.04 | 4.9 |
| BHARAT GEARS LTD. | 505688 | Active | B | 10 | 167.5 | 1350058710 | 24.51 | 6.83 |
| Bodhtree Consulting Ltd | 539122 | Active | X | 10 | 67.8 | 1351058865 | 44.08 | 1.54 |
| Mercantile Ventures Ltd | 538942 | Active | X | 10 | 12.5 | 1354334000 | 7 | 1.79 |
| MENON PISTONS LTD. | 531727 | Active | XT | 1 | 26.7 | 1354446717 | 18.85 | 1.42 |
| WARREN TEA LTD.-$ | 508494 | Active | X | 10 | 114.2 | 1367233997 | 35.9 | 3.18 |
| BHAGYANAGAR INDIA LTD. | 512296 | Active | B | 2 | 42.7 | 1373551036 | 3.05 | 14.02 |
| INVENTURE GROWTH & SECURITIES LTD. | 533506 | Active | B | 10 | 17 | 1374240067 | 293.81 | 0.06 |
| SAMBHAAV MEDIA LTD. | 511630 | Active | B | 1 | 7.5 | 1375339282 | 19.41 | 0.39 |
| FLEX FOODS LTD.-$ | 523672 | Active | X | 10 | 111.1 | 1376853171 | 14.85 | 7.48 |
| KIC METALIKS LTD. | 513693 | Active | X | 10 | 198.15 | 1377044571 | 13.34 | 14.85 |
| AMAL LTD. | 506597 | Active | X | 10 | 139 | 1392013276 | 11.63 | 11.95 |
| AXTEL INDUSTRIES LTD. | 523850 | Active | X | 10 | 84.95 | 1403323149 | 22.4 | 3.79 |
| MSP STEEL & POWER LTD. | 532650 | Active | B | 10 | 16 | 1411667392 | 1.86 | 8.62 |
| High Ground Enterprise Ltd | 517080 | Active | B | 1 | 12.01 | 1414897130 | 9.57 | 1.25 |
| RDB RASAYANS LTD. | 533608 | Active | X | 10 | 79.7 | 1415885748 | 19.63 | 4.06 |
| KELTECH ENERGIES LTD. | 506528 | Active | X | 10 | 1406 | 1424397510 | 16.65 | 84.45 |
| Gala Global Products Ltd | 539228 | Active | B | 5 | 49.05 | 1425224393 | 131.91 | 0.37 |
| LORDS CHLORO ALKALI LTD. | 500284 | Active | XT | 10 | 54.6 | 1426750977 | 20.72 | 2.63 |
| Shivalik Rasayan Ltd | 539148 | Active | X | 5 | 347.4 | 1432821398 | 26.39 | 13.16 |
| CONSOLIDATED CONSTRUCTION CONSORTIUM LTD. | 532902 | Active | B | 2 | 3.51 | 1434338730 | 0.89 | 3.96 |
| AIMCO PESTICIDES LTD. | 524288 | Active | X | 10 | 155.8 | 1448074404 | 365.25 | 0.43 |
| RAMA PHOSPHATES LTD. | 524037 | Active | X | 10 | 83 | 1457697792 | 22.98 | 3.61 |
| ROTO PUMPS LTD. | 517500 | Active | X | 2 | 95.55 | 1479576414 | 20.39 | 4.69 |
| SHILCHAR TECHNOLOGIES LTD. | 531201 | Active | X | 10 | 389.9 | 1484526291 | 20.6 | 18.93 |
| SIMMONDS MARSHALL LTD. | 507998 | Active | X | 2 | 130.1 | 1495627719 | 18.38 | 7.08 |
| Excel Realty N Infra Ltd | 533090 | Active | B | 10 | 15.7 | 1496629925 | 56.28 | 0.28 |
| SNL BEARINGS LTD. | 505827 | Active | X | 10 | 412 | 1500309948 | 19.03 | 21.65 |
| Inditrade Capital Limited | 532745 | Active | XT | 10 | 63.7 | 1501864728 | 23.82 | 2.67 |
| BEST EASTERN HOTELS LTD. | 508664 | Active | XT | 1 | 94 | 1510771008 | 1370.46 | 0.07 |
| INTERNATIONAL TRAVEL HOUSE LTD.-$ | 500213 | Active | X | 10 | 190.7 | 1515546272 | 21.91 | 8.7 |
| MUKTA ARTS LTD. | 532357 | Active | B | 5 | 63.9 | 1518620470 | 53.87 | 1.19 |
| INNOVATIVE TECH PACK LTD. | 523840 | Active | X | 1 | 70.5 | 1519049964 | 17.66 | 3.99 |
| GLOBAL VECTRA HELICORP LTD. | 532773 | Active | B | 10 | 105.65 | 1519786999 | 9.13 | 11.57 |
| DHP INDIA LTD. | 531306 | Active | X | 10 | 498.45 | 1523867857 | 10.02 | 49.73 |
| CHARTERED LOGISTICS LTD. | 531977 | Active | X | 1 | 15.05 | 1536928790 | 14.14 | 1.06 |
| MAJESTIC AUTO LTD.-$ | 500267 | Active | X | 10 | 150.5 | 1538504009 | 14.1 | 10.68 |
| SICAGEN INDIA LTD. | 533014 | Active | B | 10 | 38.65 | 1544657940 | 34.99 | 1.1 |
| INTENSE TECHNOLOGIES LTD.-$ | 532326 | Active | B | 2 | 70 | 1546270110 | 35.92 | 1.95 |
| Zandu Realty Limited | 506720 | Active | B | 100 | 1905 | 1547858220 | 24.33 | 78.31 |
| BAID LEASING AND FINANCE CO.LTD. | 511724 | Active | X | 10 | 153.9 | 1551966629 | 30.62 | 5.03 |
| MINDTECK (INDIA) LTD. | 517344 | Active | T | 10 | 58 | 1570940556 | 23.35 | 2.48 |
| INDO BORAX & CHEMICALS LTD.-$ | 524342 | Active | X | 10 | 502.05 | 1575930895 | 36.84 | 13.63 |
| MURUDESHWAR CERAMICS LTD. | 515037 | Active | B | 10 | 35 | 1584064965 | 66.07 | 0.53 |
| Talbros Engineering Ltd | 538987 | Active | X | 10 | 311 | 1585798330 | 16.28 | 19.1 |
| Captain Polyplast Ltd | 536974 | Active | X | 10 | 158 | 1587004298 | 29.25 | 5.4 |
| OSCAR INVESTMENTS LTD. | 501179 | Active | XT | 10 | 87.4 | 1587338027 | 7.33 | 11.92 |
| CYBERTECH SYSTEMS AND SOFTWARE LTD. | 532173 | Active | B | 10 | 58.2 | 1594347059 | 24.7 | 2.36 |
| 20 MICRONS LTD. | 533022 | Active | B | 5 | 45.05 | 1599347008 | 11.7 | 3.85 |
| PRADEEP METALS LTD. | 513532 | Active | X | 10 | 93 | 1601900262 | 36.45 | 2.55 |
| LKP Securities Ltd | 540192 | Active | X | 2 | 21.35 | 1602409035 | 15.63 | 1.37 |
| TIPS INDUSTRIES LTD. | 532375 | Active | B | 10 | 118.2 | 1619760868 | 49.4 | 2.39 |
| MAZDA LTD.-$ | 523792 | Active | B | 10 | 378 | 1624247856 | 16.07 | 23.52 |
| Oceanaa Biotek Industries Ltd | 538019 | Active | B | 10 | 119.15 | 1631168525 | 23.32 | 5.11 |
| Talwalkars Better Value Fitness Ltd | 533200 | Active | B | 10 | 50.7 | 1638629703 | 3.12 | 16.25 |
| POLSON LTD. | 507645 | Active | X | 50 | 14211 | 1641100491 | 13.1 | 1084.95 |
| WEBSOL ENERGY SYSTEM LTD. | 517498 | Active | B | 10 | 59.15 | 1674678858 | 3.06 | 19.34 |
| BANSWARA SYNTEX LTD.-$ | 503722 | Active | B | 10 | 98 | 1677294794 | 6.06 | 16.16 |
| INDIAN ACRYLICS LTD. | 514165 | Active | X | 10 | 12.56 | 1683962274 | 13.74 | 0.91 |
| SOUTH INDIA PAPER MILLS LTD. | 516108 | Active | XT | 10 | 115 | 1684869025 | 1673.46 | 0.07 |
| JTL INFRA LTD. | 534600 | Active | X | 10 | 173.45 | 1706688130 | 27.8 | 6.24 |
| CORAL INDIA FINANCE & HOUSING LTD. | 531556 | Active | B | 2 | 32.65 | 1712632224 | 13.34 | 2.45 |
| Diksat Transworld Ltd | 540151 | Active | M | 10 | 99.75 | 1714310981 | 1728.77 | 0.06 |
| Sheetal Cool Products Ltd | 540757 | Active | M | 10 | 167 | 1721244451 | 42.69 | 3.91 |
| GOKUL REFOILS & SOLVENT LTD. | 532980 | Active | B | 2 | 13.74 | 1730167853 | 1.05 | 13.07 |
| BAMBINO AGRO INDUSTRIES LTD. | 519295 | Active | XT | 10 | 218 | 1730930246 | 66.93 | 3.26 |
| Country Club Hospitality & Holidays Ltd | 526550 | Active | B | 2 | 10.65 | 1738185501 | 35.65 | 0.3 |
| COMPETENT AUTOMOBILES CO.LTD. | 531041 | Active | X | 10 | 277.4 | 1740722965 | 2.08 | 133.1 |
| UNITED DRILLING TOOLS LTD. | 522014 | Active | Z | 10 | 180.25 | 1753420989 | 250.89 | 0.72 |
| RCI Industries & Technologies Ltd | 537254 | Active | B | 10 | 130.65 | 1756486477 | 5.35 | 24.42 |
| FAZE THREE LTD.-$ | 530079 | Active | X | 10 | 71.65 | 1768815993 | 5.33 | 13.45 |
| INTEGRA ENGINEERING INDIA LTD. | 505358 | Active | X | 1 | 53 | 1772947997 | 116.39 | 0.46 |
| BENARES HOTELS LTD. | 509438 | Active | XT | 10 | 1447 | 1788764036 | 48.68 | 29.72 |
| The Mandhana Retail Ventures Ltd | 540210 | Active | B | 10 | 72.7 | 1796870354 | 37.4 | 1.94 |
| GOLDIAM INTERNATIONAL LTD. | 526729 | Active | B | 10 | 72.2 | 1797048971 | 17.99 | 4.01 |
| PIX TRANSMISSIONS LTD. | 500333 | Active | X | 10 | 132 | 1801072944 | 1.7 | 77.71 |
| NITTA GELATIN INDIA LTD.-$ | 506532 | Active | X | 10 | 197 | 1801560469 | 47 | 4.19 |
| UTTAM GALVA STEELS LTD. | 513216 | Active | B | 10 | 12.45 | 1829122610 | 1.37 | 9.07 |
| ABM KNOWLEDGEWARE LTD. | 531161 | Active | X | 5 | 93.45 | 1830091285 | 12.27 | 7.61 |
| GINNI FILAMENTS LTD. | 590025 | Active | B | 10 | 26 | 1834038102 | 26.69 | 0.97 |
| MODISON METALS LTD.-$ | 506261 | Active | X | 1 | 57 | 1861384362 | 40.18 | 1.42 |
| Cineline India Limited | 532807 | Active | B | 5 | 67.55 | 1887139774 | 17.98 | 3.76 |
| ARCHIDPLY INDUSTRIES LTD. | 532994 | Active | B | 10 | 84.2 | 1888158493 | 25.39 | 3.32 |
| ADOR FONTECH LTD.-$ | 530431 | Active | X | 2 | 106 | 1892038732 | 31.23 | 3.39 |
| Khemani Distributors & Marketing Ltd | 539788 | Active | M | 5 | 165 | 1892400015 | 39.53 | 4.17 |
| National Fittings Limited | 531289 | Active | X | 10 | 225 | 1906289550 | 22.18 | 10.15 |
| BKM Industries Ltd | 539043 | Active | B | 1 | 27.45 | 1912083687 | 9.68 | 2.83 |
| INVESTMENT & PRECISION CASTINGS LTD. | 504786 | Active | X | 10 | 393 | 1916552139 | 60.62 | 6.48 |
| Bella Casa Fashion & Retail Ltd | 539399 | Active | B | 10 | 187 | 1917028443 | 35.57 | 5.26 |
| TRITON VALVES LTD. | 505978 | Active | X | 10 | 1900.75 | 1943193748 | 28.65 | 66.35 |
| IP RINGS LTD.-$ | 523638 | Active | X | 10 | 155.1 | 1946598447 | 28.29 | 5.48 |
| Manaksia Steels Ltd | 539044 | Active | B | 1 | 29.1 | 1962157794 | 12.47 | 2.33 |
| UMANG DAIRIES LTD. | 500231 | Active | B | 5 | 90.75 | 1982193262 | 37.92 | 2.39 |
| JMT AUTO LTD. | 513691 | Active | B | 1 | 3.85 | 1991892700 | 38.07 | 0.1 |
| CANTABIL RETAIL INDIA LTD. | 533267 | Active | T | 10 | 121 | 2005039938 | 35.98 | 3.36 |
| FOMENTO RESORTS & HOTELS LTD. | 503831 | Active | X | 10 | 125.7 | 2008063988 | 17.89 | 7.03 |
| NILE LTD. | 530129 | Active | X | 10 | 661.15 | 2015202464 | 6.53 | 101.19 |
| URJA GLOBAL LTD. | 526987 | Active | B | 1 | 4.16 | 2016476622 | 251.21 | 0.02 |
| TCI DEVELOPERS LTD. | 533393 | Active | B | 10 | 510.05 | 2020620152 | 48 | 10.63 |
| CORAL LABORATORIES LTD. | 524506 | Active | X | 10 | 569 | 2022480912 | 14.82 | 38.39 |
| Haldyn Glass Ltd-$ | 515147 | Active | X | 1 | 38.9 | 2027660635 | 31.4 | 1.24 |
| ELECTROTHERM (INDIA) LTD. | 526608 | Active | B | 10 | 160.3 | 2044718070 | 3.57 | 44.93 |
| SUNDARAM BRAKE LININGS LTD. | 590072 | Active | B | 10 | 510 | 2062038120 | 53 | 9.62 |
| Mangalam Organics Limited | 514418 | Active | X | 10 | 225.3 | 2063599555 | 16.43 | 13.71 |
| STEL Holdings Limited | 533316 | Active | B | 10 | 111 | 2068379328 | 38.44 | 2.89 |
| Signet Industries Limited | 512131 | Active | B | 1 | 6.9 | 2072394377 | 14.17 | 0.49 |
| IVP LTD. | 507580 | Active | B | 10 | 204.2 | 2074542915 | 20.14 | 10.14 |
| Birla Cable Ltd | 500060 | Active | T | 10 | 71.85 | 2083198666 | 23.58 | 3.05 |
| CHD DEVELOPERS LTD.-$ | 526917 | Active | X | 2 | 16.25 | 2086367091 | 35.83 | 0.45 |
| K.P. Energy Ltd | 539686 | Active | M | 10 | 265.55 | 2096698259 | 23.23 | 11.43 |
| LKP Finance Limited | 507912 | Active | X | 10 | 170.85 | 2097273692 | 24.91 | 6.86 |
| FRESHTROP FRUITS LTD. | 530077 | Active | X | 10 | 172.65 | 2113751976 | 21.56 | 8.01 |
| AVANTEL LTD. | 532406 | Active | X | 10 | 531 | 2119868289 | 11.61 | 45.72 |
| CAREER POINT LTD. | 533260 | Active | B | 10 | 119 | 2137169076 | 8.91 | 13.35 |
| SHREYANS INDUSTRIES LTD.-$ | 516016 | Active | B | 10 | 152.9 | 2141818222 | 8.2 | 18.64 |
| NAHAR CAPITAL & FINANCIAL SERVICES LTD. | 532952 | Active | B | 5 | 125.8 | 2145807008 | 5.27 | 23.87 |
| ALBERT DAVID LTD.-$ | 524075 | Active | B | 10 | 365 | 2147659635 | 19.91 | 18.33 |
| ARIHANT CAPITAL MARKETS LTD. | 511605 | Active | X | 5 | 104.5 | 2153996114 | 8.8 | 11.88 |
| KAKATIYA CEMENT SUGAR & INDUSTRIES LTD. | 500234 | Active | B | 10 | 272.65 | 2160424022 | 10.24 | 26.64 |
| J.L.MORISON (INDIA) LTD. | 506522 | Active | X | 10 | 1640 | 2164634360 | 32.23 | 50.88 |
| Mohota Industries Ltd | 530047 | Active | T | 10 | 157.8 | 2188504415 | 37.68 | 4.19 |
| Kriti Nutrients Ltd | 533210 | Active | X | 1 | 43.3 | 2189307759 | 15.21 | 2.85 |
| Fedders Electric and Engineering Ltd | 500139 | Active | B | 10 | 64.5 | 2190936774 | 4.49 | 14.37 |
| Zeal Aqua Ltd | 539963 | Active | M | 10 | 526 | 2194491462 | 78.12 | 6.73 |
| BCL Industries Ltd-$ | 524332 | Active | X | 10 | 137.1 | 2203495291 | 13.31 | 10.3 |
| KANPUR PLASTIPACK LTD. | 507779 | Active | X | 10 | 144 | 2205306864 | 13.71 | 10.5 |
| INTERNATIONAL CONVEYORS LTD. | 509709 | Active | T | 1 | 34.5 | 2215577408 | 51.15 | 0.67 |
| Lycos Internet Limited | 532368 | Active | B | 2 | 4.95 | 2219125816 | 0.59 | 8.39 |
| BHAGIRADHA CHEMICALS & INDUSTRIES LTD. | 531719 | Active | X | 10 | 290 | 2228139310 | 57.74 | 5.02 |
| BIMETAL BEARINGS LTD.-$ | 505681 | Active | X | 10 | 570 | 2230684740 | 51.63 | 11.04 |
| PASUPATI ACRYLON LTD. | 500456 | Active | X | 10 | 24.95 | 2238025972 | 7.57 | 3.3 |
| SREE RAYALASEEMA HI-STRENGTH HYPO LTD. | 532842 | Active | B | 10 | 135 | 2241440910 | 7.93 | 17.02 |
| SUPER SALES INDIA LTD.-$ | 512527 | Active | X | 10 | 729.9 | 2244291486 | 15.38 | 47.46 |
| VINYL CHEMICALS (INDIA) LTD. | 524129 | Active | B | 1 | 120.15 | 2246617234 | 18.71 | 6.42 |
| YAMINI INVESTMENTS COMPANY LTD. | 511012 | Active | XT | 1 | 4.09 | 2255113810 | 1498.17 | 0 |
| TECHNOFAB ENGINEERING LIMITED | 533216 | Active | B | 10 | 211.6 | 2262307076 | 7.96 | 26.58 |
| ALOK INDUSTRIES LTD. | 521070 | Active | T | 10 | 1.64 | 2268240624 | 0.4 | 4.15 |
| Mauria Udyog Ltd | 539219 | Active | XT | 10 | 169.65 | 2274579409 | 19.26 | 8.81 |
| SINCLAIRS HOTELS LTD.-$ | 523023 | Active | X | 10 | 410 | 2276546320 | 19.19 | 21.36 |
| COMPUAGE INFOCOM LTD. | 532456 | Active | B | 2 | 38.95 | 2281309841 | 11.26 | 3.46 |
| ARMAN FINANCIAL SERVICES LTD. | 531179 | Active | T | 10 | 400 | 2283947200 | 60.6 | 6.6 |
| Tiger Logistics (India) Ltd | 536264 | Active | X | 10 | 215 | 2286786440 | 21.74 | 9.89 |
| PONDY OXIDES & CHEMICALS LTD. | 532626 | Active | X | 10 | 413.6 | 2304101526 | 6.93 | 59.66 |
| Bigbloc Construction Ltd | 540061 | Active | B | 10 | 169.2 | 2324483432 | 62.23 | 2.72 |
| KRITI INDUSTRIES (INDIA) LTD.-$ | 526423 | Active | X | 1 | 51.5 | 2329918144 | 31.68 | 1.63 |
| SUNIL HITECH ENGINEERS LTD. | 532711 | Active | B | 1 | 4.78 | 2341652731 | 6.73 | 0.71 |
| DR.AGARWAL'S EYE HOSPITAL LTD.-$ | 526783 | Active | XT | 10 | 525 | 2346335775 | 23 | 22.83 |
| MANGALAM DRUGS & ORGANICS LTD. | 532637 | Active | B | 10 | 148.05 | 2356514267 | 10.02 | 14.78 |
| RADHA MADHAV CORPORATION LTD. | 532692 | Active | B | 10 | 27.5 | 2362244115 | 35.04 | 0.78 |
| EIMCO ELECON (INDIA) LTD. | 523708 | Active | B | 10 | 415 | 2370555945 | 14.71 | 28.21 |
| Ducon Infratechnologies Ltd | 534674 | Active | B | 1 | 30.5 | 2375381388 | 402.48 | 0.08 |
| ASI Industries Ltd | 502015 | Active | X | 1 | 28.2 | 2376352898 | 9.44 | 2.99 |
| LOVABLE LINGERIE LTD. | 533343 | Active | B | 10 | 160.95 | 2384830387 | 58.71 | 2.74 |
| INDOSOLAR LTD. | 533257 | Active | B | 10 | 6.07 | 2385697497 | 3.88 | 1.56 |
| SHERVANI INDUSTRIAL SYNDICATE LTD. | 526117 | Active | X | 10 | 779 | 2425514654 | 70.55 | 11.04 |
| Veljan Denison Limited | 505232 | Active | X | 10 | 1078 | 2433534334 | 16.99 | 63.46 |
| IRIS MEDIAWORKS LTD. | 531337 | Active | XT | 5 | 24.5 | 2445253566 | 6282.05 | 0 |
| KHODAY INDIA LTD.-$ | 507435 | Active | XT | 10 | 72.9 | 2450002621 | 77.12 | 0.95 |
| Hitech Corporation Ltd-$ | 526217 | Active | B | 10 | 143.1 | 2460634513 | 46.2 | 3.1 |
| DE NORA INDIA LTD. | 590031 | Active | B | 10 | 441.85 | 2481191477 | 138.9 | 3.18 |
| SHRI JAGDAMBA POLYMERS LTD. | 512453 | Active | X | 1 | 290 | 2484468570 | 19.78 | 14.66 |
| MSR INDIA LTD. | 508922 | Active | X | 5 | 40.1 | 2517557102 | 124.58 | 0.32 |
| ARTSON ENGINEERING LTD. | 522134 | Active | X | 1 | 67.95 | 2534162520 | 191.77 | 0.35 |
| PTC Industries Ltd | 539006 | Active | X | 10 | 475.05 | 2547381927 | 39.71 | 11.96 |
| AYM Syntex Ltd | 508933 | Active | B | 10 | 63 | 2550059001 | 19.25 | 3.27 |
| PANASONIC ENERGY INDIA COMPANY LTD.-$ | 504093 | Active | X | 10 | 340 | 2553772640 | 32.98 | 10.31 |
| JHS SVENDGAARD LABORATORIES LTD. | 532771 | Active | B | 10 | 57 | 2554738005 | 8.28 | 6.88 |
| Shanti Educational Initiatives Ltd | 539921 | Active | M | 10 | 159 | 2555908941 | 118.66 | 1.34 |
| RAJRATAN GLOBAL WIRE LTD. | 517522 | Active | X | 10 | 565.05 | 2559237401 | 14.63 | 38.62 |
| SAKSOFT LTD. | 590051 | Active | B | 10 | 242 | 2560211654 | 12.9 | 18.76 |
| Pearl Global Industries Limited | 532808 | Active | B | 10 | 116.5 | 2563174051 | 10.12 | 11.51 |
| GUJARAT SIDHEE CEMENT LTD. | 518029 | Active | T | 10 | 29.65 | 2563295600 | 23.86 | 1.24 |
| Shyam Century Ferrous Ltd | 539252 | Active | T | 1 | 11.2 | 2570128591 | 16.45 | 0.68 |
| GARNET INTERNATIONAL LTD. | 512493 | Active | XT | 10 | 136.75 | 2594819216 | 15 | 9.12 |
| INDSIL HYDRO POWER AND MANGANESE LTD.-$ | 522165 | Active | X | 10 | 165 | 2597806365 | 26.66 | 6.19 |
| TPL PLASTECH LTD. | 526582 | Active | B | 10 | 327 | 2605658298 | 22.19 | 14.73 |
| PANASONIC CARBON INDIA CO.LTD.-$ | 508941 | Active | X | 10 | 552 | 2617592280 | 20.86 | 26.46 |
| SAMKRG PISTONS & RINGS LTD.-$ | 520075 | Active | X | 10 | 261.05 | 2618547788 | 12.72 | 20.53 |
| ARIES AGRO LTD. | 532935 | Active | B | 10 | 195 | 2625165465 | 22.01 | 8.86 |
| S V GLOBAL MILL LTD. | 535621 | Active | X | 5 | 120 | 2629952760 | 52.53 | 2.28 |
| HOV SERVICES LTD. | 532761 | Active | B | 10 | 204.8 | 2631549172 | 4.76 | 43.01 |
| GUJARAT APOLLO INDUSTRIES LTD. | 522217 | Active | B | 10 | 206 | 2634816838 | 11.33 | 18.18 |
| LAKSHMI MILLS COMPANY LTD.-$ | 502958 | Active | X | 100 | 3650 | 2637632350 | 122.84 | 29.71 |
| Pudumjee Paper Products Ltd | 539785 | Active | B | 1 | 28.65 | 2643161468 | 12.64 | 2.27 |
| SAHYADRI INDUSTRIES LTD. | 532841 | Active | X | 10 | 271.5 | 2644083114 | 11.28 | 24.08 |
| PITTI LAMINATIONS LTD.-$ | 513519 | Active | B | 5 | 102.5 | 2680898468 | 25.31 | 4.05 |
| DHARAMSI MORARJI CHEMICAL CO.LTD. | 506405 | Active | X | 10 | 110 | 2693893730 | 25.97 | 4.24 |
| Sindhu Trade Links Limited | 532029 | Active | XT | 10 | 55.15 | 2695517982 | 3.62 | 15.24 |
| Pennar Engineered Building Systems Ltd | 539333 | Active | B | 10 | 77.5 | 2712013300 | 14.77 | 5.25 |
| NAHAR INDUSTRIAL ENTERPRISES LTD.-$ | 519136 | Active | B | 10 | 68.45 | 2741501848 | 6.94 | 9.87 |
| DONEAR INDUSTRIES LTD.-$ | 512519 | Active | B | 2 | 51.8 | 2742656114 | 21.72 | 2.39 |
| ADVANI HOTELS & RESORTS (INDIA) LTD. | 523269 | Active | B | 2 | 58.1 | 2743855801 | 31.74 | 1.83 |
| Bajaj Healthcare Ltd | 539872 | Active | M | 10 | 415 | 2754276980 | 28.6 | 14.51 |
| ARCOTECH LTD. | 532914 | Active | B | 2 | 25.35 | 2763904077 | 12.98 | 1.95 |
| INDO AMINES LTD.-$ | 524648 | Active | X | 10 | 85 | 2777227355 | 30.76 | 2.76 |
| GCM Securities Ltd | 535431 | Active | M | 1 | 14.65 | 2778574935 | 1907.55 | 0.01 |
| VIKAS WSP LTD. | 519307 | Active | X | 1 | 13.25 | 2789964851 | 10.68 | 1.24 |
| AGARWAL INDUSTRIAL CORPORATION LTD. | 531921 | Active | T | 10 | 281.9 | 2819704407 | 23.48 | 12 |
| CHOICE INTERNATIONAL LTD. | 531358 | Active | X | 10 | 140 | 2830827440 | 30.34 | 4.61 |
| ACRYSIL LTD. | 524091 | Active | X | 10 | 551 | 2838318363 | 24.81 | 22.21 |
| BINANI INDUSTRIES LTD. | 500059 | Active | B | 10 | 88.05 | 2841555158 | 1.69 | 51.96 |
| UTTAM SUGAR MILLS LTD. | 532729 | Active | B | 10 | 74 | 2845789362 | 2.75 | 26.94 |
| IND-SWIFT LABORATORIES LTD. | 532305 | Active | B | 10 | 63 | 2852438652 | 3.85 | 16.37 |
| MCNALLY BHARAT ENGINEERING COMPANY LTD. | 532629 | Active | B | 10 | 48.15 | 2852456840 | 3.44 | 14 |
| MONNET ISPAT & ENERGY LTD. | 513446 | Active | B | 10 | 13.74 | 2877728209 | 0.47 | 29.13 |
| SVARAJ TRADING & AGENCIES LTD. | 503624 | Active | XT | 10 | 196.35 | 2891647129 | 188.35 | 1.04 |
| KOPRAN LTD. | 524280 | Active | B | 10 | 65 | 2894278790 | 10.98 | 5.92 |
| Aditya Consumer Marketing Ltd | 540146 | Active | M | 10 | 202.3 | 2912563517 | 159.03 | 1.27 |
| FIBERWEB (INDIA) LTD. | 507910 | Active | X | 10 | 99.35 | 2920508451 | 7.87 | 12.62 |
| YASH PAPERS LTD.-$ | 516030 | Active | X | 10 | 83.5 | 2937951842 | 19.22 | 4.34 |
| Emmbi Industries Ltd | 533161 | Active | B | 10 | 169 | 2945306650 | 19.56 | 8.64 |
| AMTEK AUTO LTD.-$ | 520077 | Active | Z | 2 | 11.25 | 2955736069 | 0.47 | 23.81 |
| Genus Paper & Boards Ltd | 538961 | Active | B | 1 | 11.69 | 2961453861 | 21.33 | 0.55 |
| Satia Industries Ltd | 539201 | Active | XT | 10 | 313.4 | 2980257498 | 5.84 | 53.62 |
| NGL FINE-CHEM LTD. | 524774 | Active | X | 5 | 460 | 2988405180 | 21.88 | 21.02 |
| PODDAR PIGMENTS LTD.-$ | 524570 | Active | B | 10 | 287.1 | 2990513477 | 15.49 | 18.53 |
| KARUTURI GLOBAL LTD. | 531687 | Active | T | 1 | 2.02 | 3005270548 | 3.28 | 0.62 |
| Pil Italica Lifestyle Ltd | 500327 | Active | B | 1 | 13.21 | 3018249501 | 36.14 | 0.37 |
| INDO-NATIONAL LTD. | 504058 | Active | B | 10 | 800 | 3018548800 | 21.17 | 37.79 |
| Vaarad Ventures Ltd | 532320 | Active | X | 1 | 12.1 | 3019112090 | 18.16 | 0.67 |
| AGC Networks Limited | 500463 | Active | B | 10 | 111 | 3019643112 | 27.54 | 4.03 |
| Rama Steel Tubes Ltd | 539309 | Active | B | 5 | 186.9 | 3026819983 | 30.55 | 6.12 |
| MILKFOOD LTD. | 507621 | Active | X | 10 | 609.8 | 3040262115 | 450.22 | 1.35 |
| CUPID LTD.-$ | 530843 | Active | B | 10 | 270.4 | 3042778954 | 15.58 | 17.36 |
| SINGER INDIA LTD. | 505729 | Active | X | 2 | 58.75 | 3053561154 | 39.85 | 1.47 |
| VISHNU CHEMICALS LTD. | 516072 | Active | B | 10 | 254.9 | 3057309526 | 17.05 | 14.95 |
| SALZER ELECTRONICS LTD.-$ | 517059 | Active | B | 10 | 202.85 | 3064564784 | 15.85 | 12.8 |
| INDIAN TONERS & DEVELOPERS LTD.-$ | 523586 | Active | X | 10 | 232.5 | 3067224862 | 13.81 | 16.84 |
| Valiant Organics Ltd | 540145 | Active | M | 10 | 843.6 | 3101043984 | 26.92 | 31.34 |
| CL Educate Ltd | 540403 | Active | B | 10 | 220 | 3142263740 | 18.83 | 11.68 |
| JENBURKT PHARMACEUTICALS LTD. | 524731 | Active | X | 10 | 670 | 3160471740 | 20.4 | 32.84 |
| STAR PAPER MILLS LTD. | 516022 | Active | B | 10 | 198.6 | 3164321900 | 5.29 | 37.53 |
| Kkalpana Industries (India) Ltd | 526409 | Active | X | 2 | 33.5 | 3175221656 | 20.94 | 1.6 |
| KESAR PETROPRODUCTS LTD. | 524174 | Active | X | 1 | 35.1 | 3192479856 | 11.14 | 3.15 |
| KANORIA CHEMICALS & INDUSTRIES LTD. | 506525 | Active | B | 5 | 72.35 | 3201838981 | 48.7 | 1.49 |
| Ujaas Energy Limited | 533644 | Active | B | 1 | 15.8 | 3214046862 | 27.81 | 0.57 |
| GULSHAN POLYOLS LTD. | 532457 | Active | B | 1 | 69 | 3243836694 | 16.31 | 4.23 |
| LOYAL TEXTILE MILLS LTD.-$ | 514036 | Active | X | 10 | 660 | 3269679600 | 20.08 | 32.87 |
| PTL ENTERPRISES LTD.-$ | 509220 | Active | B | 2 | 50 | 3292485050 | 7.22 | 6.93 |
| RAJOO ENGINEERS LTD.-$ | 522257 | Active | X | 1 | 52.15 | 3306011694 | 23.4 | 2.23 |
| RUBFILA INTERNATIONAL LTD. | 500367 | Active | X | 5 | 74.6 | 3308338203 | 15.62 | 4.77 |
| KMC SPECIALITY HOSPITALS (INDIA) LTD. | 524520 | Active | X | 1 | 18.9 | 3309140982 | 43.56 | 0.43 |
| ORIENT PRESS LTD. | 526325 | Active | B | 10 | 355.15 | 3349237756 | 69.01 | 5.15 |
| Pritika Auto Industries Ltd | 539359 | Active | XT | 10 | 188 | 3354406732 | 23.07 | 8.15 |
| GALLANTT METAL LTD. | 532726 | Active | B | 10 | 42.9 | 3362620009 | 7.62 | 5.63 |
| D-Link (India) Ltd | 533146 | Active | T | 2 | 96.4 | 3392858979 | 14.04 | 6.87 |
| Virinchi Ltd | 532372 | Active | X | 10 | 120.75 | 3399158144 | 10.27 | 11.75 |
| TGV Sraac Ltd | 507753 | Active | X | 10 | 36.25 | 3435793922 | 6.24 | 5.81 |
| Arrow Greentech Ltd | 516064 | Active | B | 10 | 277.5 | 3457495432 | 16.07 | 17.27 |
| ADITYA BIRLA MONEY LTD.-$ | 532974 | Active | T | 1 | 61.75 | 3473373650 | 34.63 | 1.78 |
| Suyog Telematics Ltd | 537259 | Active | B | 10 | 343.05 | 3487724389 | 16.08 | 21.34 |
| Avadh Sugar & Energy Ltd | 540649 | Active | B | 10 | 348 | 3501216168 | 1.63 | 213.32 |
| Viaan Industries Ltd | 537524 | Active | X | 1 | 31.3 | 3501961978 | 13.16 | 2.38 |
| PREMIER EXPLOSIVES LTD. | 526247 | Active | B | 10 | 335.15 | 3505562358 | 52.54 | 6.38 |
| LLOYDS METALS AND ENERGY LTD. | 512455 | Active | X | 1 | 15.9 | 3522467964 | 16.22 | 0.98 |
| AMINES & PLASTICIZERS LTD. | 506248 | Active | X | 2 | 64 | 3526607744 | 252.89 | 0.25 |
| Adhunik Industries Ltd | 538365 | Active | B | 10 | 72.35 | 3548503926 | 137.77 | 0.53 |
| KABRA EXTRUSIONTECHNIK LTD. | 524109 | Active | B | 5 | 112.6 | 3559633098 | 25.46 | 4.42 |
| ASHIMA LTD. | 514286 | Active | B | 10 | 27.75 | 3571816580 | 2.38 | 11.68 |
| BPL LTD. | 500074 | Active | B | 10 | 72.25 | 3583606864 | 19.63 | 3.68 |
| SUBEX LTD. | 532348 | Active | B | 10 | 6.62 | 3592136003 | 17.97 | 0.37 |
| RUCHIRA PAPERS LTD. | 532785 | Active | B | 10 | 162 | 3601858428 | 8.85 | 18.31 |
| BANNARI AMMAN SPINNING MILLS LTD. | 532674 | Active | B | 10 | 230 | 3617831920 | 18.55 | 12.4 |
| A2Z Infra Engineering Limited | 533292 | Active | B | 10 | 20.1 | 3621274399 | 1.47 | 13.67 |
| EMKAY GLOBAL FINANCIAL SERVICES LTD. | 532737 | Active | B | 10 | 140.2 | 3623037526 | 12.32 | 11.38 |
| ORIENTAL VENEER PRODUCTS LTD. | 531859 | Active | XT | 10 | 640.05 | 3625981108 | 110.09 | 5.81 |
| LIBERTY SHOES LTD. | 526596 | Active | B | 10 | 210 | 3627236970 | 21.15 | 9.93 |
| GP Petroleums Limited | 532543 | Active | B | 5 | 73.35 | 3655574534 | 20.59 | 3.56 |
| STEELCAST LTD. | 513517 | Active | X | 5 | 182.35 | 3726273870 | 27.17 | 6.71 |
| TALBROS AUTOMOTIVE COMPONENTS LTD. | 505160 | Active | B | 10 | 300 | 3734697600 | 19.09 | 15.71 |
| Swelect Energy Systems Limited-$ | 532051 | Active | B | 10 | 366.1 | 3745894625 | 22.35 | 16.38 |
| ELDECO HOUSING & INDUSTRIES LTD. | 523329 | Active | X | 10 | 1793.7 | 3750969195 | 17.59 | 101.96 |
| SHIRPUR GOLD REFINERY LTD. | 512289 | Active | B | 10 | 129.4 | 3773179210 | 40.01 | 3.23 |
| VOITH PAPER FABRICS INDIA LTD.-$ | 522122 | Active | XT | 10 | 875 | 3777262125 | 20.59 | 42.5 |
| GLOBUS SPIRITS LTD. | 533104 | Active | B | 10 | 131.2 | 3792338798 | 51.88 | 2.53 |
| SRG HOUSING FINANCE LTD. | 534680 | Active | X | 10 | 304.9 | 3805258944 | 57.14 | 5.34 |
| ASIAN OILFIELD SERVICES LTD. | 530355 | Active | X | 10 | 136.3 | 3816080462 | 25.85 | 5.27 |
| TANLA SOLUTIONS LTD. | 532790 | Active | T | 1 | 33.85 | 3821417418 | 9.55 | 3.54 |
| Ravindra Energy Ltd | 504341 | Active | X | 10 | 33.05 | 3841101912 | 48.28 | 0.68 |
| Millitoons Entertainment Ltd | 540023 | Active | X | 1 | 22.95 | 3849267259 | 259.15 | 0.09 |
| SAT INDUSTRIES LTD.-$ | 511076 | Active | X | 2 | 36 | 3851129520 | 27.8 | 1.29 |
| DOLAT INVESTMENTS LTD. | 505526 | Active | X | 1 | 23.04 | 3856887767 | 20.27 | 1.14 |
| RAM RATNA WIRES LTD.-$ | 522281 | Active | X | 5 | 177.5 | 3858186505 | 40.61 | 4.37 |
| SIL INVESTMENTS LTD. | 521194 | Active | B | 10 | 360 | 3866205240 | 41.59 | 8.66 |
| 63 Moons Technologies Ltd | 526881 | Active | B | 2 | 81.5 | 3866930174 | 0.45 | 182.61 |
| CSL Finance Ltd | 530067 | Active | X | 10 | 654 | 3882913758 | 21.51 | 30.41 |
| SVP GLOBAL VENTURES LTD. | 505590 | Active | X | 10 | 297.1 | 3886862525 | 6.55 | 45.38 |
| ASAHI SONGWON COLORS LTD. | 532853 | Active | B | 10 | 332 | 3973779380 | 13.56 | 24.49 |
| DWARIKESH SUGAR INDUSTRIES LTD. | 532610 | Active | B | 1 | 19.85 | 3974175266 | 3.68 | 5.39 |
| MANAKSIA LTD. | 532932 | Active | B | 2 | 59.1 | 4001499967 | 4.29 | 13.79 |
| ORBIT EXPORTS LTD. | 512626 | Active | B | 10 | 140 | 4030684000 | 18.84 | 7.43 |
| SHREE DIGVIJAY CEMENT CO.LTD.-$ | 502180 | Active | X | 10 | 28.2 | 4069298800 | 29.82 | 0.95 |
| EPC INDUSTRIE LTD. | 523754 | Active | X | 10 | 145 | 4084493110 | 82.86 | 1.75 |
| SARLA PERFORMANCE FIBERS LTD.-$ | 526885 | Active | B | 1 | 48.55 | 4106351896 | 11.71 | 4.15 |
| Veto Switchgears and Cables Ltd | 539331 | Active | B | 10 | 218.8 | 4106801665 | 14.96 | 14.63 |
| Kiran Vyapar Ltd | 537750 | Active | X | 10 | 155 | 4116268350 | 7.91 | 19.59 |
| CHANNEL NINE ENTERTAINMENT LTD. | 535142 | Active | M | 1 | 17.75 | 4127457999 | 4634.46 | 0 |
| TRIGYN TECHNOLOGIES LTD. | 517562 | Active | B | 10 | 135.1 | 4138771799 | 10.62 | 12.72 |
| ESTEEM BIO ORGANIC FOOD PROCESSING LTD. | 534927 | Active | M | 1 | 16.4 | 4144364364 | 278.86 | 0.06 |
| JVL AGRO INDUSTRIES LTD. | 519248 | Active | B | 1 | 24.5 | 4156162801 | 5.43 | 4.51 |
| SHIVALIK BIMETAL CONTROLS LTD. | 513097 | Active | X | 2 | 111 | 4167207732 | 128.17 | 0.87 |
| HINDUSTAN FOODS LTD. | 519126 | Active | X | 10 | 320 | 4167748800 | 99.27 | 3.22 |
| R Systems International Limited | 532735 | Active | B | 1 | 34.5 | 4174561514 | 19.39 | 1.78 |
| INDAG RUBBER LTD.-$ | 509162 | Active | X | 2 | 160.05 | 4194762374 | 19.08 | 8.39 |
| PIONEER DISTILLERIES LTD. | 531879 | Active | B | 10 | 299 | 4194998106 | 5.72 | 52.31 |
| ANUH PHARMA LTD. | 506260 | Active | X | 5 | 163.9 | 4209364871 | 23.9 | 6.86 |
| PG ELECTROPLAST LTD. | 533581 | Active | B | 10 | 248.5 | 4209720711 | 59.47 | 4.18 |
| SELAN EXPLORATION TECHNOLOGY LTD.-$ | 530075 | Active | B | 10 | 249.05 | 4228379669 | 26.57 | 9.37 |
| Gold Line International Finvest Ltd | 538180 | Active | X | 1 | 7.98 | 4232407704 | 3990 | 0 |
| NELCO LTD. | 504112 | Active | T | 10 | 186.1 | 4233128814 | 35.1 | 5.3 |
| HERCULES HOISTS LTD. | 505720 | Active | B | 1 | 131.55 | 4250979809 | 69.53 | 1.89 |
| ECO FRIENDLY FOOD PROCESSING PARK LTD. | 534839 | Active | M | 1 | 17.25 | 4265301999 | 258.16 | 0.07 |
| NITCO LTD. | 532722 | Active | B | 10 | 75.7 | 4277887524 | 4.08 | 18.57 |
| ORIENT ABRASIVES LTD.-$ | 504879 | Active | B | 1 | 36.3 | 4289631240 | 59.53 | 0.61 |
| ORIENT BELL LIMITED-$ | 530365 | Active | B | 10 | 297.5 | 4335052190 | 11.99 | 24.81 |
| OnMobile Global Ltd. | 532944 | Active | B | 10 | 40.35 | 4355320610 | 47.92 | 0.84 |
| INDRAPRASTHA MEDICAL CORP.LTD. | 532150 | Active | B | 10 | 47.4 | 4374906855 | 20.57 | 2.3 |
| Best Steel Logistics Ltd | 538566 | Active | X | 2 | 166.25 | 4384602688 | 47.71 | 3.48 |
| MAHANIVESH (INDIA) LTD. | 530441 | Active | XT | 10 | 439.85 | 4391641920 | 619507.06 | 0 |
| RIDDHI SIDDHI GLUCO BIOLS LTD.-$ | 524480 | Active | X | 10 | 620 | 4395754740 | 11.01 | 56.32 |
| LINCOLN PHARMACEUTICALS LTD. | 531633 | Active | B | 10 | 220.35 | 4401111709 | 15.3 | 14.4 |
| INDO RAMA SYNTHETICS (INDIA) LTD. | 500207 | Active | B | 10 | 28.35 | 4416823747 | 10.71 | 2.65 |
| KOTHARI PRODUCTS LTD. | 530299 | Active | B | 10 | 148 | 4424705680 | 6.83 | 21.66 |
| Vidhi Specialty Food Ingredients Ltd-$ | 531717 | Active | B | 1 | 90.1 | 4439013208 | 29.26 | 3.08 |
| VERITAS (INDIA) LTD. | 512229 | Active | XT | 1 | 166.6 | 4459582117 | 6.25 | 26.66 |
| CHEMBOND CHEMICALS LTD.-$ | 530871 | Active | X | 5 | 335 | 4478189885 | 25.15 | 13.32 |
| THEMIS MEDICARE LTD. | 530199 | Active | B | 10 | 483 | 4504127628 | 39.04 | 12.37 |
| JINDAL DRILLING & INDUSTRIES LTD. | 511034 | Active | B | 5 | 155.4 | 4519202452 | 5.63 | 27.59 |
| TAMILNADU PETROPRODUCTS LTD. | 500777 | Active | B | 10 | 49.25 | 4521909534 | 35.72 | 1.38 |
| Bhageria Industries Ltd | 530803 | Active | B | 5 | 292 | 4523701668 | 12.21 | 23.91 |
| CMI FPE LTD.-$ | 500147 | Active | X | 10 | 924 | 4540056444 | 43.15 | 21.41 |
| BALASORE ALLOYS LTD. | 513142 | Active | X | 5 | 48.45 | 4551269960 | 695.62 | 0.07 |
| GANESH BENZOPLAST LTD. | 500153 | Active | X | 1 | 87.85 | 4652174153 | 17.67 | 4.97 |
| CMI LTD. | 517330 | Active | B | 10 | 306.1 | 4714106918 | 10.75 | 28.47 |
| ANJANI PORTLAND CEMENT LTD.-$ | 518091 | Active | B | 10 | 187.25 | 4722521772 | 16.37 | 11.44 |
| ANDHRA PETROCHEMICALS LTD. | 500012 | Active | X | 10 | 57.6 | 4727516246 | 12.79 | 4.5 |
| BHARTIYA INTERNATIONAL LTD. | 526666 | Active | B | 10 | 390.1 | 4758105169 | 18.12 | 21.53 |
| ABC BEARINGS LTD.-$ | 505665 | Active | X | 10 | 412.9 | 4765710310 | 58.59 | 7.05 |
| PAUSHAK LTD. | 532742 | Active | X | 10 | 1514.95 | 4775637329 | 26.55 | 57.07 |
| Paul Merchants Ltd | 539113 | Active | X | 10 | 4794 | 4865349102 | 24.2 | 198.13 |
| EVEREST KANTO CYLINDER LTD. | 532684 | Active | B | 2 | 43.05 | 4888038160 | 4.52 | 9.53 |
| DEEP INDUSTRIES LTD. | 532760 | Active | B | 10 | 149.85 | 4890203151 | 39.33 | 3.81 |
| HUBTOWN LTD. | 532799 | Active | B | 10 | 66.1 | 4891745260 | 984.36 | 0.07 |
| VARDHMAN SPECIAL STEELS LTD. | 534392 | Active | B | 10 | 132.15 | 4912524183 | 16.75 | 7.89 |
| PLASTIBLENDS INDIA LTD.-$ | 523648 | Active | B | 5 | 191 | 4927556284 | 23.6 | 8.09 |
| VIMTA LABS LTD.-$ | 524394 | Active | B | 2 | 216.9 | 4931762744 | 34.49 | 6.29 |
| AURIONPRO SOLUTIONS LTD. | 532668 | Active | B | 10 | 214.2 | 4967698269 | 11.37 | 18.84 |
| Generic Engineering Construction and Projects Ltd | 539407 | Active | X | 10 | 306 | 4998002958 | 43.5 | 7.03 |
| COSMO FILMS LTD. | 508814 | Active | B | 10 | 253.25 | 5010718648 | 7.24 | 35 |
| AMRIT CORP.LTD.-$ | 507525 | Active | X | 10 | 1610.7 | 5012612608 | 25.07 | 64.25 |
| Salasar Techno Engineering Ltd | 540642 | Active | B | 10 | 379.95 | 5014995546 | 17.47 | 21.75 |
| TCPL PACKAGING LTD.-$ | 523301 | Active | B | 10 | 555 | 5048076315 | 22.96 | 24.18 |
| JK Agri Genetics Ltd | 536493 | Active | X | 10 | 1469 | 5056537447 | 44.18 | 33.25 |
| UNIVERSAL CABLES LTD. | 504212 | Active | B | 10 | 146.8 | 5060231924 | 8.98 | 16.35 |
| MAC CHARLES (INDIA) LTD. | 507836 | Active | Z | 10 | 388.8 | 5085746840 | 22.69 | 17.13 |
| ADF FOODS LTD.-$ | 519183 | Active | B | 10 | 247.25 | 5108265851 | 37.86 | 6.53 |
| ALPHAGEO (INDIA) LTD.-$ | 526397 | Active | B | 10 | 800 | 5118293600 | 8 | 100.05 |
| IL&FS INVESTMENT MANAGERS LTD. | 511208 | Active | B | 2 | 15.8 | 5129202331 | 40.02 | 0.39 |
| AKSHARCHEM (INDIA) LTD.-$ | 524598 | Active | B | 10 | 623 | 5177850811 | 14.84 | 41.99 |
| WPIL LTD. | 505872 | Active | X | 10 | 531 | 5192559792 | 18.9 | 28.09 |
| ADOR WELDING LTD. | 517041 | Active | B | 10 | 377.25 | 5227709809 | 30.39 | 12.41 |
| Bharat Wire Ropes Ltd | 539799 | Active | B | 10 | 119 | 5260189011 | 973.26 | 0.12 |
| Dhanlaxmi Bank Limited | 532180 | Active | B | 10 | 20.35 | 5290455777 | 113.23 | 0.18 |
| SANGAM (INDIA) LTD. | 514234 | Active | B | 10 | 125.05 | 5292129384 | 9.36 | 13.37 |
| Kellton Tech Solutions Ltd. | 519602 | Active | B | 5 | 56.8 | 5298076558 | 9.1 | 6.24 |
| NITIN SPINNERS LTD. | 532698 | Active | B | 10 | 93.8 | 5333989702 | 8.95 | 10.48 |
| GANDHI SPECIAL TUBES LTD.-$ | 513108 | Active | B | 5 | 393 | 5339885928 | 17.08 | 23.01 |
| CREST VENTURES LIMITED | 511413 | Active | B | 10 | 200.1 | 5368919482 | 5.42 | 36.95 |
| Vascon Engineers Ltd | 533156 | Active | B | 10 | 33.65 | 5370869341 | 56.18 | 0.6 |
| IST LTD. | 508807 | Active | X | 10 | 949.9 | 5373452402 | 14.5 | 65.49 |
| Arihant Superstructures Limited | 506194 | Active | B | 10 | 135 | 5376775275 | 18.25 | 7.4 |
| LINC PEN & PLASTICS LTD.-$ | 531241 | Active | B | 10 | 374 | 5407716864 | 53.44 | 7 |
| BHUSHAN STEEL LTD. | 500055 | Active | B | 2 | 22.85 | 5442674655 | 1.16 | 19.71 |
| MENON BEARINGS LTD.-$ | 523828 | Active | B | 1 | 99.3 | 5469746040 | 25.82 | 3.85 |
| GPT INFRAPROJECTS LTD. | 533761 | Active | B | 10 | 183 | 5475878805 | 26.72 | 6.85 |
| SHRISTI INFRASTRUCTURE DEVELOPMENT CORPORATION LTD. | 511411 | Active | X | 10 | 244 | 5475958776 | 238.91 | 1.02 |
| VIVIMED LABS LTD. | 532660 | Active | B | 2 | 66 | 5502017004 | 2.98 | 22.16 |
| ATLANTA LTD. | 532759 | Active | B | 2 | 67.45 | 5504130600 | 13.6 | 4.96 |
| AKSH OPTIFIBRE LTD. | 532351 | Active | B | 5 | 33.15 | 5535938937 | 20 | 1.66 |
| UNIPHOS ENTERPRISES LTD. | 500429 | Active | B | 2 | 82.8 | 5571817301 | 32.52 | 2.55 |
| ALLSEC TECHNOLOGIES LTD. | 532633 | Active | B | 10 | 360.5 | 5631577788 | 8.75 | 41.2 |
| VIP Clothing Ltd | 532613 | Active | B | 2 | 66.95 | 5643440128 | 869.59 | 0.08 |
| AXISCADES Engineering Technologies Ltd | 532395 | Active | B | 5 | 151.1 | 5675174346 | 97.78 | 1.55 |
| DHAMPUR SUGAR MILLS LTD. | 500119 | Active | B | 10 | 83.55 | 5697473056 | 1.92 | 43.57 |
| MANALI PETROCHEMICAL LTD. | 500268 | Active | B | 5 | 33.25 | 5718430560 | 13 | 2.56 |
| RPP INFRA PROJECTS LTD. | 533284 | Active | B | 10 | 266.5 | 5729173028 | 24.37 | 10.93 |
| Arfin India Ltd | 539151 | Active | X | 10 | 422 | 5730191566 | 35.12 | 12.02 |
| KDDL LTD.-$ | 532054 | Active | B | 10 | 539.1 | 5753357422 | 53.2 | 10.13 |
| Stylam Industries Limited | 526951 | Active | X | 10 | 708.2 | 5821109489 | 31.19 | 22.71 |
| Asian Hotels (North) Limited | 500023 | Active | B | 10 | 300.05 | 5834299184 | 5.17 | 58.06 |
| RENAISSANCE JEWELLERY LTD. | 532923 | Active | B | 10 | 308 | 5839512140 | 9.1 | 33.86 |
| POKARNA LTD. | 532486 | Active | B | 2 | 188 | 5875622844 | 11.47 | 16.38 |
| HPC BIOSCIENCES LTD. | 535217 | Active | M | 1 | 37.5 | 5975668012 | 985.29 | 0.04 |
| STOVEC INDUSTRIES LTD. | 504959 | Active | X | 10 | 2799.95 | 5988580555 | 55.25 | 50.68 |
| SMS PHARMACEUTICALS LTD. | 532815 | Active | B | 1 | 70.55 | 6000708820 | 16.94 | 4.16 |
| Kamdhenu Ltd | 532741 | Active | B | 10 | 254 | 6014693584 | 45.88 | 5.54 |
| VADILAL INDUSTRIES LTD.-$ | 519156 | Active | B | 10 | 825.7 | 6016491213 | 71.22 | 11.59 |
| NACL Industries Ltd | 524709 | Active | B | 1 | 39.25 | 6055219646 | 73.32 | 0.54 |
| Nandan Denim Limited | 532641 | Active | B | 10 | 129 | 6119351328 | 10.1 | 12.77 |
| SQS India BFSI Limited | 533121 | Active | B | 10 | 569 | 6147671736 | 19.05 | 29.87 |
| IOL CHEMICALS & PHARMACEUTICALS LTD. | 524164 | Active | T | 10 | 111 | 6197213583 | 35.31 | 3.14 |
| IFB AGRO INDUSTRIES LTD. | 507438 | Active | T | 10 | 655 | 6201620565 | 21.14 | 30.98 |
| RPG LIFE SCIENCES LTD. | 532983 | Active | B | 8 | 375 | 6209392500 | 46.08 | 8.14 |
| KUANTUM PAPERS LTD. | 532937 | Active | X | 10 | 709.5 | 6222053904 | 8.55 | 83.02 |
| GANESH HOUSING CORPORATION LTD.-$ | 526367 | Active | B | 10 | 125.65 | 6222155281 | 8.18 | 15.35 |
| SHIVA TEXYARN LTD. | 511108 | Active | B | 10 | 480 | 6227553120 | 48.17 | 9.97 |
| PNB GILTS LTD. | 532366 | Active | B | 10 | 34.2 | 6236090759 | 16.45 | 2.08 |
| BHARAT SEATS LTD.-$ | 523229 | Active | X | 2 | 199.9 | 6240960168 | 22.25 | 8.99 |
| WENDT (INDIA) LTD. | 505412 | Active | B | 10 | 3124.95 | 6349407684 | 47.6 | 65.65 |
| RELIANCE INDUSTRIAL INFRASTRUCTURE LTD. | 523445 | Active | B | 10 | 417.7 | 6349547273 | 38.16 | 10.94 |
| CAPITAL TRUST LTD. | 511505 | Active | B | 10 | 390 | 6354319140 | 66.36 | 5.88 |
| Poddar Housing and Development Ltd | 523628 | Active | B | 10 | 1010 | 6363198970 | 195.96 | 5.15 |
| PENNAR INDUSTRIES LTD.-$ | 513228 | Active | B | 5 | 52.4 | 6384422055 | 12.03 | 4.36 |
| HINDUSTAN COMPOSITES LTD. | 509635 | Active | B | 5 | 430 | 6396018660 | 27.36 | 15.72 |
| NEULAND LABORATORIES LTD. | 524558 | Active | B | 10 | 715.5 | 6433940565 | 39.37 | 18.17 |
| KISAN MOULDINGS LTD.-$ | 530145 | Active | XT | 10 | 191.75 | 6456791998 | 209.21 | 0.92 |
| Praxis Home Retail Ltd | 540901 | Active | T | 5 | 255.6 | 6458839624 | 39.43 | 6.48 |
| Arvind SmartSpaces Ltd | 539301 | Active | B | 10 | 183 | 6475797576 | 18.92 | 9.67 |
| RUBY MILLS LTD. | 503169 | Active | B | 5 | 378.5 | 6508943758 | 17.5 | 21.63 |
| Shree Pushkar Chemicals & Fertilisers Ltd | 539334 | Active | B | 10 | 223.25 | 6515567547 | 19.12 | 11.68 |
| Beekay Steel Industries Ltd | 539018 | Active | X | 10 | 345 | 6526709655 | 18.15 | 19.01 |
| Apollo Pipes Ltd | 531761 | Active | X | 10 | 608.2 | 6619961548 | 14.82 | 41.03 |
| AUTOMOBILE CORPORATION OF GOA LTD.-$ | 505036 | Active | X | 10 | 1050 | 6622316400 | 29.01 | 36.19 |
| CHEVIOT CO.LTD.-$ | 526817 | Active | X | 10 | 1560 | 6701599320 | 11.81 | 132.07 |
| INDIAN TERRAIN FASHIONS LTD. | 533329 | Active | B | 2 | 178 | 6706552814 | 23.77 | 7.49 |
| 3I INFOTECH LTD. | 532628 | Active | B | 10 | 4.22 | 6729522409 | 8.44 | 0.5 |
| TRIBHOVANDAS BHIMJI ZAVERI LTD. | 534369 | Active | B | 10 | 103.35 | 6733414557 | 9.05 | 11.42 |
| Oriental Aromatics Ltd-$ | 500078 | Active | X | 10 | 770 | 6734869680 | 17.72 | 43.46 |
| GOA CARBON LTD.-$ | 509567 | Active | B | 10 | 732 | 6748600800 | 64.08 | 11.42 |
| DATAMATICS GLOBAL SERVICES LTD. | 532528 | Active | B | 5 | 121.45 | 6811162737 | 7.62 | 15.93 |
| ASSOCIATED ALCOHOLS & BREWERIES LTD. | 507526 | Active | X | 10 | 376.9 | 6893017703 | 27.11 | 13.9 |
| SAINT-GOBAIN SEKURIT INDIA LTD. | 515043 | Active | X | 10 | 75.55 | 6929500449 | 61.63 | 1.23 |
| MAN INDUSTRIES (INDIA) LTD.-$ | 513269 | Active | B | 5 | 120.6 | 6947400253 | 76.3 | 1.58 |
| GUJARAT BOROSIL LTD. | 523768 | Active | X | 5 | 99.35 | 6950673229 | 95.55 | 1.04 |
| SREELEATHERS LTD. | 535601 | Active | B | 10 | 275.1 | 6973742789 | 35.59 | 7.73 |
| DECCAN CEMENTS LTD.-$ | 502137 | Active | B | 5 | 495.95 | 6974337715 | 17.1 | 29 |
| ENKEI WHEELS (INDIA) LTD. | 533477 | Active | X | 5 | 464.8 | 6975264107 | 115.97 | 4.01 |
| SHIVAM AUTOTECH LTD. | 532776 | Active | B | 2 | 70.7 | 7020138239 | 65.28 | 1.08 |
| CENTURY ENKA LTD. | 500280 | Active | B | 10 | 319.45 | 7021266250 | 9.96 | 32.08 |
| GOODRICKE GROUP LTD. | 500166 | Active | X | 10 | 316.45 | 7100824356 | 21.61 | 14.65 |
| RSWM LTD. | 500350 | Active | B | 10 | 286.5 | 7129967066 | 21.89 | 13.09 |
| PRECISION WIRES INDIA LTD. | 523539 | Active | B | 5 | 309 | 7161243714 | 20.31 | 15.21 |
| CONTROL PRINT LTD.-$ | 522295 | Active | B | 10 | 440 | 7186978920 | 46.07 | 9.55 |
| MANGALORE CHEMICALS & FERTILIZERS LTD. | 530011 | Active | B | 10 | 59.15 | 7287622371 | 15.58 | 3.8 |
| CENTUM ELECTRONICS LTD. | 517544 | Active | B | 10 | 569.25 | 7316562850 | 24.07 | 23.65 |
| HPL Electric & Power Ltd | 540136 | Active | B | 10 | 112.9 | 7328103138 | 21.79 | 5.18 |
| EVEREST INDUSTRIES LTD. | 508906 | Active | B | 10 | 468.2 | 7328448721 | 78.76 | 5.94 |
| Thangamayil Jewellery Ltd | 533158 | Active | B | 10 | 538.85 | 7347488842 | 31.49 | 17.11 |
| RANE BRAKE LINING LTD. | 532987 | Active | B | 10 | 917.95 | 7368291117 | 20.32 | 45.17 |
| CHAMAN LAL SETIA EXPORTS LTD.-$ | 530307 | Active | X | 2 | 140.8 | 7397696647 | 17.46 | 8.07 |
| Polo Queen Industrial and Fintech Ltd | 540717 | Active | X | 10 | 111 | 7442028966 | 632.23 | 0.18 |
| PPAP Automotive Limited | 532934 | Active | B | 10 | 542.8 | 7475261222 | 54.18 | 10.02 |
| THE BYKE HOSPITALITY LTD. | 531373 | Active | B | 10 | 184.7 | 7502154635 | 22.41 | 8.24 |
| GENESYS INTERNATIONAL CORPORATION LTD. | 506109 | Active | B | 5 | 248.5 | 7509310669 | 31.9 | 7.79 |
| CEREBRA INTEGRATED TECHNOLOGIES LTD. | 532413 | Active | T | 10 | 62.1 | 7548078637 | 43.31 | 1.43 |
| GANESHA ECOSPHERE LTD. | 514167 | Active | B | 10 | 390 | 7579428870 | 22.16 | 17.6 |
| REPRO INDIA LTD. | 532687 | Active | B | 10 | 656.1 | 7620450970 | 57.45 | 11.42 |
| JAYBHARAT TEXTILES & REAL ESTATE LTD. | 512233 | Active | XT | 2 | 20 | 7644812000 | 23.83 | 0.84 |
| MEDICAMEN BIOTECH LTD.-$ | 531146 | Active | X | 10 | 652.5 | 7730807602 | 79.48 | 8.21 |
| GOLDSTONE INFRATECH LTD. | 532439 | Active | B | 4 | 148 | 7752866928 | 165.08 | 0.9 |
| ORIENT PAPER & INDUSTRIES LTD. | 502420 | Active | B | 1 | 35.9 | 7793987692 | 15.46 | 2.32 |
| DIL LTD. | 506414 | Active | X | 10 | 3700 | 7801894000 | 56.93 | 65 |
| SOM DISTILLERIES & BREWERIES LTD. | 507514 | Active | B | 10 | 275.6 | 7806394150 | 30.09 | 9.16 |
| Jaypee Infratech Ltd | 533207 | Active | T | 10 | 5.79 | 7831943112 | 2.7 | 2.15 |
| ORICON ENTERPRISES LTD.-$ | 513121 | Active | B | 2 | 50.3 | 7849660895 | 21.59 | 2.33 |
| NILA INFRASTRUCTURES LTD. | 530377 | Active | B | 1 | 19.95 | 7904682070 | 52.19 | 0.38 |
| JAYANT AGRO-ORGANICS LTD. | 524330 | Active | B | 5 | 265.15 | 7946318879 | 14.88 | 17.82 |
| SANDESH LTD. | 526725 | Active | B | 10 | 1038 | 7959196122 | 10.79 | 96.19 |
| AMBIKA COTTON MILLS LTD. | 531978 | Active | B | 10 | 1375 | 7975907500 | 13.34 | 103.11 |
| N.R.AGARWAL INDUSTRIES LTD. | 516082 | Active | B | 10 | 472 | 8084025656 | 8.93 | 52.83 |
| ELECON ENGINEERING CO.LTD. | 505700 | Active | B | 2 | 71 | 8110722772 | 106.75 | 0.67 |
| Leel Electricals Ltd | 517518 | Active | B | 10 | 203 | 8127971201 | 187.43 | 1.08 |
| GALLANTT ISPAT LTD. | 533265 | Active | B | 10 | 298 | 8129176866 | 14.65 | 20.34 |
| PHILLIPS CARBON BLACK LTD. | 506590 | Active | B | 2 | 231.25 | 8165743906 | 45.2 | 5.12 |
| PATEL ENGINEERING LTD.-$ | 531120 | Active | B | 1 | 51.05 | 8192440933 | 5.48 | 9.31 |
| INTRASOFT TECHNOLOGIES LTD. | 533181 | Active | B | 10 | 555.05 | 8212755516 | 68.98 | 8.05 |
| SORIL Infra Resources Ltd | 532679 | Active | T | 10 | 303.35 | 8241483343 | 48.59 | 6.24 |
| MULTIBASE INDIA LTD. | 526169 | Active | X | 10 | 656.05 | 8265817191 | 44.06 | 14.89 |
| MANGALAM CEMENT LTD. | 502157 | Active | B | 10 | 304.6 | 8289853041 | 41.97 | 7.26 |
| ASTRA MICROWAVE PRODUCTS LTD. | 532493 | Active | A | 2 | 95 | 8322083030 | 12.39 | 7.67 |
| TRANSPEK INDUSTRY LTD.-$ | 506687 | Active | X | 10 | 1465 | 8353654145 | 104.04 | 14.08 |
| Alicon Castalloy Limited | 531147 | Active | B | 5 | 640 | 8416152960 | 22.01 | 29.08 |
| INDIA MOTOR PARTS & ACCESSORIES LTD. | 590065 | Active | B | 10 | 988 | 8423849044 | 30.75 | 32.13 |
| S.P. Apparels Ltd | 540048 | Active | B | 10 | 330.1 | 8425087989 | 16.52 | 19.98 |
| RAJAPALAYAM MILLS LTD.-$ | 532503 | Active | X | 10 | 1169 | 8435666491 | 5.93 | 197.28 |
| Vikas EcoTech Ltd | 530961 | Active | B | 1 | 30.1 | 8479682771 | 28.24 | 1.07 |
| Bajaj Hindusthan Sugar Limited | 500032 | Active | A | 1 | 7.3 | 8552347738 | 58.74 | 0.12 |
| Kridhan Infra Limited | 533482 | Active | B | 2 | 100.1 | 8588773062 | 14.18 | 7.06 |
| DISA INDIA LTD. | 500068 | Active | X | 10 | 6000 | 8602728000 | 80.98 | 74.1 |
| FINEOTEX CHEMICAL LTD. | 533333 | Active | B | 2 | 76.1 | 8682434129 | 31.81 | 2.39 |
| FILATEX INDIA LTD.-$ | 526227 | Active | B | 10 | 202.8 | 8699828910 | 21.83 | 9.29 |
| AJMERA REALTY & INFRA INDIA LTD. | 513349 | Active | B | 10 | 247.5 | 8747692222 | 11.81 | 20.95 |
| BALMER LAWRIE INVESTMENTS LTD. | 532485 | Active | B | 10 | 398.1 | 8860452121 | 16.53 | 24.09 |
| BHARAT BIJLEE LTD.-$ | 503960 | Active | B | 10 | 1510 | 8920276680 | 38.13 | 39.6 |
| SANDUR MANGANESE & IRON ORES LTD. | 504918 | Active | X | 10 | 1007.05 | 8958960398 | 15.9 | 63.32 |
| MARATHON NEXTGEN REALTY LTD. | 503101 | Active | B | 5 | 203 | 8960862743 | 6.92 | 29.31 |
| ROLTA INDIA LTD. | 500366 | Active | B | 10 | 54.1 | 9032995162 | 5.26 | 10.29 |
| Z.F.STEERING GEAR (INDIA) LTD.-$ | 505163 | Active | B | 10 | 999.9 | 9069425188 | 35.76 | 27.96 |
| ATUL AUTO LTD.-$ | 531795 | Active | B | 5 | 423 | 9289053351 | 21.19 | 19.96 |
| B.L.KASHYAP AND SONS LTD. | 532719 | Active | B | 1 | 43 | 9293003179 | 7.74 | 5.56 |
| SUMMIT SECURITIES LTD. | 533306 | Active | B | 10 | 842 | 9339328438 | 23.27 | 36.18 |
| The Hi-Tech Gears Ltd | 522073 | Active | B | 10 | 491.1 | 9350255349 | 46.16 | 10.64 |
| ULTRAMARINE & PIGMENTS LTD.-$ | 506685 | Active | X | 2 | 305 | 9356669830 | 20.74 | 14.71 |
| ORISSA MINERALS DEVELOPMENT COMPANY LTD. | 590086 | Active | B | 1 | 1565.25 | 9367676895 | 499.84 | 3.13 |
| FOSECO INDIA LTD. | 500150 | Active | B | 10 | 1500 | 9409927500 | 29.89 | 50.19 |
| WINDSOR MACHINES LTD. | 522029 | Active | B | 2 | 141.7 | 9469803286 | 54.33 | 2.61 |
| Mold-Tek Packaging Limited | 533080 | Active | B | 5 | 347.85 | 9511190364 | 35.34 | 9.84 |
| MIRC ELECTRONICS LTD. | 500279 | Active | B | 1 | 41.25 | 9743135408 | 27.66 | 1.49 |
| TRIVENI ENGINEERING & INDUSTRIES LTD. | 532356 | Active | B | 1 | 37.85 | 9760928272 | 3.47 | 10.92 |
| MUKAND LTD. | 500460 | Active | B | 10 | 69.5 | 9812384188 | 4.9 | 14.19 |
| NCL INDUSTRIES LTD.-$ | 502168 | Active | B | 10 | 217.95 | 9941367813 | 14.9 | 14.63 |
| APTECH LTD. | 532475 | Active | B | 10 | 251.8 | 10216684404 | 35.61 | 7.07 |
| JAY BHARAT MARUTI LTD. | 520066 | Active | B | 5 | 474.95 | 10270064491 | 17.45 | 27.21 |
| Nath Bio-Genes (India) Ltd | 537291 | Active | B | 10 | 537.55 | 10310363043 | 33.73 | 15.94 |
| SHANTHI GEARS LTD. | 522034 | Active | B | 1 | 129.25 | 10321535733 | 36.93 | 3.5 |
| SINTEX INDUSTRIES LTD. | 502742 | Active | A | 1 | 17.1 | 10377039129 | 6.92 | 2.47 |
| RICO AUTO INDUSTRIES LTD. | 520008 | Active | B | 1 | 78 | 10502027952 | 23.11 | 3.38 |
| RUSHIL DECOR LTD. | 533470 | Active | B | 10 | 684.2 | 10548501796 | 34.86 | 19.63 |
| ESAB INDIA LTD. | 500133 | Active | B | 10 | 679 | 10632662663 | 36.34 | 18.69 |
| UFO Moviez India Ltd | 539141 | Active | B | 10 | 361.55 | 10649298701 | 17.72 | 20.4 |
| UNIPLY INDUSTRIES LTD. | 532646 | Active | B | 10 | 456 | 10738491288 | 44.23 | 10.31 |
| MAHANAGAR TELEPHONE NIGAM LTD. | 500108 | Active | B | 10 | 16.65 | 10772378491 | 1.55 | 10.71 |
| KOKUYO CAMLIN LTD.-$ | 523207 | Active | B | 1 | 105.4 | 10778805674 | 54.93 | 1.92 |
| Monte Carlo Fashions Ltd | 538836 | Active | B | 10 | 497.1 | 10900483499 | 17.57 | 28.3 |
| KSE LTD.-$ | 519421 | Active | XT | 10 | 3425 | 10961202175 | 18.23 | 187.91 |
| SML ISUZU LIMITED | 505192 | Active | B | 10 | 751 | 10976760192 | 438.3 | 1.71 |
| HOTEL LEELAVENTURE LTD. | 500193 | Active | B | 2 | 17.3 | 11045809372 | 5.76 | 3 |
| Sharda Motor Industries Ltd | 535602 | Active | B | 10 | 1877 | 11122685306 | 31.61 | 59.38 |
| KALYANI INVESTMENT COMPANY LTD. | 533302 | Active | B | 10 | 2500 | 11174220000 | 29.7 | 84.17 |
| WATERBASE LTD. | 523660 | Active | X | 10 | 264.1 | 11178825322 | 38.71 | 6.82 |
| G N A Axles Ltd | 540124 | Active | B | 10 | 511.9 | 11210308357 | 27.12 | 18.87 |
| FIEM INDUSTRIES LTD. | 532768 | Active | B | 10 | 856.05 | 11292408780 | 96.91 | 8.83 |
| SICAL LOGISTICS LTD. | 520086 | Active | B | 10 | 201.4 | 11295143651 | 30.15 | 6.68 |
| APCOTEX INDUSTRIES LTD. | 523694 | Active | B | 5 | 545.65 | 11343387402 | 29.19 | 18.7 |
| Sanwaria Consumer Ltd-$ | 519260 | Active | B | 1 | 15.6 | 11395137154 | 11.53 | 1.35 |
| MEP Infrastructure Developers Ltd | 539126 | Active | B | 10 | 70 | 11399976000 | 20.15 | 3.47 |
| ZEE LEARN LTD. | 533287 | Active | B | 1 | 35.3 | 11404829759 | 23.16 | 1.52 |
| SUTLEJ TEXTILES & INDUSTRIES LTD. | 532782 | Active | B | 1 | 63.7 | 11457384012 | 7.64 | 8.34 |
| GUFIC BIOSCIENCES LTD. | 509079 | Active | B | 1 | 146.8 | 11471796045 | 62.72 | 2.34 |
| Kwality Limited | 531882 | Active | A | 1 | 47.55 | 11493582016 | 10.46 | 4.54 |
| MPS LTD. | 532440 | Active | B | 10 | 629.05 | 11539253975 | 16.56 | 37.99 |
| LUMAX AUTO TECHNOLOGIES LTD. | 532796 | Active | B | 10 | 845 | 11570376285 | 27.27 | 30.98 |
| VISAKA INDUSTRIES LTD. | 509055 | Active | B | 10 | 717.75 | 11599153657 | 17.12 | 41.92 |
| VOLTAMP TRANSFORMERS LTD. | 532757 | Active | B | 10 | 1069.8 | 11660411869 | 14.23 | 75.17 |
| WEIZMANN FOREX LTD. | 533452 | Active | B | 10 | 1022 | 11673665206 | 79.97 | 12.78 |
| MARKSANS PHARMA LTD. | 524404 | Active | A | 1 | 27.45 | 11683945610 | 30.69 | 0.89 |
| SESHASAYEE PAPER & BOARDS LTD. | 502450 | Active | B | 10 | 932.05 | 11736955045 | 71.29 | 13.07 |
| ASHAPURA INTIMATES FASHION LTD. | 535467 | Active | B | 10 | 462.85 | 11773747030 | 94.96 | 4.87 |
| GATI LTD. | 532345 | Active | A | 2 | 108.7 | 11834025619 | 23.41 | 4.64 |
| SHAILY ENGINEERING PLASTICS LTD. | 501423 | Active | X | 10 | 1398 | 11843253462 | 48.6 | 28.77 |
| PANAMA PETROCHEM LTD. | 524820 | Active | B | 2 | 197.9 | 11872337274 | 20.22 | 9.79 |
| GRAVITA INDIA LTD. | 533282 | Active | B | 2 | 172.8 | 11944027968 | 27.43 | 6.3 |
| EMPIRE INDUSTRIES LTD. | 509525 | Active | B | 10 | 1990 | 11961611400 | 24.66 | 80.69 |
| JINDAL POLY FILMS LTD. | 500227 | Active | B | 10 | 268.3 | 11990474288 | 8.36 | 32.1 |
| MAN INFRACONSTRUCTION LTD. | 533169 | Active | B | 2 | 49.15 | 12003065194 | 19.28 | 2.55 |
| FORTUNE FINANCIAL SERVICES (INDIA) LTD. | 530023 | Active | B | 10 | 238 | 12020105748 | 25.28 | 9.42 |
| HOUSING DEVELOPMENT & INFRASTRUCTURE LTD. | 532873 | Active | A | 10 | 26.95 | 12039352550 | 6.64 | 4.06 |
| ORIENTAL CARBON & CHEMICALS LTD.-$ | 506579 | Active | B | 10 | 1146 | 12047749020 | 42.7 | 26.84 |
| SHREYAS SHIPPING & LOGISTICS LTD. | 520151 | Active | B | 10 | 540 | 12051394920 | 115.39 | 4.68 |
| NUCLEUS SOFTWARE EXPORTS LTD. | 531209 | Active | B | 10 | 411.25 | 12102893390 | 19.9 | 20.67 |
| WIM PLAST LTD.-$ | 526586 | Active | B | 10 | 1002 | 12104079840 | 26.48 | 37.84 |
| Shemaroo Entertainment Ltd | 538685 | Active | B | 10 | 454 | 12111619050 | 17.59 | 25.81 |
| VARDHMAN HOLDINGS LTD. | 500439 | Active | B | 10 | 3808 | 12116317248 | 4.01 | 950.06 |
| Paisalo Digital Ltd | 532900 | Active | B | 10 | 301.05 | 12116863117 | 20.93 | 14.38 |
| GENUS POWER INFRASTRUCTURES LTD.-$ | 530343 | Active | B | 1 | 49.55 | 12131048090 | 11.92 | 4.16 |
| CONFIDENCE PETROLEUM INDIA LTD. | 526829 | Active | XT | 1 | 49.3 | 12162135684 | 78.24 | 0.63 |
| Anant Raj Limited-$ | 515055 | Active | B | 2 | 41 | 12209516895 | 21.11 | 1.94 |
| Kirloskar Industries Ltd | 500243 | Active | B | 10 | 1271 | 12210429637 | 21.15 | 60.08 |
| HESTER BIOSCIENCES LTD. | 524669 | Active | B | 10 | 1511 | 12254394342 | 155.55 | 9.71 |
| KIRLOSKAR PNEUMATIC CO.LTD. | 505283 | Active | B | 10 | 965.6 | 12331751639 | 24.82 | 38.9 |
| TOURISM FINANCE CORPORATION OF INDIA LTD. | 526650 | Active | B | 10 | 152.75 | 12386550352 | 15.08 | 10.13 |
| CLARIANT CHEMICALS (INDIA) LTD. | 506390 | Active | B | 10 | 559.8 | 12559644536 | 46.75 | 11.97 |
| KIRLOSKAR FERROUS INDUSTRIES LTD. | 500245 | Active | B | 5 | 93.35 | 12752226088 | 33.68 | 2.77 |
| SHAKTI PUMPS (INDIA) LTD.-$ | 531431 | Active | B | 10 | 689 | 12754458639 | 36.42 | 18.92 |
| TECHNOCRAFT INDUSTRIES (INDIA) LTD. | 532804 | Active | B | 10 | 520.1 | 12781495387 | 48.18 | 10.79 |
| KALYANI STEELS LTD. | 500235 | Active | B | 5 | 297.4 | 12835141650 | 11.44 | 25.99 |
| RAMCO SYSTEMS LTD. | 532370 | Active | B | 10 | 428 | 12855706316 | 86.67 | 4.94 |
| BF INVESTMENT LTD. | 533303 | Active | B | 5 | 331.9 | 12869987821 | 9.46 | 35.1 |
| Kingfa Science & Technology (India) Ltd-$ | 524019 | Active | B | 10 | 1112 | 12942345600 | 65.2 | 17.06 |
| S Chand and Company Ltd | 540497 | Active | B | 5 | 370.65 | 13173997166 | 19.04 | 19.47 |
| ASTEC LIFESCIENCES LIMITED | 533138 | Active | B | 10 | 673 | 13183968377 | 37.71 | 17.85 |
| KIRI INDUSTRIES LTD. | 532967 | Active | B | 10 | 426.15 | 13274200281 | 5.9 | 72.17 |
| M.M.FORGINGS LTD.-$ | 522241 | Active | B | 10 | 1103.4 | 13297715873 | 24.72 | 44.64 |
| ASIAN GRANITO INDIA LTD. | 532888 | Active | B | 10 | 448.2 | 13420781496 | 26.79 | 16.73 |
| International Paper APPM Limited | 502330 | Active | B | 10 | 338.25 | 13430609296 | 16.19 | 20.89 |
| MASTEK LTD. | 523704 | Active | B | 5 | 568.25 | 13551171968 | 20.18 | 28.16 |
| TTK HEALTHCARE LTD.-$ | 507747 | Active | B | 10 | 975 | 13642352100 | 29.88 | 32.63 |
| AARTI DRUGS LTD. | 524348 | Active | B | 10 | 560.35 | 13670796716 | 16.86 | 33.24 |
| SAFARI INDUSTRIES (INDIA) LTD. | 523025 | Active | X | 2 | 620 | 13721701120 | 224.38 | 2.76 |
| PTC INDIA FINANCIAL SERVICES LTD. | 533344 | Active | A | 10 | 21.55 | 13957543072 | 3.68 | 5.86 |
| TAJGVK HOTELS & RESORTS LTD. | 532390 | Active | B | 2 | 221.1 | 14011392164 | 134.97 | 1.64 |
| EROS INTERNATIONAL MEDIA LTD. | 533261 | Active | A | 10 | 140.75 | 14143559466 | 6.66 | 21.14 |
| POLYPLEX CORPORATION LTD. | 524051 | Active | B | 10 | 470.1 | 14307848611 | 11 | 42.73 |
| V2 RETAIL LTD. | 532867 | Active | B | 10 | 417.8 | 14316498577 | 52.1 | 8.02 |
| STERLING TOOLS LTD.-$ | 530759 | Active | B | 2 | 401 | 14406983640 | 48.93 | 8.19 |
| HONDA SIEL POWER PRODUCTS LTD. | 522064 | Active | B | 10 | 1425 | 14492770125 | 23.96 | 59.46 |
| SEYA INDUSTRIES LTD. | 524324 | Active | B | 10 | 580 | 14501447680 | 25.13 | 23.08 |
| EMAMI PAPER MILLS LTD. | 533208 | Active | B | 2 | 244 | 14543957940 | 90.12 | 2.71 |
| Power Mech Projects Ltd | 539302 | Active | B | 10 | 1012.55 | 14565045550 | 21.15 | 47.88 |
| GUJARAT INDUSTRIES POWER CO.LTD. | 517300 | Active | B | 10 | 96.2 | 14579381014 | 6.65 | 14.46 |
| ASIAN STAR CO.LTD.-$ | 531847 | Active | B | 10 | 918.9 | 14654658940 | 14.07 | 65.33 |
| DFM FOODS LTD. | 519588 | Active | B | 10 | 1440 | 14767430400 | 65.98 | 21.82 |
| MUTHOOT CAPITAL SERVICES LTD. | 511766 | Active | B | 10 | 950 | 14855694350 | 27.44 | 34.62 |
| GTPL Hathway Ltd | 540602 | Active | B | 10 | 133.7 | 14880757918 | 37.32 | 3.58 |
| G.M.BREWERIES LTD. | 507488 | Active | B | 10 | 1010.05 | 14895486954 | 20.26 | 49.86 |
| INEOS Styrolution India Ltd | 506222 | Active | B | 10 | 853 | 14970324865 | 23.54 | 36.23 |
| SEQUENT SCIENTIFIC LTD. | 512529 | Active | B | 2 | 60 | 15036987120 | 89.03 | 0.67 |
| HINDUSTAN MEDIA VENTURES LTD. | 533217 | Active | B | 10 | 211.2 | 15148129490 | 8.74 | 24.16 |
| Srikalahasthi Pipes Limited | 513605 | Active | B | 10 | 319.3 | 15200373944 | 8.93 | 35.77 |
| NRB BEARINGS LTD. | 530367 | Active | B | 2 | 163 | 15244654381 | 133.66 | 1.22 |
| SARDA ENERGY & MINERALS LTD.-$ | 504614 | Active | B | 10 | 429.7 | 15448581714 | 11.53 | 37.26 |
| KITEX GARMENTS LTD. | 521248 | Active | B | 1 | 228.9 | 15503008372 | 13.88 | 16.5 |
| INDIAN HUME PIPE CO.LTD. | 504741 | Active | B | 2 | 317.5 | 15522545472 | 20.21 | 15.71 |
| HAWKINS COOKERS LTD.-$ | 508486 | Active | B | 10 | 2965 | 15589356245 | 32.5 | 91.23 |
| INSECTICIDES (INDIA) LTD. | 532851 | Active | B | 10 | 750 | 15608086500 | 39.16 | 19.15 |
| GODAWARI POWER & ISPAT LTD. | 532734 | Active | B | 10 | 481.45 | 15626260798 | 7.9 | 60.98 |
| BANCO PRODUCTS (INDIA) LTD.-$ | 500039 | Active | B | 2 | 221.7 | 15640993979 | 15.7 | 14.12 |
| DREDGING CORPORATION OF INDIA LTD. | 523618 | Active | B | 10 | 593.25 | 15689044413 | 434.79 | 1.36 |
| Capri Global Capital Limited | 531595 | Active | B | 2 | 92 | 15772529956 | 17.73 | 5.19 |
| HINDUJA VENTURES LTD. | 500189 | Active | B | 10 | 788.15 | 15855124192 | 20.2 | 39.02 |
| BLS International Services Ltd | 540073 | Active | B | 1 | 155 | 15890761820 | 16.98 | 9.13 |
| Sasken Technologies Ltd | 532663 | Active | B | 10 | 1013.85 | 15936484719 | 21.04 | 48.18 |
| Zee Media Corporation Limited | 532794 | Active | B | 1 | 34 | 15981902844 | 14.5 | 2.35 |
| ASHIANA HOUSING LTD.-$ | 523716 | Active | B | 2 | 159.85 | 16109080021 | 24.84 | 6.44 |
| Infinite Computer Solutions (India) Ltd | 533154 | Active | B | 10 | 484 | 16196099260 | 15.75 | 30.73 |
| NOVARTIS INDIA LTD. | 500672 | Active | B | 5 | 630.5 | 16354688298 | 21.62 | 29.17 |
| HIL LTD. | 509675 | Active | B | 10 | 2183 | 16534393463 | 20.19 | 108.13 |
| Fairchem Speciality Ltd | 530117 | Active | B | 10 | 436 | 16615405408 | 30.49 | 14.3 |
| TATA SPONGE IRON LTD. | 513010 | Active | A | 10 | 1083.6 | 16685749208 | 11.85 | 91.48 |
| AGRO TECH FOODS LTD. | 500215 | Active | B | 10 | 682 | 16810732576 | 66.14 | 10.31 |
| HINDUSTAN OIL EXPLORATION CO.LTD. | 500186 | Active | B | 10 | 130.45 | 16835049814 | 76.67 | 1.7 |
| KENNAMETAL INDIA LTD.-$ | 505890 | Active | B | 10 | 803 | 16881344535 | 52.94 | 15.17 |
| ELANTAS BECK INDIA LTD.-$ | 500123 | Active | B | 10 | 2121 | 17167038882 | 30.39 | 69.79 |
| Prabhat Dairy Ltd | 539351 | Active | B | 10 | 179.45 | 17262788769 | 62.14 | 2.89 |
| Matrimony.com Ltd | 540704 | Active | B | 5 | 775.1 | 17273461052 | 25.45 | 30.46 |
| JBM AUTO LTD. | 532605 | Active | B | 5 | 425 | 17317089950 | 27.6 | 15.4 |
| INDOCO REMEDIES LTD. | 532612 | Active | B | 2 | 185.4 | 17318015052 | 39.99 | 4.64 |
| INDIA GLYCOLS LTD. | 500201 | Active | B | 10 | 560.65 | 17359711700 | 8.76 | 64.03 |
| TEXMACO RAIL & ENGINEERING LTD. | 533326 | Active | A | 1 | 79 | 17425641144 | 87.97 | 0.9 |
| EIH ASSOCIATED HOTELS LTD.-$ | 523127 | Active | B | 10 | 570.6 | 17737818056 | 42.84 | 13.32 |
| SURYA ROSHNI LTD. | 500336 | Active | B | 10 | 402.9 | 17832242529 | 25.3 | 15.93 |
| PRAJ INDUSTRIES LTD. | 522205 | Active | A | 2 | 99.95 | 17998332282 | 50.7 | 1.97 |
| WEST COAST PAPER MILLS LTD. | 500444 | Active | B | 2 | 269.1 | 18015409315 | 9.11 | 29.55 |
| GATEWAY DISTRIPARKS LTD. | 532622 | Active | A | 10 | 166.2 | 18267951776 | 14.66 | 11.33 |
| SUBROS LTD. | 517168 | Active | B | 2 | 298.3 | 18317785207 | 63.18 | 4.72 |
| ORIENT REFRACTORIES LTD. | 534076 | Active | B | 1 | 152.65 | 18438740833 | 24.03 | 6.35 |
| HINDUJA GLOBAL SOLUTIONS LTD. | 532859 | Active | B | 10 | 921.55 | 18533202414 | 10.2 | 90.34 |
| Kushal Ltd | 536170 | Active | T | 2 | 79.5 | 18537170025 | 14.34 | 5.54 |
| KEWAL KIRAN CLOTHING LTD. | 532732 | Active | B | 10 | 1566 | 18655999164 | 28.41 | 55.12 |
| HT MEDIA LTD. | 532662 | Active | B | 2 | 80.35 | 18796500846 | 6.09 | 13.2 |
| SAVITA OIL TECHNOLOGIES LTD. | 524667 | Active | B | 10 | 1320 | 18829868640 | 16.41 | 80.42 |
| THIRUMALAI CHEMICALS LTD. | 500412 | Active | B | 10 | 1779.65 | 18859807320 | 10.69 | 166.46 |
| NIRLON LTD. | 500307 | Active | B | 10 | 208 | 19010349488 | 30.71 | 6.77 |
| L.G.BALAKRISHNAN & BROS.LTD. | 500250 | Active | B | 10 | 1216 | 19063768256 | 58.31 | 20.85 |
| Future Enterprises Ltd | 523574 | Active | B | 2 | 38 | 19083590196 | 3.29 | 11.54 |
| IL&FS Transportation Networks Ltd | 533177 | Active | A | 10 | 57.15 | 19155139633 | 13.18 | 4.34 |
| RESPONSIVE INDUSTRIES LTD. | 505509 | Active | B | 1 | 74.55 | 19233113987 | 189.2 | 0.39 |
| PSP Projects Ltd | 540544 | Active | B | 10 | 528 | 19410250992 | 46.13 | 11.45 |
| STEEL STRIPS WHEELS LTD.-$ | 513262 | Active | B | 10 | 1275 | 19507009125 | 26.98 | 47.26 |
| HIKAL LTD. | 524735 | Active | B | 2 | 242.8 | 19638603154 | 51.25 | 4.74 |
| Music Broadcast Ltd | 540366 | Active | B | 10 | 360 | 19709931600 | 50.21 | 7.17 |
| TCI Express Ltd | 540212 | Active | B | 2 | 511.5 | 19869418520 | 37.09 | 13.79 |
| 8K MILES SOFTWARE SERVICES LTD. | 512161 | Active | B | 5 | 646.55 | 19871310428 | 12.46 | 51.87 |
| Skipper Ltd | 538562 | Active | B | 1 | 195.5 | 19972098576 | 16.57 | 11.8 |
| Accelya Kale Solutions Limitd | 532268 | Active | B | 10 | 1319.95 | 19998343918 | 22.04 | 59.88 |
| EVEREADY INDUSTRIES INDIA LTD. | 531508 | Active | B | 5 | 273.5 | 20045206652 | 15.63 | 17.5 |
| BOROSIL GLASS WORKS LTD. | 502219 | Active | B | 1 | 880.2 | 20055984861 | 67.34 | 13.07 |
| I G PETROCHEMICALS LTD. | 500199 | Active | B | 10 | 645.1 | 20224208075 | 33.01 | 19.54 |
| SAGAR CEMENTS LTD.-$ | 502090 | Active | B | 10 | 972.45 | 20272910462 | 109.03 | 8.92 |
| Wonderla Holidays Ltd | 538268 | Active | B | 10 | 359.05 | 20280470718 | 52.91 | 6.79 |
| TATA METALIKS LTD. | 513434 | Active | B | 10 | 805.6 | 20327728352 | 13.92 | 57.89 |
| J.KUMAR INFRAPROJECTS LTD. | 532940 | Active | B | 5 | 271.15 | 20363568718 | 19.53 | 13.89 |
| BANNARI AMMAN SUGARS LTD. | 500041 | Active | B | 10 | 1600 | 20795969600 | 17.63 | 90.76 |
| BLISS GVS PHARMA LTD. | 506197 | Active | B | 1 | 199.5 | 20944173338 | 14.08 | 14.17 |
| TRANSPORT CORPORATION OF INDIA LTD. | 532349 | Active | B | 2 | 273.75 | 21014133229 | 59.89 | 4.57 |
| TIDE WATER OIL (INDIA) LTD. | 590005 | Active | B | 5 | 6020.2 | 21074734218 | 36.22 | 166.21 |
| TINPLATE COMPANY OF INDIA LTD. | 504966 | Active | B | 10 | 198.95 | 21262560089 | 28.46 | 6.99 |
| GARWARE-WALL ROPES LTD. | 509557 | Active | B | 10 | 981.5 | 21338436197 | 25.77 | 38.08 |
| GABRIEL INDIA LTD.-$ | 505714 | Active | B | 1 | 147 | 21518934570 | 22.41 | 6.56 |
| LUMAX INDUSTRIES LTD. | 517206 | Active | B | 10 | 2310.15 | 21677605789 | 34.86 | 66.26 |
| ACTION CONSTRUCTION EQUIPMENT LTD. | 532762 | Active | B | 2 | 182.95 | 21724432148 | 48.53 | 3.77 |
| MAYUR UNIQUOTERS LTD.-$ | 522249 | Active | B | 5 | 475.05 | 21725609307 | 28.48 | 16.68 |
| MAITHAN ALLOYS LTD. | 590078 | Active | B | 10 | 760.15 | 21744930654 | 49.87 | 15.24 |
| JSW Holdings Limited | 532642 | Active | B | 10 | 1960 | 21756809480 | 45.13 | 43.43 |
| BALAJI AMINES LTD.-$ | 530999 | Active | B | 2 | 661 | 21759408764 | 37.17 | 17.78 |
| GIC HOUSING FINANCE LTD. | 511676 | Active | A | 10 | 398 | 21763617886 | 11.62 | 34.25 |
| RAMCO INDUSTRIES LTD. | 532369 | Active | B | 1 | 255 | 21789876990 | 10.04 | 25.4 |
| Jtekt India Ltd | 520057 | Active | B | 1 | 109.05 | 21849290890 | 59.45 | 1.83 |
| TASTY BITE EATABLES LTD. | 519091 | Active | B | 10 | 8736.9 | 21916654420 | 83.62 | 104.48 |
| Shalby Ltd | 540797 | Active | B | 10 | 201.25 | 21944218695 | 43.51 | 4.63 |
| Jaiprakash Power Ventures Limited | 532627 | Active | B | 10 | 3.69 | 22147541604 | 4.86 | 0.76 |
| UFLEX LTD. | 500148 | Active | A | 10 | 306 | 22275404334 | 6.55 | 46.74 |
| TATA COFFEE LTD. | 532301 | Active | B | 1 | 119.2 | 22357764235 | 20.85 | 5.72 |
| Quick Heal Technologies Ltd | 539678 | Active | B | 10 | 324.5 | 22596747657 | 34.67 | 9.36 |
| AUTOMOTIVE AXLES LTD. | 505010 | Active | B | 10 | 1518.55 | 22896764452 | 27.34 | 55.54 |
| Vaibhav Global Ltd | 532156 | Active | B | 10 | 707 | 22962398480 | 23.02 | 30.71 |
| SUVEN LIFE SCIENCES LTD. | 530239 | Active | B | 1 | 181.85 | 23161588619 | 32.21 | 5.65 |
| Geojit Financial Services Ltd | 532285 | Active | B | 1 | 98.05 | 23280870162 | 33.64 | 2.91 |
| INGERSOLL-RAND (INDIA) LTD. | 500210 | Active | B | 10 | 888.8 | 23314579100 | 31.56 | 28.16 |
| Navkar Corporation Ltd | 539332 | Active | A | 10 | 162.3 | 23487795950 | 25.88 | 6.27 |
| MAHINDRA LIFESPACE DEVELOPERS LTD. | 532313 | Active | A | 10 | 513.4 | 23706013557 | 25.72 | 19.96 |
| NAVA BHARAT VENTURES LTD. | 513023 | Active | A | 2 | 132.9 | 23722295662 | 23.43 | 5.67 |
| KOLTE-PATIL DEVELOPERS LTD. | 532924 | Active | B | 10 | 313.15 | 23778413476 | 21.12 | 14.83 |
| GRANULES INDIA LTD.-$ | 532482 | Active | A | 1 | 92.9 | 24172620065 | 13.67 | 6.8 |
| LAKSHMI VILAS BANK LTD. | 534690 | Active | A | 10 | 94 | 24227156458 | 22.87 | 4.11 |
| IGARASHI MOTORS INDIA LTD. | 517380 | Active | B | 10 | 830.05 | 24502679706 | 36.72 | 22.6 |
| WHEELS INDIA LTD. | 590073 | Active | B | 10 | 1991 | 24613014767 | 33.43 | 59.56 |
| GOCL Corporation Ltd-$ | 506480 | Active | B | 2 | 495 | 24648720525 | 69.87 | 7.09 |
| BHARAT RASAYAN LTD. | 590021 | Active | B | 10 | 5885.55 | 24762773965 | 33.26 | 176.95 |
| RAMKRISHNA FORGINGS LTD. | 532527 | Active | B | 10 | 783.7 | 24844734746 | 167.18 | 4.69 |
| SANGHI INDUSTRIES LTD. | 526521 | Active | B | 10 | 98.25 | 24943996399 | 21.54 | 4.56 |
| SWARAJ ENGINES LTD. | 500407 | Active | B | 10 | 2020 | 24958368560 | 31.28 | 64.57 |
| Huhtamaki PPL Limited | 509820 | Active | B | 2 | 328 | 25036110768 | 38.93 | 8.43 |
| Orient Cement Ltd | 535754 | Active | B | 1 | 124.8 | 25210830146 | 57.51 | 2.17 |
| Welspun Enterprises Ltd | 532553 | Active | B | 10 | 173.5 | 25266057736 | 52.04 | 3.33 |
| V.S.T.TILLERS TRACTORS LTD.-$ | 531266 | Active | B | 10 | 3008.15 | 25317594300 | 26.23 | 114.67 |
| TVS SRICHAKRA LTD.-$ | 509243 | Active | B | 10 | 3286.8 | 25329346594 | 64.22 | 51.18 |
| NATIONAL FERTILIZERS LTD. | 523630 | Active | B | 10 | 50.95 | 25564088394 | 12.69 | 4.02 |
| Intellect Design Arena Ltd | 538835 | Active | A | 5 | 209.3 | 26082114739 | 55.08 | 3.8 |
| PRIME FOCUS LTD. | 532748 | Active | B | 1 | 86.85 | 26116422206 | 39.8 | 2.18 |
| JK PAPER LTD. | 532162 | Active | B | 10 | 148.45 | 26126339789 | 39.1 | 3.8 |
| HealthCare Global Enterprises Ltd | 539787 | Active | B | 10 | 299 | 26130605670 | 99.76 | 3 |
| Advanced Enzyme Technologies Ltd | 540025 | Active | A | 2 | 238 | 26627173202 | 31.99 | 7.44 |
| TV TODAY NETWORK LTD. | 532515 | Active | B | 5 | 443.4 | 26709766938 | 76.65 | 5.79 |
| VESUVIUS INDIA LTD. | 520113 | Active | B | 10 | 1293.1 | 26998093874 | 27.57 | 46.91 |
| AHLUWALIA CONTRACTS (INDIA) LTD. | 532811 | Active | B | 2 | 410.65 | 27043260899 | 31.51 | 13.03 |
| HSIL LTD. | 500187 | Active | B | 2 | 377.55 | 27067988784 | 73.05 | 5.17 |
| Future Supply Chain Solutions Ltd | 540798 | Active | B | 10 | 670 | 27130536460 | 45.36 | 14.77 |
| MAHARASHTRA SCOOTERS LTD. | 500266 | Active | B | 10 | 2399 | 27202160242 | 45.09 | 53.21 |
| BHANSALI ENGINEERING POLYMERS LTD.-$ | 500052 | Active | B | 1 | 164.25 | 27360911182 | 168.32 | 0.98 |
| INOX LEISURE LTD. | 532706 | Active | A | 10 | 289 | 27382153504 | 23.16 | 12.48 |
| GOODYEAR INDIA LTD. | 500168 | Active | B | 10 | 1203.9 | 27547659621 | 22.03 | 54.66 |
| LT FOODS LTD. | 532783 | Active | B | 1 | 86.3 | 27891804308 | 16.08 | 5.37 |
| Greenlam Industries Ltd | 538979 | Active | B | 5 | 1110 | 27914584140 | 40.74 | 27.24 |
| ITD CEMENTATION INDIA LTD. | 509496 | Active | B | 1 | 159.1 | 27941671125 | 29.61 | 5.37 |
| DHANUKA AGRITECH LTD. | 507717 | Active | B | 2 | 575.25 | 28188284300 | 23.27 | 24.72 |
| ASTRAZENECA PHARMA INDIA LTD. | 506820 | Active | B | 2 | 1110 | 28240131600 | 140.01 | 7.93 |
| Parag Milk Foods Ltd | 539889 | Active | A | 10 | 336.45 | 28274816258 | 31.12 | 10.81 |
| PRAKASH INDUSTRIES LTD. | 506022 | Active | B | 10 | 180.95 | 28521263968 | 7.85 | 23.05 |
| JUST DIAL LTD. | 535648 | Active | A | 10 | 415.55 | 28830728501 | 21.23 | 19.57 |
| Reliance Home Finance Ltd | 540709 | Active | B | 10 | 57.75 | 28892075636 | 8.33 | 6.93 |
| TAKE SOLUTIONS LTD. | 532890 | Active | B | 1 | 219.55 | 29074409509 | 19.38 | 11.33 |
| APAR INDUSTRIES LTD. | 532259 | Active | B | 10 | 763.85 | 29189626238 | 20.22 | 37.79 |
| SUPREME PETROCHEM LTD. | 500405 | Active | B | 10 | 310 | 29283018810 | 25.77 | 12.03 |
| SIMPLEX INFRASTRUCTURES LTD. | 523838 | Active | B | 2 | 599 | 29661691117 | 23.31 | 25.7 |
| GUJARAT AMBUJA EXPORTS LTD. | 524226 | Active | B | 2 | 260.45 | 29761647377 | 23.1 | 11.27 |
| JAMMU & KASHMIR BANK LTD. | 532209 | Active | A | 1 | 54.1 | 29911336092 | 6.33 | 8.54 |
| MAHARASHTRA SEAMLESS LTD. | 500265 | Active | B | 5 | 444.95 | 30001106084 | 10.18 | 43.73 |
| SHIPPING CORPORATION OF INDIA LTD. | 523598 | Active | A | 10 | 66.75 | 30519374258 | 3.98 | 16.78 |
| LA OPALA RG LTD. | 526947 | Active | B | 2 | 274.5 | 30580384275 | 41.88 | 6.55 |
| ENTERTAINMENT NETWORK (INDIA) LTD. | 532700 | Active | B | 10 | 674 | 30954242624 | 84.82 | 7.95 |
| Prataap Snacks Ltd | 540724 | Active | B | 5 | 1370 | 31243898050 | 84.83 | 16.15 |
| Heritage Foods Limited | 519552 | Active | B | 5 | 684 | 31470962436 | 12.58 | 54.38 |
| KARNATAKA BANK LTD. | 532652 | Active | A | 10 | 112.75 | 31506367959 | 7.44 | 15.16 |
| Puravankara Ltd | 532891 | Active | B | 5 | 137.5 | 31985275575 | 25.23 | 5.45 |
| ALLCARGO LOGISTICS LTD. | 532749 | Active | B | 2 | 126.95 | 32215871454 | 14.4 | 8.82 |
| HIMACHAL FUTURISTIC COMMUNICATIONS LTD. | 500183 | Active | A | 1 | 26.7 | 32674693869 | 26.92 | 0.99 |
| KEI INDUSTRIES LTD. | 517569 | Active | B | 2 | 423.05 | 32918614404 | 53.05 | 7.97 |
| JK TYRE & INDUSTRIES LTD. | 530007 | Active | A | 2 | 146.1 | 33028933864 | 351.95 | 0.42 |
| TRIVENI TURBINE LTD. | 533655 | Active | B | 1 | 99.3 | 33150379649 | 37.49 | 2.65 |
| KAVERI SEED COMPANY LTD. | 532899 | Active | A | 2 | 505.05 | 33196496809 | 20.77 | 24.31 |
| NOCIL LTD. | 500730 | Active | B | 10 | 202.3 | 33246226880 | 47.9 | 4.22 |
| TIME TECHNOPLAST LTD. | 532856 | Active | A | 1 | 144.2 | 33409192593 | 19.3 | 7.47 |
| Thyrocare Technologies Ltd | 539871 | Active | B | 10 | 614 | 33437880646 | 35.39 | 17.35 |
| HEIDELBERGCEMENT INDIA LTD. | 500292 | Active | A | 10 | 147.85 | 33675529760 | 28.37 | 5.21 |
| RUPA & COMPANY LTD. | 533552 | Active | B | 1 | 421.6 | 33804477886 | 50.74 | 8.31 |
| DEEPAK NITRITE LTD.-$ | 506401 | Active | B | 2 | 254.4 | 34488900070 | 50.27 | 5.06 |
| RANE HOLDINGS LTD. | 505800 | Active | B | 10 | 2500 | 34899907500 | 27.39 | 91.26 |
| Linde India Limited | 523457 | Active | A | 10 | 425.2 | 34981563448 | 190.74 | 2.23 |
| JAMNA AUTO INDUSTRIES LTD. | 520051 | Active | B | 1 | 93 | 35331843993 | 32.68 | 2.85 |
| BRIGADE ENTERPRISES LTD. | 532929 | Active | B | 10 | 262.25 | 35561672754 | 16.93 | 15.49 |
| HIMATSINGKA SEIDE LTD. | 514043 | Active | B | 5 | 352.1 | 35569860196 | 17.61 | 20 |
| GREENPLY INDUSTRIES LTD. | 526797 | Active | B | 1 | 294 | 35942254698 | 111.96 | 2.63 |
| SHILPA MEDICARE LTD. | 530549 | Active | B | 1 | 444.65 | 36068505033 | 30.73 | 14.47 |
| TECHNO ELECTRIC AND ENGINEERING CO. LTD. | 533281 | Active | B | 2 | 319.2 | 36075115240 | 17.52 | 18.22 |
| GAYATRI PROJECTS LTD. | 532767 | Active | B | 2 | 203.9 | 36122334667 | 48.21 | 4.23 |
| Welspun Corp Limited | 532144 | Active | A | 5 | 135.5 | 36146503030 | 22.72 | 5.96 |
| MERCK LTD. | 500126 | Active | B | 10 | 2189.6 | 36180472491 | 35.71 | 61.32 |
| S H Kelkar and Company Ltd | 539450 | Active | B | 10 | 252 | 36234179352 | 36.32 | 6.94 |
| SONATA SOFTWARE LTD. | 532221 | Active | B | 1 | 348.2 | 36585130150 | 20.56 | 16.93 |
| Cox & Kings Limited | 533144 | Active | A | 5 | 208.95 | 36861798371 | 8.97 | 23.28 |
| Sharda Cropchem Ltd | 538666 | Active | A | 10 | 447.7 | 37149861828 | 21.18 | 21.14 |
| REPCO HOME FINANCE LTD. | 535322 | Active | A | 10 | 589.35 | 37194422108 | 23.92 | 24.64 |
| CERA SANITARYWARE LTD. | 532443 | Active | B | 5 | 2910.25 | 37419485206 | 54.57 | 53.33 |
| VRL Logistics Ltd | 539118 | Active | B | 10 | 415.5 | 37510134634 | 42.58 | 9.76 |
| ICRA LTD. | 532835 | Active | A | 10 | 3887.5 | 38120059162 | 38.71 | 100.42 |
| V-MART RETAIL LTD. | 534976 | Active | B | 10 | 2111.05 | 38338494945 | 57.29 | 36.85 |
| Minda Corporation Ltd | 538962 | Active | B | 2 | 181 | 38372412318 | 31.61 | 5.73 |
| SUPRAJIT ENGINEERING LTD.-$ | 532509 | Active | B | 1 | 277.75 | 38887944983 | 28.72 | 9.67 |
| SREI INFRASTRUCTURE FINANCE LTD. | 523756 | Active | A | 10 | 79 | 38984372530 | 10.33 | 7.65 |
| NESCO LTD. | 505355 | Active | B | 2 | 557.9 | 39192456631 | 35.25 | 15.83 |
| MULTI COMMODITY EXCHANGE OF INDIA LTD. | 534091 | Active | A | 10 | 777.95 | 39437110855 | 36.52 | 21.3 |
| CCL PRODUCTS (INDIA) LTD. | 519600 | Active | B | 2 | 300.3 | 39833448037 | 28.46 | 10.55 |
| Mahindra Logistics Ltd | 540768 | Active | B | 10 | 555 | 40166687550 | 61.4 | 9.04 |
| DCM Shriram Limited | 523367 | Active | B | 2 | 245.8 | 40435981855 | 5.98 | 41.08 |
| MMTC LTD. | 513377 | Active | A | 1 | 39.85 | 40513922721 | 22.29 | 1.79 |
| FDC LTD. | 531599 | Active | B | 1 | 233.35 | 40684199971 | 81.35 | 2.87 |
| RASHTRIYA CHEMICALS & FERTILIZERS LTD. | 524230 | Active | A | 10 | 73.35 | 40731264055 | 19.21 | 3.82 |
| GUJARAT MINERAL DEVELOPMENT CORPORATION LTD. | 532181 | Active | A | 2 | 129.4 | 40835762547 | 8.45 | 15.31 |
| OMAXE LTD. | 532880 | Active | A | 10 | 223.1 | 40933923510 | 55.33 | 4.03 |
| SWAN ENERGY LTD. | 503310 | Active | A | 1 | 170.8 | 41055569761 | 121.8 | 1.4 |
| ESSEL PROPACK LTD. | 500135 | Active | B | 2 | 255.1 | 41456424950 | 23.4 | 10.9 |
| MAGMA FINCORP LTD. | 524000 | Active | B | 2 | 180.35 | 41671540394 | 18.59 | 9.7 |
| Dixon Technologies (India) Ltd | 540699 | Active | B | 10 | 3656.4 | 41862893982 | 67.92 | 53.84 |
| RALLIS INDIA LTD. | 500355 | Active | A | 1 | 214 | 41867474884 | 24.82 | 8.62 |
| BEML LTD. | 500048 | Active | A | 10 | 1054.15 | 42389556681 | 16.26 | 64.82 |
| Tube Investments of India Ltd | 540762 | Active | B | 1 | 228.45 | 42813403175 | 29.04 | 7.87 |
| ANDHRA BANK | 532418 | Active | A | 10 | 36.05 | 43039543678 | 3.24 | 11.13 |
| GODFREY PHILLIPS INDIA LTD. | 500163 | Active | A | 2 | 817.9 | 43090572864 | 34.2 | 23.92 |
| Shankara Building Products Ltd | 540425 | Active | B | 10 | 1905.6 | 43456302283 | 58.92 | 32.34 |
| Gulf Oil Lubricants India Ltd | 538567 | Active | B | 2 | 890 | 43818232410 | 29.82 | 29.85 |
| CAPLIN POINT LABORATORIES LTD. | 524742 | Active | B | 2 | 583.3 | 43859955239 | 30.98 | 18.83 |
| PNC Infratech Ltd | 539150 | Active | B | 2 | 172.75 | 44299201184 | 37.47 | 4.61 |
| E.I.D.-PARRY (INDIA) LTD. | 500125 | Active | A | 1 | 252 | 44585589132 | 17.49 | 14.4 |
| CHENNAI PETROLEUM CORPORATION LTD. | 500110 | Active | A | 10 | 293 | 44596536437 | 5.74 | 51.04 |
| TATA INVESTMENT CORPORATION LTD. | 501301 | Active | B | 10 | 809.5 | 44609137547 | 25.61 | 31.61 |
| MAHINDRA HOLIDAYS & RESORTS INDIA LTD. | 533088 | Active | A | 10 | 335.45 | 44653974152 | 97.54 | 3.44 |
| RATNAMANI METALS & TUBES LTD.-$ | 520111 | Active | B | 2 | 970.7 | 44849109000 | 26.16 | 37.1 |
| JK LAKSHMI CEMENT LTD. | 500380 | Active | A | 5 | 383.25 | 45256467165 | 26.25 | 14.6 |
| Manpasand Beverages Ltd | 539207 | Active | B | 10 | 392.75 | 45282976478 | 50.96 | 7.71 |
| Strides Shasun Ltd | 532531 | Active | A | 10 | 512.95 | 45292390930 | 35.61 | 14.41 |
| TIMKEN INDIA LTD. | 522113 | Active | B | 10 | 694.1 | 45466958514 | 50.19 | 13.83 |
| ELGI EQUIPMENTS LTD. | 522074 | Active | B | 1 | 294.95 | 45673881262 | 52.58 | 5.61 |
| KIRLOSKAR OIL ENGINES LTD. | 533293 | Active | B | 2 | 315 | 46048831290 | 27.54 | 11.44 |
| K.P.R.MILL LTD. | 532889 | Active | A | 5 | 645 | 46076767605 | 16.41 | 39.3 |
| FIRSTSOURCE SOLUTIONS LTD. | 532809 | Active | A | 10 | 67.9 | 47258053821 | 14.29 | 4.75 |
| MONSANTO INDIA LTD. | 524084 | Active | A | 10 | 2772 | 47427126516 | 33.82 | 81.95 |
| VST INDUSTRIES LTD. | 509966 | Active | B | 10 | 3089.9 | 47431749463 | 26.21 | 117.9 |
| VINATI ORGANICS LTD.-$ | 524200 | Active | B | 2 | 945 | 47693777670 | 36.74 | 25.72 |
| SHOPPERS STOP LTD. | 532638 | Active | A | 5 | 557.7 | 47794891046 | 243.53 | 2.29 |
| SUZLON ENERGY LTD. | 532667 | Active | A | 2 | 8.83 | 48251407405 | 7.32 | 1.21 |
| SOUTH INDIAN BANK LTD. | 532218 | Active | A | 1 | 26.45 | 48330976526 | 15.46 | 1.71 |
| Polaris Consulting & Services Limited | 532254 | Active | A | 5 | 474 | 48758058348 | 25.56 | 18.54 |
| Indian Energy Exchange Ltd | 540750 | Active | B | 10 | 1586.45 | 48968717435 | 36.46 | 43.52 |
| TeamLease Services Ltd | 539658 | Active | B | 10 | 2742 | 49255966356 | 54.21 | 50.59 |
| APL APOLLO TUBES LTD. | 533758 | Active | B | 10 | 2095 | 49437414045 | 32.82 | 63.83 |
| MOIL LTD. | 533286 | Active | A | 10 | 191.55 | 49484473443 | 37.25 | 5.14 |
| ZYDUS WELLNESS LTD.-$ | 531335 | Active | B | 10 | 1270.4 | 49930699852 | 38.96 | 32.61 |
| VENKY'S (INDIA) LTD. | 523261 | Active | B | 10 | 3468.65 | 49957864981 | 24.47 | 141.77 |
| Sobha Limited | 532784 | Active | A | 10 | 529.35 | 50198995040 | 25.6 | 20.68 |
| GUJARAT ALKALIES & CHEMICALS LTD. | 530001 | Active | B | 10 | 679 | 50514588635 | 22.49 | 30.18 |
| KPIT Technologies Limited | 532400 | Active | A | 2 | 256.7 | 50609118209 | 22.18 | 11.57 |
| ECLERX SERVICES LTD. | 532927 | Active | A | 10 | 1353.15 | 50987623887 | 18.21 | 74.31 |
| Lux Industries Ltd | 539542 | Active | B | 2 | 2034 | 51365718666 | 76.61 | 26.55 |
| D B Corp Ltd | 533151 | Active | A | 10 | 280.9 | 51504734112 | 15.74 | 17.84 |
| Laurus Labs Ltd | 540222 | Active | A | 10 | 480.35 | 51602258926 | 26.57 | 18.08 |
| JAGRAN PRAKASHAN LTD. | 532705 | Active | B | 2 | 166 | 51629322988 | 15.92 | 10.43 |
| ZENSAR TECHNOLOGIES LTD. | 504067 | Active | B | 10 | 1190 | 51974140120 | 22.39 | 53.14 |
| GUJARAT STATE FERTILIZERS & CHEMICALS LTD. | 500690 | Active | A | 2 | 132 | 51980531196 | 15.05 | 8.77 |
| CAN FIN HOMES LTD. | 511196 | Active | A | 2 | 387.95 | 52071002897 | 17.11 | 22.67 |
| JAIN IRRIGATION SYSTEMS LTD. | 500219 | Active | A | 2 | 105 | 53251016490 | 26.51 | 3.96 |
| Narayana Hrudayalaya Ltd | 539551 | Active | B | 10 | 256.75 | 53294153877 | 81.4 | 3.15 |
| BIRLA CORPORATION LTD. | 500335 | Active | B | 10 | 698.05 | 53810028648 | 43.44 | 16.07 |
| Star Cement Ltd | 540575 | Active | B | 1 | 124.6 | 53823431437 | 16.04 | 7.77 |
| REDINGTON (INDIA) LTD. | 532805 | Active | A | 2 | 136 | 54462979152 | 11.09 | 12.27 |
| RADICO KHAITAN LTD. | 532497 | Active | A | 2 | 401 | 54701481873 | 66.76 | 6.01 |
| Himadri Speciality Chemical Ltd | 500184 | Active | B | 1 | 133.1 | 54777976739 | 47.06 | 2.83 |
| IFB INDUSTRIES LTD. | 505726 | Active | B | 10 | 1301.7 | 54895622274 | 83.38 | 15.61 |
| Equitas Holdings Ltd | 539844 | Active | A | 10 | 165.5 | 55524396848 | 181.63 | 0.91 |
| CAPITAL FIRST LTD. | 532938 | Active | A | 10 | 574.25 | 56445022276 | 18.1 | 31.73 |
| GRINDWELL NORTON LTD.-$ | 506076 | Active | B | 5 | 528 | 57173100336 | 41.94 | 12.59 |
| Dishman Carbogen Amcis Ltd | 540701 | Active | B | 2 | 338.7 | 57213313769 | 35.54 | 9.53 |
| CEAT LTD. | 500878 | Active | A | 10 | 1429.6 | 57578684414 | 24.3 | 58.83 |
| V.I.P.INDUSTRIES LTD.-$ | 507880 | Active | A | 2 | 397.9 | 57650425004 | 50.83 | 7.83 |
| BOMBAY DYEING & MFG.CO.LTD. | 500020 | Active | A | 2 | 289.05 | 57708825149 | 293.36 | 0.99 |
| DCB Bank Limited | 532772 | Active | A | 10 | 188.15 | 58860067784 | 24 | 7.84 |
| DELTA CORP LTD. | 532848 | Active | A | 1 | 221.95 | 59411956271 | 37.72 | 5.88 |
| GE Power India Ltd | 532309 | Active | B | 10 | 890 | 60917222130 | 97.82 | 9.1 |
| Prism Johnson Ltd | 500338 | Active | B | 10 | 118.6 | 61284791797 | 14.8 | 8.01 |
| WELSPUN INDIA LTD. | 514162 | Active | A | 1 | 66.1 | 61695555425 | 14.69 | 4.5 |
| WESTLIFE DEVELOPMENT LTD. | 505533 | Active | B | 2 | 380.55 | 61942108955 | 1171.61 | 0.32 |
| PERSISTENT SYSTEMS LTD. | 533179 | Active | A | 10 | 796.5 | 62327518078 | 19.72 | 40.39 |
| SUNTECK REALTY LTD. | 512179 | Active | A | 1 | 432.9 | 63433109266 | 29.53 | 14.66 |
| HINDUSTAN COPPER LTD. | 513599 | Active | A | 5 | 72.4 | 64215132411 | 67.93 | 1.07 |
| BAJAJ ELECTRICALS LTD.-$ | 500031 | Active | A | 2 | 618.05 | 64332357220 | 57.92 | 10.67 |
| NIIT TECHNOLOGIES LTD. | 532541 | Active | A | 10 | 1067.5 | 64581228565 | 23.54 | 45.35 |
| SADBHAV ENGINEERING LTD. | 532710 | Active | A | 1 | 383.9 | 64880604624 | 666.25 | 0.58 |
| PVR LTD. | 532689 | Active | A | 10 | 1407 | 65265182199 | 53.07 | 26.51 |
| RAYMOND LTD. | 500330 | Active | A | 10 | 1073.15 | 65281482390 | 48.92 | 21.94 |
| J.K.CEMENT LTD. | 532644 | Active | B | 10 | 968 | 66801096296 | 30.14 | 32.12 |
| CARBORUNDUM UNIVERSAL LTD. | 513375 | Active | A | 1 | 360.05 | 67880977783 | 31.58 | 11.4 |
| Dr. Lal PathLabs Ltd | 539524 | Active | A | 10 | 807.85 | 68372861739 | 40.78 | 19.81 |
| Coffee Day Enterprises Ltd | 539436 | Active | B | 10 | 330 | 68513746290 | 68.47 | 4.82 |
| BAJAJ CORP LTD. | 533229 | Active | A | 1 | 460 | 68567342860 | 56.51 | 8.14 |
| CENTURY PLYBOARDS (I) LTD.-$ | 532548 | Active | A | 1 | 308.45 | 68837030741 | 124.23 | 2.48 |
| GUJARAT PIPAVAV PORT LTD. | 533248 | Active | A | 10 | 141.85 | 69581959109 | 30.14 | 4.71 |
| TTK PRESTIGE LTD. | 517506 | Active | A | 10 | 6030.1 | 69670938344 | 24.9 | 242.2 |
| JYOTHY LABORATORIES LTD. | 532926 | Active | B | 1 | 376.2 | 69769365442 | 32.48 | 11.58 |
| Sheela Foam Ltd | 540203 | Active | B | 5 | 1413 | 70232779251 | 57.92 | 24.4 |
| Vakrangee Limited-$ | 511431 | Active | T | 1 | 63.2 | 70278210743 | 8.88 | 7.12 |
| VARDHMAN TEXTILES LTD. | 502986 | Active | B | 10 | 1244 | 70559660096 | 12.15 | 102.38 |
| SPICEJET LTD. | 500285 | Active | B | 10 | 118.95 | 70837459033 | 12.83 | 9.27 |
| TATA ELXSI LTD. | 500408 | Active | A | 10 | 1153.9 | 71360252653 | 29.93 | 38.55 |
| NCC Limited | 500294 | Active | A | 2 | 118.55 | 71766349795 | 54.73 | 2.17 |
| KARUR VYSYA BANK LTD. | 590003 | Active | B | 2 | 99.35 | 71791892139 | 12.76 | 7.79 |
| SYNDICATE BANK | 532276 | Active | A | 10 | 51.15 | 72521258339 | 1.4 | 36.65 |
| Johnson Controls-Hitachi Air Conditioning India Ltd | 523398 | Active | B | 10 | 2611.05 | 72614004230 | 83.5 | 31.27 |
| PC JEWELLER LTD. | 534809 | Active | A | 10 | 177.9 | 73254240201 | 17.48 | 10.17 |
| BLUE STAR LTD. | 500067 | Active | A | 2 | 767.75 | 73737404802 | 54.67 | 14.04 |
| KALPATARU POWER TRANSMISSION LTD. | 522287 | Active | B | 2 | 489.9 | 74312484755 | 39.37 | 12.44 |
| GUJARAT NARMADA VALLEY FERTILIZERS & CHEMICALS LTD. | 500670 | Active | A | 10 | 477.45 | 74504463011 | 41.26 | 11.57 |
| VIJAYA BANK | 532401 | Active | A | 10 | 58.25 | 76487167116 | 8.42 | 6.92 |
| FINOLEX INDUSTRIES LTD. | 500940 | Active | A | 10 | 649.5 | 80455633008 | 31.27 | 20.77 |
| RELAXO FOOTWEARS LTD.-$ | 530517 | Active | B | 1 | 701 | 80920280593 | 59.41 | 11.8 |
| ITI LTD. | 523610 | Active | B | 10 | 107 | 82140285326 | 19.89 | 5.38 |
| KAJARIA CERAMICS LTD. | 500233 | Active | A | 1 | 540.2 | 83680250101 | 36.61 | 14.76 |
| IDFC LIMITED | 532659 | Active | A | 10 | 53.8 | 83717614827 | 14.55 | 3.7 |
| BASF INDIA LTD. | 500042 | Active | B | 10 | 1945.65 | 85251132632 | 34.17 | 56.95 |
| Mahanagar Gas Ltd | 539957 | Active | A | 10 | 870.6 | 85268983618 | 18.2 | 47.84 |
| ASAHI INDIA GLASS LTD. | 515030 | Active | B | 1 | 356.05 | 87677297032 | 50.18 | 7.1 |
| Schaeffler India Ltd | 505790 | Active | B | 10 | 5320.95 | 88296799991 | 35.87 | 148.35 |
| Future Lifestyle Fashions Ltd | 536507 | Active | A | 2 | 444.1 | 88725653507 | 187.65 | 2.37 |
| IPCA LABORATORIES LTD. | 524494 | Active | A | 2 | 707.7 | 89571986897 | 119.62 | 5.92 |
| Infibeam Incorporation Ltd | 539807 | Active | A | 1 | 165.55 | 89986068456 | 116.48 | 1.42 |
| IRB INFRASTRUCTURE DEVELOPERS LTD. | 532947 | Active | A | 10 | 255.8 | 90074228620 | 9.77 | 26.17 |
| MINDA INDUSTRIES LTD.-$ | 532539 | Active | B | 2 | 1072 | 90232085984 | 39.38 | 27.22 |
| GUJARAT FLUOROCHEMICALS LTD. | 500173 | Active | B | 1 | 850.65 | 90277047427 | 105.21 | 8.09 |
| Cyient Limited | 532175 | Active | A | 5 | 822.2 | 90447043073 | 22.93 | 35.85 |
| Akzo Nobel India Limited | 500710 | Active | B | 10 | 1962 | 90481332294 | 42.74 | 45.91 |
| Mahindra CIE Automotive Limited | 532756 | Active | A | 10 | 239 | 90521049957 | 46.76 | 5.11 |
| SKF India Ltd | 500472 | Active | A | 10 | 1785 | 91095386550 | 30.97 | 57.64 |
| AEGIS LOGISTICS LTD. | 500003 | Active | A | 1 | 271.1 | 92303546671 | 50.57 | 5.36 |
| ALEMBIC PHARMACEUTICALS LTD. | 533573 | Active | A | 2 | 485 | 93026307700 | 22.19 | 21.86 |
| Security and Intelligence Services (India) Ltd | 540673 | Active | B | 10 | 1307.2 | 93595979253 | 58.33 | 22.41 |
| GE T&D India Ltd | 522275 | Active | A | 2 | 381.3 | 95240452827 | 42.97 | 8.87 |
| INDIABULLS REAL ESTATE LTD. | 532832 | Active | A | 2 | 196.25 | 95270699769 | 4.44 | 44.17 |
| RELIANCE POWER LTD. | 532939 | Active | A | 10 | 33.7 | 95442933261 | 9.14 | 3.69 |
| LAKSHMI MACHINE WORKS LTD. | 500252 | Active | A | 10 | 8752 | 95821026944 | 76.09 | 115.02 |
| The Phoenix Mills Ltd | 503100 | Active | B | 2 | 653 | 95877565411 | 41.35 | 15.79 |
| SOLAR INDUSTRIES INDIA LTD. | 532725 | Active | B | 2 | 1070 | 96682530350 | 43.55 | 24.57 |
| TV18 BROADCAST LTD. | 532800 | Active | A | 2 | 57.05 | 97981060826 | 1136 | 0.05 |
| AJANTA PHARMA LTD. | 532331 | Active | A | 2 | 1069.75 | 98466007387 | 20.09 | 53.24 |
| RELIANCE CAPITAL LTD. | 500111 | Active | A | 10 | 390.15 | 98718045928 | 7.48 | 52.18 |
| V-GUARD INDUSTRIES LTD. | 532953 | Active | A | 1 | 236 | 99123835000 | 69.36 | 3.4 |
| MANAPPURAM FINANCE LTD. | 531213 | Active | A | 2 | 119.7 | 99299704462 | 14.65 | 8.17 |
| AVANTI FEEDS LTD.-$ | 512573 | Active | A | 2 | 2165.3 | 99306073489 | 21.13 | 102.49 |
For more useful articles on trading, investing and market knowledge, visit our
Knowledge Center
section. (Note: The above list is for information purpose only. Avoid trading and investing based on the information given above. Before investing in stocks do due diligence)