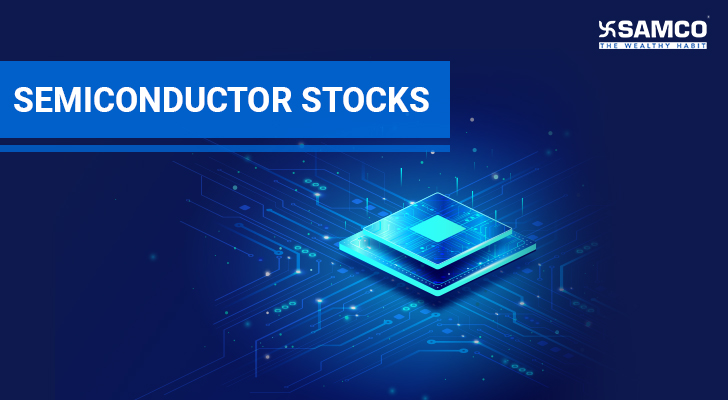 The concept of automation is taking the world to new heights. All the activities which used to take hours or even days can now be done in just a few minutes. This is all thanks to the advancements in the field of technology.Today we have access to everything. A foldable smartphone, electric scooters and even a super-computer. But all these electronic devices are useless without a chip. Yes, one small chip of technology is crucial to the working of all electric devices. These tiny chips are known as
semiconductors
.Recently, semiconductors have gained a lot of traction across the world. The result is that
semiconductor stocks
are now in the limelight. So, in this article, we will discuss everything about semiconductors. Not just that, we will also reveal the list of
semiconductor stocks listed in India
. Let's begin.
In this article:
What is a Semiconductor?
We all know that metals like copper and aluminium are good conductors of electricity. These metals have high resistance and hence they allow the free flowing of electrons in a particular device. But, we use many machines which are designed to function at different temperatures. So, to set variable temperatures in a device we need a conductor which can manage and control the flow of electrons. And this is exactly what a semiconductor does.
A semiconductor is designed to control the flow of electricity
. So, it does not allow aggressive free flow of electrons in a device nor does it repel electricity completely. It is a material that has much lower resistance to the flow of electricity and hence it can easily adjust the temperature of a particular device in no time.Nowadays, all the devices that we use have semiconductor chips in them. The temperature sensor in your AC is made up of semiconductors. The electrical rice cookers can cook rice evenly because of semiconductor chips. Not just this; semiconductors are also used in your credit card, trains, and medical networks etc. So, you can imagine that without semiconductors you cannot really use a device with efficiency.A semiconductor is made up of two elements - silicon and germanium. China is the largest producer of silicon in the world. In the year 2020, China produced around 5.4 million metric tons of silicon. This was around two-thirds of the global silicon production of 2020.  Russia, Brazil, Norway, and the United States are the other big silicon producers in the world.Unfortunately, India is one of the major importers of semiconductors. Almost a 100% of the semiconductors in India are imported. Did you know that India spends about $24 billion every year to import semiconductors?!To reduce the import bill of semiconductors, the government wants to make India self-sufficient. It wants Indian companies to increase the manufacturing capacity of semiconductors. For this, the government has come up with a
PLI scheme
. Under this scheme, the government will offer financial support to companies manufacturing goods using semiconductor chips. This subsidy will eventually bring down the production costs of machines and the overall production of semiconductors will increase.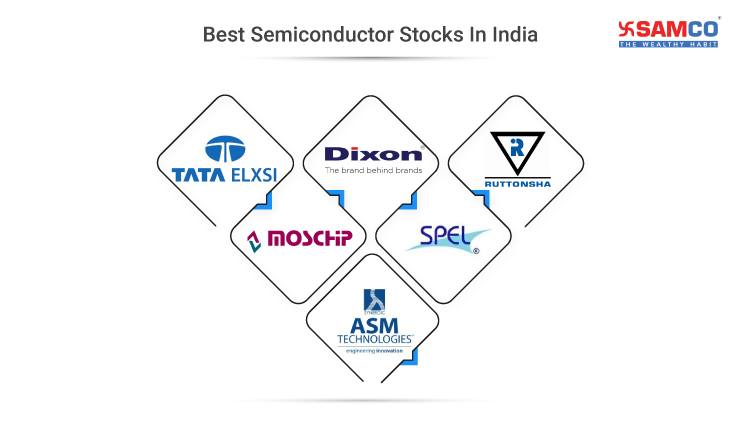 List of Semiconductor Stocks Listed on the Indian Stock Exchanges 2022
*Data as on 18th July 2022
Let's look at each of these companies in detail
In the year 2020, citizens were working from home and hence there was a sudden surge in the demand for laptops, ACs and other electronic devices. Now high demand is good news for companies. But there was a small problem. Globally, there was a huge shortage in the supply of semiconductor chips. So, companies were experiencing difficulties in manufacturing electronic devices despite the high demand. The Tata Group saw this as an opportunity and decided to enter the semiconductor space.In August 2021, the company displayed its plans to invest $300 million (approx. Rs. 2,245 crore) to set up a new semiconductor assembly and testing unit. Today, Tata Elxsi has already entered into 5G network equipment and the semiconductor industry.Once this semiconductor plant is operational, it will majorly supply semiconductor chips to
Tata Motors
and
Tata Power
. The company is expected to start its operation by late 2023 and employ more than 4,000 workers.Apart from semiconductors, Tata Elxsi Ltd. is also involved in providing design and technology services to the automotive, media, communications and healthcare sectors.The company has a wide geographical presence. It generates 36.5% of its revenue from Europe, 36% from the US, 13% from India and the remaining 14% from other countries.Here is the segment-wise revenue breakup of the company.
88% of revenue is generated from the embedded product and design segment.
9% of revenue is generated from industrial design and visualization
2% from system integration and support
Here are the key financial ratios of Tata Elxsi 
*Data as on 18th July 2022
Dixon Technologies Limited is one of the largest companies which focuses on manufacturing products in the consumer durables, lighting and smart phones segment in India.They have a vast product portfolio which includes:
Consumer electronics like LED TVs
Home appliances like washing machines
Lighting products like LED bulbs and tube lights
Smart phones
CCTV & DVRs
Medical Equipment
Repair and refurbishment services of set-top boxes… and a lot more.
Recently in August 2021, the company also signed a memorandum of understanding (MOU) with a Japan-based company called Rexxam Ltd. It will focus on manufacturing printed circuit boards (PCBs) for air conditioners for the domestic and international markets.Apart from this Dixon also produces products for big brands like Philips, Havells, Syska, Bajaj, Wipro, Orient, Godrej, Samsung, Lloyd, Panasonic and a lot more.Now, as this company produces a lot of electronic products, they would eventually need a semiconductor plant. This would ensure that if there is a global shortage of semiconductor chips again then they won't have to rely on a third party.But, in a recent interview, the CFO of Dixon Tech, Saurabh Gupta mentioned that the company uses almost 40-45% of semiconductors in each device. This leads to a huge capital expenditure. Hence they do not have plans on setting up a chip manufacturing plant just yet.Let's take a look at the revenue structure of Dixon Tech
48% revenue is generated from the LED television segment
09% revenue is generated from the home appliances segment
26% revenue is generated from the lightning system
12% revenue is generated from mobile phone segment
5% from security systems
Recently Dixon Tech announced a joint venture with
Bharti Enterprise Ltd
. Their plan is to manufacture telecom and networking products like routers, set-top boxes, Internet of things (IoT) devices and other devices for the telecom sector including
Airtel
..
Here are the key financial ratios of Dixon Tech
*Data as on 18th July 2022
MosChip Technologies was established in the year 1999. It is a semiconductor system design company. It is India's first fabless semiconductor company listed in India. A fabless semiconductor company designs, tests and packages semiconductor chips but they do not manufacture these chips themselves.Moschip technologies Ltd.  has a wide client base from across the globe. In the financial year 2021, it generated a revenue of around 86% from its semiconductor business and 14% from its embedded services business.The company has acquired various other companies with the motive of expanding its business. These companies are:
Gigacom Semiconductor LLC, California, USA
Gigacom Semiconductor, Visakhapatnam
FirstPass Semiconductors, Hyderabad
Institute of Silicon Systems, Hyderabad
Here are the key financial ratios of Moschip Technologies
*Data as on 18th July 2022
ASM Technologies is focused on providing consulting services in the embedded software and system software space. They specialise in offering prototyping, testing, pilot production, network design, wireless and cloud security products etc.A majority of the company's revenue comes from its US-based clientele. In the year 2020, the company generated 81% revenue from their international clients.ASM technologies have also made several investments in other areas of cloud, network, cybersecurity,
electric vehicles
, etc.Currently, the company works and invests in the digital space. They are soon planning to set up and use
IoT technology
to make things easier.
Here are the key financial ratios of ASM Technologies
*Data as on 18th July 2022
SPEL Semiconductor Ltd. is an India-based company that is primarily engaged in offering integrated circuits (IC). They also offer assembly and test facilities for the ICs. It is the first and only semiconductor IC assembly & testing company in India.As this company offers integrated circuits, their products are used in phones, computers, laptops, smartwatches and many other electronic devices.SPEL also offers services to many fabless companies worldwide. Some of their biggest clients are from the United States, Asia and Europe.
Here are the key financial ratios of SPEL Semiconductor Limited
*Data as on 18th July 2022
Ruttonsha is engaged in the manufacturing of traditional semiconductor devices. This includes power modules, rectifiers and thyristors. It manufactures semiconductors of varied ranges from 10 AMPS to 12,000 AMPS with voltage groups ranging from 200 volts to 5,000 volts.It also has a 25 year old technical collaboration with International Rectifier Corporation, USA, for the manufacturing of power semiconductors.Its products are used in various sectors such as
electricity
,
power
generation,
defence
and
aerospace
, etc. .The company has also acquired a 100% stake in Visicon Power Electronics Private Limited. It is focused on making silicon carbide (SiC) chips for the company.
Here are the key financial ratios of Ruttonsha International
*Data as on 18th July 2022
Bottom line
Semiconductors are indeed a boon to the modern world. These days' whichever electronic device we use has semiconductor chips in it. And this segment is going to boom even more with the growing demand for
electric vehicles
.
So, it is safe to say that semiconductor stocks will soon pick up the pace and is going to be the new emerging trend.So, now you know which  semiconductor stocks are listed on the
Indian stock exchanges
. But the main question is,
which semiconductor stock should you buy?To know the answer, simply visit
Samco's star ratings page
and check the ratings of the stock you wish to invest in. This rating is revised daily and is calculated using more than twenty million data points. It also mentions the pros and cons of investing in the company.So, next time you want to research a semiconductor stock or any other stock…all you need to do is visit
Samco's Stock Ratings Page
.To start investing in the best semiconductor stock, 
open a Demat account with Samco
and get access to a world-class
trading platform
at your fingertips.
Happy investing