In this article, we will discuss
A
trading account
is an investment account investors use to buy and sell securities such as stocks, bonds, and mutual funds. These accounts allow investors to access the stock market and execute trades online or through a broker.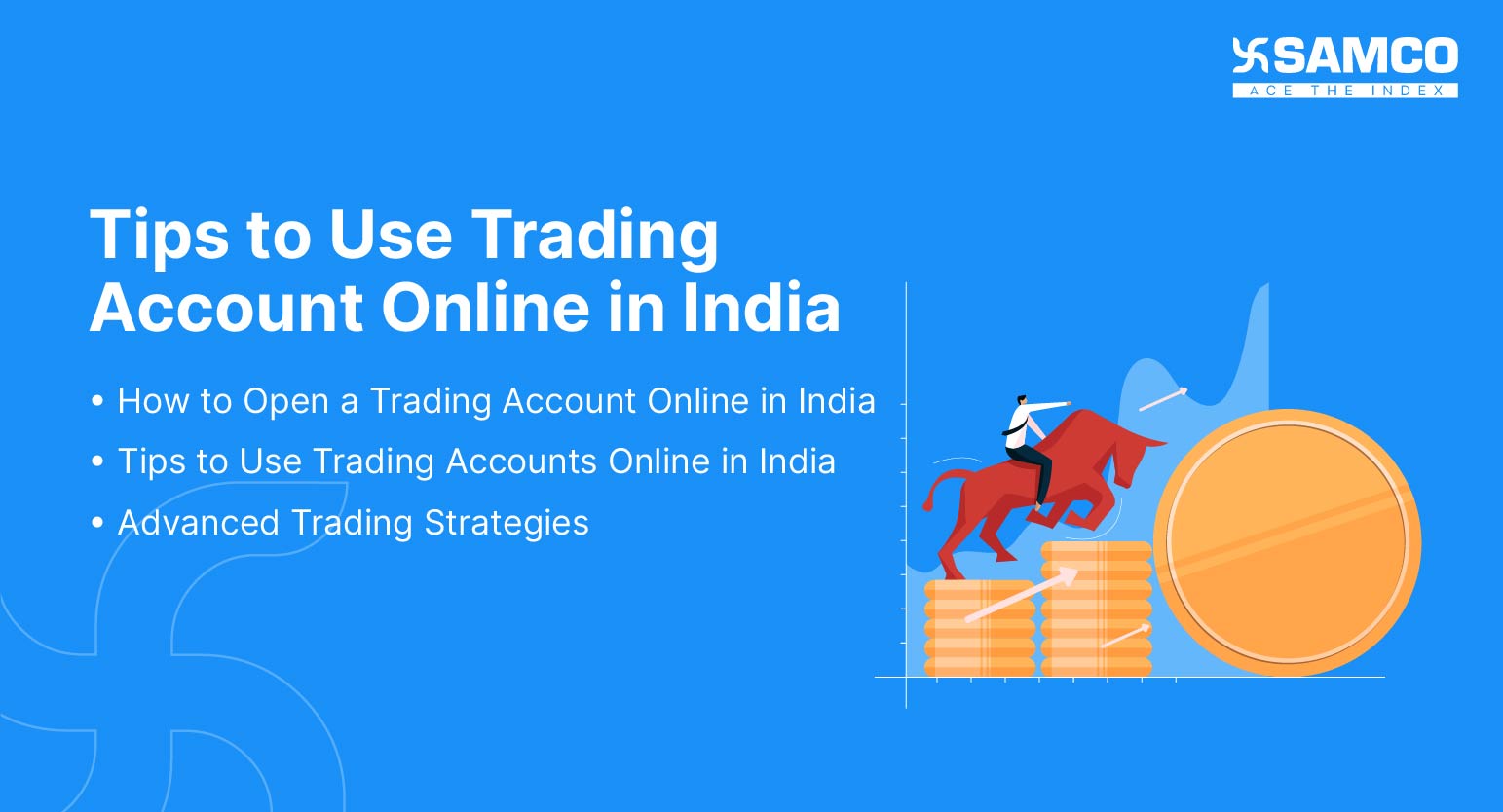 Online accounts have revolutionized how investors trade in India's stock market. With the increasing availability of high-speed internet and increasing mobile devices, investors can now access the stock market from anywhere in the world using an online Demat account. They have also made trading in the stock market more convenient, as investors no longer have to rely on a broker to execute trades on their behalf.
How to Open a Trading Account Online in India
Opening a trading account online in India is a relatively simple process. Although the account opening process might vary from company to company, the overall process remains more or less the same in all of them.
Choose a Brokerage Firm: The first step in opening an online trading account in India is to choose a brokerage firm. There are many brokerage firms to choose from, including traditional firms and online-only firms. It is essential to do your research and choose a reputable firm that offers the services and features you need.
Complete the Account Opening Process: Once you have chosen a brokerage firm, the next step is to complete the account opening process. This usually involves filling out an online application form, providing personal and financial information, and submitting documentation, such as proof of identity and address.
Link Your Bank Account and Demat Account:

After your account is approved, you must link your bank, and Demat accounts to your

nsdl demat accounts

. This will enable you to transfer funds and securities between your accounts.

Verify Your Trading Account: The final step is to verify your account. This usually involves completing a one-time password (OTP) authentication process or providing another verification form, such as a digital signature or biometric authentication.
It is important to note that some firms may require additional documentation or may have different verification procedures. It is always a good idea to read the fine print and understand the terms and conditions of your account before opening it.
Tips to Use Trading Accounts Online in India
Understand Your Trading Platform
Before you start trading, it is essential to understand the features and functionalities of your online trading platform. This includes understanding how to place orders, use technical analysis tools, and access news and research reports. Most brokerage firms offer demo accounts, allowing you to practice trading with virtual money before trading with real money.
It is essential to have a clear idea of what you want to achieve through trading. This could be short-term goals, such as making a quick profit, or long-term goals, such as building wealth over time. Knowing your trading goals can help you make better trading decisions and stay focused on your objectives.
Before placing any trades, it is important to have a trading plan in place. This should include your entry and exit points and your stop-loss orders. A trading plan can help you stay disciplined and avoid impulsive trading decisions.
Risk management is an important aspect of trading. It involves identifying and managing potential risks to your trading capital. One way to manage risk is to use stop-loss orders, which automatically closes out a trade if it reaches a certain price level. Another important strategy is diversifying your portfolio, which involves spreading your investments across different assets to reduce your overall risk exposure.
Keep Yourself Informed About the Market
Staying up-to-date with market news and trends is important for making informed trading decisions. This includes economic indicators, company earnings reports, and geopolitical events that can impact the markets. Most brokerage firms provide access to research reports and news feeds, which can help you stay informed.
Choose the Right Time to Trade
Timing is an important factor in trading. The markets are typically more volatile during certain times of the day, such as the opening and closing hours. Choosing the right time to enter and exit trades is important based on your trading goals and risk tolerance.
Keep Track of Your Trading Performance
It is important to keep track of your trading performance over time. This includes tracking your profits and losses and your overall success rate. Analyzing your trading performance can help you identify areas for improvement and refine your trading strategies.
According to a report by the National Stock Exchange (NSE), the number of active
trading accounts
in India has increased significantly in recent years, surpassing 8 million in 2020. With the increasing popularity of online trading, it is important to follow these tips to use your
nsdl demat accounts
effectively and manage your risk.
Advanced Trading Strategies for Online Trading Accounts in India
With the advancement of technology, traders can employ various advanced trading strategies to make informed decisions and maximize their profits. Here are some of the popular advanced trading strategies for online accounts in India:
Technical analysis
involves studying historical market data, such as price and volume, to identify patterns and trends that can help predict future price movements. Traders use technical indicators such as moving averages, relative strength index (RSI), and Fibonacci retracements to identify entry and exit points for trades.
Fundamental analysis
involves analyzing the financial and economic factors that affect a company's stock price, such as revenue, earnings, and macroeconomic trends. Traders use this approach to identify undervalued or overvalued stocks likely to experience a price correction in the future.
Algorithmic trading
, also known as algo-trading, is a trading strategy that uses computer programs to execute trades based on predefined rules and parameters. These programs analyze market data in real-time and make trades automatically, often faster and more frequently than human traders.
Options trading
is a popular advanced trading strategy that involves buying or selling options contracts, which give traders the right, but not the obligation, to buy or sell a particular stock at a certain price on or before a specific date. This approach is used to hedge risk or generate income from options premiums.
Traders need to have a thorough understanding of these advanced trading strategies before implementing them. Practicing these strategies in a demo account before using them with real money is also recommended. Additionally, traders should remember that no trading strategy is foolproof and should always exercise caution and risk management techniques.
Common Mistakes to Avoid While Using Online Trading Accounts in India
When it comes to trading, making mistakes is a common occurrence. However, some mistakes can be more costly than others. Here are some of the common mistakes to avoid while using an online trading account in India:
Overtrading is a common mistake among novice traders who get caught up in the excitement of the stock market. Overtrading can lead to a significant loss of capital. It is important for traders to focus on quality trades rather than quantity. It is crucial to have a trading plan and stick to it, regardless of market conditions.
Failing to Follow Risk Management Strategies:
Risk management is an essential aspect of trading that involves protecting capital by limiting the amount of money lost on any single trade. Failing to follow risk management strategies can result in significant losses. Traders should always use stop-loss orders and never risk more than they can afford to lose.
Not Keeping Track of Your Trading Performance:
Keeping track of your trading performance is critical in identifying areas for improvement and determining what is working and what is not. You can learn from your mistakes and improve your trading strategy by analyzing your trading history.
Not Researching the Market Properly:
One of the most common mistakes traders make is not researching the market properly. Failing to conduct proper research can lead to poor trading decisions and significant losses. It is essential to stay up-to-date on market news and trends, analyze technical and fundamental data, and research the companies you are considering investing in.
Letting Emotions Control Your Trading Decisions:
Emotions can be a significant factor in trading, and allowing them to control your trading decisions can be costly. Greed, fear, and hope can cause traders to make irrational decisions and lead to significant losses. Traders should learn to control their emotions and stick to their trading plans.Avoiding these common mistakes can help traders to succeed in the stock market. By focusing on quality trades, following risk management strategies, keeping track of trading performance, conducting proper research, and controlling emotions, traders can increase their chances of success.
Trading Account Security and Safety Tips
Trading account security is of utmost importance regarding online trading in India. Here are some tips to ensure the safety of your
trading account:
Keep Your Account Information Safe
It is important to keep your account information safe and secure. Do not share your account login credentials with anyone; do not save them on a shared computer or device. You should also be cautious about sharing personal information online, especially on social media platforms.
Ensure you use strong passwords for your account, and avoid using the same password for multiple accounts. Use a combination of upper and lowercase letters, numbers, and special characters to make your password more secure.
Enable Two-Factor Authentication
Two-factor authentication (2FA) is an additional layer of security for your account. By enabling 2FA, you must provide an additional authentication factor, such as a code sent to your phone or email and your username and password to access your account. This can help prevent unauthorized access to your account.
Beware of Scams and Frauds
Be cautious of phishing scams and other fraudulent activities. Scammers may try impersonating your brokerage firm or email malicious links or attachments. Always verify the authenticity of any emails or messages you receive before clicking on any links or providing any personal information.
Monitor your Account Regularly
It is important to regularly monitor your account for any unauthorized activities or suspicious transactions. If you notice any unusual activities, immediately contact your brokerage firm and take the necessary actions to secure your account.
Conclusion
Using an
online trading account
in India can be a convenient and efficient way to invest in the stock market. By following the tips and strategies discussed in this article, traders can enhance their trading experience and potentially increase their profits while minimizing risks. It is essential to understand the trading platform, set realistic trading goals, plan trades, follow risk management strategies, stay informed about the market, choose the right time to trade and keep track of trading performance.Moreover, traders can explore advanced strategies like technical and fundamental analysis, algorithmic trading, and options trading to make more informed trading decisions. It is equally important to avoid common mistakes such as overtrading, failing to follow risk management strategies, not researching the market properly, and letting emotions control trading decisions.Traders must also prioritize the security and safety of their accounts. They should keep their account information safe, use strong passwords, enable two-factor authentication, beware of scams and fraud, and monitor their accounts regularly. By doing so, traders can prevent unauthorized access to their accounts and protect their investments.Looking to make a market investment? Look no further than
Samco
. a top online trading platform that gives you access to a vast array of investment opportunities.
With Samco, opening a Demat account
is as simple as a few taps on their app, allowing you to trade easily and smoothly to reach your financial objectives.