Steps: Website using via SmartCom:
In the modern age where everything has gone digital it is really important for an IFA to have an online presence where they can talk about themselves and generate more leads. With SmartCom you can create your own website where you can ask users to register and those leads will automatically be visible in your SmartCom leads section.
A website also helps to establish your own unique identity to differentiate from the competition. Let's look at the step by step guide on how to set up your website.

Step 1: Visit partners.rankmf.com/login
Step 2: Login in with your credentials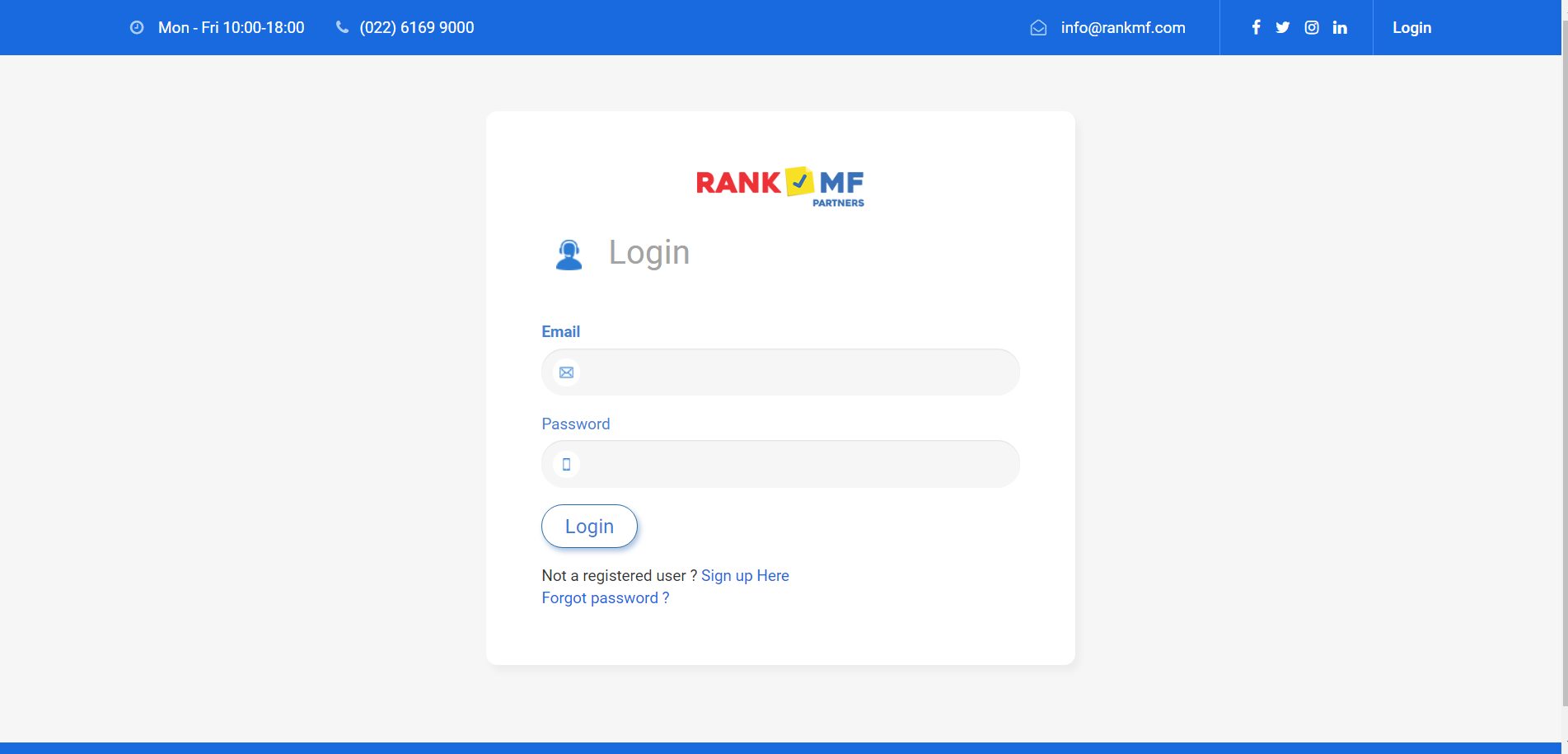 Step 3: Click on your name on the top right and click on my profile.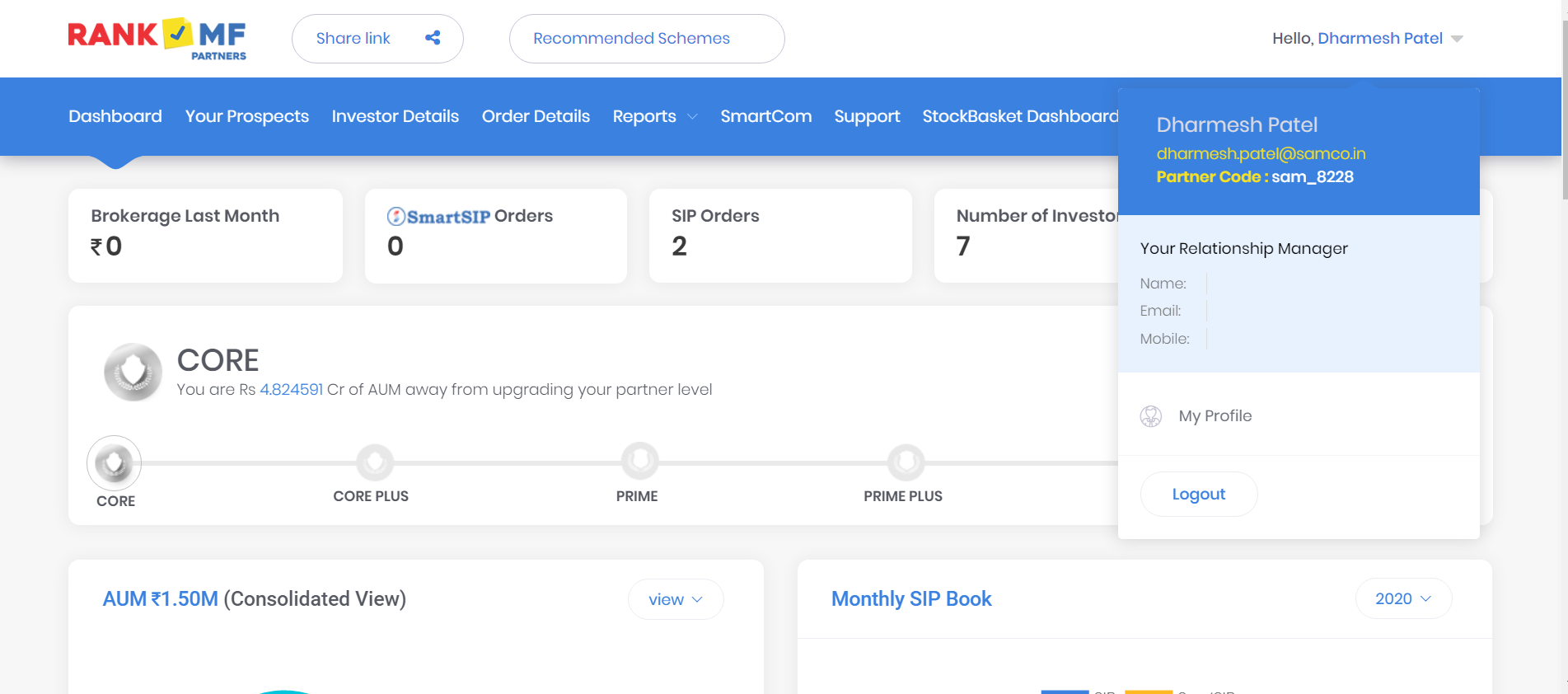 Step 4: Under section Brand update the details which you want to visible on your website
Enter your website name:
e.g. if you want to name your website as "Dharmesh" then your website URL will be – dharmesh.partners.rankmf.com
Enter the Brand Name/Business Name/Trade Name:
Keep a name for which you want to create and identity and showcase it to the world.
Upload your brand logo:
Here you have an option to either display your brand logo or choose quick logo which will display your brand name as a logo on the website.
You can select any as per your preference and click on next.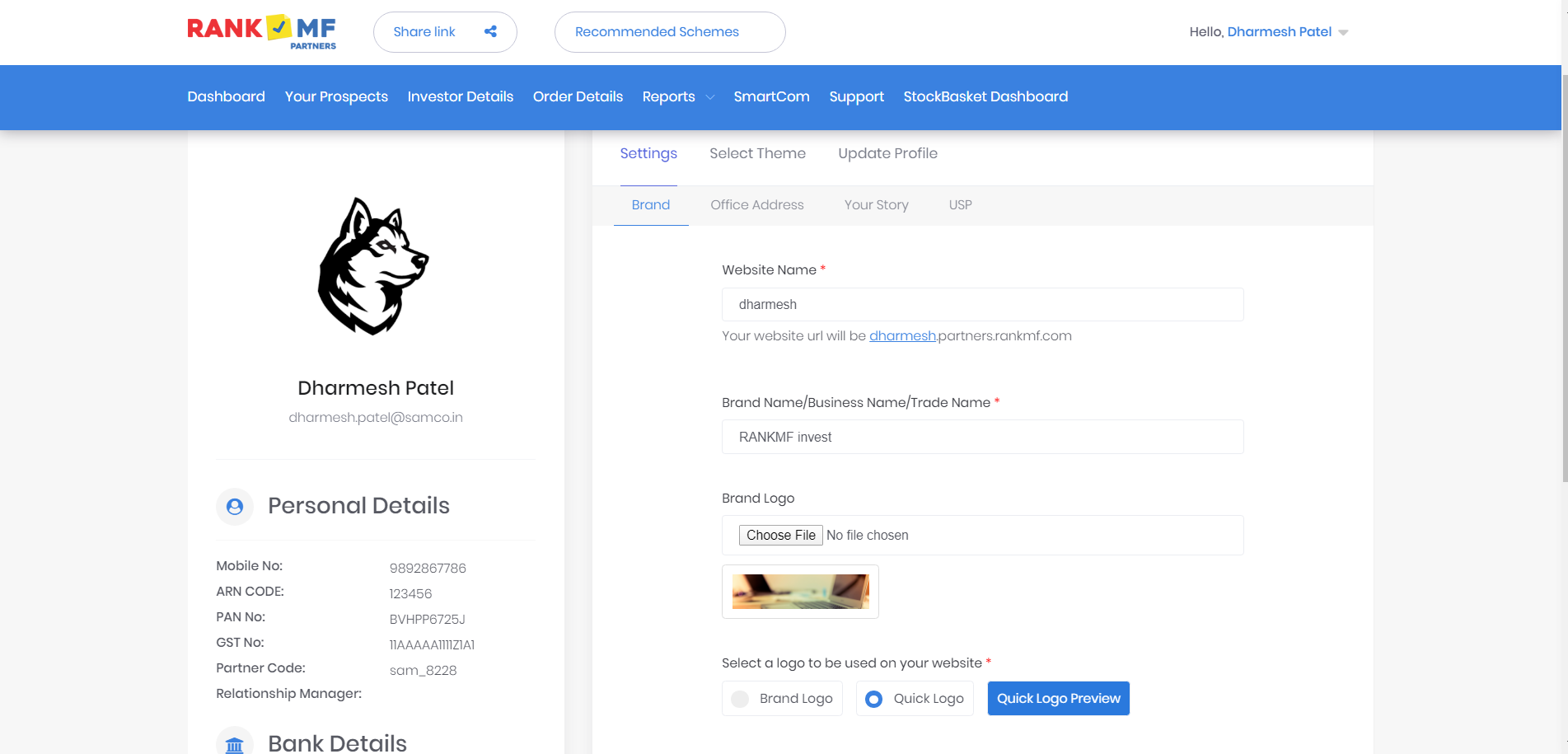 Step 5: Now enter your official address to display on your website. If someone visits your website, they can contact you or locate your office.
It is highly recommended to put in your Google Maps location link details in the address form. By doing this the location will be highlighted on your website making it easier to find your office.
Here is how to do it: Visit google maps enter and pin your address now click on share and then get an embedded link from Embed a map option now click on copy and paste it on Google Maps Address Link box.

Step 6: Update USPs – You are different so is the way you conduct your business. Under USP you can put up to 3 differentiating pointers as to WHY you are better than your competition.
e.g. A USP can be 'Fast Service', More than 1000+ clients onboard etc.
Once you fill in your key USPs, click on complete and now your website is created successfully. Visit your customized URL by the name you created under the brand where you can see all the details updated.
This link can be shared with you clients, leads and future prospects for them to get acquainted with you and your business.
You can also watch a quick video tutorial below to set up your website.
Next article will shed light on How you can add more prospects to your list to start sending them emails and SMS. If you would like to Add Prospects in SmartCom you can also setup easily.
Was this article helpful?
Share