What is a retention statement?
A retention statement is a document that is sent to a client by their broker. It lists the funds that the broker has retained from the client's trading account, and the reason for the retention.
Why do brokers retain funds?
Brokers retain funds from their clients' trading accounts for a number of reasons, including:
To cover margin requirements: When a client trades on margin, the broker must hold back a certain amount of funds in the client's account to cover potential losses.
To meet regulatory requirements: SEBI (Securities and Exchange Board of India) requires brokers to transfer any excess funds in a client's trading account back to the client's bank account once a quarter. However, brokers can retain up to 225% of the client's End of Day (EOD) margins if the client has an outstanding position on the quarterly settlement date.
What happens to the retained funds?
The funds that are retained by a broker are held in a separate account. These funds are not used by the broker for any other purpose, and they are not invested. The funds are simply held in reserve to cover potential losses or to meet regulatory requirements.
How do I get my retained funds back?
Your broker will automatically transfer your retained funds back to your bank account at the end of each quarter. You do not need to do anything to request the transfer.
How to read the Retention Statement?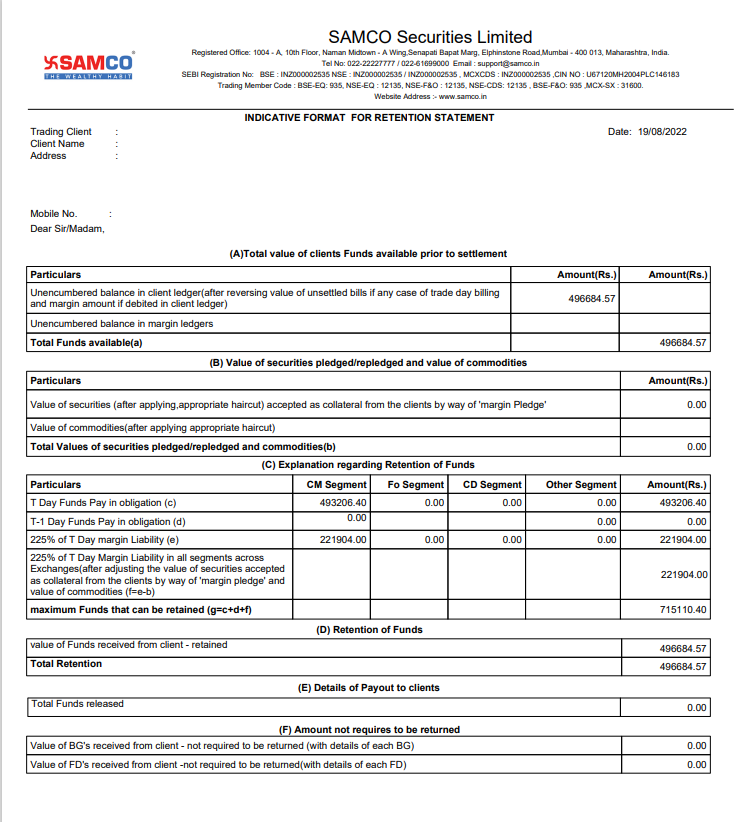 In section A indicates free balance available in the client's ledger. Unencumbered balance in client's ledger is indicated by this column.
In section B indicates the value of pledged/unpledge value of the securities, i.e. if the client has pledge tata motors and the post haircut margin released was 1,00,000, in this case 1,00,000 will be displayed in B column
In section C indicates the explanation regarding retention of funds bifurcation in different segments


If the funds in the Samco Ledger were greater than permissible retained fund, the excess funds would have to be transferred back to the client's primary bank account.
In section D indicates the total fund retained by the broker as per the circular
In section E indicates the total fund released greater than the retained amount
What if I have questions about my retention statement?
If you have any questions about your retention statement, you should contact our support team. They will be able to explain the reasons for the retention and answer any questions you have.
Here are some additional things to keep in mind about retention statements:
Brokers are required to provide retention statements to their clients in a standard format.
Clients have the right to request a copy of their retention statement from their broker at any time.
Was this article helpful?
Share