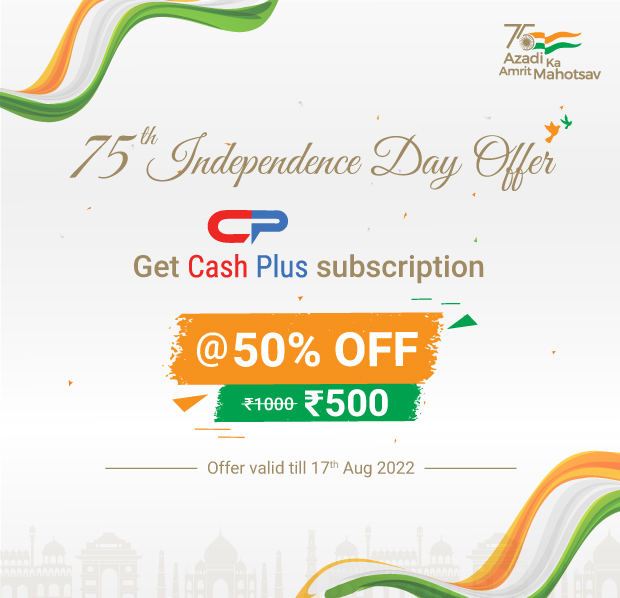 In this 75th Year of Independence, we are running an offer for samco clients, get Flat 50% off on a Cashplus subscription.
What is CashPlus?
Samco offers a host of leverage products to investors and traders, one of them is CashPlus. CashPlus enhances your equity delivery buying leverage.
CashPlus is Samco's equity delivery leverage product that allows investors to get up to 4X margin against cash in over 400+ stocks for equity delivery trades. In simple terms, if you have Rs.1,00,000 cash balance in your Samco ledger account, you can buy stocks in delivery for up to Rs. 4,00,000 with a CashPlus subscription.
You can carry forward your Delivery Trades Ad Infinitum as long as your margins remain within the prescribed limits.
How CashPlus work?

CashPlus gives you additional margins to buy shares in delivery against your cash balance
The following table explains how enhanced delivery leverage works with a CashPlus subscription.

You can Explore CashPlus Margin Calculator here
CashPlus Independence Day offer:
Get CashPlus Subscription Now @50% off. 
Offer Duration period: 15th, 16th, and 17th August 2022
Who is eligible for this offer?
All clients who haven't subscribed to CashPlus
All CashPlus Expired subscribers.
Teams and Conditions:
Subscribe to CashPlus between 15th August 2022 to 17th August 2022.
Payments must be made between 15th August 2022 to 17th August 2022.
The offer won't be valid for renewal cashplus clients.
To know more about CashPlus you can refer to this blog – Read More
If you are facing any problems while subscribing, feel free to contact us on 022-2222-7777 or 022-4503-0450 or write to us at support@samco.in