Introduction to Artificial Intelligence Stocks
Artificial Intelligence stocks or AI stocks are quite the rage in international circuits. Some of the popular AI stocks listed in the US markets include NVIDIA Corporation, IBM, Micron Technology Inc. and Amazon Ltd. etc. But unfortunately, this craze is yet to catch on in the Indian markets. So, if you are looking for artificial intelligence stocks listed on NSE and BSE, then congratulations! You are already ahead of the pack. And you have come to the right place.
In this article, we are exploring the world of artificial intelligence, which is both daunting and exciting. Why is the artificial intelligence sector daunting? Well, as per a report by the World Economic Forum, artificial intelligence or AI is expected to replace 85 million jobs worldwide by the year 2025. Wondering why should you be excited about artificial intelligence? Especially, since it can potentially put you out of a job? Well, because the advancements in the artificial intelligence sector promises exciting new growth opportunities for investors like you. By now you must have noticed that a majority of investors invest in the same set of blue chip stocks.
These include your standard picks like Reliance Industries Ltd., HDFC Bank Ltd., and Tata Consultancy Services Ltd., etc. What's wrong with this? Well nothing. But if you continue on the same trajectory, then the chances of you outperforming others are very slim; almost negligible. To generate market-beating returns, you need to do something out-of-the-box. And what is more unique than investing in the future with artificial intelligence stocks? Now we know that there is a lot of resistance when it comes to artificial intelligence. AI is often considered to be nothing more than a fantasy.
I mean, can robots really replace human beings? Sounds a little far-fetched, doesn't it? Well, back in the 1980s, even the internet was considered to be nothing more than a daydream. But today we cannot imagine our lives without the internet. The same is true for self-driving cars. Everyone was convinced that self-driving cars were nothing but the fantasy of an engineering guy. This was until Elon Musk successfully introduced the first self-driving Tesla in 2016.
So, while there are skeptics, the truth is that artificial intelligence is no longer the future. It is our present and yes, this means a lot of jobs will become redundant. But it also means that artificial intelligence stocks will present highly lucrative investment opportunities. Sounds exciting, doesn't it? Well then, put on your future vision goggles and let's dive into the world of artificial intelligence, its scope and the future. We will also take a look at the top five artificial intelligence stocks listed on the Indian stock exchanges. But first, let us understand what is artificial intelligence.
In this article on Top Artificial Intelligence Stocks in 2022:
What is Artificial Intelligence?
Think of artificial Intelligence as a simulation or a system where we have built smart machines, computers and robots. These smart machines are capable of performing tasks at a much faster speed, with greater accuracy without any human intelligence or interference. AI-enabled systems are so smart that they are able to take decisions on your behalf. Basically, a world where human intelligence or intervention is not required. While this might sound futuristic, we are surrounded by AI:
Siri, Alexa, and Google Assistants etc.
Self-driving cars
Robo-advisors
Conversational bots
Email spam filters
Netflix or Amazon recommendations etc.
Drones
Metaverse equipment like headsets.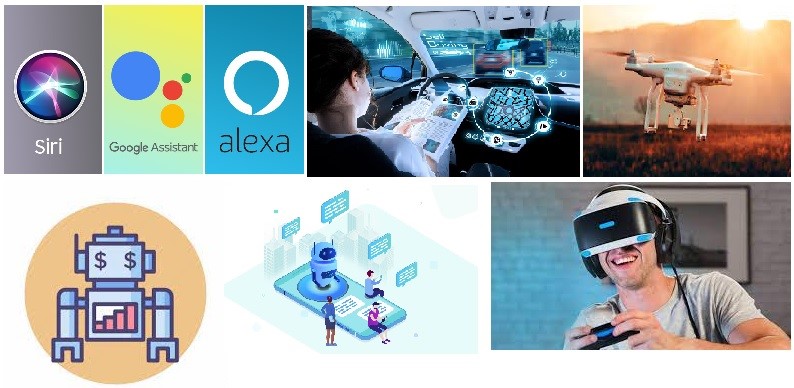 What is the Difference between Artificial Intelligence and Robotics?
Before we move any further, we need to address a common misconception. A majority of investors believe that artificial intelligence and robots are the same thing. But this is not entirely true. Yes, both artificial intelligence and robotics are related fields. But they are not the same. In robotics, robots are created which can perform tasks without human help or support.
Whereas with AI, systems are created to copy human mind and their decisions. Think back to the time when you were watching a particular horror movie. The next time, Amazon or Netflix recommends you similar horror movies. They are basically using AI to influence your decision making. But AI is not just limited to influencing what you eat, watch or buy. Let us look at the various use-cases of artificial intelligence.
What are the Use-Cases for Artificial Intelligence?
AI is being used in the education, health, financial services, movies and restaurant business etc.
In the healthcare sector, AI-robots will soon assist surgeons in performing complex surgeries with utmost precision and minimal errors. The robotic surgery market in India is expected to grow at a CAGR of 20% between 2017 and 2025. The AI-medical sector is expected to be worth $ 350 million.
You must have seen countless advertisements for Byjus where students interact and learn from artificial intelligence-driven machines.
How about the robotic cameras we see during cricket matches, which can capture even the smallest or fastest movement on the field.
Robots have also made their way into metropolitan cities like Bangalore and Hyderabad, where everyone from the chef to the server to the waiter are robots.
Robo-advisors are changed the game for investment advisors in India. They are cheaper, faster and provide advice which is free from bias and human errors.
Robotics or AI is also driving a major revolution in the logistics sector. Automated warehouse robots are cheaper, more efficient and not prone to errors or accidents.
In the future, you might be able to order a custom-made film with virtual avatars of your favorite actors.
AI can be used to predict virus and predator attacks by analyzing and interpreting data. AI will be able to protect data, reduce issues of identity theft and malicious attacks.
AI assistants will be able to shop for nutritional foods, place grocery order online, mow lawns, wash your laundry on its own and much more!
While artificial intelligence is fairly new to the Indian markets, countries across the globe have already accepted AI and robots as a part of their daily lives. Japan, is the biggest robot manufacturer in the world. Their robot export ratio rose to 78% in 2020, with the USA being the biggest importer. The US government has committed nearly 6 Billion Dollars to AI-research and development projects in 2021.
European countries are all set to increase their spending on artificial intelligence by 33% between 2020 and 2023. And fortunately, India isn't too far behind. In 2020, the Indian government increased their budget allocation for digital India initiate to USD 477 Million. The aim is to make e-banking, e-education and e-health more accessible. The Indian government also aims to leverage the AI and robotics technology in the following fields
Biometric identification
Criminal investigation
Traffic and crowd management
Women safety
Cleaning rivers and protecting forests
Digital agriculture
Strengthening defense
The AI and robotics sector in India is expected to skyrocket to USD 957 Billion by the year 2035. This would be equivalent to nearly 15% of India's GDP in 2035. But it is no bed of roses. This growth in automation is not without job cuts. As per a survey by Mckinsey, AI could eliminate 73 million jobs in US by 2030. For Indians, AI is set to make nearly 120 million jobs redundant by 2030.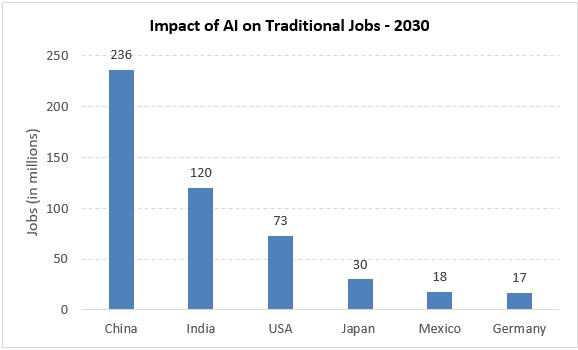 List of the top 10 artificial intelligence or robotic stocks
*Data as on June 20, 2022
Top 5 artificial intelligence stocks in India in 2022.
AI Stocks in 2022 #1 - Tata Elxsi Ltd
Tata Elxsi Ltd. is one of the most popular AI stock in India. While other companies have recently jumped on the AI bandwagon, Tata Elxsi has been working in the field of AI for the last 25 years. From self-driving cars to video analytics, Tata Elxsi has created unique systems for everything. One of its biggest offering is the Cognitive Video Services Framework. This system helps in personalizing content for users, suggesting new revenue models, automating content analysis etc. Tata Elxsi has also created AI solutions for OTT platforms like –
Automatic subtitle generation
Scene, actor recognition
Content metrics for Ad Analytics
Screening objectionable content
Video summary
Tata Elxsi is also working on Metaverse and Internet of Things enabled products and services. With a market capitalisation of Rs 45,212 crore (as of June 20, 2022), Tata Elxsi Ltd. is one of the biggest AI stocks in India. The company has generated spectacular ROE of 37.20% and ROCE of 47.7%. The company is almost debt free and has delivered a good profit growth of 25.80% in the last five years. Key Financials of Tata Elxsi Ltd.
| | | | | | |
| --- | --- | --- | --- | --- | --- |
| Top AI Stocks in 2022 | Market Capitalisation (Rs Crore) | PE Ratio | ROE | ROCE | Debt to Equity |
| Tata Elxsi Ltd | ₹ 45,218 | 82.40 | 37.20% | 47.70% | 0.09 |
AI Stocks in 2022 #2 – Bosch Ltd.
Bosch, a market leader in automotive and industrial technology started developing its AI in 2017. Over time, they have applied AI to Bosch products and services in sectors like manufacturing, engineering, supply chain management, and even electric vehicles. Bosch is developing charging infrastructure for electric vehicles. The company is almost debt-free with a debt to equity ratio of 0.01. Its revenue has jumped 21% between March 2021 and 2022. But the best part is that its net profit jumped by 153% from Rs 482 crore in March 2021 to Rs 1,217 crore in March 2022.
Key Financials of Bosch Ltd.
| | | | | | |
| --- | --- | --- | --- | --- | --- |
| Top AI Stocks in 2022 | Market Capitalisation (Rs Crore) | PE Ratio | ROE | ROCE | Debt to Equity |
| Bosch Ltd | ₹ 39,232 | 32.20 | 11.90% | 14.80% | 0.01 |
AI Stocks in 2022 #3 – Kellton Tech Solutions Ltd.
Kellton Tech Solutions Ltd. is a small-cap artificial intelligence stock with a market capitalisation of Rs 596 crore (as on June 20, 2022). It is majorly into software development, digital commerce and marketing, platform and product development, technology consulting, and testing etc. The company has also launched KLGAME, an IoT solution that uses Bluetooth technology to curate rich user experience for its clients. The company has managed to increase its revenue by 9% to Rs 843 crore. However, its net profit has dropped to 70 crore from 71 crore in March 2021. The company has generated decent ROE of 15.70% and ROCE of 17%. The stock is currently in the undervalued zone as its PE of 8.46 is less than the industry PE of 26.60.
Key Financials of Kellton Tech Solutions Ltd.
| | | | | | |
| --- | --- | --- | --- | --- | --- |
| Top AI Stocks in 2022 | Market Capitalisation (Rs Crore) | PE Ratio | ROE | ROCE | Debt to Equity |
| Kellton Tech Solutions Ltd | ₹ 596 | 8.49 | 15.70% | 17.00% | 0.24 |
 AI Stocks in 2022 #4: Happiest Minds Technologies Ltd.
Happiest Minds has invested heavily in the artificial intelligence and machine learning sector. The company provides deep learning, predictive analysis, statistical modeling, and data mining. It is also a market leader in video processing and video analytics with expertise in –
Face detection
Person tracking
Object identification
Image tagging
As part of its natural language understanding system, it creates custom APIs to facilitate speech, voice recognition, text mining, conversational bots, and information extraction etc. In the augmented and virtual reality segment, it works on HoloLens, fashion and retail, automotive, augmented maps and data visualization in VR. In terms of financials, the company has generated a revenue of Rs 1,034 crore in March 2022. This is a jump of 36% from its March 2021 numbers. Its net profit numbers are also jumped by 15% to Rs 186 crore in March 2022. The company has delivered an outstanding CAGR profit growth of 112% in the last five years.
Key Financials of Happiest Minds Technology Ltd.
| | | | | | |
| --- | --- | --- | --- | --- | --- |
| Top AI Stocks in 2022 | Market Capitalisation (Rs Crore) | PE Ratio | ROE | ROCE | Debt to Equity |
| Happiest Minds Technologies Ltd | ₹ 12,096 | 65.00 | 30.60% | 31.20% | 0.37 |
AI Stocks in 2022 #5: Zensar Technologies Ltd
Zensar Technologies Ltd. is a leading digital solutions company with focus on Hitech and manufacturing, consumer services, banking and financial services. The company is investing heavily in new and exponential technology (NeXT), natural language processing, block chain and Internet of Things. Their R&D division, Zensar AIRLabs has filed for 100 patents in the last two years. The company witnessed slow growth in FY 2022 as its revenue increased by a mere 5% to Rs 1,154 crore in March 2022. However, its net profit grew by a whopping 43% to Rs 130 crore.
Key Financials of Zensar Technologies Ltd
| | | | | | |
| --- | --- | --- | --- | --- | --- |
| Top AI Stocks in 2022 | Market Capitalisation (Rs Crore) | PE Ratio | ROE | ROCE | Debt to Equity |
| Zensar Technologies Ltd | ₹ 5,772 | 13.90 | 16.60% | 22.70% | 0.12 |
As we have said earlier, AI is not the future. It is our present. And it's time we set our reservations aside and explore how we can profit from the growth in the AI sector. Want to invest in the AI sector but don't know which AI stocks to invest in? Check out Samco Stock Ratings and invest in best AI stocks. Open a FREE Demat account with Samco Securities, the best stock broker in India!