Last Updated – May 2022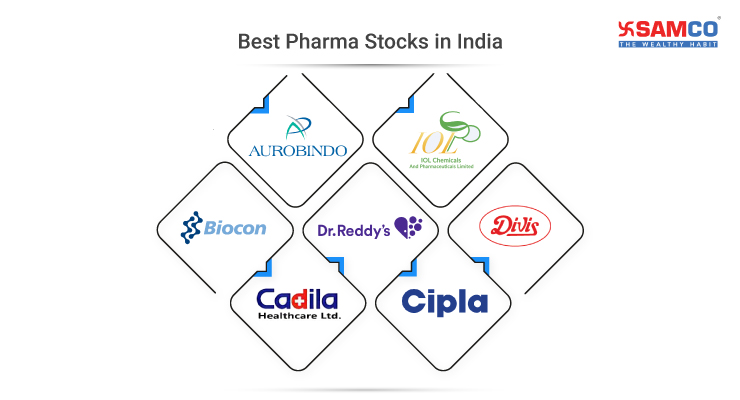 In this article, We will cover
All About Pharma Sector
Pharma sector is one of the most loved sectors in the Indian stock market, the Pharma stocks gave a return of 30% CARG between 2009 and 2016 that was the golden time for best pharma stocks.
The S&P BSE Healthcare Index jumped almost six times in seven years in its previous bull run from 2009 to 2016. That gives a handsome CAGR of almost 30% in 7 years. However, the story turned sour in the four years that followed with the index losing around a third of its value in absolute terms. The 11-year CAGR of the index still stands at a respectable 14% and that came with a stomach churning roller coaster ride. Pharmaceutical sector as a whole had underperformed due to several factors such as pricing pressure in the USA, stringent regulatory requirements by the US Food and Drug Administration (USFDA) and delay in drug approvals. But, Indian Pharma companies have always maintained a good standing in the global pharmaceutical industry.
They have managed to consistently be leaders in manufacturing of generic drugs both domestically and globally. Drugs manufactured in India have reached various developed economies such as the USA, UK and the EU. Further, India enjoys a cost advantage too, since the drugs manufactured are more affordable and help to reduce the ever-inflating healthcare budgets of the global economy. 
Outbreak of the current pandemic has brought back the attractiveness of the Pharma sector as a whole. The rise in demand of especially a few essential drugs gave the much-needed boost to the sector. Further due to extended lockdown, along with other sectors, Pharma companies too are facing challenges wherein factories are working with lower manpower capacity, producing essential and limited drugs. Nonetheless, the Pharma sector is one of the least affected in the COVID-19 situation and strong demand for essential drugs would aid growth for the companies.         
Pharma companies can be attractive for long-term investors in spite of the volatility. The ever-rising industry size and healthcare becoming a critical part of life, investors can make good returns if they invest at the right time. Further, being an evolving industry, innovation, scientific breakthroughs, and technological advances bring in exponential growth for many Pharma companies.
Other than that, investors should look at Pharma stocks which are fundamentally sound with resilient balance sheets, proven track record of clearance from USFDA issues and management expertise. The companies should have visibility in growth and ability to come out stronger from downturns. Factors such as consistent high return ratios, lower debt to equity ratio, profit margins, R&D expenditure, drugs at various stages of approval in the pipeline, patents for drugs etc. should definitely be checked for investing in a pharma company. The below mentioned model portfolio includes the best stocks in the Pharma industry for an investor to include in his portfolio as it checks all the boxes in terms of strengths, consistency in performance and risks.
List of 17 Best Pharma Stocks to Buy In India
Let's read some more details about 7 Best Pharma Stocks
Dr. Reddy's Laboratories
Dr. Reddy's Laboratories is amongst the top Indian generic players in the US market with an increasing focus on other core priority markets such as India, Russia, China. This focused approach along with the existing non-core assets by the new leadership team has improved profitability. It is expected that earnings would improve with scale-up of launches in the US and quicker execution of various drugs in an emerging market.
This coupled with a focus on cost control measures would continue to improve margins. In addition to this, it is seen that US revenue has bottomed out with price erosion likely to normalize and the pick up in launch momentum will reduce the historical dependence on just a few products.The Company has skillfully managed to execute the ex-US business which is reflected in its improved earnings performance in recent quarters.
The risk certainly includes but is not limited to regulatory issues, delays in product launches in the US and adverse foreign exchange fluctuations. In terms of profitability, Dr. Reddy's has managed to post a compounded sales growth of 10% and compounded profit growth of 30% over the last three years. On an average, the company posted a robust ROE of 13% over the same period. Dr. Reddy's reports one of the highest ROCE amongst peers.
Divi's Laboratories
Divi's Laboratories is the largest Indian contract research and manufacturing services (CRAMS) player. The company focuses on growth capex and backward integration. Given the nature of business, Divi's is a beneficiary of volume, pricing and currency tailwinds. The Company is well positioned to benefit from a robust demand environment. Additionally, Divi's is the authorized API manufacturer for Molnupiravir, an investigational oral drug for treating COVID-19.
Implementation of its Rs. 17 billion capex plans would be a key area to watch out for going ahead. It has mentioned that Rs. 5 billion would be utilized towards debottlenecking which would drive supply assurance whereas the remaining Rs. 12 billion would be utilized towards 2 projects to drive higher growth from FY22. With a ROCE of 32.09%, Divi's boasts of one of the highest ROCE among its peers. Last year, ROE stood at 24% well above the average ROE of 20% over the last five years.
Compounded sales and revenue growth were reported at 13% and 12%, respectively over the last five years. Currency realizations have a high impact on Divi's' margins as exports contribute nearly 85% to revenue along with depreciation of key export currency (USD, EUR) which may further prove to be risky. Further, a rebound in China and consequently diminishing of the China opportunity could also pose a risk going ahead.
 Cipla
Cipla is a leading player in the domestic market. The company has a strong presence in the chronic segment, as well as market leadership in certain chronic therapies like respiratory and inhalation. The Company is building a US franchise with focus to launch complex generics for steady growth. It has also shifted its focus to India which would accelerate the domestic demand trajectory. The approval of Albuterol given the shortage in respiratory products in the US due to COVID-19 would ensure improvement in US growth and margins in the medium term.
Cipla's One-India Strategy has worked well and is expected to generate strong growth momentum in the future. Pharma majors do not have a large US portfolio but with an increase in respiratory exposure in the domestic market, the approval of Albuterol inhalers should drive strong earnings in coming years. The company's cost-cutting measures are expected to continue in the future, resulting in an improvement in margin trajectory. Furthermore, the board has approved the extension of Mr. Umang Vohra's term as MD and Global CEO, which bodes well for Cipla's future growth.
The risks include adverse regulatory actions (particularly from USFDA) on facilities, unfavorable factors impacting growth and profitability for key markets such as South Africa, broadening list of essential medicine (NLEM) which would impact domestic revenue along with any delay in new product approval.
Biocon Ltd
Biocon Ltd. is a leading biosimilar company uniquely positioned with a basket of biosimilars from Mylan (two commercialized in the US), Sandoz partnership and own biosimilar products globally. It is expected that Biologics sales would be bolstered by scaling up Peg-filgrastim and Trastuzumab, monetization of Glargine and other biosimilar pipeline and value unlocking by listing of biosimilar division, Biocon Biologics over the next 2-3 years.
Biocon aims to generate USD 1 billion (about Rs. 7,460 Crs) revenues from the biosimilars segment alone by FY22. Currently, price erosion in biosimilars is much lower than in other segments, which is beneficial to the company. Biocon recently announced that the company's subsidiary Biocon Biologics Limited (BBL) is acquiring Viatris biosimilars business for $3.3 billion in order to strengthen the company's biosimilars business. While the deal forward integrates BBL in the Biologics value chain, the valuation paid for acquiring the Viatris' commercial infrastructure in developed markets is expensive.
Biocon's global presence in the biosimilars market would be bolstered by its scientific expertise in developing and manufacturing complex biosimilars, as well as the commercialization strength of its partner companies.Key downside risks include adverse regulatory actions in its facilities impacting approval or ramp-up of biosimilars, higher-than expected competition in biosimilars in the US which may lead to higher-than expected erosion or cap of market share along with delays in launches by its partners due to legal and commercial uncertainties.
Aurobindo Pharma
Aurobindo Pharma is a leading US generic player with a strong presence in developed markets like Europe. The US business has a healthy long-term growth outlook, thanks to increasing traction in the generic Injectables space (with comparatively low competition), a strong product pipeline, and expected traction for recently launched products. Diversified portfolio in the US and scale-up of injectable business would drive earnings in years to come. USFDA related issues across its plants still remain an overhang. Despite USFDA challenges, it expects steady US growth and better profitability in the EU (for acquired Apotex portfolio) by FY22. While USFDA overhang persists on few facilities, recent clearance of Unit 4 injectables facility removes overhang of company-wide USFDA risk and adds to growth visibility. Company remains best positioned among the Indian generic drug players to capture the new business opportunities that are likely to emerge due to supply-chain impact or temporary portfolio rationalization in the US and Europe. Key downside risks include adverse regulatory actions on facilities along with unexpected delays in ANDA approvals along with lower-than-expected margins. Profitability could face some downside pressure considering short-term headwinds such as price erosion due to inventory build-up. Aurobindo's long-term strategy is to establish a presence in the specialty segment, which includes biosimilars, oncology inhalers, and transdermal patches, among other things, and is expected to support growth.
Zydus Lifesciences (Formerly known as Cadila Heathcare)
Zydus Lifesciences is a leading player in India with a strong presence in the US-led by complex products. It has a strong ANDA pipeline and synergy benefits from wellness acquisition to drive growth as well as margins. Zydus Lifesciences is expected to provide strong growth along with visibility of margins from its key markets. Given the vastness of its portfolio in the US, the company is a beneficiary of supply disruption with significant pipelines in orals and injectables. In order to cater to the Indian market, it has managed to restructure its existing portfolio and have a healthy mix of acute as well as chronic drugs for double-digit growth in the future. It is also expected that wellness consumers would increase led by sales and cost synergies.
India's growth prospects seem to be bright considering a rebound in the pharmaceutical market, the normalization of healthcare delivery infrastructure, and market share gains in key therapy areas, according to management. In addition to the above, Zydus Life's research & development investment in biologics, vaccines and new chemical entities may add to the growth trajectory of the company. A strong product pipeline, including specialty and injectables, exists for the United States, which could help mitigate pricing pressures and aid growth. Product launches like Saroglitazar and Desidustat have a lot of room for growth in the long run.
Zydus Life's balance sheet has been strengthened by a significant reduction in debt. Management intends to keep a close eye on debt reduction in the future. This is encouraging and will contribute to the company's financial strength. Zydus Life's key positives include strong earnings prospects, healthy return ratios, and a strengthening balance sheet. The overhang of adverse regulatory actions on facilities along with high leverage as compared to peers still remains.
IOL Chemicals & Pharmaceuticals Ltd
IOL Chemicals & Pharmaceuticals Ltd. is one of the leading API/ bulk drug companies and a reputed player in the speciality chemicals space with world-class facilities. IOL Chemicals has a wide presence across major therapeutic categories like pain management, anticonvulsants, anti-diabetes, anti-cholesterol and anti-platelets. The company has recently been recognized as a 'Three Star Export House' by the Ministry of Commerce & Industry, Government of India which shall facilitate IOL to expand its product portfolio in the foreign market. This certificate is valid for a period of five years. What benefits IOL is being a major player in Ibuprofen manufacturing, accounting nearly 30% of global capacity. It also has the world's second-largest Ibuprofen manufacturing facility and a backward integrated manufacturing model with intermediates and key starting materials at one location. A strong and sustained improvement in its operating performance is resulting in growing total operating income and EBITDA margin. The Company is also moving towards diversification of its product portfolio and has reduced dependency on its main product viz. Ibuprofen. However, reduction in demand and prices of Ibuprofen remain a monitorable factor. Regulatory, as well as any debt-funded CAPEX, may adversely impact capital strCadila'sucture and inturn performance which remain key risks for IOL.
The two engines of the sector exports to the US and domestic sales had been fired at full blast from FY 2009 to FY 2016. These engines slowed down between FY 2016 and FY 2019 and are currently at the bottom both in terms of valuations and business cyclicality. Earnings recovery is expected from FY 2021-22 because of local demand, improvement in US generic business, cost rationalization and depreciating currency. It is expected that faster ANDA approvals and supply opportunities would emerge given the increase in drug shortages which may emerge as a tailwind in US generic business. This coupled with faster approval for facilities having minor issues would act as a catalyst. Additionally, high CAPEX and R&D along with slower approvals/ regulatory issues had compressed return ratios in the past few years and is now expected to improve over near to medium term.
India's Pharma market has been consistently witnessing 10%-11% YoY growth to USD 20bn driven by a healthy mix of volume and price-led mix. The domestic market has strong industry growth drivers such as the rising penetration of medicines, increasing affordability and a growing incidence of chronic disorders such as diabetes, cardiac and oncology. Drug shortages have remained high in 2020 and the issue seems to be accentuated when it comes to injectable products which account for over 60% of current drug shortages.
RoCE of Indian Pharma companies has come down due to increasing competition in the US generics market, the requirement of higher investments in complex research & development and weak acquisitions were the major harbingers of growth. This coupled with heightened regulatory issues especially from USFDA will and has always impacted the earnings momentum of Indian Pharma companies. During the financial year 2019, growth remained muted despite a low GST-led financial year 2018 base, on lower volume pick-up. Further, it is expected that marginal growth recovery in the financial year 2021 is as long as the volume uptick scenario continues to persist.
Further, there is an increased perception that the USFDA will take a lenient stance on inspections going forward led by COVID/ shortages, and this would possibly imply multiple re-rating. Facility clearance reports in the past 2 months have boosted the same. However, this should not be generalized and FDA inspection outcomes will continue to be determined on a case-by-case basis led by facility/inspector and this risk still remains.
Best Pharma Stocks to buy: Model Portfolio
In order to get an exposure to best Pharma stocks, you would need a total of Rs. 28034.95 for the below curated portfolio as of May 16, 2022.
Watch this video to understand & to invest in Best Pharma Stocks
Here's a quick video on how should an investor look at buying the best pharma stocks in India.
Detailed Overview of the Best Pharma Stocks to Buy
The table below covers some of the most important factors while evaluating Pharma stocks such as the return ratios – RoE, operating margins, sales and earnings growth, market cap, etc.
| | | | | | | | | | | | | | | | | |
| --- | --- | --- | --- | --- | --- | --- | --- | --- | --- | --- | --- | --- | --- | --- | --- | --- |
| Sr. No. | Company Name | BSE Scrip Code | NSE Symbol | CMP (May 16, 2021) | Rating | Industry | Market Cap (in Crs) | Compounded Sales Growth (5 years) | Compounded Profit Growth (5 years) | Operating Profit Margin (%) | Inventory Turnover Ratio (times) | Price to Earnings (times) | Price to Sales (times) | Debt to equity (times) | Return on Equity (%) | Return on Capital Employed (%) |
| 1 | Sun Pharmaceutical Industries Ltd. | 524715 | SUNPHARMA | 885.6 | 2.0 | Pharmaceuticals & Drugs | 216,420.0 | 3.00% | -10.00% | 26.80% | 1.1 | 33.6 | 5.74 | 0.04 | 6.33% | 13.90% |
| 2 | Dr. Reddys Laboratories Ltd. | 500124 | DRREDDY | 3,888.40 | 1.0 | Pharmaceuticals & Drugs | 66,163.0 | 4.00% | -1.00% | 20.90% | 1.59 | 25.0 | 3.18 | 0.16 | 11.70% | 15.40% |
| 3 | Divis Laboratories Ltd. | 532488 | DIVISLAB | 4,218.10 | 4.0 | Pharmaceuticals & Drugs | 119,632.0 | 13.00% | 12.00% | 41.00% | 1.34 | 56.0 | 16.10 | 0 | 23.90% | 32.10% |
| 4 | Cipla Ltd. | 500087 | CIPLA | 933.4 | 1.0 | Pharmaceuticals & Drugs | 84,227.0 | 7.00% | 13.00% | 21.80% | 1.69 | 32.8 | 3.99 | 0.07 | 14.10% | 17.60% |
| 5 | Biocon Ltd. | 532523 | BIOCON | 319.9 | 1.0 | Pharmaceuticals & Drugs | 39,854.0 | 16.00% | 15.00% | 20.20% | 1.5 | 56.8 | 5.23 | 0.60 | 10.20% | 10.30% |
| 6 | Aurobindo Pharma Ltd. | 524804 | AUROPHARMA | 551.1 | 1.0 | Pharmaceuticals & Drugs | 37,632.0 | 12.00% | 21.00% | 19.70% | 1.25 | 13.1 | 1.59 | 0.2 | 27.50% | 18.50% |
| 7 | Torrent Pharmaceuticals Ltd. | 500420 | TORNTPHARM | 2,581.25 | 0.5 | Pharmaceuticals & Drugs | 47,775.0 | 4.00% | -8.00% | 29.60% | 0.94 | 39.6 | 5.74 | 0.71 | 23.30% | 17.60% |
| 8 | Lupin Ltd. | 500257 | LUPIN | 685.05 | 1.0 | Pharmaceuticals & Drugs | 33,988.0 | 1.00% | -12.00% | 4.46% | 1.53 | | 2.08 | 0.3 | 8.94% | 9.42% |
| 9 | Zydus Lifesciences Ltd. | 532321 | CADILAHC | 1,606.70 | 3.0 | Pharmaceuticals & Drugs | 37,945.0 | 10.00% | 3.00% | 22.10% | 1.81 | 7.8 | 2.5 | 0.29 | 19.60% | 14.80% |
| 10 | Abbott India Ltd. | 500488 | ABBOTINDIA | 16,500.25 | 3.0 | Pharmaceuticals & Drugs | 36,696.0 | 11.00% | 22.00% | 21.00% | 3.86 | 49.6 | 7.71 | 0.07 | 27.40% | 35.20% |
| 11 | Alkem Laboratories Ltd. | 539523 | ALKEM | 2,906.40 | 0.5 | Pharmaceuticals & Drugs | 40,425.0 | 13.00% | 16.00% | 19.40% | 1.76 | 22.7 | 3.91 | 0.21 | 23.00% | 22.10% |
| 12 | Glaxosmithkline Pharmaceuticals Ltd. | 500660 | GLAXO | 1,514.90 | 4.0 | Pharmaceuticals & Drugs | 26,161.0 | 2.00% | 5.00% | 23.20% | 2.6 | 49.3 | 7.8 | 0.02 | 28.30% | 43.80% |
| 13 | Ipca Laboratories Ltd. | 524494 | IPCALAB | 1019 | 2.0 | Pharmaceuticals & Drugs | 25,849.0 | 14.00% | 66.00% | 23.10% | 1.33 | 28.3 | 4.57 | 0.06 | 27.30% | 30.50% |
| 14 | Alembic Pharmaceuticals Ltd. | 506235 | ALEMBICLTD | 739.15 | 0.5 | Pharmaceuticals & Drugs | 14,424.0 | 11.00% | 10.00% | 21.10% | 1.03 | 19.0 | 2.79 | 0.17 | 28.20% | 26.00% |
| 15 | Glenmark Pharmaceuticals Ltd. | 532296 | GLENMARK | 392.6 | 0.5 | Pharmaceuticals & Drugs | 12,791.0 | 8.00% | 5.00% | 19.60% | 1.75 | 11.6 | 1.05 | 0.45 | 14.30% | 14.90% |
| 16 | JB Chemicals & Pharmaceuticals Ltd. | 506943 | JBCHEPHARM | 1,621 | 1.0 | Pharmaceuticals & Drugs | 12,226.0 | 11.00% | 24.00% | 23.30% | 2.46 | 30.5 | 5.25 | 0.02 | 24.70% | 32.80% |
| 17 | IOL Chemicals & Pharmaceuticals Ltd. | 524164 | IOLCP | 382.65 | 0.5 | Pharmaceuticals & Drugs | 2,513.0 | 28.00% | 67.00% | 15.60% | 4.78 | 11.2 | 1.21 | 0.03 | 43.10% | 54.30% |
Related articles
Best Bank Stocks to Buy now in India Our Collection of Best Stocks to Buy Other links you may find useful:
You can check the live prices and trade India's best pharma stocks at the lowest brokerage with SAMCO, India's leading discount brokerage. Open a Free Demat and Trading Account today!