With the introduction of technology, there has been a significant rise in
online trading platforms.
With a user friendly interface and a quick and efficient trading mechanism,
online trading platforms
have gained tremendous popularity among investors. 
Access to cheap internet is one of the driving factors contributing to the growth of
online trading platforms
. Let us understand the meaning of trading platforms and find out which is the
best trading platform in India for beginners
.
What is a Trading Platform?
A
trading platform
is a software or a web interface provided by a depository participant (i.e your broker) to facilitate online share trading and investing. 
Through online
trading platforms
a trader can: 
Place trades from any part of the world (

with an active internet connection

). 

Monitor multiple trades at one go. 

Get greater control over investments. 

Easily monitor portfolio via laptop or smartphone.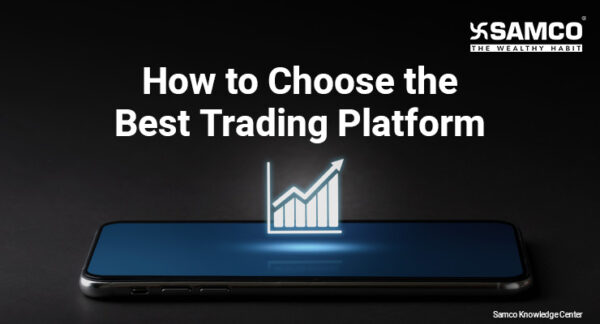 How to Select a Trading Platform? 
While selecting a trading platform, you need to consider the following: 
Your trading platform should provide great speed, a user friendly interface and reliable data.

Your trading platform must facilitate quick and timely execution of trades.

Your trading platform should provide sharp innovative highlights including graphical representation of charts in different forms (line-chart, bar chart, candlestick chart, etc.)

Your trading platform should provide top-level security

Your trading platform must provide a robust

trading interface

with minimal downtime. 
Samco's
trading platforms
provide all the above features at the lowest cost in India. With Samco's high speed and reliable trading platforms, you will never miss a trade! 
At Samco, we have always strived to leverage technology to provide the
best trading platform in India for beginners
and seasoned investors. 
Let us look at some of the
best trading platforms in India.
1. Samco StockNote mobile trading application 
Stock Note App
or Samco trading app is powered by Giga Trading Engine, a proprietary trading engine which includes AI (
artificial intelligence
) and advanced analytical tools to create a smooth and rich trading experience. 
Features:
You can place a trade within 5 seconds from the StockNote App

You get up to date information on StockNote feed about what's happening in the markets.

You can create a customized watchlist according to the shares you want to trade in.

You get access to place orders in advance by using features like

Bracket orders

and Cover Orders.

You get access to research and recommendations.

You can analyse the performance of a script by using advanced charting with over 100+ indicators and comprehensive drawing tools

You can set personalised alerts and notifications for your stocks
2. Samco StockNote Web
StockNote Web
by Samco is one of the most advanced web-browser based
trading platform in India
for the traders. The StockNote Web is powered by a Giga Trading Engine. It is compatible with browsers like google chrome, safari, and firefox.
Features:
You can create multiple market watch-lists and you can add and remove stocks with just a few clicks.

You can use the advanced algorithmic search feature.

You can trade in equity and derivatives at one click.

You can benefit from technical analysis and the charts available on the platform. 

You get the facility of easy pay-in and pay-out. 
3. Samco trader - Desktop EXE application.
If you are a professional jobber/screen trader or a swing trader then Samco trader is the most reliable choice for you. Samco Trader is the best desktop application for
online trading in India
. Samco Trader is an EXE application which can be downloaded on desktops/laptops running Windows PC as the operating system.
4. StockNote API
If you want to build a full-fledged online trading platform yourself, then you could do that by subscribing to our
StockNote Trading API
. You could quickly build your personalised trading application using StockNote Bridge SDKs for Java, Python and other popular programming languages.
Conclusion: 
There is nothing worse than missing out on a money-making opportunity simply because your trading platform is slow and inefficient. The real mantra to success in the stock market is having a robust
trading platform
as a friend and a guide in your investment journey.
Samco provides high speed and
robust
trading platform
s
which ensure that you never miss a trade. So,
open a Demat account with Samc
o
and get Free brokerage trading for 1st month on all trades placed from the
StockNote app
for the first month!