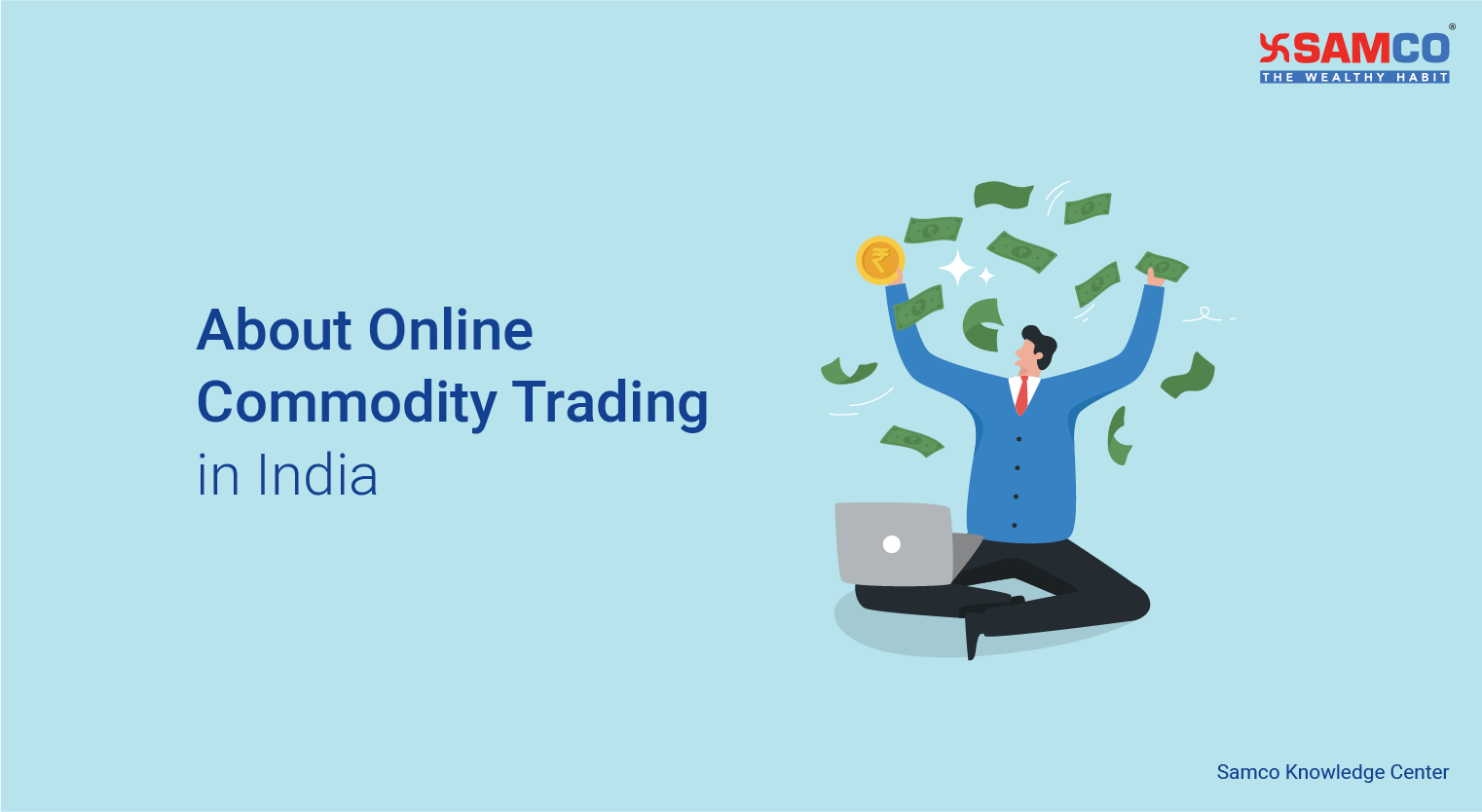 Online commodity trading in India
 is rapidly gaining ground. Commodity speculation is even older than stocks. Cotton has the longest trading history having records as old as a few centuries. Earlier commodity trading was scattered and unorganized but has now become organized and regulated. In September 2015 SEBI had taken over the responsibility to regulate commodities markets. In India, there are two national-level commodities exchanges, 
MCX
 allowing trading in precious metals, base metals, energy and Agri products and 
NCDEX
allowing trading largely in Agri commodities. The details of contract specifications, their Seasons and Cycles should be understood before venturing into commodity trading.
Why Online Commodity Trading is emerging in India?
Commodity trading acts as a diversification to equity trading. The Stock Market can be either in a bullish or bearish or sideways phase wherein all stocks more or less follow the suit, but in commodities, each commodity has its own bull-bear cycle independent of the Stock Market. Commodities follow seasonal trends which are much easier to forecast. For example, an Agri commodity has the harvest season in Feb-March it would be very convenient to check how the prices of that commodity behaved in the harvest season in the last ten years. Suppose 8 out of 10 times, if prices had fallen in the past, it can be safely assumed that there is a high probability that the prices will again fall during the Feb-March harvest season. Inequity markets, Promoters or the insiders can manipulate the stocks by sudden announcements to prop up the prices or declare poor financials to drop the prices of the stock. But commodities are different and are not subject to individual driven manipulation. A stock can become penny or can go to liquidation, but a commodity is never subject to winding up risk. In Commodity Trading, volatility and therefore margin requirements are much less than equities and therefore offer higher leverage in trading. Commodities offer a wide variety of instruments to bet upon with safety. Pure demand and supply dynamics determine the prices of the commodities which are the biggest attractions for trading unlike for stock trading wherein several factors like fundamentals, technicals, economy, inflation, interest rates and management quality, etc are to be considered. Here are some insights into GOLD price behaviour.
How to trade in Commodities?
Commodities have varying bull-bear cycles depending upon the seasonality, harvest period, consumption pattern, open interests and demand-supply scenarios. Law of economics is practically applied in commodities trading, if demand is higher than supply, prices will rise and the commodity is in a bull market, vice versa for a bear market. Higher price trajectory in the form of higher tops and higher bottoms in prices indicate an ongoing bull market. The past seasonality patterns and price behaviour at times can also act as a guide for future price action. At other times an increase in open interest commensurate with the increase in prices can add to bullish confirmations. A trading system followed rigorously with discipline by employing proper risk management rules on a basket of diversified commodities has the ability to deliver superior trading profits. You can view CNBC Awaaz Interview of ITL Commodity League winner Mr Pankaj Jain on his views on Online Commodity Trading.
Conclusion:
Trading commodities can be a lucrative profession as many don't understand how to trade in commodities. With technology as enablers, trading can now be done online at a minimum brokerage cost at Samco. Irrespective of how large trade is placed, a flat brokerage of Rs 20/- is charged entailing huge savings to the trader. The importance of rationalising savings in brokerage cannot be emphasized more than by one of our winners Mr Pankaj Jain who states "For Intraday trading, trading costs matter and they need to be kept low and with SAMCO's Rs. 20/order plan, it is really cost-effective and also hassle-free."Internationally there are dedicated funds that trade only commodities and generate inflation-adjusted superior returns which are comparable with equities returns. Thus commodity trading acts as a natural diversification in one's overall portfolio. Commodity trading is picking up massively and it is expected that commodity Index and options will soon be introduced which will increase the depth and liquidity of the markets exponentially. Those who start early will have an advantage. Enter the new world of commodity trading for intelligent and systematic diversification of assets for long term superior returns.