In this article, we will cover
What are commodities?

What is commodity trading?

How to start commodity trading or investing?

Where can you invest in commodities?

Advantages & disadvantages of commodity trading
What are commodities?
Commodities are products or goods like metals, food, energy etc. that we use in our day to day lives. Commodities are a group of products instrumental in the effective functioning of daily lives. It is tradable in nature or that in simple terms means things that can be bought and sold.
Commodity trading has been happening in India since ancient times; however, due to no support from government policies, fragmented markets and foreign invasions, commodity market and trading were diminishing in India. Indian commodities are 1 prime reason why the East India Company landed in our country.
With the introduction of exchanges like MCX and NCDEX commodity trading is regaining its importance and popularity.
What is commodity trading?
Commodity trading is the buying, selling and trading of commodities or buying, selling, trading of financial instruments like derivatives such as futures, options of commodities.
You can also profit from the price fluctuations in commodities without directly investing in futures or other derivative instruments through exchange-traded funds or exchange-traded notes.
The underlying commodities are raw materials or primary goods rather than manufactured or processed products, such as wheat, gold, crude oil, etc. It may either involve physical delivery of the product or settled in cash depending upon the terms of the contract.
The quantities in commodity trading usually are in lots such as barrels of oil, bushels of corn,
kgs of wheat, etc.
In order to gain direct exposure to commodities, normally investors enter into derivative contracts where a particular contract derives its value from the underlying commodity. The best way to invest in commodities is through commodity futures.
How to start commodity trading or investing?
To start trading in commodities, you need the following things:
Trading and Demat account with a reliable broker (Like Samco Securities)
Basic understanding of commodity markets
You can start investing in commodities through commodities futures. Futures are a contract to buy or sell a specific commodity at an agreed price at a future date. Futures are available for each commodity listed on the exchanges like MCX.
Commodity trading is generally used to hedge prices to prevent losses related to substantial price swings in essential commodities. Commodity trading is considered to be risky, so only experienced traders and investors try their hands at commodity trading.
Read more about how to invest in a commodity?
Where can you invest in commodities?
The most well known and famous exchange to trade in commodities is the Multi Commodity Exchange or MCX followed by National Commodity and Derivatives Exchange or NCDEX.
However there some other exchanges in India
National Multi Commodity Exchange – NMCE
Indian Commodity Exchange – ICEX
Ace Derivatives Exchange – ACE
The Universal Commodity Exchange – UCX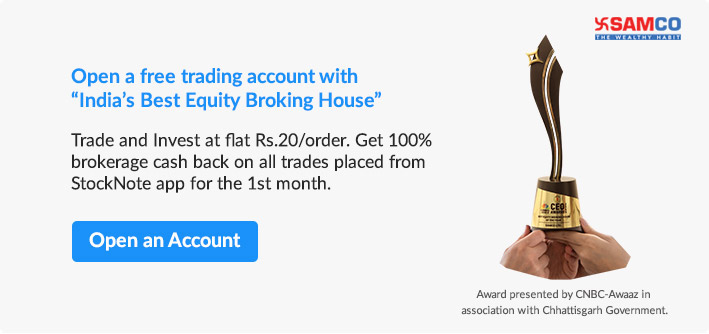 Advantages and disadvantages of commodity trading
There are several advantages and disadvantages to commodity trading in India.
Advantages
Commodity trading provides protection against inflation or sudden price increase.
Commodity trading can help one hedge prices against a black swan event which may lead to a price hike or deep discount.
Commodity futures can provide high leverage, meaning a small fluctuation in price can actually lead to huge profits. However, this is like a double-edged sword. High fluctuations and leverage could also lead to a substantial potential loss.
Commodities can help with diversification and avoid over-concentration from extensive exposure to shares.
Disadvantages
High Leverage is like a double-edged sword; novice traders can suffer huge losses if not trained properly
Not suitable for beginners, commodity trading is not recommended to beginners because of the high risk and volatility factor
Commodities are highly volatile, so one wrong trade can lead to wiping out your wealth completely
Read a detailed article on the advantages and disadvantages of the commodities market for deeper understanding.