In this article, we will discuss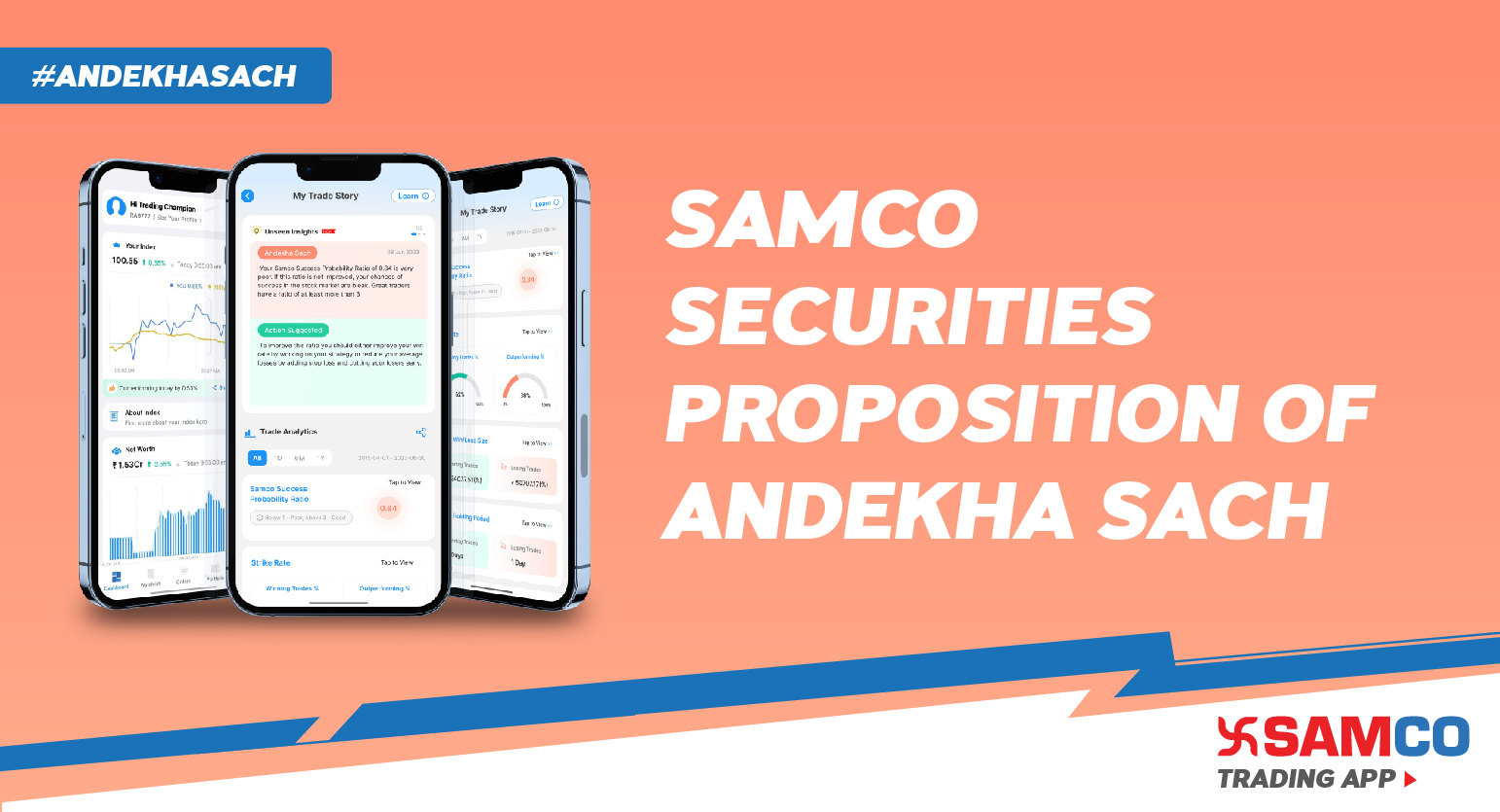 The Securities and Exchange Board of India (SEBI) recently conducted a study that revealed a shocking insight — around 9 out of 10 retail traders who participated in the F&O segment suffered losses in 2021-2022.
This clearly indicates that not every trade you make in the financial market may be a success. Some trades may be profitable, while others may result in unexpected losses. The secret to ensuring that you become a better trader over time is to learn from your past mistakes and avoid repeating the same patterns and practices that worked against your expectations.
However, to do this, you need the right insights about what worked and what didn't. For the average trader, these details may be hard to discover even though they are hidden in plain sight.
To help each trader uncover previously unseen insights concealed within their previous trades, we at Samco Securities have introduced the 'Andekha Sach' feature on our new-age trading app.
A closer look at the Andekha Sach proposition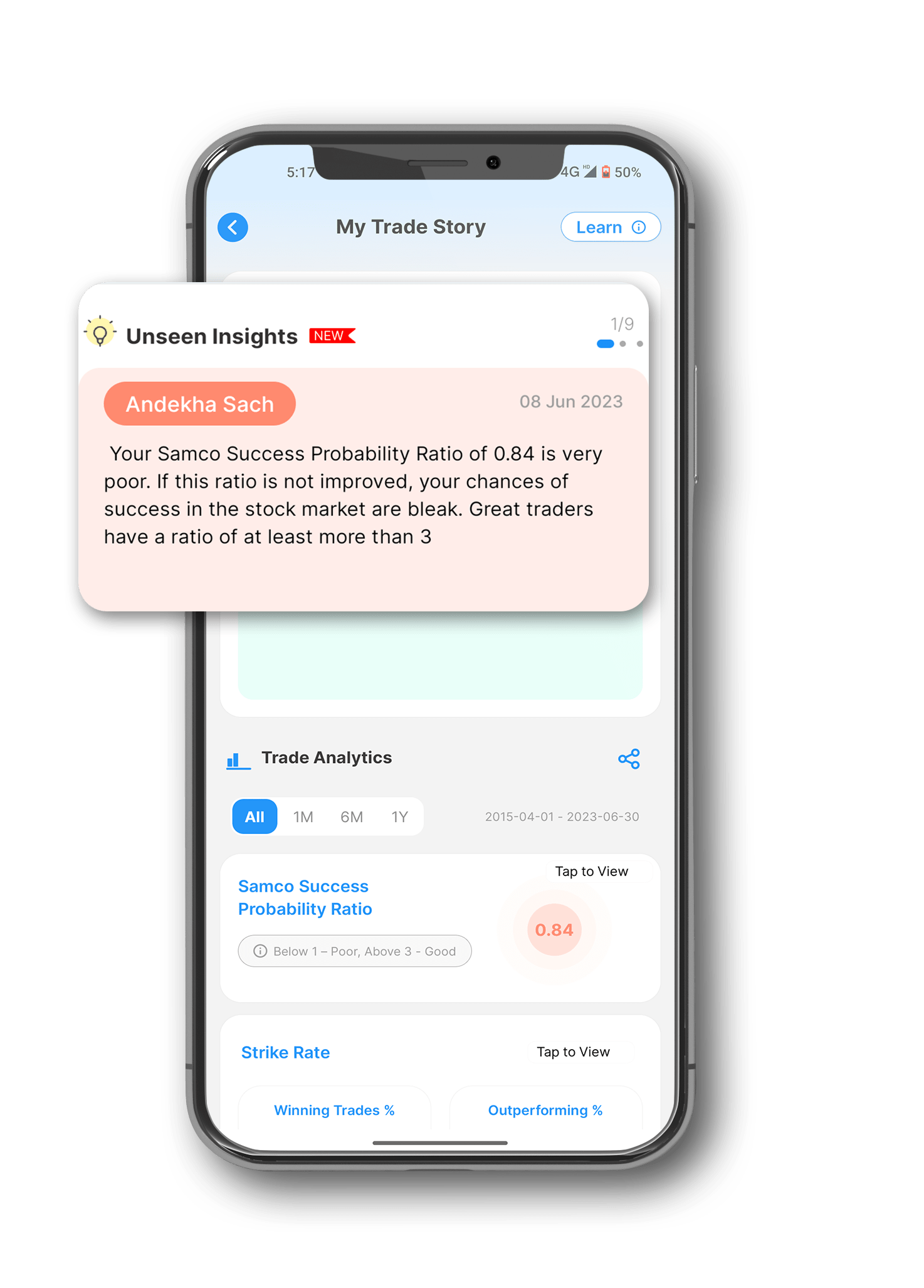 For the first time in India, stock market traders and participants have the option to understand their trade stories better. This is possible with the Andekha Sach proposition we have introduced on the Samco trading app.
As the name indicates, this feature helps traders like you access various hidden insights about your past trades and previous trading patterns. In other words, it generates billions of data points that can help you understand your trade story clearly. The app thus helps you make the transition from mere participation to improved performance with a three-step journey that encompasses the following phases:
Step 1: Measuring and tracking key insights
Step 2: Analysing and understanding the metrics
Step 3: Using this knowledge to improve your future trades
A plethora of insights in the palm of your hand
The new-gen Samco trading app comes with a unique 'Trade Spreadsheet' feature that gives you insights at various levels. Here is a closer look at the three levels of insights you can obtain with the Andekha Sach proposition introduced by Samco.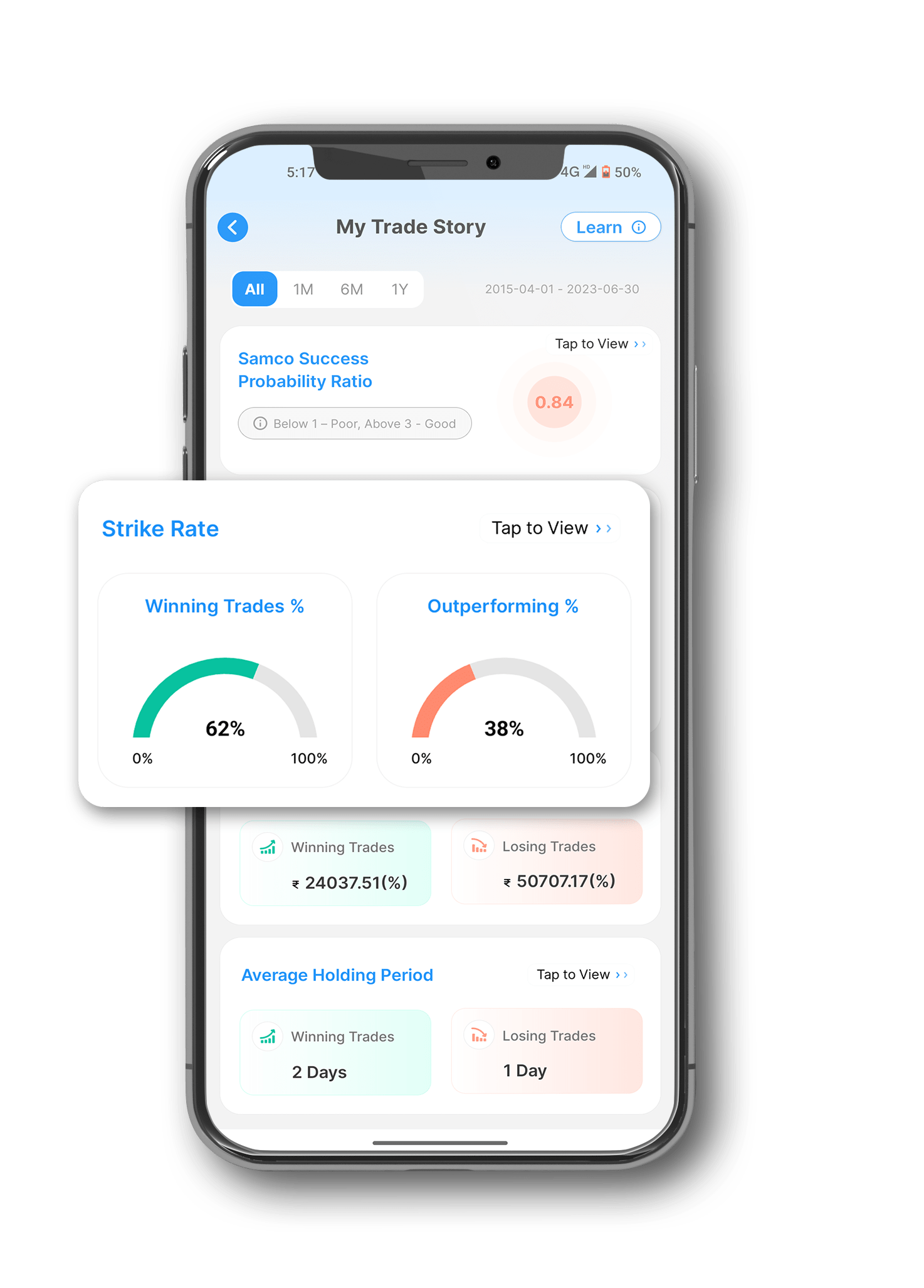 With this unique proposition, all your trades are classified as 'buy' or 'sell' entries and sorted in chronological order. In addition to this, your trades are also dissected and categorized into the following actions:
Fresh initiations
Average up, average down or average at cost
Partially booking winners and losers
Fully unwinding winners and losers
You also get many performance level insights that help you compare your personal trading index with your chosen benchmark index, and check if your traders have outperformed or underperformed the benchmark.



Profit level insights
Profit level insights help you understand how the profits (or losses) generated in your trades compare with the benchmark index. You can also find out the maximum potential losses and profits for each trade you make. 
Whether you align your trades with the market trend or choose to go against it, it's important to be aware of the direction in which the market is moving. Market level insights help you understand whether your trades align with or go against the trend.
Conclusion
The bottom line is that with Samco's new, one-of-a-kind proposition, you can elevate the way you trade and get more successful at beating the market benchmark. What's more, you can make your hindsight truly 20-20 with the Andekha Sach — or the previously unseen insights — that you can discover using the all-new Samco trading app.
Disclaimer: INVESTMENT IN SECURITIES MARKET ARE SUBJECT TO MARKET RISKS, READ ALL THE RELATED DOCUMENTS CAREFULLY BEFORE INVESTING. The asset classes and securities quoted in the film are exemplary and are not recommendatory. SAMCO Securities Limited (Formerly known as Samruddhi Stock Brokers Limited): BSE: 935 | NSE: 12135 | MSEI- 31600 | SEBI Reg. No.: INZ000002535 | AMFI Reg. No. 120121 | Depository Participant: CDSL: IN-DP-CDSL-443-2008 CIN No.: U67120MH2004PLC146183 | SAMCO Commodities Limited (Formerly known as Samruddhi Tradecom India Limited) | MCX- 55190 | SEBI Reg. No.: INZ000013932 Registered Address: Samco Securities Limited, 1004 - A, 10th Floor, Naman Midtown - A Wing, Senapati Bapat Marg, Prabhadevi, Mumbai - 400 013, Maharashtra, India. For any complaints Email - grievances@samco.in Research Analysts -SEBI Reg.No.-INHO0O0005847