Share Markets in India
The Stock or share market is the market place where one can buy stocks or shares of certain companies or can sell stocks or shares of certain companies. In simple terms, a "mandi" where the commodities traded are stocks/shares of underlying companies.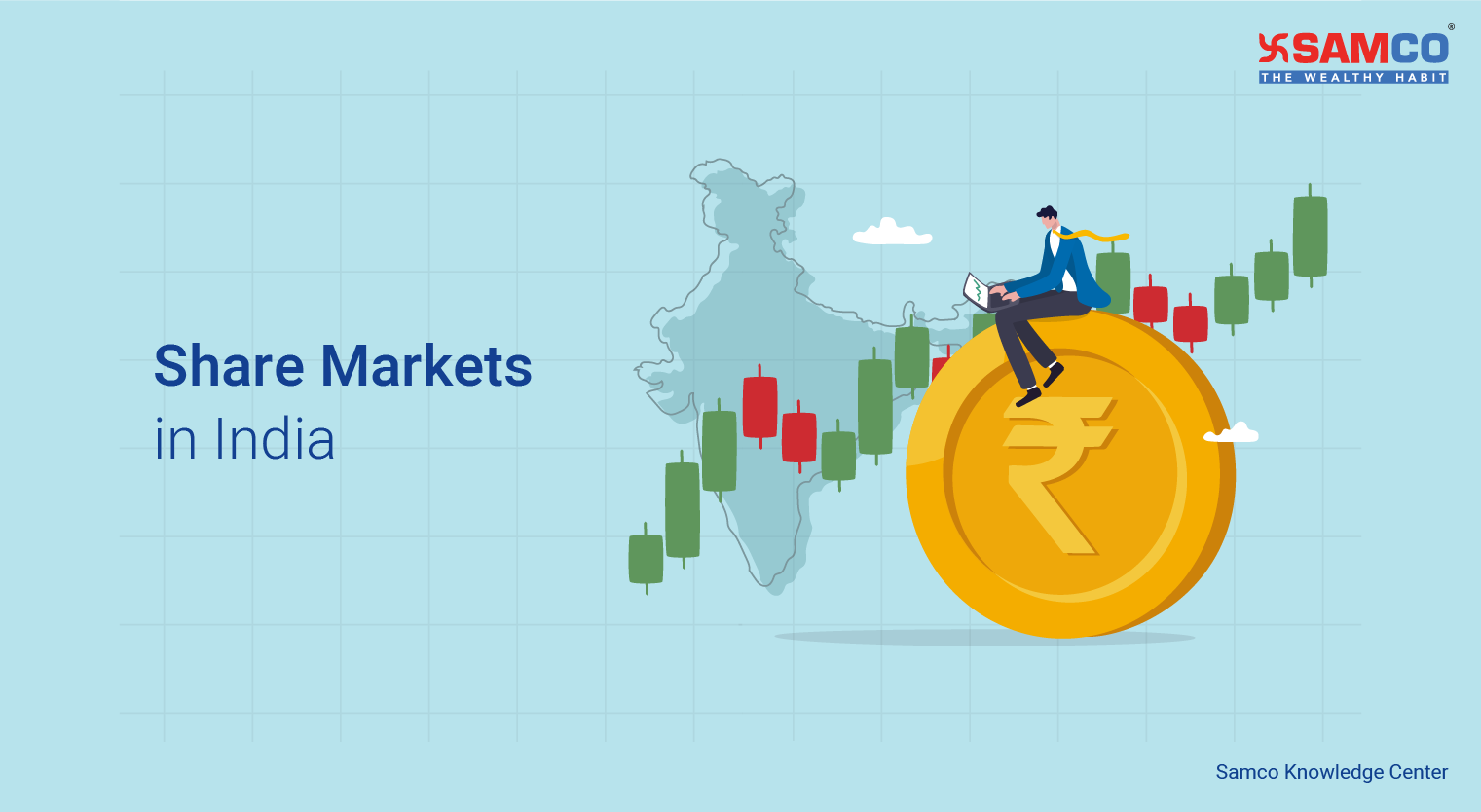 We can define Stock or share market as a market place where public limited companies raise capital for various purposes through IPO and one can transact in shares of these publicly listed companies.
The Stock Market is divided into 2 major kinds of markets
Primary Markets
Secondary Markets
Primary Markets – When a stock is privately owned and it desires to raise public money, it needs to go for an IPO. We've already discussed on how one can apply for an online IPO via the ASBA route.
In this article, we'll focus more on the Secondary market ecosystem.
Secondary Markets in India
The Ecosystem of secondary market referred to as Share markets in India comprises of
Regulator – SEBI
Investors and Traders
Publicly Listed Companies – There are over 5000+ listed companies on the BSE and NSE combined.
The Market Regulator of stock markets in India is the Securities and Exchange Board of India.
In India, NSE – National Stock Exchange and BSE – Bombay Stock Exchange are two of the most popular stock markets. Majority of trading takes place in these two exchanges. There is a third stock exchange MSEI i.e. Metropolitan Stock Exchange of India (earlier known as MCX-SX), however, the same is less popular as compared to the other 2 exchanges.
The BSE is Asia's oldest stock exchange established in 1875. On the other hand NSE was founded in 1992 and commenced in 1994. Though, BSE is oldest NSE has pioneered many initiatives in the Indian stock markets like de-materialized security trading or electronic trading, trading in derivative instruments. Hence, enjoys bigger pie of market share in trading with over 90% of the overall trading turnover happening on the NSE.
Now a days, on both the exchanges trading happens through open electronic order book, in which buy orders placed by traders automatically matched with best possible selling order. As a result of this identity of buyer and seller do not discloses. Unlike, USA and some other markets, in India there are no market makers.
Besides market participants and publicly traded companies, Broker is also an important member of the ecosystem of stock markets in India. A share broker can be an individual or an organisation, who acts as an intermediary connecting investors to the exchanges. A fee is charged for this intermediation and is popularly known as Brokerage. Now a days many brokers provides their own online trading platforms through which investors and traders can trade online hassle-free.
In India, we have probably world's best and fastest settlement system of T+2 rolling settlement. This means every transaction will get settled between two days from the day of the transaction.
Nifty50 and S&P BSE SENSEX are two benchmark indices of NSE and BSE respectively. Nifty50 contain of 50 stocks whereas S&P BSE SENSEX is made of 30 stocks. Both the exchanges have their own various sectorial indices also.
There are 4 major investor participant categories –
FDI – Foreign Direct Investment and FPI – Foreign portfolio investment are classified into a category of outside investors. Person or entity who isn't domiciled in India but has taken control of management or have investments in shares without any control over management.
DII – Domestic Institutional Investment is a class of participants who has Indian domicile. Mutual funds, insurance companies are popular examples of DII.
HNI – High Net worth Individuals are people who have a higher investable surplus.
And forth category is of retail participants.
FAQ's on Share Markets in India
Where can I find the latest news on share markets in India?

You can find recent updates on the stock markets in India on the SAMCO Market Updates page.
Alternatively you can also visit popular financial news portals in India

Moneycontrol
Economictimes.com
Business-standard.com

Where can I track live stock markets in India?

You can track live markets with any online stock broker. Online Stock brokers usually provide investors and traders with live online trading platforms with market feeds where you can track live prices and other market information. You can not only track multi-markets but also transact with these online trading platforms.